The decision of GSA Administrator Emily Murphy to allow the transition to move forward allows Biden and his team to get access to money, space and personnel.
Biden will now have at his disposal $6.3 million in administrative costs, and another $1 million has been appropriated for appointee orientation sessions and a transition directory.
But the cash is not the point: the access is.
Biden will now have access to the President's Daily Brief, meaning he will be receiving the same national security briefings as Trump.
Additionally, the Biden-Harris team will be able to receive briefing books from other career civil servants.
The Biden-Harris transition has already announced landing teams at major agencies.
Those teams can now interact with their government counterparts at the agencies.
Crucially in this crisis, Biden will be able to communicate with Dr. Anthony Fauci and other members of the coronavirus taskforce.
Biden and his team will also have access to government office space.
So far, he's been running the transition out of the Queen theater in Wilmington, Delaware, which has also been partly due to the coronavirus pandemic.
During the transition, more than 4,000 political appointments need to be made, including 1,200 that will need Senate confirmation.
With transition resources green-lit, the Federal Bureau of Investigation will now be able to process background checks on the individuals Biden has picked.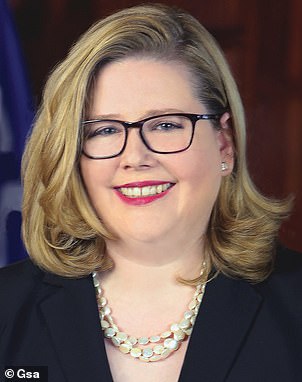 Trump's doubling down comes after GSA Chief Emily Murphy sent Biden a letter on Monday night, writing that the transition process could formally begin.
Murphy released a letter to Biden announcing the move, but dedicated a considerable portion to defending her own reputation and claiming she had been threatened and harassed.
Her letter, notably, does not go so far as 'ascertain' that Joe Biden is the winner of the election, despite networks calling the race 16 days ago, numerous states certifying their tallies, and Biden winning 306 electoral votes to Trump's 232. She also called him 'Mr.' instead of president-elect or vice president.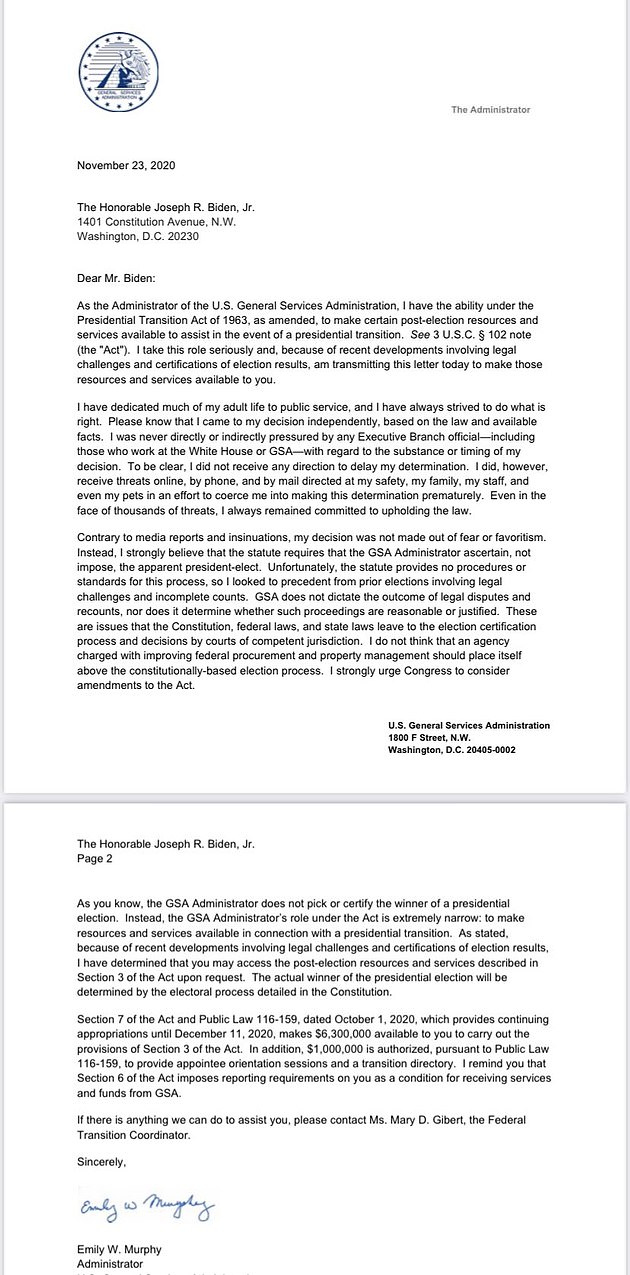 It came just over an hour after Michigan certified that Biden had won the state, putting another nail in the coffin of Trump's bid to overturn the election result.
The move ends much of the controversy over Trump's refusal to concede and means that a concession would be purely symbolic.
It allows Biden to get the same intelligence briefing as Trump, order FBI background checks on his picks for office and talk to senior officials in key roles - most notably, Dr. Tony Fauci.
The Biden-Harris transition team last night welcomed Murphy's letter, saying it was a 'needed step to begin tackling the challenges facing our nation'.
'In the days ahead, transition officials will begin meeting with federal officials to discuss the pandemic response' as well as national security issues, said Biden aide Yohannes Abraham.
But Trump tweeted later on Monday saying he had ordered Murphy to start the transition 'for the sake of the country' and claimed he was sure he would win 'the good fight.'