More than almost any other ancient ruler, facts about King Tut, the boy who led an empire and was buried in a tomb stuffed with gold and artifacts, have been hard to deduce. Who was this young man given the responsibility of carrying on a line descended from the gods? How did he live? And …
More than almost any other ancient ruler, facts about King Tut, the boy who led an empire and was buried in a tomb stuffed with gold and artifacts, have been hard to deduce. Who was this young man given the responsibility of carrying on a line descended from the gods? How did he live? And how did he die?
 
Since Tut's tomb was found in 1922, these questions have slowly been answered. Thanks to advanced technology in DNA analysis, we've found some surprising things about his heritage and his physical stature. It turns out that he wasn't the sensual, dashing boy portrayed in the iconography found in his tomb and afterwards in pop culture. Instead, he was the product of incest, born with deformities, with strings pulled by powerful generals, and a death not from murder, but from injuries caused by his ailments.Even so, mythology swirls around Tut, his death, the "curse" on his tomb, and the mythical figures in his life. Here are some of the stranger, but completely true, facts about this legendary boy king.
1. When he dead?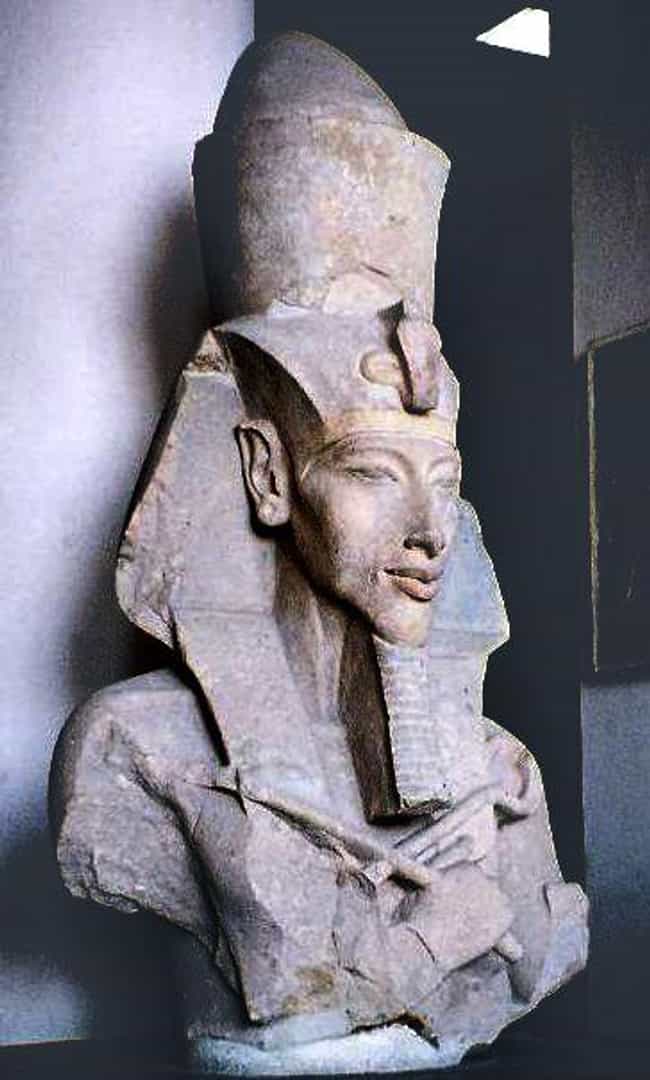 Tutankhamun was born around 1341 BCE, the son of the powerful Pharaoh Ankhenaten. After that pharaoh died in 1334 BCE, two minor kings reigned until Tut took the throne in 1332. He ruled for around eight or nine years, with his chief accomplishment being restoring Egypt back to its polytheistic worship of the god Amun. Then he died in 1323 BCE at 19, and was buried in a quickly built but ornately decorated tomb that was forgotten about until its discovery in 1922 by British researcher Howard Carter.
2. His Father and Mother Were Related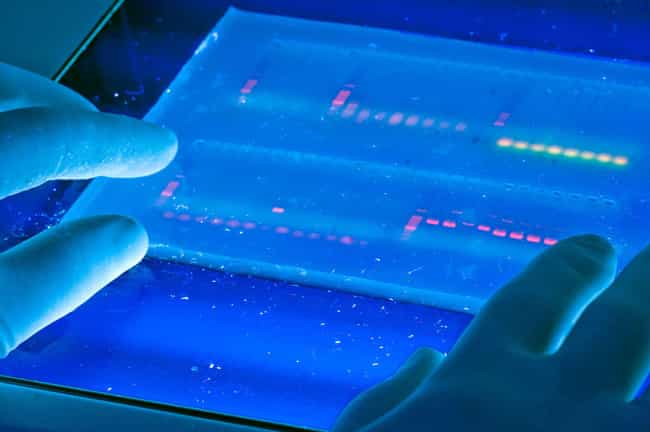 Like the European ruling families of the 19th century, incest was extremely common among the royalty of Egypt. They believed in keeping the purity of noble bloodlines, and it's generally believed that Tut's father and mother were siblings. Researchers at the Institute for Mummies and Icemen in Italy tested Tut's mitochondrial DNA, which is inherited only from the mother, and determined that his mom was the sister of the previous pharaoh Akhenaten, known to be Tutankhamun's father. Yes, his mother was his father's sister.
3. He Had Numerous Disfigurements
Because of the incest that protected the bloodline of the Egyptian royal family, Tut had a number of prominent physical disfigurements. Far from being the virile boy shown in his golden death mask, Tut probably had a severe overbite, curved spine, a massively disfigured foot, extremely slim hips, a skewed face, and epilepsy. He also may have had pronounced breasts. It's likely that Tut lived in extreme pain most of his short life.
4. He Had Two Powerful Advisors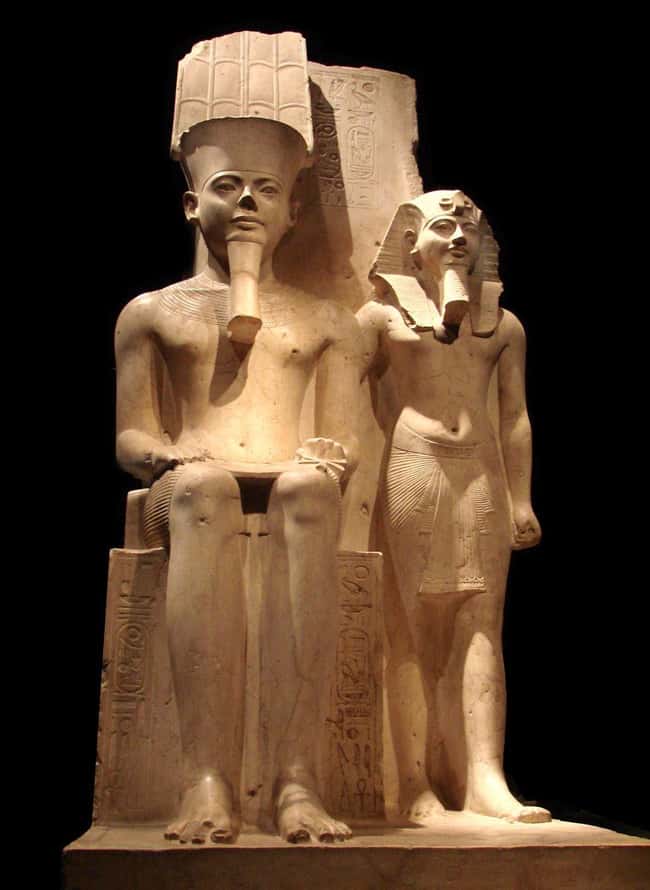 As Tut was only nine when taking the throne from his father, he needed strong advisors to help him make decisions. He had two powerful deputies. One was Horemheb, commander-in-chief of the Egyptian army, and the other was Grand Vizier Ay, an aging cavalry soldier turned counsel who is thought to have been the real power behind the throne. Ay directly succeeded Tut after his death, but reigned only four years as pharaoh before he died and was, in turn, succeeded by Horemheb – who subsequently erased Akhenaten, Tut, and Ay from the historical record.
5. He Married at Nine Years Old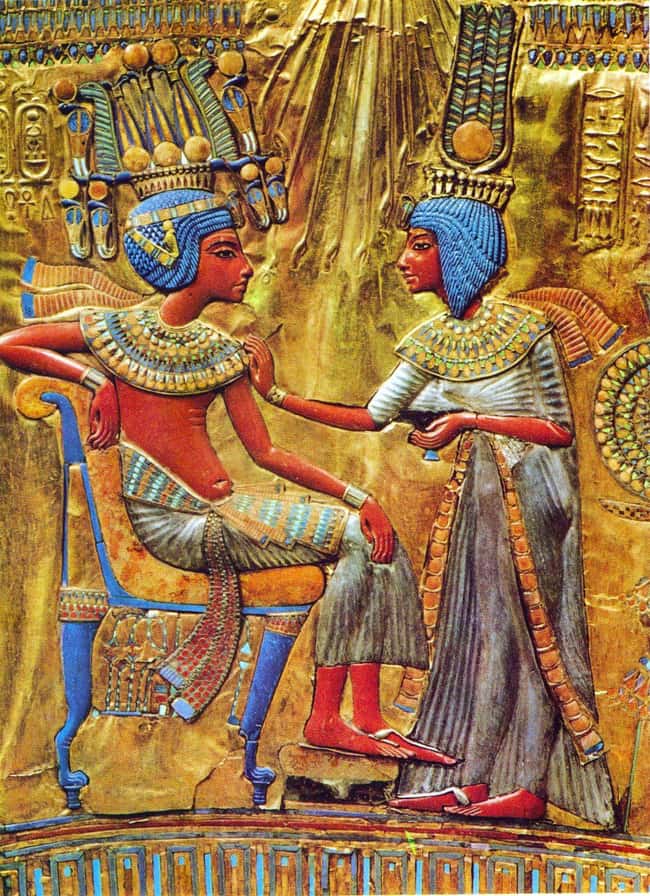 Just after ascending the throne, Tut was married to his half-sister, Ankhesenamun ("One who lives through Amun.") Little is known about her, though she was probably a few years older than Tut, and she was, like Tut, a child of the previous pharaoh Akhenaten – and quite possibly was married to him. Her mother was likely the famous queen Nefertiti, who also might have been Tut's mother. Essentially, Tut's wife was certainly his half-sister, possibly his blood sister, and maybe even his step-mother. And you think your family is complicated.
6. Tut Probably Died of a Broken Leg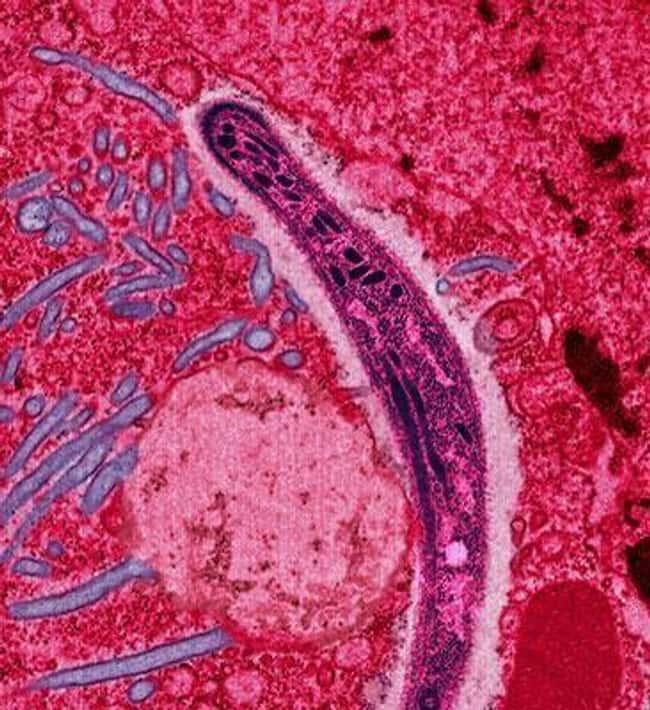 Theories abound as to why Tutankhamun died young. Everything from murder (usually thought to be a blow to the head) to genetic abnormalities to sickle-cell disease are named as the culprit. But a 2010 study revealed that Tut probably died of a malarial infection acquired after he broke his leg. Genetically passed ailments probably had something to do with weakening the young king's immune system, leaving him vulnerable to malaria.
7. Tut's Successors Purged Him from History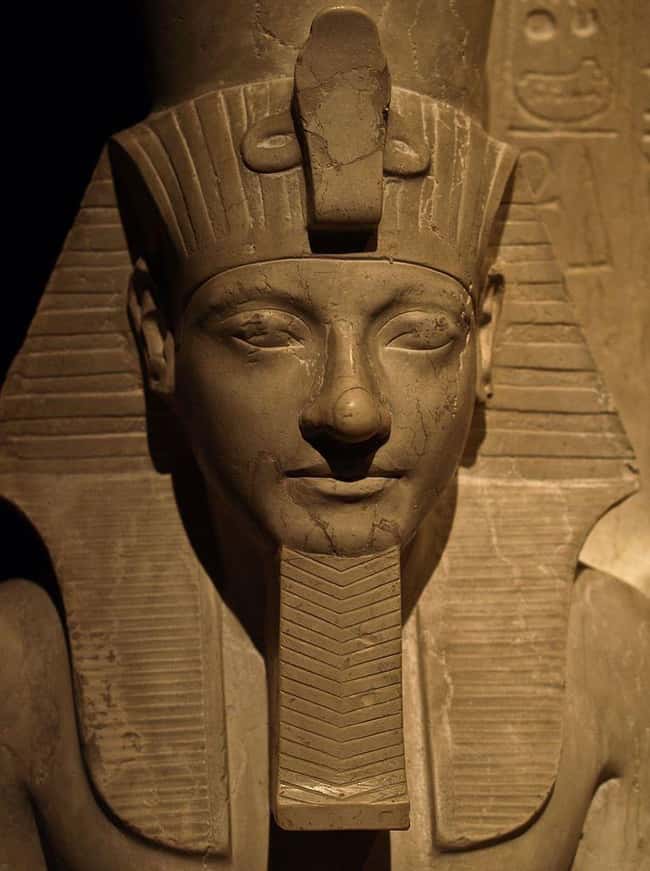 Ay continued the reforms that Tut began, bringing the country back to its worship of Amun and discarding the cult of Aten that Akhenaten favored. When he took the throne from Ay, Horemheb took things one step further and began purging references to Aten, Akhenaten, Tut, and Ay from history and architecture. Monuments and temples that referenced either Aten or the kings in his line were destroyed, and the capitol was moved again, from Thebes to Memphis. Tut himself was forgotten soon after, with his burial site built over.
8. The Curse of King Tut's Tomb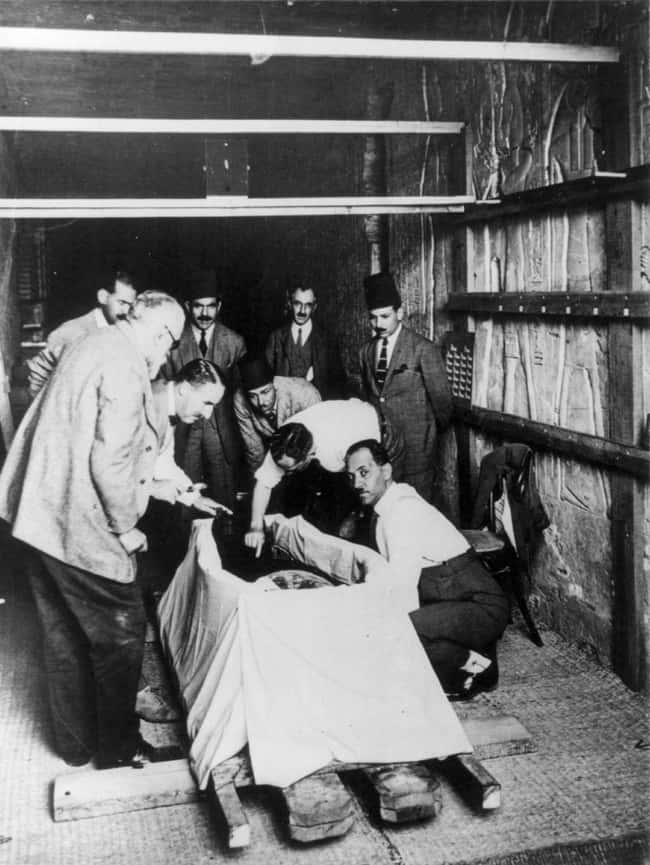 The idea of those who disturb Egyptian tombs being cursed goes back to the 19th century, but went crazy after Tutankhamun's tomb was found in 1922. While a number of members of tomb-finder Howard Carter's team died within a few years of finding the tomb, that doesn't mean there was any kind of curse attached to it. In fact, simple math proves the idea of a "curse" wrong: of the 58 people who were present when the tomb and sarcophagus were opened, 50 were still alive within a dozen years. Many of those who died were either older, or in professions that put them at risk.
9. Egypt Will Close Tut's Tomb Permanently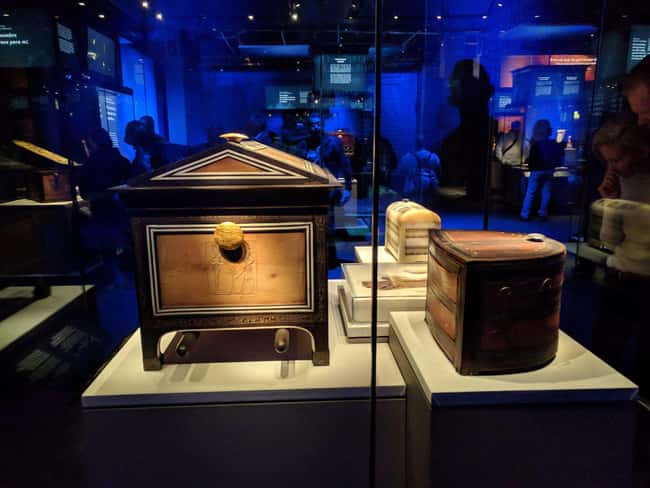 Howard Carter's initial excavation damaged the tomb, and decades of exhibitions and tourist hordes began to erode the art and artifacts inside it. In 2014, Egypt opened a $700,000 replica of the tomb suitable for visitors, and plans to permanently close the original.
10. His Mask's Beard Snapped off 3,300 Years Later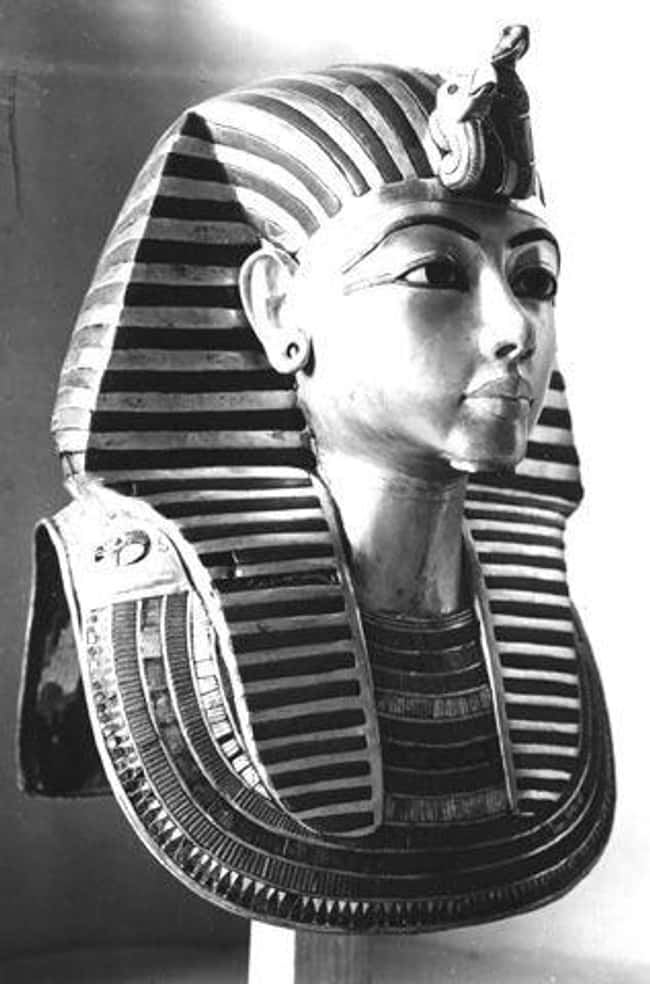 In 2014, an Egyptian Museum employee inadvertently knocked the famous pharaohnic beard off King Tutankhamun's mask. A group including the head of the museum then attempted to quickly fix the relic, gluing the beard back with epoxy and scratched the mask's gold surface in the process. As of 2016, the eight academics and employees involved are facing trial for "gross negligence," for which they may face fines.