Contrary to Krugman, DeSantis and others warning about a CBDC aren't being paranoid: they are simply drawing the obvious conclusions from history.
In a recent column for the New York Times, economist Paul Krugman makes fun of Florida Governor Ron DeSantis for saying that a central bank digital currency (CBDC) would give the government too much power over Americans. DeSantis specifically said that the federal government could use a CBDC to further the "woke" goal by punishing Floridians for buying too much gas or guns.

Krugman laughed at the idea that a CBDC could be a threat to civil liberties:
If this sounds crazy, that's because it is. I have no idea whether DeSantis believes any of it, or even knows what a central bank digital currency is or what it would do (more on that later). And it's possible that he's taking this stand out of general paranoia.
But Krugman doesn't think that DeSantis's resistance to a CBDC from the Fed is just based on paranoia. Krugman thinks that instead, big Republican donors are using anonymous money to hide their bad plans, which is good for them. As Krugman wraps up his piece, he says:
[These considerations] tells us what DeSantis's attack on central bank digital currency would actually do. It wouldn't protect the rights of Floridians to buy gas or guns; instead, it would protect the ability of wiseguys to evade taxes, launder money, buy and sell illegal drugs, and engage in extortion.
But hey, I guess thinking that money laundering and extortion are bad things is just another example of the wokeness that DeSantis is trying to kill.
As usual, Krugman's cocky arguments fall apart when they are looked at closely. First of all, my academic colleague Jonathan Newman pointed out that the Fed study Krugman linked to in his piece talked about how a CBDC could be a threat to privacy. In the words of the Fed study: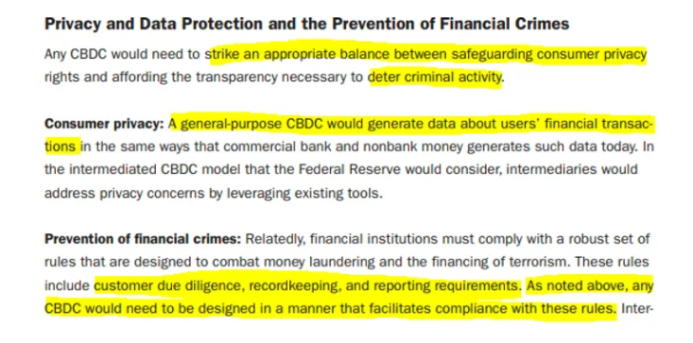 In other words, Ron DeSantis isn't the only one who knows a CBDC could be used to invade people's privacy. The Federal Reserve knows it, too.

On top of that, we have seen in recent past how political goals can be used to hurt monetary freedom. For example, the Canadian government froze the funds of Canadian truckers who were protesting Covid's practices, and many Americans had their donations stopped in the same way.

"Civil asset forfeiture" is another scary example of what could happen if a CBDC is used. Over the years, many drivers have been pulled over for a routine traffic stop. During these stops, the police have taken thousands of dollars in cash and held it until the driver could show he wasn't a drug dealer, which could take months. For example, Jerry Johnson, a businessman from Phoenix, had $39,500 in cash that he planned to use to buy a truck, but the cops took it from him at the airport. Even though Johnson had never been charged with or guilty of a crime, he did get his money back after two and a half years.

Suppose that the Federal Reserve sets up a CBDC based on how civil asset seizure works. All transactions would be kept on the Fed's ledger, where "suspicious" trends could be looked for by AI bots. And, just like what happens now with real money, the government could freeze a person's account until he or she could show his or her innocence, which would be hard to do without money.

The important thing to know is that a CBDC doesn't have to be like "FedCoin," which requires a MetaMask wallet and is only for people who are good with technology. In a recent podcast show, George Gammon told Cole Snell and me that all people would have to do is switch their checking accounts to the Fed. As long as people's checking account deposits were liabilities on the Fed's balance sheet, that would be a digital money issued by the central bank. They would still be "dollars," but the Fed would have full control. There wouldn't be a middle level of private business banks that compete with each other.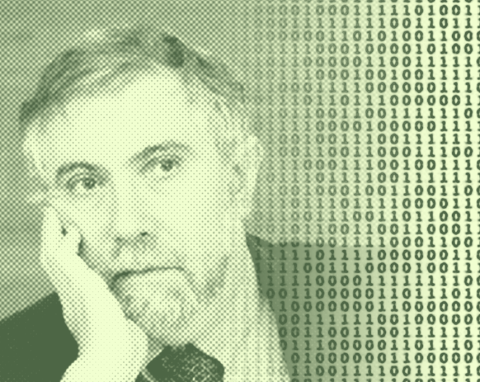 Krugman and his frequent partner Dean Baker unintentionally confirmed Gammon's fears when they said that it would be great if people could skip the middleman and bank directly with the Fed, but those greedy bankers would never let it happen. No matter what they say, Gammon is right. If most Americans had bank accounts directly with the Fed, it would have almost complete power over their lives, especially if cash is phased out.

Krugman says that DeSantis and others who warn about a CBDC are crazy, but they're not. They're just drawing the obvious conclusions from history. The Federal Reserve was founded in 1913 to smooth out changes in the business world and calm down the financial sector. After 16 years, the stock market crashed, which led to the Great Depression. Since then, every time they say they've fixed something, another problem happens.

We don't trust the government or central banks with the news or science, and we shouldn't give them power over money and banking either. Entrepreneurs need to find ways to handle cash and build up capital that aren't the same as what they've always done. Here at infineo, we are doing our part, and we ask anyone who is interested to take a look.
** Information on these pages contains forward-looking statements that involve risks and uncertainties. Markets and instruments profiled on this page are for informational purposes only and should not in any way come across as a recommendation to buy or sell in these assets. You should do your own thorough research before making any investment decisions. All risks, losses and costs associated with investing, including total loss of principal, are your responsibility. The views and opinions expressed in this article are those of the authors and do not necessarily reflect the official policy or position of USA GAG nor its advertisers. The author will not be held responsible for information that is found at the end of links posted on this page.