Which politician insisted SNL should pay for their kid's braces? Which SNL impression sent a political figure into therapy? In public, most politicians pretend their Saturday Night Live impressions, which can be downright brutal, don't bother them. Several presidents have even publicly appeared with their SNL doppelgängers, including George H.W. Bush and Gerald Ford. But in private, some politicians feel very differently about SNL's attempts to imitate them for laughs.
While most politicians try to laugh off SNL's impressions, some don't handle the satire very well. How do politicians really feel about some of the most popular SNL impressions? 
Hillary Clinton Said Kate McKinnon's Impression Left Her Self-Conscious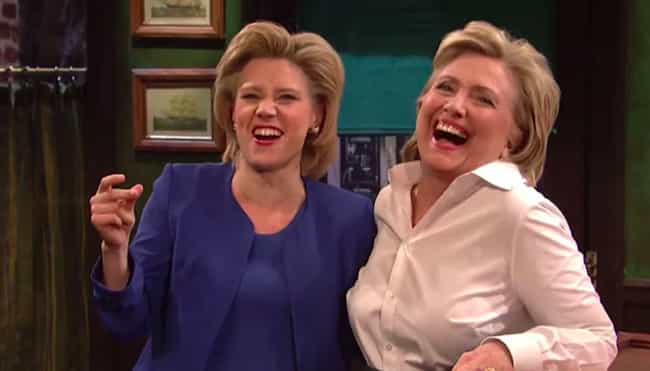 After decades in the spotlight, Hillary Clinton has seen multiple impressions of herself on SNL, most notably from Amy Poehler and Kate McKinnon. Clinton said she enjoyed McKinnon's impression, but that it also made her self-conscious. Clinton told People in 2016, "Her really dramatic impersonation of me does make me think, 'Oh my gosh, did I roll my eyes? Lift my eyebrows?'"
Clinton especially wondered about her laugh. "My laugh, which has been noted since I was a little girl – 'hearty' is the way it's often described – I see the exaggerated version of it and I do sometimes think, 'Well, maybe I should just sort of back off from that.' But then I forget and go on and just be what I've always been."
The former presidential nominee also had high praise for SNL's behind-the-scenes production members: "They have these seamstresses, tailors, and designers literally on call to make whatever I was wearing so that Kate can wear it. And I was stunned by that when I was on SNL the first time back in '08, I was shocked that I showed up and the suit I was wearing was the suit that, at that time, Amy Poehler was wearing. It was really funny."
George H.W. Bush Laughed At Dana Carvey's Impression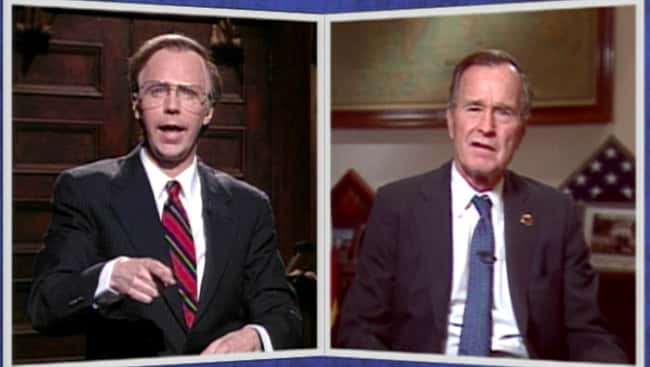 Many consider Dana Carvey's impression of President George H.W. Bush one of the best in SNL history. Carvey popularized lines like "Not gonna do it" and "Wouldn't be prudent" in his impression of the president, which portrayed Bush as a boring, slightly goofy guy.
James Andrew Miller, co-author of Live From New York: The Complete, Uncensored History of Saturday Night Live, says Bush "was a fan of" the impression. He liked it so much that Bush and Carvey appeared together several times. Miller said, "Bush would laugh at it, so I don't think that was mean in any way."
Bill Clinton Wasn't Bothered By Darrell Hammond's Impression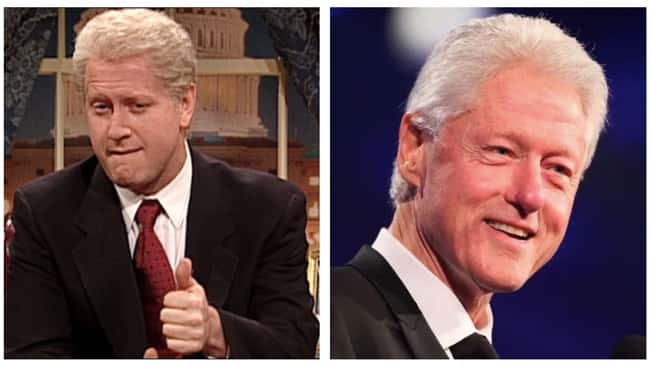 During his eight years as president, Bill Clinton watched Phil Hartman and Darrell Hammond play him on SNL. Even in the midst of the Monica Lewinsky scandal, when Hammond played a lecherous version of the president, Clinton apparently remained unfazed.
Clinton's advisor Paul Begala recalled, "He had the thickest skin of anybody I ever knew. We loved it; he loved it. I don't remember any talk at all about pushing back on it."
Joe Biden Called Jason Sudeikis's Impression So Good It Scared Him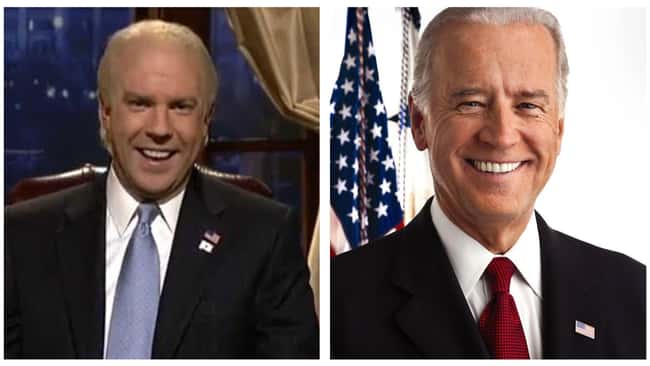 In 2012, Jason Sudeikis dropped several "malarkeys" while portraying Vice President Joe Biden on SNL. Biden was such a fan of the sketch that he told everyone watching Good Morning America to check it out.
He said, "I recommend everybody go back and find that Saturday Night Live deal they did. I have to admit I laughed my head off at that guy playing me. He is so good it scared me."
Ronald Reagan Didn't Publicly Comment On His Impersonators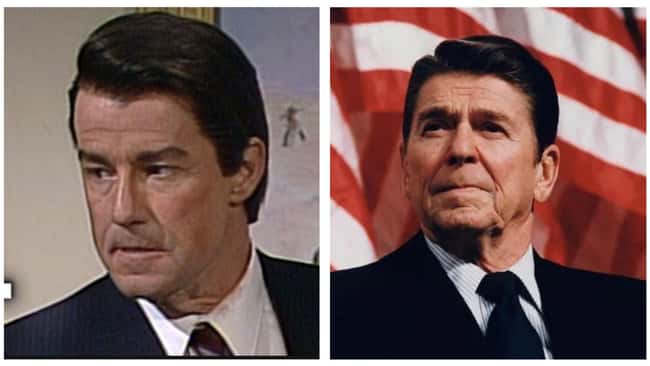 During his eight-year term as president, from 1981 to 1989, Ronald Reagan faced multiple SNL impersonations. Charles Rocket, Joe Piscopo, Randy Quaid, Robin Williams, and Phil Hartman all portrayed Reagan.
Hartman's take, in his first sketch playing the president, showed Reagan as a friendly, clueless leader in public, and an evil mastermind as soon as the cameras were off. Reagan never publicly spoke about SNL's impression, so we may never know what the Gipper really thought.
Gerald Ford Laughed Off Chevy Chase's Impression And Even Played Along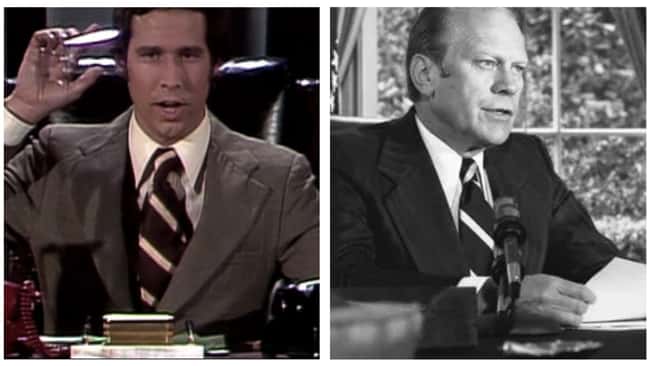 Gerald Ford was president when SNL premiered, so he was the first to figure out how to respond to his impression. Chevy Chase played Ford as a bumbling and clumsy president, a joke that stung. But Ford, aware of the post-Watergate mood in the country, just laughed at the impression in public.
Ford invited Chase to the White House Correspondents' Association Dinner in 1976, where the president pretended to fumble silverware and drop it on Chase's lap. Ford even started his remarks with a play on Chase's "Weekend Update" bit, saying, "I'm Gerald Ford, and you're not."
George W. Bush Tried To Take Credit For Will Ferrell's Most Famous Line
Will Ferrell's impression of George W. Bush was one of the most memorable in SNL history. But what did Bush think of Ferrell's send-up? In 2017, Jimmy Kimmel asked the former president if the impression bothered him. Bush responded, "Not at all."
In fact, Bush found the impression so good that he tried to take credit for part of it. Ferrell made the word "strategery" famous in his impression, and Bush later got into a friendly argument with Saturday Night Live creator Lorne Michaels over whether Bush actually said "strategery" or an SNL writer invented the word.
Bernie Sanders Invited Larry David On The Campaign Trail After His Impression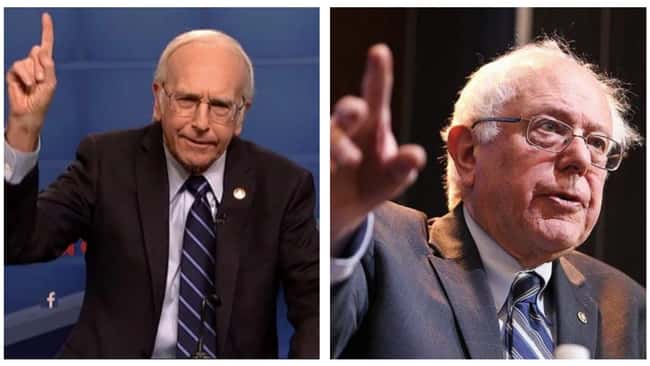 During the 2016 presidential election, Vermont Senator Bernie Sanders battled Hillary Clinton for the Democratic nomination. From the instant Sanders appeared on the campaign trail, people noticed a similarity to comedian Larry David. In October 2015, David appeared on SNL as Bernie Sanders, and the impression was so perfect that Sanders wondered if he could pull off a swap during a rally.
Sanders joked, "I think we'll use Larry at our next rally. He does [me] better than I do."
Michele Bachmann Denied Twerking After Miley Cyrus's Impression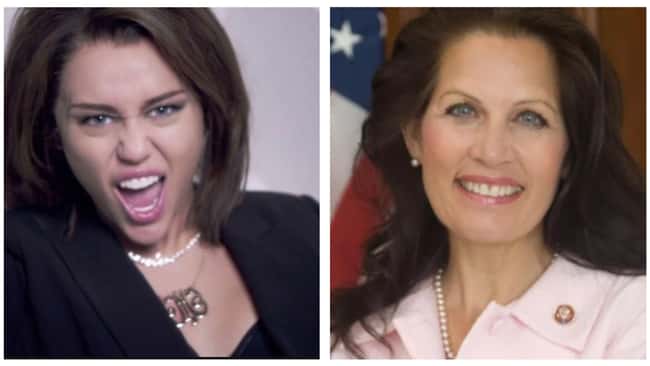 In 2013, Miley Cyrus portrayed Minnesota Congresswoman Michele Bachmann in a sketch skewering the GOP for shutting down the government with a parody song titled, "We Did Stop (the Government)." Bachman's reaction: "I've never done twerking in my life, and I don't intend to take it up."
The congresswoman went on to say, "I have a good sense of humor and I never take it personally. I've probably been lampooned six or seven times on Saturday Night Live and that's all done in good fun."
Donald Trump Thinks Alec Baldwin's Impression Is A 'Hit Job'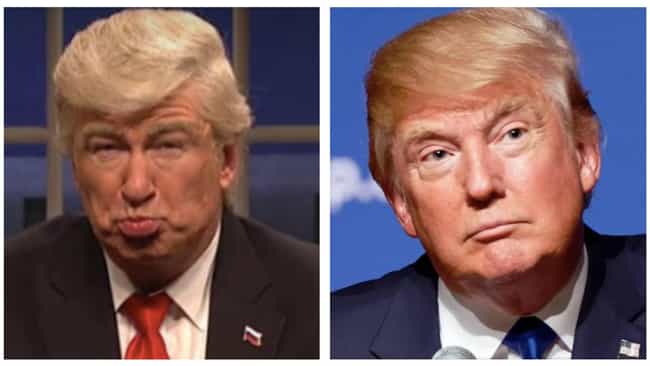 Donald Trump's reaction to Alec Baldwin's impression has been unlike any other politician in SNL's history. In a 2016 tweet, less than a month before the election, Trump called the impression a "hit job on me," declaring, "Alec Baldwin portrayal stinks. Media rigging election!"
After winning the election, Trump tweeted, "Just tried watching Saturday Night Live – unwatchable! Totally biased, not funny and the Baldwin impersonation just can't get any worse. Sad."
The president also told Matt Lauer, "The skits are terrible. I like Alec, but his imitation of me is really mean-spirited and not very good… It's very biased and I don't like it."
In response to Baldwin's satirical presentation of the President's "national emergency" in 2019, Trump accused SNL of being "AN ENEMY OF THE PEOPLE" and tweeted, "Nothing funny about tired Saturday Night Live on Fake News NBC! Question is, how do the networks get away with these total Republican hit jobs without retribution? Likewise for many other shows? Very unfair and should be looked into. This is the real collusion!"