Nancy Pelosi called Donald Trump a 'rogue president,' a 'liar,' and said he should be ashamed of himself for the incident in the US Capitol.
House Speaker Nancy Pelosi declared on the eve of the January 6 riot that during the 2021 violence, "democracy was on the verge of collapse."
'Democracy won,' Pelosi, 81, said, but warned democracy was in dire condition previously.
'Make no mistake, our democracy was on the brink of catastrophe.'
Pelosi said it's time for the country to turn to its 'better angels,' draw from history, and guarantee a day like January 6 never happens again in an interview with the Associated Press on Wednesday, inside the Capitol where a mob sympathetic to Donald Trump had laid siege.
'Democracy won that night,' she said. 'These people, because of the courageous work of the Capitol Police and Metropolitan Police and others, they were deterred in their action to stop the peaceful transfer of power.
'They lost that night. It was a failure for them, it was a victory for democracy.'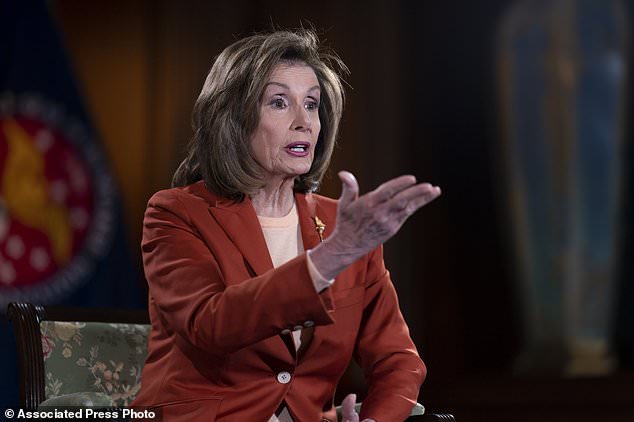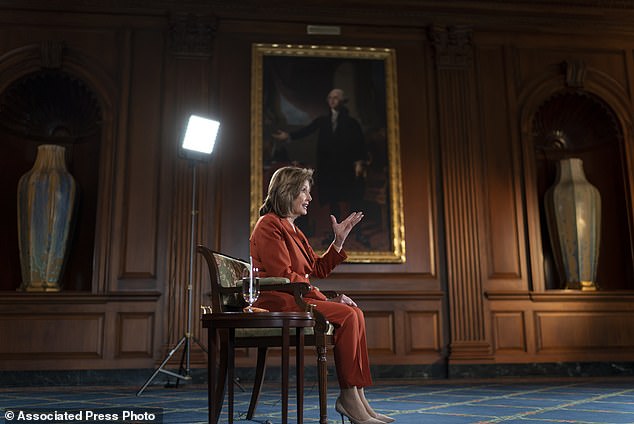 On Thursday, the speaker will lead Congress in a day of remembering at the Capitol, with President Joe Biden addressing in the morning and historians and politicians sharing remembrances all day - though few Republicans are likely to attend.
'This has to be a period of remembrance, of reconciliation,' Pelosi said, drawing on the example set by Abraham Lincoln.
'Lincoln said: "With malice toward none, with charity toward all" as the Civil War was ending. "We have to extend the hand of friendship."'
After a defeated President Trump pushed them to fight as Congress was recognizing Biden's election, protesters ransacked the Capitol, some engaging in hand-to-hand conflict with police.
Pelosi said no one could have imagined a US president calling for an insurrection, but there's now an 'enormous civics lesson learned as to what a president is capable of,' she said.
'I think now people are alerted to the fact that there can be rogue presidents.'
Republicans are largely absent at commemorative activities. They played down the attack and blamed Democrats for failing to fortify the Capitol.

In a letter to colleagues, House Minority Leader Kevin McCarthy of California said that Democrats are exploiting the anniversary "as a partisan political tool to further divide our country."

Pelosi, the California lawmaker who made history as the first female speaker of the House 15 years ago and has gone on to become one of the most powerful politicians in history, said she bears "absolutely no feeling of guilt" for the country's present differences.
She said her message to those who invaded the Capitol - and the millions of Americans who voted Trump and may support him again - is that they were deceived to. She led the House twice to impeach Trump. Numerous court lawsuits and investigations have found no proof of voting fraud that could have swung the election in his favor, as he alleges.
'They may have thought that was right,' she said. 'But they were lied to by the president of the United States.'
For that, she said: 'He should be ashamed.'
Pelosi leaned heavily on the founders' vision for a democracy where Americans would have many disagreements but rely on common sense to overcome them as she sat beneath a painting of George Washington.

She cited Lincoln's attempts to emphasize national unity during the Civil War, when he insisted on building the Capitol dome over opposition.
'We cannot shirk our responsibility. We have the power and we have the responsibility and we will live up to that to keep our country together,' she said.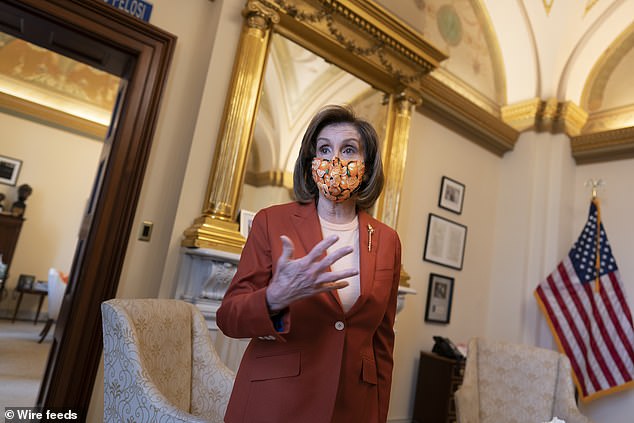 'Let's hope that we never elect a president who will incite an insurrection on the Congress of the United States.'
Looking back on the night of January 6, Pelosi said she is most pleased of congressional leaders' decision to promptly return to the Capitol to certify the election results once the crowd had dispersed.

She expects to restore the mainly closed Capitol - a "symbol of democracy to the world" that has been closed to the public for longer than at any other time in its history - "soon" after the coronavirus epidemic has passed and the physician's office has given the all-clear.

Pelosi exhibited a mirror that was damaged in the fight but has since been fixed, as well as a door that was destroyed when the crowd went looking for her, menacingly chanting her name, inside her Capitol offices.
As protesters stalked outside, some members of her staff shut themselves in a conference room, mute and scared. She was rushed to a secure area after presiding over the House down the hall.

While historic objects may be repaired and replaced, Pelosi understands that the emotional toll of that fateful day endures for many.
'What I remember most about the day is something that I find most unforgiving about it, and that is the impact that it had on young people in the Capitol, my staff in particular,' she said. 'What I remember the most, and will never forget, is the trauma that I saw in the eyes of the young people who were present for that violence.'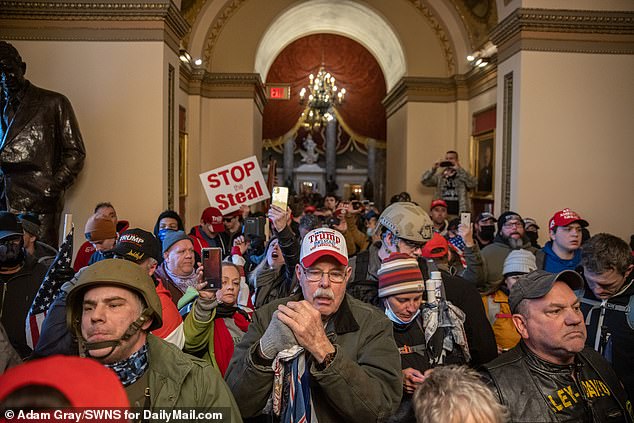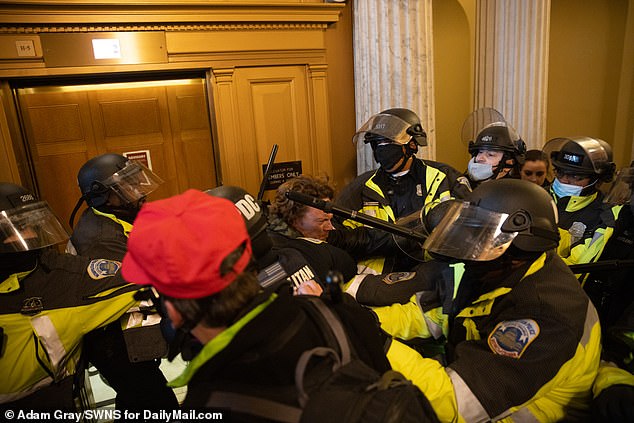 Though his agenda has stalled in the Senate, Biden has indicated that one approach to strengthen democracy at home and throughout the globe is to demonstrate that America's government can function.

Pelosi agrees, predicting that Congress will finalize Biden's Build Back Better Act, a mix of social projects and climate change policies, this year and deliver it to the president.

She also stated that the Senate's current election-law and voting-rights legislation is "perhaps the most essential legislation that we can pass."
She said of Biden: 'I think he's a great unifier. I think the times have found him and that he's the right person for the right job at this time,.'
As for her own plans, as many expect this may be her final term in office, Pelosi would only say she 'may' run for reelection.
For now, she urged Americans to look ahead, not back.
'The future is America's resilience, America's greatness,' she said. 'America will always prevail and that we will survive - even what we went through last year.'