Bitcoin has broken below its previous cycle's high for the first time in its history. The previous cycle's high was US$19,783 in December 2017, and the price dropped as low as US$17,708 on June 19th.
The price has since recovered and is currently hovering around US$19,200. With historically thin trading under US$20,000, the next level of real support may not be reached until US$13,800.
Bitcoin is currently down 70% from its peak of US$68,789 in November 2021. In the current macro environment, where the Fed is tightening to try to keep inflation under control, the price remains under pressure and may fall further.
Companies that have put bitcoin on their balance sheets, such as Microstrategy (129,218 BTC) and Tesla (42,000 BTC), are underwater on their holdings, with average cost prices of US$30,200 and US$31,620, respectively.
The bitcoin price has fallen to its 200-week simple moving average ('SMA') and is now trading close to its'realized price' (a kind of total "cost basis" for all coins on the network). Both have historically been near ultimate lows or support for bitcoin.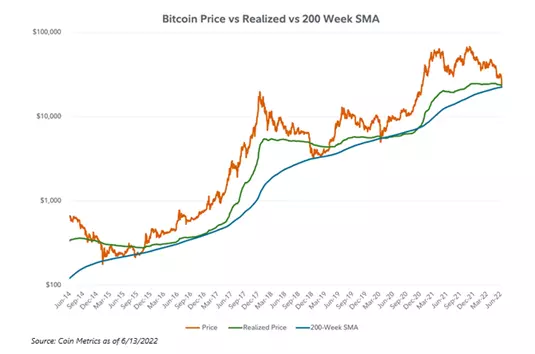 However, price is not always an indicator of true value. Assets can and do trade at overpriced and underpriced levels. As discussed below, we have continued to see metrics for the Bitcoin network reach all-time highs, implying that bitcoin is alive and well and will survive this tightening cycle in the crypto market (although many other cryptocurrencies may not).
The following are four on-chain metrics that have continued to hit new highs and demonstrate the health of the Bitcoin network:
Bitcoin: Hash Rate Average
The total computational power used by a proof-of-work cryptocurrency network to process transactions is referred to as the hash rate. A high hash rate is considered an indicator of network security because it indicates that a large number of miners are verifying transactions.
While industry participants such as centralized lending and borrowing platforms have experienced risk issues, the Bitcoin network has continued to operate normally with no hiccups, downtime, or "pause." With the hash rate continuing to rise to an all-time high, the Bitcoin network appears to be more secure today than ever before.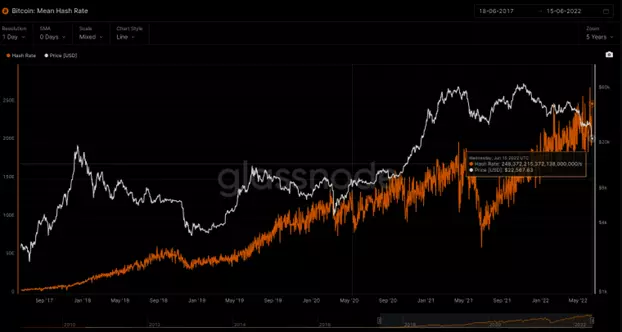 Bitcoin wallet addresses containing at least.01,.1 or 1 BTC
The number of addresses with at least.01,.1 or 1 BTC indicates the number of unique addresses with at least the specified amount. This metric provides a broad picture of whether the network is expanding.
Investors have continued to amass assets. According to the graph below, over 858,000 wallet addresses have at least one bitcoin or more.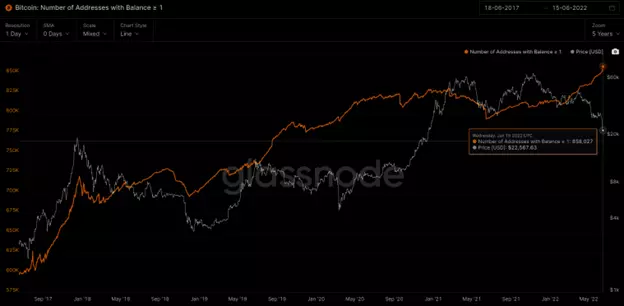 Percent of Supply Active for 1+ Years Ago
The percentage of supply that was last active one or more years ago represents the percentage of circulating supply that has not moved in at least a year. Bitcoin that has not moved in more than a year may be considered 'illiquid,' even though it remains part of the circulating supply. The greater the illiquid supply, the less selling pressure on the network, which is considered positive in the long run.
Long-term investors have remained cautious. Investors who have held BTC for at least a year have seen their holdings increase to an all-time high of 65.47 percent.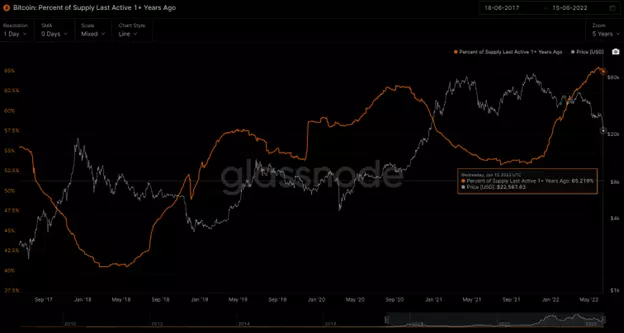 Capacity of the Lightning Network
The Lightning Network is a Layer 2 solution for addressing Bitcoin's scalability issues. With the Layer 2 solution, bitcoin can theoretically be used like any other currency without the need for lengthy confirmation times. Since its inception in 2018, the Lightning Network has steadily increased its capacity.
The Lightning Network Capacity metric displays the total amount of BTC stored in the Lightning Network. Payment nodes in the Lightning Network establish payment channels with one another. When transactions are made across channels, the channel balance is reflected without the need for a transaction to be broadcast on-chain, effectively creating a second layer on top of the Bitcoin network.
According to data, the Lightning Network has reached an all-time high of 4012 BTC locked. With increased capacity, the Lightning Network enables faster and nearly fee-free Bitcoin transactions via off-chain payment channels. This metric is viewed positively in terms of bitcoin usage and adoption.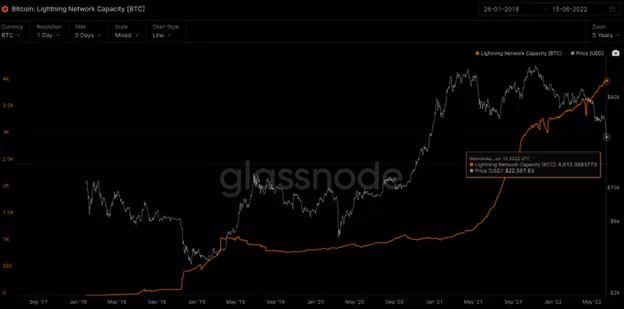 If we consider Bitcoin to be like other growth assets, it follows that it will not be immune to macroeconomic volatility and will continue to suffer from monetary tightening. Since 2020, bitcoin's price has increased more than any other asset class and, predictably, has fallen more. While the bitcoin price has continued to fall, several bitcoin fundamentals have strengthened and reached new all-time highs. The fundamentals and value should eventually meet, but where and when that happens is anyone's guess.
** Information on these pages contains forward-looking statements that involve risks and uncertainties. Markets and instruments profiled on this page are for informational purposes only and should not in any way come across as a recommendation to buy or sell in these assets. You should do your own thorough research before making any investment decisions. All risks, losses and costs associated with investing, including total loss of principal, are your responsibility. The views and opinions expressed in this article are those of the authors and do not necessarily reflect the official policy or position of USA GAG nor its advertisers. The author will not be held responsible for information that is found at the end of links posted on this page.