To get a job in the Metaverse and Web3, you'll need the necessary talents, the ability to engage and network with others, the ability to establish your brand, the ability to create content, and the ability to improve your exposure in the crypto market.
Is it possible for you to work in the Metaverse?

The Metaverse is the next significant career path, with companies like Meta, Roblox, Microsoft, OpenSea, The Sandbox (SAND), and many others helping to build it. So, if you want to learn how to get a job in the Metaverse, you must first understand what your function will entail. Your employment will entail a mix of blockchain, artificial intelligence, 5G, gaming, and other Web3 technologies such as augmented reality and virtual reality.

Learn the fundamentals of gaining a job in the Metaverse and Web3 fields in this essay.

Develop the necessary skill set

The first step in investigating Metaverse professions is to acquire the necessary skills and information. A 3D character artist working on avatars, for example, will need to be familiar with Blender, Maya, Cinema 4D, and have some experience with skins and games. Most Metaverse positions, especially those requiring engineering, need a competitive skill set, including knowledge of NodeJS, Javascript, API integrations, and React.

Applying to a university that offers free metaverse-related courses or learning, or using financial aid on platforms like Coursera and edX, can help you develop the following skills. Finding entry-level Metaverse jobs or internships requires networking with like-minded people. Meetup.com is a good place to look for local metaverse events. You can also meet people during hackathons, such as those held by MIT Reality Hack.
In the Metaverse, you may build your brand, increase your visibility, and make money.

Start creating your brand and making sure your portfolio is up to date after you've acquired the appropriate skill set. At TheMetaverseJobs.com, you can look for employment openings in the Metaverse. Start writing in-depth, intelligent pieces on the Metaverse and get them published on platforms like Cointelegraph, Forbes, or other notable media in your jurisdiction to get noticed in the sector.

It's important to remember that writing for reputable journals involves accepting bylines as guest pieces with no monetary compensation. So, how can you profit from the Metaverse? In the Metaverse, there are a plethora of additional ways to get money. For example, in games like Axie Infinity (AXS), players can win smooth love potion or SLP tokens by fighting monsters or other players. Players can also profit by selling their nonfungible tokens (NFTs).

Another approach to make money in virtual worlds is to host metaverse events. For example, live performances by well-known singers can draw large crowds, and organizers may charge consumers in the form of bought tickets. Due to the rush of brands and companies looking for a Metaverse presence, many architects and designers are producing 3D representations of structures; as a result, you can make money as a metaverse architect or designer.

What jobs are available in the Metaverse and Web3?

Remote Web3, Metaverse, and NFT jobs, to mention a few, are available in the crypto business. You can learn more about such jobs here, as well as income ranges for Web3 developers and Metaverse jobs in particular.

If you want to learn how to get a job in Web3, keep in mind that most crypto jobs require: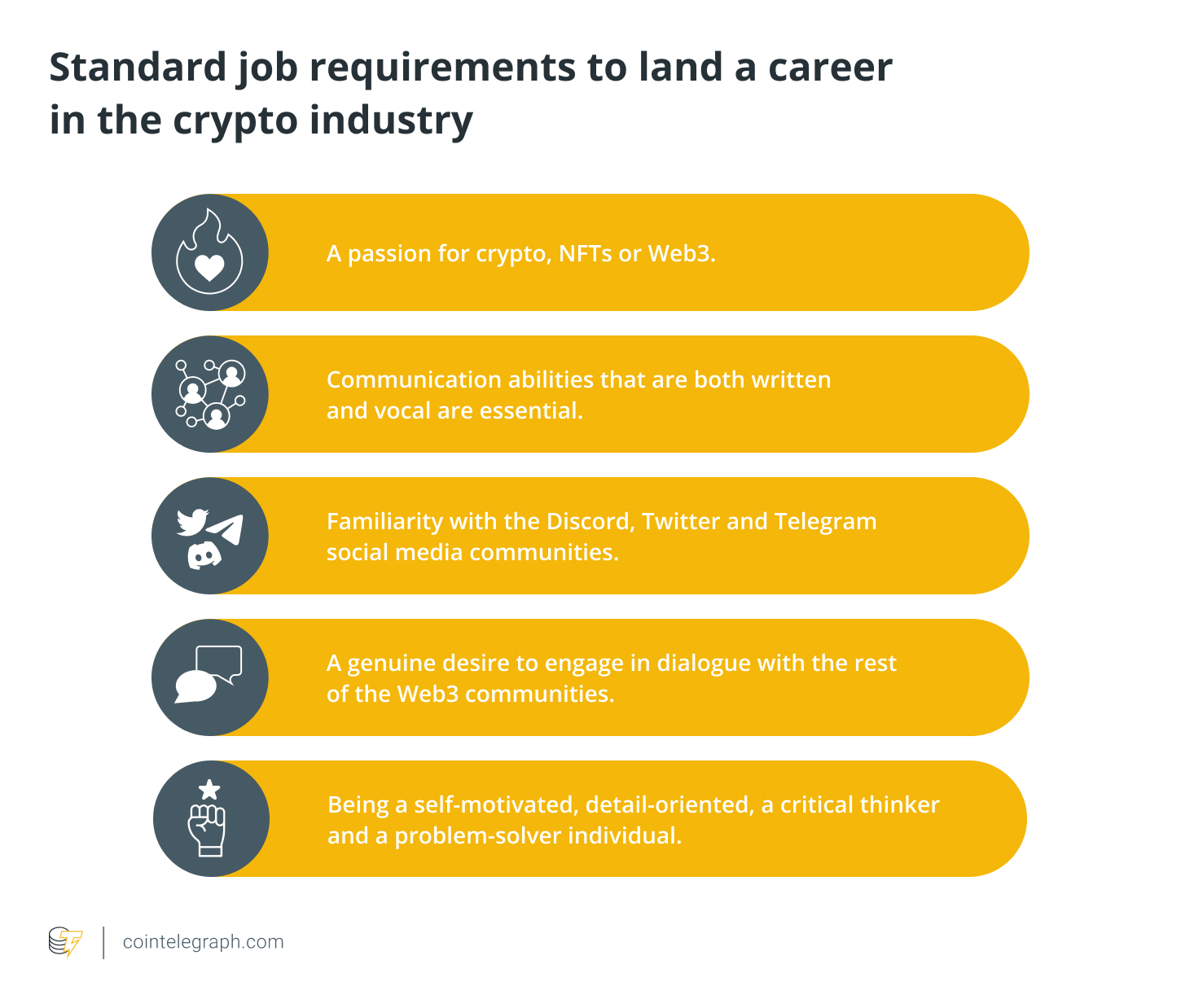 NFT social media and community manager, content writers and editors, blockchain developers, frontend and backend engineers, media reporters, growth marketing managers, project managers, and gamification strategists are among the most in-demand job titles in the Metaverse and Web3 field. In addition, various scholarships for women are offered in Web3, such as the Girl with Secrets (GWS) program. The GWS scholarship program provides free educational sessions, podcasts, and hackathon participation.

Alternatively, you can seek and apply for employment in the blockchain industry at cryptocurrencyjobs.co. It is emphasized once again that you must make yourself prominent by engaging in community forums, industry-led events, and hackathons in order to secure a job in Web3 or any other crypto job.

In the Web3 space, there are numerous opportunities, but blockchain enthusiasts should stay current on industry standards and apply for Metaverse internships or NFT positions as soon as feasible.

What are the different options for job applications in the Metaverse and Web3?

While there are still a few barriers to overcome until the virtual job market is teeming with chances, the Metaverse is likely to evolve slowly and smoothly.

The more people who use the internet become accustomed to integrating technology more deeply into their daily lives, the more opportunities will arise. Web3's development would most likely be transitional, with more access to creative employment as technology and culture advance, similar to how the internet grew gradually.

Being an early adopter is simple in retrospect. However, there are a number of risks, including missed opportunities in terms of time, money, and attention. It's expensive and time-consuming to keep up with the latest crypto innovations, such as new applications or protocols. Despite this, the advantages of working in the Web3 domain, such as higher pay and more opportunity for learning, outweigh the disadvantages. The numerous ways to immerse yourself in the Metaverse and Web3 worlds are described here.

Become an intern and make a cryptocurrency pal

Interning is the most efficient approach to determine whether or not you appreciate a specific area. If you're a student at any level and have the chance to intern, this is definitely the ideal option because you'll learn about the Web3 field while gaining some practical experience.

Find someone who shares your enthusiasm and collaborate with them on any of the crypto-related topics. Learning from your peers is a terrific approach to dispel your concerns, gain confidence, become more innovative, and keep updated about the crypto world's potential.

Take advantage of no-cost mentoring opportunities

If you wish to work in the Web3 domain, you should start by building or polishing your abilities by enrolling in the Frankfurt School Blockchain Center's 18-week DLT Talents program, which focuses on the professional development of women in the blockchain ecosystem. DeFi Talents is another program that trains participants for a career in the decentralized finance (DeFi) area.

You will gain access to a variety of job prospects in the Metaverse and Web3 industries through such programs. Furthermore, you will be able to keep up with industrial trends and take the necessary action on time.

Join a DAO and participate in crypto communities

Furthermore, Web3 is all about the community, and in the crypto realm, decentralized autonomous organizations (DAOs) are the most popular community-owned company model. DAOs with a focus on the community support automation, which relieves humans of tiresome and unpleasant tasks, most of which are related to bureaucracy, while boosting quick decision-making.

This technology enables individuals to access a virtual environment using low-cost gadgets, hang out, and build communities. Hiring managers may locate motivated candidates in these communities, and job seekers can apply for open opportunities. To learn about career prospects in the crypto field, join a DAO or participate in the Discord groups of other DeFi projects.

Sushi, Index Coop, Rarible, and Yearn, for example, have separate working groups for different people. Developing experience and demonstrating that you can add value to a product/protocol in a DAO is a fantastic way to get experience, boost your visibility, and create a portfolio while also potentially receiving compensation from the DAO.

Maintain a presence on CryptoTwitter and apply for affiliate programs

Moreover, some businesses require assistance with technical consultation, product development, and administrative tasks. Stay tuned to Twitter to learn more about these groups. On CryptoTwitter, participants and those who ask meaningful questions are valued. You should do the following as a crypto enthusiast: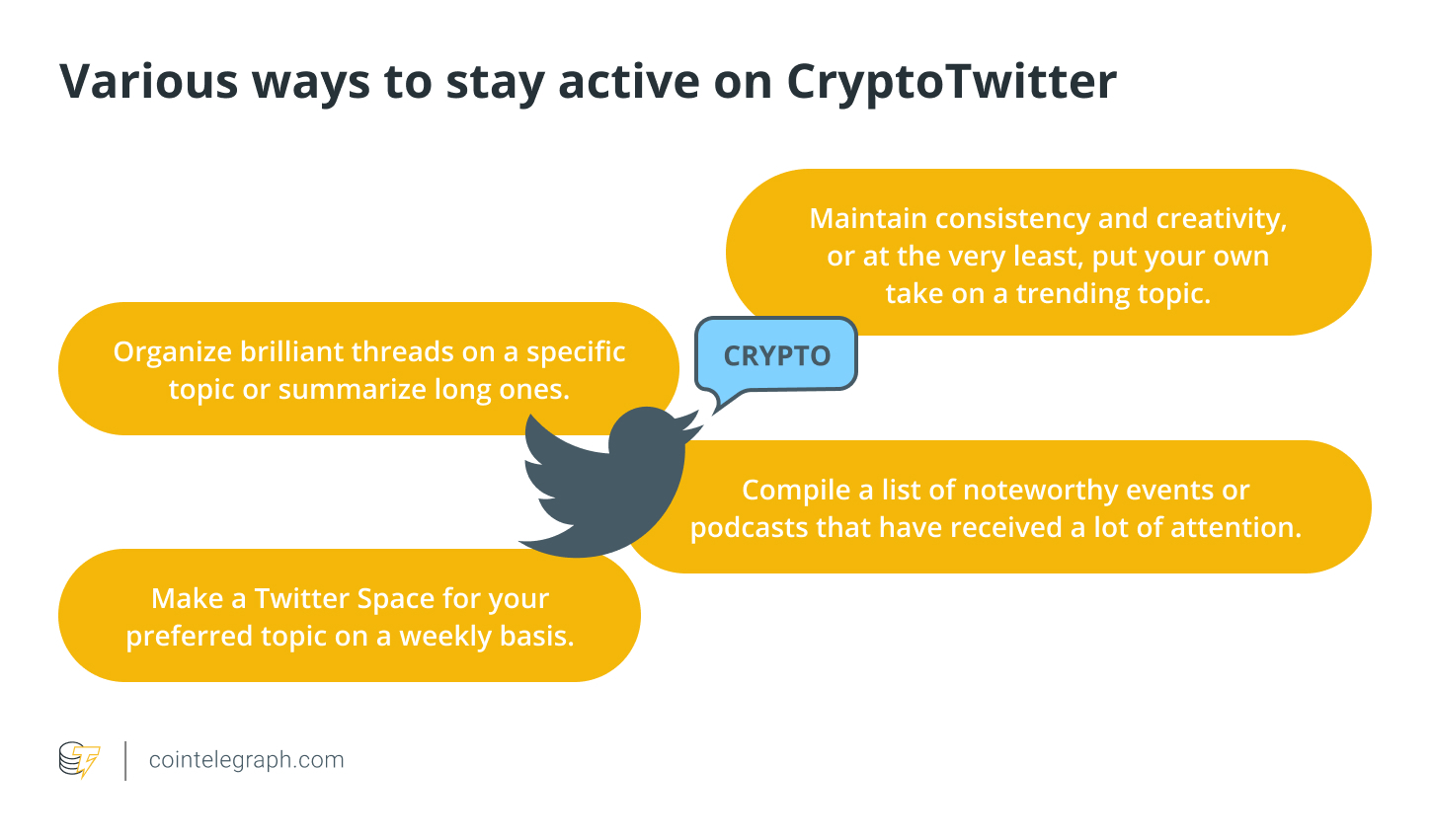 CryptoTwitter frequently posts job openings, recent crypto trends, and tips and tactics for getting hired in Web3, all of which can help you obtain a job in the Metaverse. Additionally, remaining active on CryptoTwitter and contributing back to the community can provide you with more opportunities.

Additionally, apply to become a partner with one of the best blockchain organizations. For example, Algorand (ALGO) has a growing network of collaborators and partners who are supporting the blockchain ecosystem in every way. Alternatively, you can sign up for job notifications from your preferred firms, such as Microsoft or Meta, to be informed about potential job openings in the Web3 field.

Choosing a hobby and participating in it

After you have a decent understanding of the skill set you can bring in, you may start looking for work. And picking the exact area of Web3 in which you are most enthusiastic is the first step toward discovering those great possibilities.

Stay active on CryptoTwitter, join Discord communities, or join a DAO in your spare time to get involved in the crypto sector, as explained above. In the decentralized world, becoming a helpful and valued member increases your visibility and helps you acquire a desired job.
=====
** Information on these pages contains forward-looking statements that involve risks and uncertainties. Markets and instruments profiled on this page are for informational purposes only and should not in any way come across as a recommendation to buy or sell in these assets. You should do your own thorough research before making any investment decisions. All risks, losses and costs associated with investing, including total loss of principal, are your responsibility. The views and opinions expressed in this article are those of the authors and do not necessarily reflect the official policy or position of USA GAG nor its advertisers. The author will not be held responsible for information that is found at the end of links posted on this page.