While Bitcoin's SOPR has retested its resistance, Ethereum's SOPR has retested its support, indicating that the two may be heading in separate ways.
Long-term market behavior is frequently used to gauge overall market mood. While zooming out might help put current market circumstances into context, the most accurate assessment of the market's position is often found in the center.
SOPR and its significance in market analysis
The Spent Output Profit Ratio (SOPR) is a useful statistic for gauging market mood. The measure, as the name implies, compares the value of outputs when they were spent to when they were generated. The measure displays the percentage of realized profit for all coins traded on-chain in a certain time window.
When SOPR surpasses one, the coins in question are profitable. When the ratio is less than one, the coins are losing money. A SOPR ratio of one is known as a SOPR reset, and it is frequently used to signify the beginning or conclusion of a mid-term cycle. The SOPR reset may also serve as support or resistance in bull markets.
While the measure is a simple and easy-to-understand signal, it may be further customized to provide a much more complicated market picture.
For example, aSOPR is used to filter transactions to exclude any "in-house" activity (e.g., transactions between addresses belonging to the same owner), which produces stronger market signals than raw-data SOPR. The SOPR and aSOPR metrics may be further classified as long-term and short-term holders.
SOPR for Bitcoin
Bitcoin's 7-day MA SOPR has been attempting to break above 1 for the first time since May. Bitcoin's SOPR reached one at the end of July and has been retesting it during the first week of August.
When Bitcoin reached a SOPR of one and failed to break resistance, its price rose briefly. Attempts to break through the SOPR resistance have almost invariably coincided with bear market rallies, often known as dead cat bounces.
And, while Bitcoin's failed attempts to break past the barrier may appear negative, the prognosis remains optimistic. Historically, SOPR has always required multiple efforts to break above 1. The harder it battled to break past the ratio of one, the more assistance it received later on.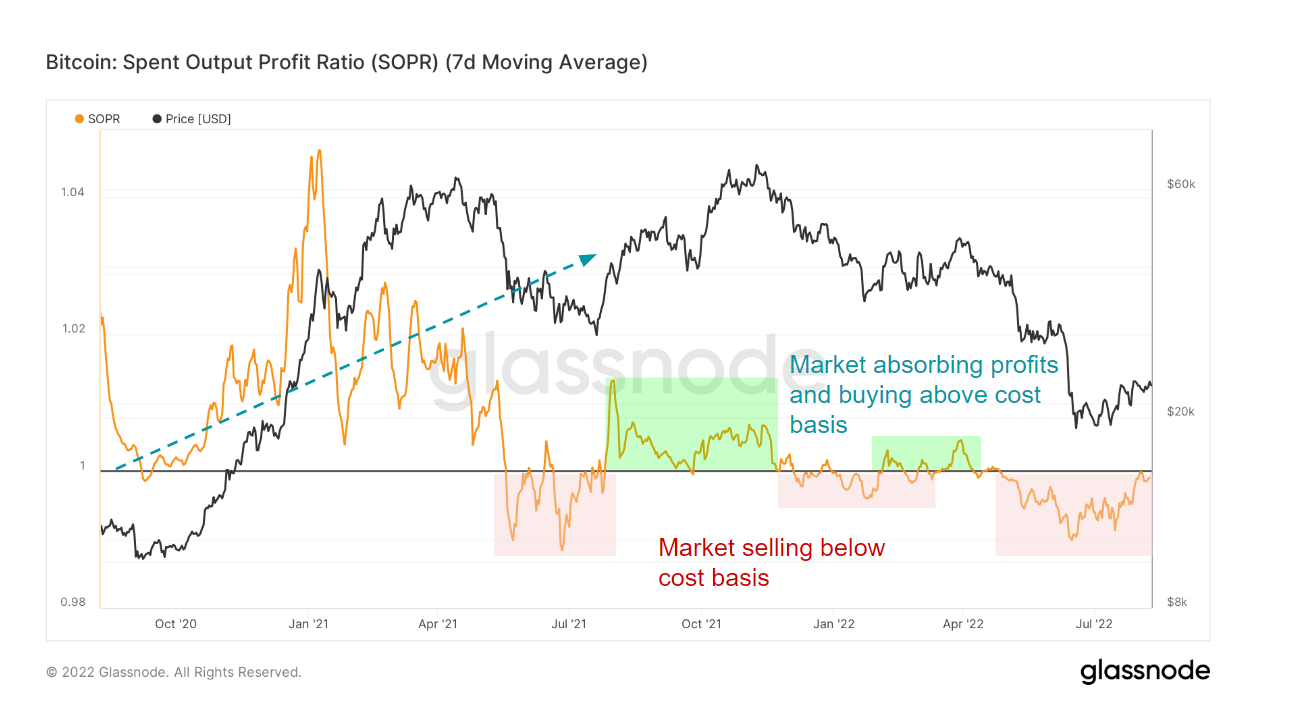 SOPR on Ethereum
Unlike Bitcoin, Ethereum managed to breach the SOPR of 1 on the first try. As of August, Ethereum appears to have found support at 1, with Glassnode statistics indicating that it swiftly rebounded from its previous decline. The growing SOPR of Ethereum is a direct outcome of ETH's rising price, which has defied the overall market trend that has kept most currencies in the negative.
However, although Bitcoin has retested its resistance, Ethereum has retested its support, indicating that the two may be heading in separate directions. Historically, for the spent output profit ratio to operate as strong support, it required to pass through resistance numerous times.
As previously reported by CryptoSlate, Ethereum's market-beating rise is primarily due to anticipation about the forthcoming Merge. This is reflected in a large spike in futures trading, which increased Ethereum's open interest to $6.4 billion – $1.4 billion higher than Bitcoin's open interest. The surge in futures trading contrasts with the network's diminishing user activity, as seen by falling gas fees.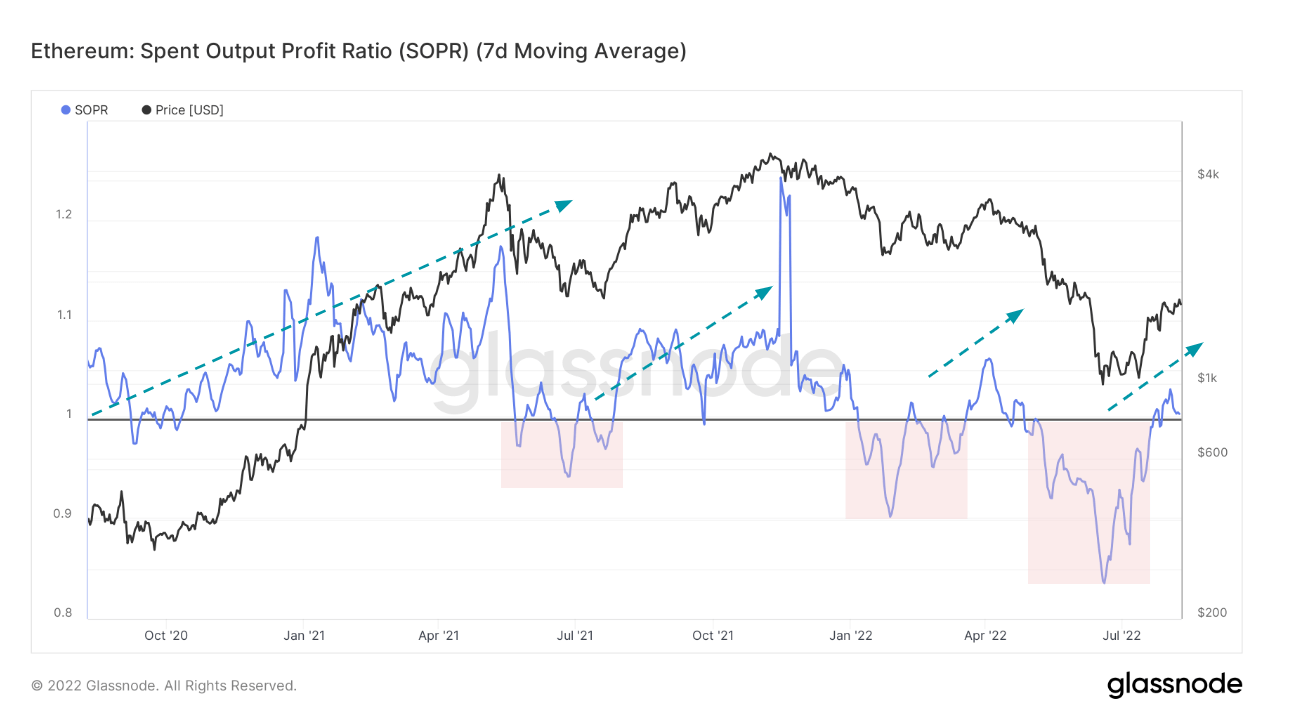 This level of speculation jeopardizes the stability of Ethereum's SOPR. Any decline in the price of Ethereum would undoubtedly damage the ratio, pushing it below 1. If it drops abruptly, Ethereum's SOPR may face stiff resistance if it tries to break above the level again.
** Information on these pages contains forward-looking statements that involve risks and uncertainties. Markets and instruments profiled on this page are for informational purposes only and should not in any way come across as a recommendation to buy or sell in these assets. You should do your own thorough research before making any investment decisions. All risks, losses and costs associated with investing, including total loss of principal, are your responsibility. The views and opinions expressed in this article are those of the authors and do not necessarily reflect the official policy or position of USA GAG nor its advertisers. The author will not be held responsible for information that is found at the end of links posted on this page.