President Biden kicked off Pride Month on Wednesday by telling federal agencies to come up with 'inclusive' policies for schools and foster parents. He also criticized states he said were trying to limit transgender teens' access to medical care.
Biden said "LGBTQI, I, sorry, plus" when he was trying to say "LGBTQI+" at the White House event, which was so crowded that he told people to "just sort of lean against each other" instead of sitting down.

Biden said, "I don't have to tell you how the ultra-MAGA agenda hurts families and our freedoms—300 discriminatory bills have been introduced in states all over the country." "In Texas, people are going door to door to harass and look into the parents of transgender children. Going after Mickey Mouse in Florida, for God's sake."

Biden was talking about how the Republican governor of Texas, Greg Abbott, asked authorities to look into the parents of transgender children for possible child abuse. He was also talking about a law in Florida that makes it harder to teach about sexual orientation and gender identity in kindergarten through third grade, even though Disney was against it.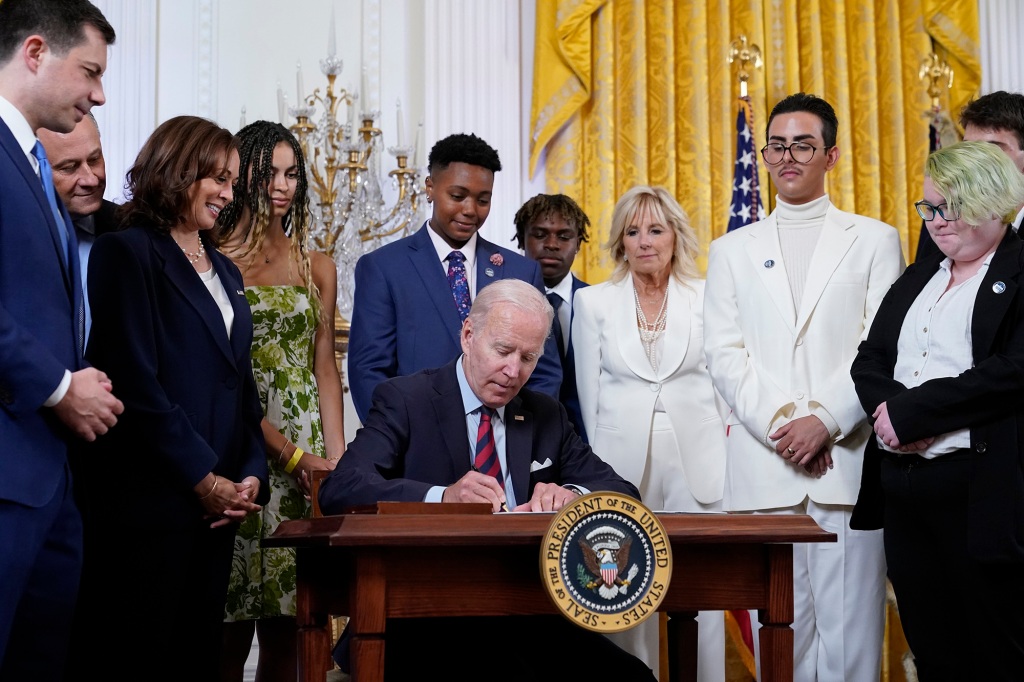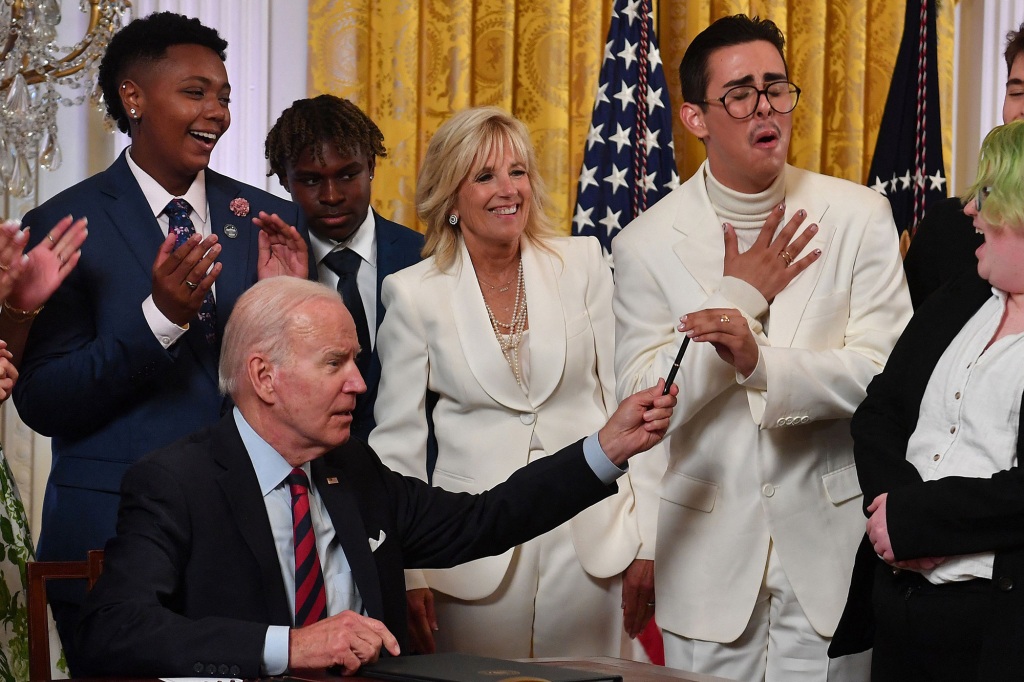 Critics of Florida's law have called it the "Don't Say Gay" bill, but Republicans like Florida Gov. Ron DeSantis say it has been misrepresented.

The order tells the Department of Health and Human Services to "work with States on expanding access to gender-affirming care." It wasn't clear right away if the agency would directly challenge GOP-led state governments that are trying to put restrictions in place.

Biden's order also told the Federal Trade Commission to look into whether the term "conversion therapy" is misleading advertising. It also told the Department of Health and Human Services to write a "Bill of Rights for LGBTQ+ Older Adults."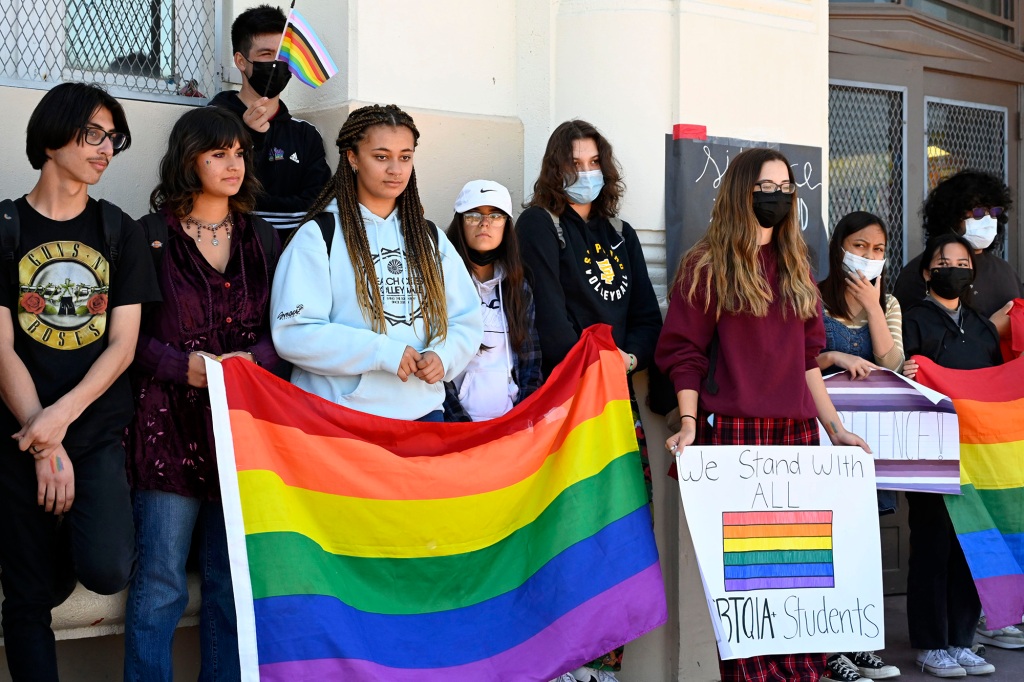 Transportation Secretary Pete Buttigieg went to the event, but he wasn't asked to speak. He was the first openly gay Cabinet member to be confirmed by the Senate and the second openly gay Cabinet-level official after the Trump administration's acting National Intelligence Director Ric Grenell.

Many of the things in Biden's new executive order are vaguely given to federal agencies, so it's not clear what effects they will have.

For example, the Education Department is told to "establish a Working Group on LGBTQI+ Students and Families, which will lead an initiative to stop discrimination against LGBTQI+ students and strengthen support for LGBTQI+ students and families."

HHS, on the other hand, is told to "promote equity and inclusion for LGBTQI+ foster and adoptive parents in their interactions with the child welfare system."

Last year, the Supreme Court ruled unanimously that Philadelphia broke the First Amendment when it didn't renew a contract with Catholic Social Services because it wouldn't work with gay and lesbian foster parents because of its religious beliefs.

In recent weeks, Biden has said that a leaked Supreme Court ruling that overturns federal abortion rights could threaten the right to same-sex marriage, which has been mostly upheld by the courts, and even cause gay students to be put in separate schools. The leaked draft opinion of Justice Samuel Alito, on the other hand, says that "abortion is fundamentally different" from things like marriage and birth control.

In 2003, the Supreme Court threw out state laws that forbade consenting same-sex sodomy. In 2013, the Supreme Court ruled that the federal government could not recognize same-sex marriages from the states. In 2015, all 50 states were given the right to allow same-sex marriage.

Biden's record on gay and transgender rights is mixed. In 1994, when he was a senator, Biden voted for an amendment that would have stopped schools from using federal money to "promote homosexuality as a positive alternative way of life."

In the 1990s, Biden was one of 32 Democrats in the Senate who voted to ban same-sex marriage at the federal level. He also supported the law that made the military have the "Don't ask, don't tell" policy, which has since been changed.
As vice president, Biden said in 2012 that he was "absolutely comfortable" with same-sex marriage. This was seen by many as a reason why Obama changed his mind about not wanting gays and lesbians to get married. Biden got rid of Trump's ban on transgender people serving in the military last year.

About 0.7% of Americans are transgender, according to a Gallup survey that came out in February. Another 1.5 percent said they were gay, 1% said they were lesbian, and 4% said they were bisexual.
=======