John King was on CNN to explain the results of the US presidential election, with his 'Magic Wall'. He confides in Paris Match exclusively.
For a week, John King went on (almost) sleepless nights. The CNN reporter spent long hours on the air, explaining to anxious viewers to find out about the outcome of the presidential election the ins and outs of each state, as the results rolled in. "I slept a little, then woke up, drank a coffee, shaved, dressed, went back to work, in a loop," he explains, two weeks after the election which ended with victory - always not recognized by Donald Trump- by Joe Biden. At a time when untruths abound on the net, "the media are right to invest as much as possible in fact-checking, and to do it as calmly and clearly as possible", continues the one who has impressed many. viewers by his mastery of what he nicknamed the "Magic Wall", a touch screen on which he juggled, county by county, state by state, to explain the results with formidable precision. He returns, exclusively for Paris Match, on this crucial week for the American media.

We come to the end of a very special campaign. How did you experience it? In particular this last election week, which was broadcast on CNN?

John King. The most important sentiment is that of the unprecedented, because of the pandemic and the power of voter interest, and because of the giant changes that result from it. The week spent on the air was an adventure: exhausting at times, but also stimulating and important. Joe Biden flipped five states and one congressional district off the map of Donald Trump's 2016 election and defeated an incumbent president for the first time in 28 years. This is a major event and the fact that it took five or six very long days to be sure fits very well in this year 2020 upside down.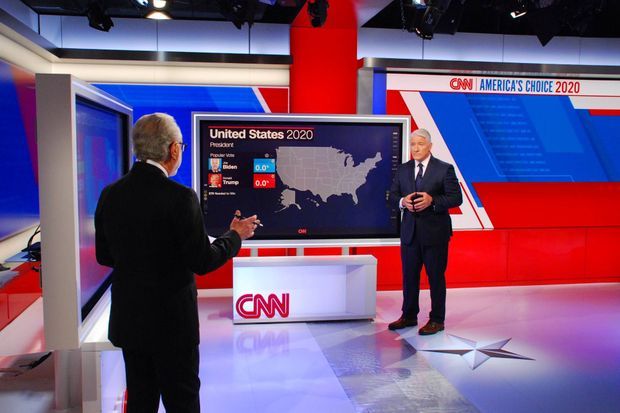 You spent long hours explaining, county by county, state by state, how the election was going to play out. How much preparation time did such work require?
Most of the time I spend at the "Magic Wall" is a mixture of the election of the moment and the last 32 years of my life. The best preparation I have had are the previous eight presidential campaigns - and the midterm elections in between. Then there is the study of polls, economic and demographic trends to keep in mind that many places are changing, some are growing, others are changing in population and diversity. Some are struggling, because of automation, globalization, and now because of the pandemic.

"President Trump is not going to disappear"

In the space of a few hours, you have become a darling for French journalists, impressed by your mastery of this interactive map. What do you think ?
After the first night - it was around 3:30 am Wednesday - I drank a glass of wine and emailed and answered emails before going to sleep for a few hours. From the texts I received and a quick glance on Twitter, I saw that the attention that was being paid to it was breaking records and that the "Magic Wall" had become somewhat of a topic in itself. It was flattering and it's gratifying to know that my work has helped people. But I think that all this comes from the great interest and the intensity - even anxiety for some - of the stakes of this election. Our entire team has worked incredibly hard to ensure that there is a trust for these moments we have a responsibility to take. I'm fortunate to have a great tool that helps me see what's going on in real time, to use that data to guide viewers through the story and the context.
Now that Donald Trump will no longer be president, after four years of heated relations between CNN and the White House, do you think that the relationship of trust between the media and the public can be repaired?
The Biden team sees the relationship much differently, no doubt, and that's part of the sometimes heated compromises of democracy. So there will be a certain "normalcy" perhaps. But every administration is different. President-elect Biden has a personal esteem for history and the role of the media, and that's important. Rebuilding global trust in a divided America is a very different matter, and longer in terms of crisis and challenges. President Trump is not going to disappear. The pro-Trump media have a choice to make right now. While we will soon have a less divisive president, that doesn't automatically mean a less polarized media climate, nor a bipartisan consensus in society.