According to CNN, Melania Trump would be one of the few relatives recommending that Donald Trump concede defeat. But the American president seems to stand up.
The transition begins, little by little, but without Donald Trump. Since the American media announced on Saturday the victory of Joe Biden in Pennsylvania, allowing him to cross the milestone of 270 voters necessary for the victory in the presidential election, the billionaire is locked in denial. Hammering that his opponent passes him only because of "illegal" votes, as he qualifies the ballots by correspondence arrived after November 3 but posted before - and which are quite legal according to the laws in force in various States, Donald Trump still has not conceded defeat, the traditional first step in a peaceful transition of power.

If some of his relatives - including his sons Donald Jr and Eric, and his personal lawyer Rudy Giulian - continue to cry fraud without tangible proof, others try to reason with him. According to CNN, Melania Trump, who has not been seen since appearing alongside her husband early Wednesday morning, is among those advising Donald Trump to admit defeat. "The American people deserve a fair election. Each legal vote - not illegal - must be counted. We need to protect our democracy with full transparency, "she tweeted on Sunday, embracing some of her husband's rhetoric but not his virulence.

Jared Kushner, son-in-law and adviser to the US president, considered one of the architects of the 2016 victory, would stand in the same position by calling on his father-in-law to recognize his defeat. Ivanka Trump, the president's daughter, has been much more discreet than her brothers on social media, calling for "every legal vote to be counted": "Every illegal vote should not be. It shouldn't be controversial. This is not a partisan statement: free and fair elections are the foundation of our democracy, "she wrote. But the post, its most recent post, dates back to Friday, before Pennsylvania's results gave Joe Biden the victory.

A date with Jill Biden? Unlikely

Melania Trump, who voted in Florida on Tuesday, has participated in a few campaign events in recent weeks, some of which alone, also has a place in the transition. She could receive, as Michelle Obama had done for her when Barack Obama invited Donald Trump a few days after his election, Jill Biden for an interview. But as long as her husband does not recognize his defeat, it is difficult to imagine such a meeting, which she herself had enjoyed.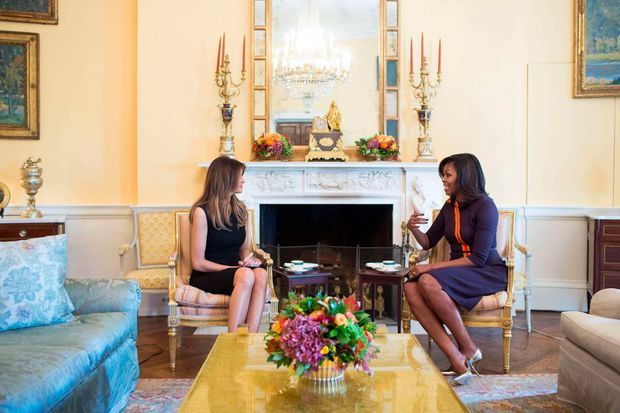 Some read in Melania Trump's prompting an idea of ​​her state of mind: the First Lady, who had waited six months before moving to the White House, took years to find her place. Her program, "Be Best", has not seen convincing results and the former model, very discreet, has badly experienced the over-mediatization due to the presidency of her husband. "I am the most harassed person in the world," she said in 2018, and she was at the heart of several controversies, such as when she wore a jacket on which it was written "I really don't care, from where?" ("I really don't care, do you?"), When going to visit children placed in detention centers after being separated from their parents at the border with Mexico. Lately, she's been having a rough time with the publication of a book written by Stephanie Winston Wolkoff, a former friend and collaborator at the White House, who has even broadcast snippets of recorded phone calls without her knowledge.