President Donald Trump on Thursday called the entire presidential election into question, claiming it was rigged against him from start to finish by a vast conspiracy, in an extraordinary White House statement which at least seven television networks cut off.
In his 17-minute tirade he cha he was the victim of 'big media, big money and big tech' coming together to commit 'historic election interference' to give Joe Biden the presidency.

He would win the election as he charged Democrats with trying to steal the contest 'corruptly' through mail-in ballots in a suddenly-announced White House address delivered as his tiny voting leads in Pennsylvania and Georgia slipped further.
LIVE: President @realDonaldTrump delivers remarks https://t.co/Oa13t7CxaC

— The White House (@WhiteHouse) November 5, 2020
At the podium in the briefing room he read from from a script and listed his grievances at Biden's campaign, 'suppression polls' and 'fraud.'

He left without taking a question as CNN's White House reporter Jim Acosta shouted: 'Are you a sore loser?' - then his press secretary Kayleigh McEnany had to scuttle back to the podium because he had forgotten to take his notes with him.

Trump's condemnation of the entire democratic system and his growing list of enemies was switched off rapidly by TV network after TV network.

MSNBC anchor Brian Williams said as they turned away less than a minute in: 'Here we go again.'

Republicans turned on him within minutes with Larry Hogan, the Maryland governor, saying: 'There is no defense. No person or election is more important than our democracy. ' GOP rep Adam Klinzinger called it 'insane.'

At the briefing room podium - where the only aide with him was White House press secretary Kayleigh McEnanany - Trump appeared downcast as he listed his enemies and a victory which nobody has handed to him.

'If you count the legal votes, I easily win. If you count the illegal votes, they can try to steal the election from us, 'he said during what he called a press conference.

Joe Biden tweeted a rebuke shortly after he finished saying: 'No one is going to take our democracy away from us.

'Not now, not ever. America has come too far, fought too many battles, and endured too much to let that happen. '

Trump, whose campaign has launched lawsuits in several battleground states, spoke more about the polls than he did about his own campaign, calling them 'phony' and 'suppression polls,' claiming that errors by pollsters were a deliberate attempt to keep his supporters at home.

Then he turned on his own party saying that because of him was no 'blue wave,' referring to Democrats' failure to win the Senate and add to their majority in the House.

That was a coded attack on Republicans' most senior figures who have refused to come out in support of his claims of fraud. His son Don Jr. railed against Republicans earlier in similar terms - but Mitch McConnell has said that every vote must be counted.

'We won by historic numbers. And the pollsters got it knowingly wrong, they got it knowingly wrong. We had polls that were so ridiculous and everybody knew it at the time. There was no blue wave that they predicted, 'Trump said.

Trump's lead in Pennsylvania is slipping and in Georgia too Biden is creeping up on him, while Biden remains ahead in Nevada and Arizona. Biden needs only Pennsylvania to win, taking him to 273 electoral college votes, or Nevada and Arizona, taking him to 270. In contrast Trump would need to secure North Carolina, Arizona and Pennsylvania to secure 271.

Trump had not been seen for more than 36 hours after appearing in the White House East Room at 2.30am on Wednesday morning in front of cheering fans in MAGA hats to claim then that he had 'won.'

But he spoke after a measured Biden asked Americans to be patient and calm as they waited for the final ballots in the presidential race to be counted - amid mounting anxiety over the long wait for results, and concern about public order.

'Democracy is sometimes messy. It sometimes requires a little patience as well, 'the former vice president said from the stage of Wilmington's Queen theater late Thursday afternoon.

'So I ask everyone to stay calm, all people to stay calm. The process is working. The count is being completed and we'll know very soon. '

In the same brief statement, the Democratic nominee assured supporters that he and his running mate, Sen. Kamala Harris, would come out on top.

In contrast Trump spent the his press conference railing. 'We grew our party by 4 million voters, the greatest turnout in Republican party history. Democrats are the party of the big donors, the big media, the big tech, it seems and Republicans have become the party of the American worker and that's what's happened, 'Trump said.

He accused the media of giving Biden strong poll numbers as a way of keeping his voters at home.
'As everyone now recognizes media polling was election interference in the truest sense of that word.

'By powerful special interests, these really phony polls, I have to call them phony polls, state polls, were designed to keep our voters at home, create the illusion of momentum for Mr. Biden and diminish Republicans abilities to raise funds.

'They were what's called suppression polls, everyone knows that now. And it's never been used to the extent that it's been used on this last election, 'he said.

He went on to accuse Democrats of tinkering with the election in states with outstanding results.

'There are now only a few states yet to be decided in the presidential race. The voting apparatus of those states are run in all cases by Democrats, 'he said.

In fact Arizona and Georgia - two critical states that are still counting ballots - have Republican governors; Nevada's secretary of state is a Democrat and Pennsylvania's rules on counting were set by its Republican legislature.

He pointed to his campaign's lawsuits, which have alleged voter fraud but offered no proof of the allegations. Two were thrown out by judges Thursday, one claiming fraud for lack of any evidence.

'There's tremendous litigation going on and this is a case where they're trying to steal an election. They're trying to rig an election and we can't let that happen, 'he said.

The blizzard of litigation he promised had been beset throughout the day by problems.

In Georgia, superior court judge James Bass said there was 'no evidence' to the Trump suit's claims that a 53 ballots arrived late and got mixed with other ballots. In Michigan, Judge Cynthia Stephens ruled against the Trump campaign's push to stop the count in order to gain additional access for its observers. 'I have no basis to find that there is a substantial likelihood of success on the merits,' she said.

In Nevada, he sent Ric Grenell, his former acting director of national intelligence to announce legal claims that out of state residents had been voting.

But the press conference went badly wrong when Grenell refused to say what his name was and was laughed at by reporters then chased into a van refusing to answer questions on what evidence he had.

In Pennsylvania, the campaign they were 'banned' from watching poll counters in Philadelphia and are now suing in federal court.

And Jared Kushner was reported to be looking for a 'James Baker' figure to lead the litigation - hardly a vote of confidence in Rudy Giuliani who had been its public face for the last 48 hours.

Don Jr. headed to Georgia after tweeting a demand for 'total war,' and retweeting an appeal from a Trump supporter for a mass protest in Detroit against the count. Many of his tweets were flagged by Twitter.

Before he spoke Trump has responded to Biden's leads in Arizona and Nevada and his gains in Pennsylvania and Georgia on Twitter, often all in capitals. Several Tweets have been flagged by Twitter as misinformation.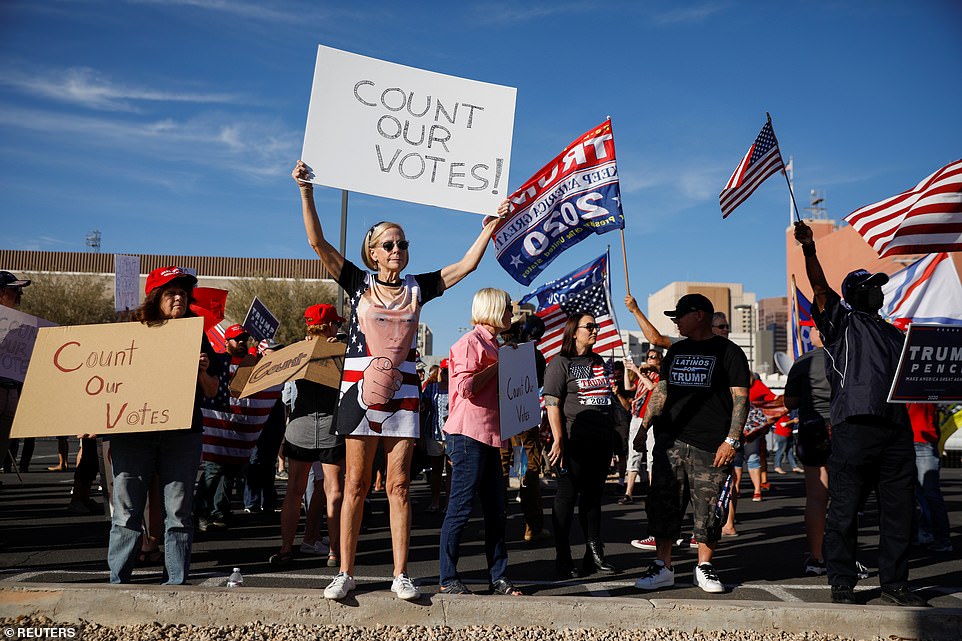 Biden did not mention Trump's name Thursday.

But he did make a comment that was clearly directed at Trump and his campaign, legal efforts to stall vote-counting and rhetorical efforts to call into question the legitimacy of the election.
'In America, the vote is sacred. It's how people of this nation express their will. And it is the will of the voters, no one, not anything else, that chooses the president of the United States of America, 'Biden said. 'So each ballot must be counted.'

Earlier Thursday, Biden was at the Queen to participate in a COVID-19 and also an economic briefing. He also made an appearance at the Chase Center in Wilmington, Delaware Wednesday, where he again told Americans they needed to wait - but that he would win.

The appearance in Delaware was clearly intended to cast Biden as presidential and paint a contrast to Trump.

The plea for calm also spoke to increasing concerns about public order.