On two competing television channels, Joe Biden and Donald Trump each responded to voters Thursday night in lieu of a long-anticipated debate.
What should have been a crucial night for the two US presidential candidates on Thursday night turned into a duel from a distance. Donald Trump having finally refused to take part in a debate, Joe Biden had agreed to participate in a discussion with voters organized by the ABC channel. The president was unwilling to let his Democratic rival occupy the space and was quick to seize the NBC's proposal: to respond, too, to a group of voters. The two shows, if they did not allow a direct confrontation, however strongly illustrated the contrasts between the two candidates.

The differences appeared particularly strong on the question of masks. Asked about the absence of protective measures during an event at the White House a few days before his infection with SARS-CoV-2 was detected, Donald Trump kicked in touch and questioned on several occasions l effectiveness of masks, grossly distorting a statistic.
- "You could say, 'Everyone put on a mask, right now,' and Washington University says you would save lives," insisted reporter Savannah Guthrie, who hosted the exchange.
- "There are other places where they say something else. Hey! Doctor Fauci said, don't wear a mask, "Trump retorted.
- "At first, and then afterwards everyone agreed."
- "I don't know if he changed his mind. But, then you got a report two days ago that said 85% of people who wear masks get it. "

The figure put forward by the president is false: in fact, the authors of the CDC study to which the president refers interviewed patients who were victims of Covid-19 and 85% of them said they were wearing a mask in public, all the time (70.6%) or often (14.4%). This result does not indicate to what extent these patients may have been infected in private or in places where mask wear is not possible. The results of the study show, moreover, that frequentation of restaurants or bars was more frequent in Covid-19 patients in the 14 days preceding their illness than in a control group composed of people not not having been infected.

Joe Biden has sharply criticized Donald Trump's attitude to the health crisis. "What is he doing? Nothing. He still refuses to wear a mask! "The Democrat said in surprise. "A president's words count. And when the president doesn't wear a mask or makes fun of people like me who wear one, people say to themselves that it shouldn't be that important, "he added.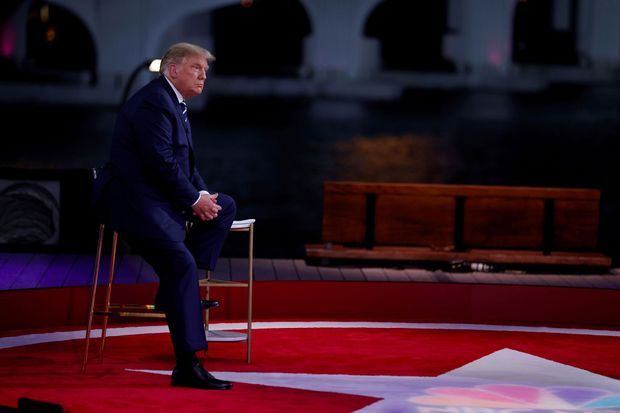 Donald Trump was little rushed by voters chosen by NBC. Paulette, a Republican who claimed she was fond of Biden, even complimented him, saying, "You look so beautiful when you smile!" Moderator Savannah Guthrie, however, put him in trouble. Asked about his health, Donald Trump was unable to explain whether the examinations of his lungs showed signs of pneumonia. "They said they found the lungs, you know, a little bit different ... A little bit infected, maybe ..." he blurted out. "Infected with?" Asked the reporter. "I don't know, I haven't asked too many questions," Trump dismissed. He also refused to say precisely when the last negative test was before his hospitalization in early October, an important question because so far the White House has still not been able to prove that Donald Trump had indeed been tested before his hospitalization. debate against Joe Biden, September 29, as he had committed. "Maybe, maybe not ...", dodged the president, who has however boasted in the past of having "one of the best memories of all time".
Joe Biden, for his part, said he was tested before Thursday night's show. "It's just decency," he said. "I care less about myself than the people who hold the cameras, the people who work, the people of the Secret Service," added the former vice-president, before being convinced that Donald Trump would agree to submit to a test before the next debate, scheduled for next Thursday.

Trump's favorite defense: "I don't know any of this"

After calling on a far-right group to "stand back and be ready" during the debate on September 29, Donald Trump was once again called on to condemn racism. "My people said to me: 'I'm sure they will ask you the question of white supremacism" ... I denounce white supremacism ", he said, annoyed, before adding immediately:" And frankly , you want to know, I denounce the antifa and these people on the left who are burning our cities led by democrats who do not know what they are doing. " The Republican candidate, on the other hand, has repeatedly refused to condemn followers of the QAnon conspiracy theory, considered a threat by the FBI. QAnon followers claim they believe a cabal of famous and powerful pedophiles is controlling the world and that Donald Trump is waging a secret war on them. "I don't know anything about QAnon… I know they are very opposed to pedophilia. They fight it fiercely. But I don't know any of that, "he claimed. "Come on, let's lose an entire show ..." he got annoyed when Savannah Guthrie called him up.
- "There is no satanist pedophile plot!", She cornered him.
- "I have no idea," Trump dodged.
- "You don't know that?"
-"No I do not know!"

The president also shunned all responsibility for having retweeted a message claiming that Barack Obama had ordered the execution of members of the commando that shot Osama bin Laden in 2011. "I don't know any of that… It was a retweet, l opinion of someone. I put it there, people can decide for themselves. "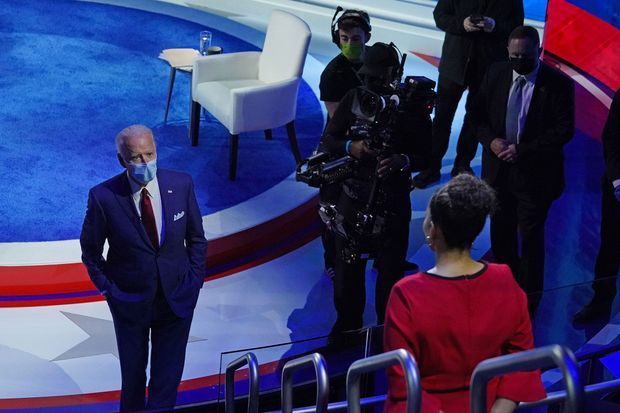 Donald Trump has also declined to state his position on the right to abortion, guaranteed across the United States since the Supreme Court's Roe v Wade ruling. The issue is particularly pressing, as the Republican-controlled Senate could confirm the appointment to the highest court of ultra-conservative Amy Coney Barrett, paving the way for a possible cancellation of Roe v Wade. "I believe depending on what happens with Roe v Wade, it could be up to the states and the states would decide. I also think that maybe nothing will happen. I haven't told [Amy Coney Barrett] about it, "he said.

"Other than 'you're not black' what do you have to say to black voters?" A voter asked Biden

Joe Biden also had to face difficult arrests. Regularly questioned about a possible extension of the Supreme Court, which would make it possible, by adding new judges, to prevent a conservative majority from dominating it for decades, he promised Thursday evening that voters would know his answer before November 3 . He must have replied to a voter who reminded him of his remarks in May which were ironic about African Americans who would not vote for him: "Apart from 'you're not black', what do you have to say to black voters? ? " Detailing his plan to fight inequalities, the Democrat made a detour to launch an attack on the banks which refuse to lend to minorities despite the support of the government: "We financed these gogos! They don't risk anything with this money! But they still don't want to lend you! We have to change that. "

Biden also insisted that he was not in favor of banning hydraulic fracturing, a polluting technique that allows the exploitation of shale gas and oil, and which environmentalists are opposed to. He admitted his support for a 1994 criminal law that disproportionately incarcerated African Americans was "a mistake" and he vowed to decriminalize cannabis use. Then, when asked about a possible loss, Joe Biden said he would simply go back to being a "professor at the University of Pennsylvania."
True to himself, Joe Biden also delivered a plea for consensus, including with the Republican Party. "In politics, grudges don't work," said the man who spent 36 years in the Senate. "What I'm going to do when I'm elected, I'm going to call [the Republicans], and I'll tell them: let's meet up and figure out how to move forward," he added. Contrary to popular opinion among some Democrats, Biden is convinced "there will be between 4 and 8 Republican senators who will be ready to move on things that are the subject of consensus."

Trump's position is quite different. While a new rescue plan for the economy is sorely awaited, the president has tried to blame the Democrats for the failure, while the Republicans in the Senate have systematically been more cautious on this subject. than the president himself. Moreover, he still has not outlined a program for his second term. His promises to replace Obamacare have not been followed by any concrete announcements, nor any supposed immigration law, announced for months. He tried to present his record, particularly on the economy, in a favorable light. "We have created jobs at a level that no one thought possible. And next year will be even better than before, "he boasted. The latest statistics in this area are, however, not very encouraging.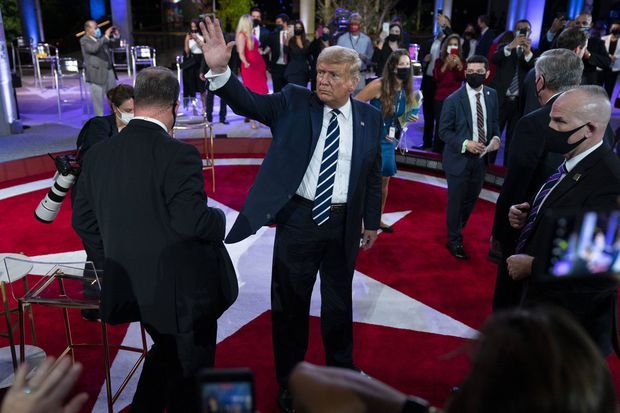 After the show on NBC, a spokesperson for the Trump campaign released a triumphant statement. "Although the [presidential debates] committee canceled the in-person debate that could have taken place tonight, one did happen anyway, and President Trump defeated NBC's Savannah Guthrie to the seams. took the role of opponent in this debate and representative of Joe Biden. President Trump has dealt with Guthrie's attacks with mastery and he has interacted warmly and effectively with the voters in the room, "the message states. At 18 days of the election, the estimate of the site FiveThirtyEight gives an average lead of 10.5 points at the national level for Joe Biden.