Less than three weeks before the presidential election in the United States, a review of the particularities of the American electoral system that could weigh heavily in the Trump-Biden match.
For the first time since 2000, the outcome of the US presidential election may not be known on election night itself. On November 3, it may not be possible to determine which of Joe Biden or Donald Trump won. The complexity of the American electoral system will indeed combine with the exceptional circumstances imposed by the health crisis, for an election that will be unlike any other.

The challenges of postal voting. For a long time, Donald Trump found no fault with postal voting. He used it in March, when voting for the Republican primaries in Florida, and before that, in New York for the 2018 midterm elections. Then it became clear that the 2020 presidential election would be in full swing. pandemic, causing millions of voters to find themselves avoiding polling stations to reduce the risk of infection. Donald Trump then began to systematically attack postal voting, the terms of which vary from state to state. "Republicans should fight tirelessly against statewide postal voting. Democrats are calling for it. Huge potential for fraud and, for whatever reason, it doesn't benefit Republicans, "he tweeted on April 8, immediately revealing the underlying reason for his hostility. A massive postal vote would not benefit Republicans and would therefore be inherently illegitimate. These claims have been repeated dozens of times by Trump and his allies, despite the fact that postal voting is the safest method, especially for elderly voters likely to be hardest hit by the coronavirus.

According to a large poll released by the Pew Research Center last week, a clear majority of Trump-leaning respondents intend to vote in person on election day (50%) or before the election (20%), against 25% only by correspondence. Those in favor of Joe Biden, on the other hand, are 51% who say they want to vote by mail.
Suspicion of postal "sabotage"

The president's opposition to postal voting, while recent, is no less fierce. Last August, Donald Trump even admitted that he opposed funding for the US Postal Service, the United States Post Office, precisely to obstruct the deployment of postal voting. "If we don't find a deal, that means they [the Democrats] won't have the money. It means they can't have universal postal voting, it's just impossible, "he said on August 14 on Fox Business Network. Despite promises this summer from USPS official Louis DeJoy, serious tensions remain over the mail, and disorganization of this institution as old as the United States continues to threaten the election. DeJoy, a wealthy donor to the Republican Party, was appointed last May, after generously contributing to Donald Trump's campaign.

"Contrary to claims by Postmaster DeJoy that he would reverse policy changes that delayed mail, these photos show mail continuing to pile up as seniors, businesses and families await vital correspondence. This is sabotage, and a five alarm fire for our democracy., "Democrat Senator Bob Casey tweeted on October 7.
Contrary to claims by Postmaster DeJoy that he would reverse policy changes that delayed mail, these photos show mail continuing to pile up as seniors, businesses and families await vital correspondence. This is sabotage, and a five alarm fire for our democracy. https://t.co/adyKHJx9wH

— Senator Bob Casey (@SenBobCasey) October 7, 2020
There are other, even more surprising threats to postal voting. In California last week, boxes for collecting ballots were set up by the local Republican Party branch in northern Los Angeles County. Presented as "official", these ballot boxes were not. Since the first revelations, it appeared that this was a strategy adopted by the party in several counties of the state, according to the "Los Angeles Times", at the risk of introducing confusion for some voters, while suitable locations are well provided by the authorities to deposit the ballots.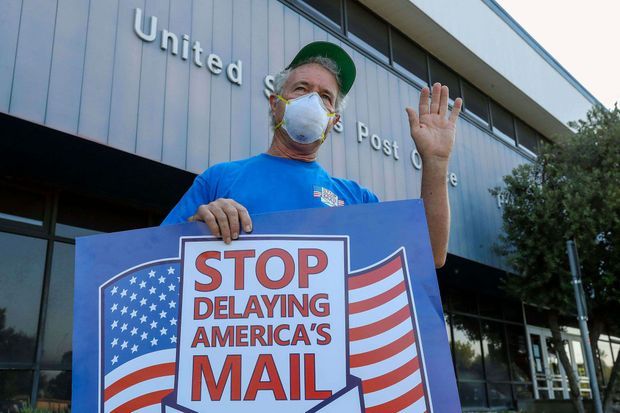 The alleged fraud denounced by the Republicans is an extremely marginal phenomenon with postal voting in the United States. Analyzing data on a total of 14.6 million postal votes for the 2016 and 2018 elections, the Washington Post identified only 372 cases of possible double voting or voting on behalf of a deceased person, or 0 , 0025% of votes. The real problem with postal voting is hardly ever mentioned by Donald Trump and his supporters: it is the high rejection rate. Not because of fraud, but because, in some states, the complexity of the procedures leads voters to make mistakes. Last August, public radio NPR noted a sharp rise in rejection rates during the primaries held in winter and spring, as the pandemic began to disrupt daily life. More than 550,000 ballots were discarded during these multiple ballots, a volume significantly higher than the 2016 elections, during which the turnout was however much higher. One of the main reasons for rejection is lack of signature or too late receipt. Voters from minorities or first-time voters would also be more likely to have their ballots rejected. A study on the 2018 election in the state of Florida, released last April, found a rejection rate of 2.05% for voters identified as Hispanic and 1.96% for those identified as black. For voters labeled white, the rejection rate was only 0.90%. A similar analysis on the state of Georgia came to the same conclusions.

The time limits within which these postal votes will be processed also raise questions. In some states, any ballot mailed up to and including polling day must be considered admissible. If a large number of voters decide to vote by mail at the last minute, the exact election results will not be known immediately. Television stations, which choose the winner of the election on the basis of the results available on the night of the vote, risk being in a dilemma. Since pro-Trump voters will be the most likely to vote in person, they could weigh disproportionately on early results. And Donald Trump could well declare himself the winner that very evening, with millions of votes pending.
In Florida, one-fifth of black citizens denied the right to vote in 2016

Minorities not always equal when it comes to the right to vote. The Republican Party, after Mitt Romney's defeat to Barack Obama in 2012, sketched out a strategy to win over voters that the party was struggling to convince, especially minority citizens. But these ambitions never materialized and the boss of the Republican Party who wore them, Reince Priebus, joined Donald Trump's team in the White House in 2017, marking the victory of the billionaire's identity and populist line. The result, eight years later: Joe Biden enjoys a spectacular lead among these voters. According to the Pew Research Center poll cited above, 89% of black voters, 63% of Hispanics and 75% of Asians are in favor. Faced with this imbalance, which continues to worsen due to demographic changes in the country, some Republicans have made no secret of their temptation to make participation in elections more complicated for populations who are least won over to them. Once again, Trump himself has been transparent about the risks of an electoral system allowing all citizens to vote with the same ease. To justify his refusal of a Democratic proposal providing for $ 400 million to ensure the proper functioning of the elections in the midst of a health crisis, the outgoing president explained last March: "There were some crazy things [in this law] ... Stuff ... with voting levels such as, if we had accepted them , there would never have been an elected Republican in this country. " These maneuvers are not new: in 2016, the "New York Times" had documented numerous episodes in which Republicans, especially at the local level, admitted to leading a fight against electoral participation in order to harm Democrats.
To demobilize electorates unfavorable to Republicans, various more or less subtle tactics exist. In Florida, a key state for victory in November, an amendment was passed in 2018 to restore the civil rights of those convicted. Over a million Floridians should thus have regained the right to vote, which a 19th century law had deprived them of until then. Republican state governor Ron DeSantis signed a law in June 2019 adding a new condition: to qualify for the right to vote, convicts must have paid all the fines they owe. This law caused turmoil among eligible citizens: were they going to have to pay before they could vote? Were they in danger of being sanctioned if they tried to register on the electoral roll? "Thousands of people who did not owe a dime told us they felt intimidated," Micah Kubic, Florida executive director of the American Civil Liberties Union (ACLU) told The Washington Post. . Minorities are over-represented among those targeted. According to figures from the NGO Sentencing Project in 2016, more than a fifth of the state's African-American citizens were denied the right to vote due to prior conviction.
Via social media, Trump's campaign sought to undermine African-American participation four years ago

In Texas, Republican Governor Gregg Abott had another idea a few weeks ago: to limit the number of places where postal ballots are collected to one per county. Thanks to this sleight of hand, Loving County in the west of the state is entitled to a polling place, as does Harris County in the east. Important detail: Loving had 169 residents in July 2019, compared to 4.7 million for Harris County, according to the Census Bureau. Harris County, which includes the city of Houston, largely preferred Hillary Clinton to Donald Trump in 2016. More than 19% of the county's population is black, compared to just 12.3% statewide. from Texas.

These obstructive strategies, which are not applied in all states with the same vigor, sometimes lead to astounding images of endless queues, as a reporter for the Atlanta Journal noted, for example. Constitution "in Georgia, Monday. The scene was filmed in Suwanee, a town in Gwinnett County where Hillary Clinton clearly edged Donald Trump in 2016.
read our coverage of the first day of early voting across metro Atlanta: https://t.co/RkPLISsfvd

— tyler, the reporter (@ByTylerEstep) October 12, 2020
In 2016, an even more devious tactic was employed by Donald Trump's campaign, supported at the time by the expertise of Cambridge Analytica, the company at the heart of a scandal over the use of data from millions of Facebook users. According to revelations from British television channel Channel 4 at the end of September, African-American voters were specifically targeted on social media. About 3.5 million of them have been branded by the Trump campaign "Deterence" ("deterrence"). Rather than trying to convince them of Donald Trump's merits, the teams that worked on this project bombarded these voters with messages aimed at portraying Hillary Clinton as an enemy of African Americans, for example showing them a video dating back years. 1990 in which the candidate praised the merits of a security law by denouncing the "super predators", remarks that she then regretted.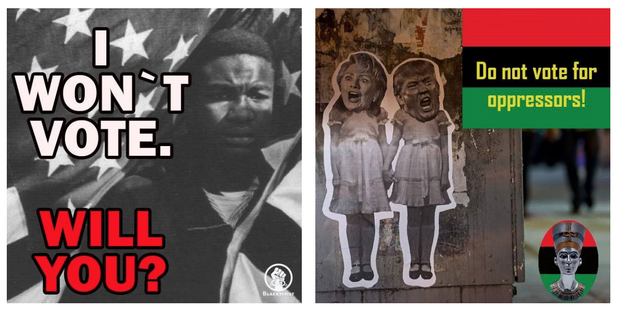 Attempts to demoralize the African-American electorate were also carried out by the Internet research agency (IRA), an entity controlled by the Russian government and which is the armed wing of the disinformation campaigns on Internet wanted by the Kremlin. According to a report released in December 2018, "In the days leading up to the election, the IRA began deploying tactics to stem the vote through social media accounts targeting the black community, while fueling fear of voter fraud on accounts targeting right-wing voters, issuing worrying warnings of a stolen election in which violence may be necessary ".
The Voter System favors Republicans

An electoral system that puts Democrats at a disadvantage. The peculiarities of elections in the United States are sometimes observed with astonishment from Europe. The use of a college of electors is the dominant characteristic of all presidential elections across the Atlantic. The citizen does not vote directly for a candidate, but for the great voters who are committed to supporting this candidate. With two exceptions - Maine and Nebraska- the candidate who comes first in a state obtains all of its large voters, even if he only obtained a majority with one vote. This accentuates the weight of states where the outcome of the vote is uncertain. Conversely, a state firmly attached to the Democratic Party or the Republican Party is generally not considered a "battlefield". Candidates focus their resources on states likely to tip the election, and Florida (29 grand voters) monopolizes attention, while California (55 major voters) is ignored. This year, four states, in addition to Florida, are considered the most uncertain by the Cook Political Report: Georgia, Iowa, North Carolina and Ohio. This system makes possible an outcome which may appear anti-democratic: a candidate can be elected when he has gathered only a minority of votes. This was the case in 2000 for George W. Bush, whose rival Al Gore received 543,895 more votes; then again in 2016, for Donald Trump, overtaken by Hillary Clinton by more than 2.8 million votes. But Trump had won - with less than 80,000 votes in advance - in three key states: Michigan, Pennsylvania and Florida.

These peculiarities tend to benefit Republicans. Economists have even been able to quantify this advantage by simulating hundreds of thousands of elections, as Vox reported in 2019: even if a Democratic presidential candidate gets a 3 point lead in the vote, the likelihood of the Republican winning a majority of large voters is still 16%, or nearly one in six.

The inequalities are even more pronounced if we look at the Congress of the United States. Each state has two senators, regardless of its population. There are therefore two senators to represent the 39.5 million Californians, and two senators for the 578,000 inhabitants of Wyoming. The political weight of elected officials from sparsely populated states is disproportionate and gives the Republicans, who dominate the most rural regions, an undeniable advantage in controlling the upper assembly. If a blue wave materializes on November 3, however, the Senate may well shift to the left.

In the House of Representatives, where membership is proportional to the population of states, Democrats have long enjoyed a considerable advantage. But the Republicans have regained control, investing heavily in local politics to influence electoral boundaries. The Democrats, too, indulge in these manipulations of the boundaries of the constituencies, but the Republicans have pushed their advantage very far with a project called "Redmap" ("carterouge") launched in 2010 and which bore fruit during the elections. 2012: Despite an advance of 1.1 million votes in favor of Democratic candidates across the country, Republicans won a large majority of seats. The effects of electoral divisions defined according to political criteria are still being felt: in 2018 in North Carolina, the Republicans won 50% of the vote against 48% for the Democrats, but they obtained 9 of the 13 seats, against three for the democrats.
Ten times more early voting

All of these factors contribute to the uncertainty surrounding the November 3 election and influence the behavior of voters, often encouraged by progressive activists to anticipate their vote as much as possible. As the United States continues to register more than 50,000 new cases of Covid-19 per day, the craze for early voting - by mail or in person - is unprecedented. According to the count made by Michael McDonald, a professor at the University of Florida, more than 14.5 million ballots have already been submitted. This is ten times more than the same period in 2016.