During a performance in Michigan on Tuesday night, Carlos Santana passed out on stage as a result of heat exhaustion and dehydration.
The 74-year-old guitarist was performing at the Pine Knob Music Theatre in Clarkston when he was taken to the hospital for evaluation, according to his manager Michael Vrionis.

After making a quick trip to the ER, Vrionis told DailyMail.com that the singer was undergoing observations and was healing and "doing well."

According to Fox 2, Santana shocked his audience by collapsing on stage about 40 minutes into his performance of the song Joy.

Following the medical emergency, concert organizers were compelled to quickly cancel the event and requested attendees to "pray" for Santana.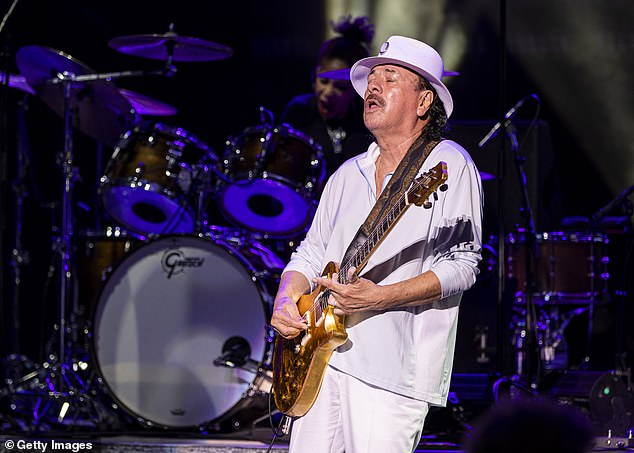 The allegations that concertgoers had been informed there was a "severe medical issue" were corroborated by a photograph posted online by a Fox2 anchor showing medical personnel on stage.

According to Lori Pinson, who was in the audience, "Suddenly the music suddenly went down." He was out to the side, but I didn't see him collapse on stage.
'A chair appeared where there was not one before. The medics began to rush up on stage.'
She continued: 'Right now he is still on stage. They have pulled a black curtain so you can't see him on directly but he is still on stage.'
Journalist Jo-Ann Barnas later shared a photograph of the arena with the lights up in the wake of Santana collapsing.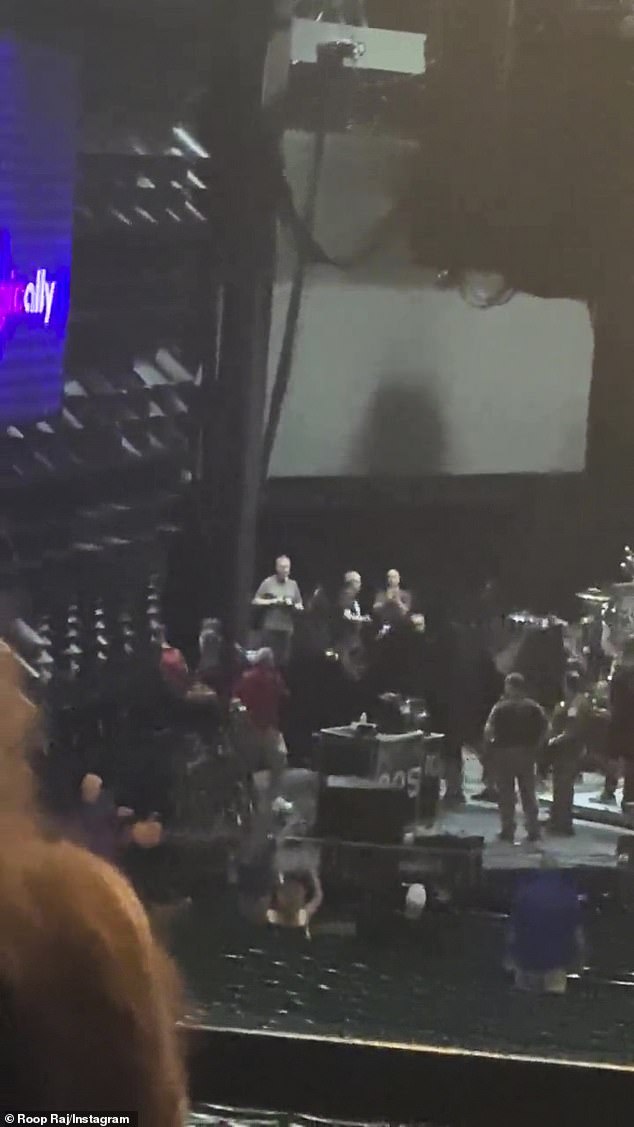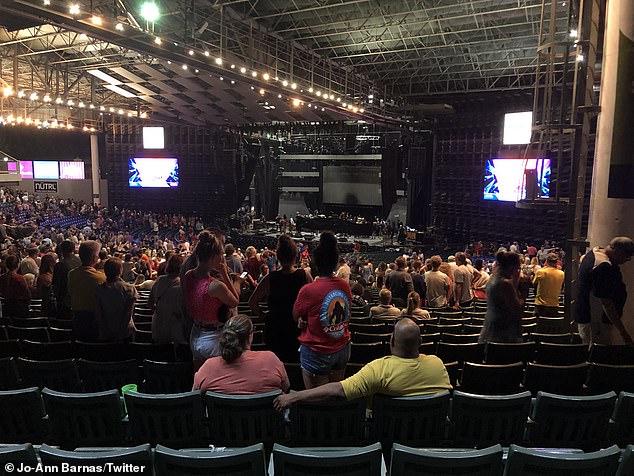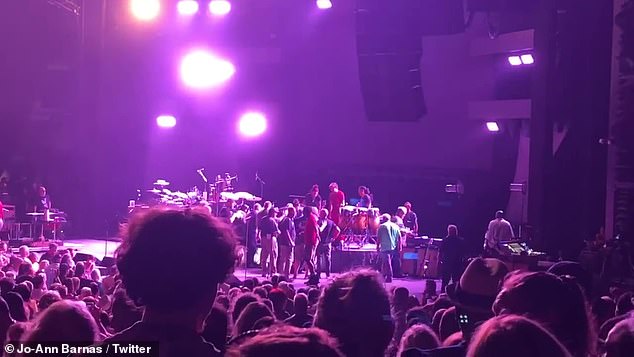 They just instructed us to leave the arena, yet so many people are still there, speechless, gazing at a mostly empty stage at Pine Knob, Clarkston, Barnas tweeted.

Santana was about a minute into a song on which he and Chris Stapleton had worked together. Carlos was requesting joy and healing.

A spectator said that Santana "played all the classics that everyone loves, like Black Magic Woman," and that he "was making various observations about the situation of the world, all positive."

Carlos Santana waved to cheering fans as he was taken off the stage, Huff Post editor Philip Lewis wrote in a video he posted of the musician being led away from the stage.
According to his manager, Santana's upcoming performance at The Pavilion at Star Lake in Burgettstown, Pennsylvania on Wednesday has been postponed. More information will be available via Live Nation.

The musician known for timeless songs like Evil Ways and Oye Como Va is currently performing with Earth, Wind & Fire as part of the Miraculous Supernatural 2022 tour.

The tour will culminate on August 27 in Tampa, Florida; there are still 19 shows left.

On September 14, he is scheduled to resume his residency at the House of Blues in Las Vegas. He will play a number of shows that month before performing for two weeks in November.
Santana cancelled a series of concerts in Las Vegas last December after he underwent a procedure after suffering from chest pains.
He later explained the course of events in a video clip on Twitter.
Santana has canceled all December 2021 at the House of Blues Las Vegas as he recovers from an unscheduled heart procedure. We look forward to returning to perform at the House Of Blues in January 2022. pic.twitter.com/8cHcVDjFhv

— Carlos Santana (@SantanaCarlos) December 2, 2021
'Last Saturday, I had an incident where I asked my wife, Cindy, to take me to the hospital 'cause I had this thing happening in my chest,' Santana said. 'So when we went there, we found out that I needed to take care of it.
'So I am, and I'm going to be taking time off for a little bit to make sure I replenish, and I rest and I catch up with my health so that when I play for you, I will play the way I'm used to and give you 150 percent - I wouldn't show up unless I could do that.'