The global governing body for cycling said that the first openly transgender woman to win an official cycle event should be able to keep her win because she followed the new rules that were put in place last year.
On Sunday, Austin Killips won the fifth stage of the Tour of the Gila. This is one of the few big stage races still going on in the United States. That gave her the overall win by 21 seconds and the polka-dot jersey for being the best climber in the race.
Austin Killips @AmyD_Foundation put an exclamation point on her overall race lead Sunday by winning Stage 5 Gila Monster and taking home the overall victory at Tour of the Gila. #UCIWomen #TOTG2023https://t.co/exLh7kIIJI

— Tour of the Gila (@TouroftheGila) May 1, 2023
But the victory by the 27-year-old American, who began racing in 2019, was met almost immediately by backlash from cycling fans on social media and some former cyclists.
Hey @TouroftheGila

The very fact you prevented any replies to what surely should be a popular tweet shows us that you know what you are doing is wrong.

We see you. So does your conscience. https://t.co/GxjQE2G47y

— MikeOfTheSouthWest (@MikeOfTheSouthW) May 1, 2023
The Union Cycliste Internationale changed its rules so that athletes can only participate in women's events if their serum testosterone level has been 2.5 nanomoles per liter or less for at least 24 months. That was a change from the old rules, which said that levels had to be below 5 nanomoles for a year before a race.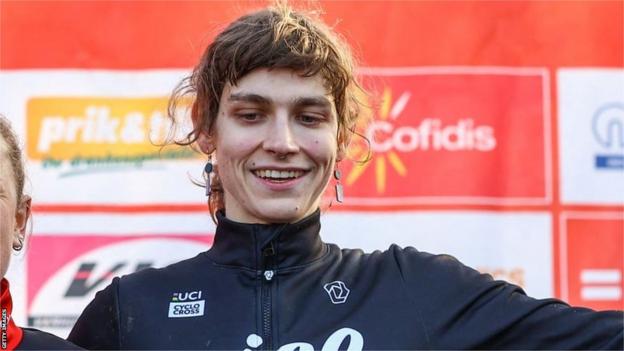 "The UCI rules are based on the latest scientific knowledge and have been applied consistently. They continue to follow the evolution of scientific findings," the UCI said in a statement, adding that the governing body "may change its rules as scientific knowledge evolves."

After Killips won, Olympic cyclist Inga Thompson wrote on Twitter that the UCI's stance on transgender people was "effectively killing off women's cycling."

World Athletics, which is in charge of track and field, and World Aquatics, which is in charge of swimming, don't let transgender women compete in world events for women.

In a statement, the Tour of the Gila, which takes place in New Mexico and is one of the lowest-level UCI races, said it had to follow the rules of the controlling body and let Killips keep his win.

"Tour of the Gila recognizes the heated debate about rider eligibility and classifications set by UCI and USA Cycling and encourages UCI and USA Cycling to hold an open discussion on the matter," the race said in a statement.

Killips rides for the Amy D Foundation in memory of American cyclist Amy Dombroski. She said in a statement shared on social media that she had gotten a lot of support from people in and out of the cycling community.

Killips wrote on Instagram on Monday, "After a week of nonsense on the internet, I'm especially grateful to everyone in the peloton and sports who continue to say that Twitter is not real." "I love my teammates and opponents, and I'm thankful for every chance I get to learn and grow as a person and an athlete on the course with them."