Over the Fourth of July weekend and on America's 246th birthday, meteorologists from FOX Weather will keep an eye on the weather across the country.
Celebrations are planned from coast to coast, and as is typical for the summer, some people will have to avoid rain and storms between Friday and July 4.

Here are the predictions for each area.
Northeast forecast
The weather looks good for Friday, but it will be very hot. In New York City, for example, the high will be around 91 degrees. This warm weather is also expected in the rest of the area and in New England.

In the afternoon, it will be close to 93 degrees in Boston, and there is a chance of storms in the evening.

On Saturday, it looks like it will be stormy in parts of the Northeast, especially in southern New England and Pennsylvania and New Jersey.

NOAA's Storm Prediction Center says that Philadelphia, eastern Pennsylvania, New York City, Hartford, Providence, and Boston are the places where severe weather is most likely to happen.

Most people celebrate the holiday over the weekend, so it's important to know how to stay safe when bad weather is coming.

One of the most important things to do is to make a safety plan for bad weather. Use the FOX Weather app to find out if storms are coming. If they are, make sure that plan is ready to go in case lightning, hail, or a tornado happens.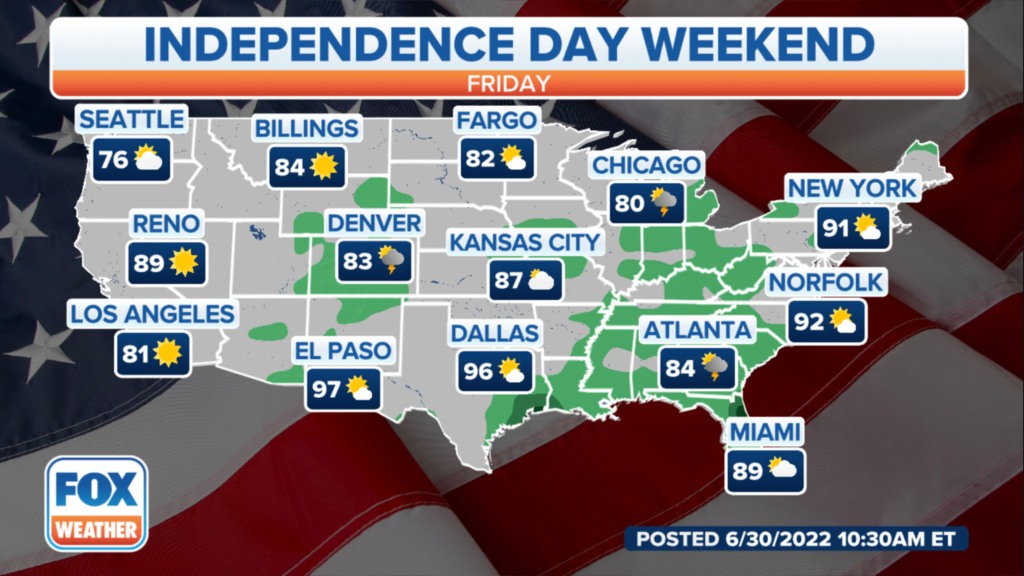 FOX FutureView can keep you up to date on the weather so you can make long-term plans for the summer. You can add your own events to the app, like summer BBQs, sports games, and trips. If you tell FOX FutureView to send you notifications, it will let you know if the forecast changes.

Conditions should get better by Sunday, and places like New York City could see highs in the 80s.

After a stormy start to the weekend, computer models show that the Fourth of July could be a pretty nice day in the area.

Highs will reach the 80s, but a cold front should bring down the humidity and dew points, making it more comfortable.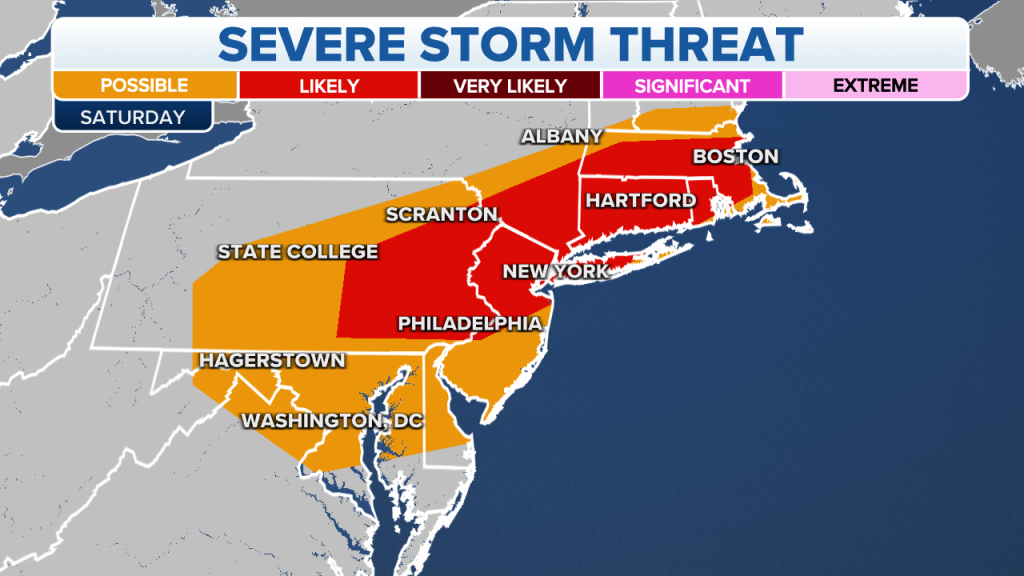 The weather report says that on Monday afternoon, cities along Interstate 95 from Washington to Boston will reach the upper 80s. By the time fireworks shows start, the temperature will have dropped to the lower 80s.

Under partly cloudy skies, the 46th Annual Macy's 4th of July Fireworks Show in New York City is expected to start around 9:25 p.m.
Southeast forecast
From Friday through the holiday weekend, including Independence Day, temperatures in the Southeast will mostly be in the 80s and 90s.

On Friday, the high temperature in Atlanta will probably be around 84 degrees. On Saturday, the temperature will jump to about 88 degrees, and on Sunday and July 4th, it will be 90 degrees and 91 degrees, respectively.

Over the weekend and into the Fourth of July holiday, Miami will also have highs around 90 degrees.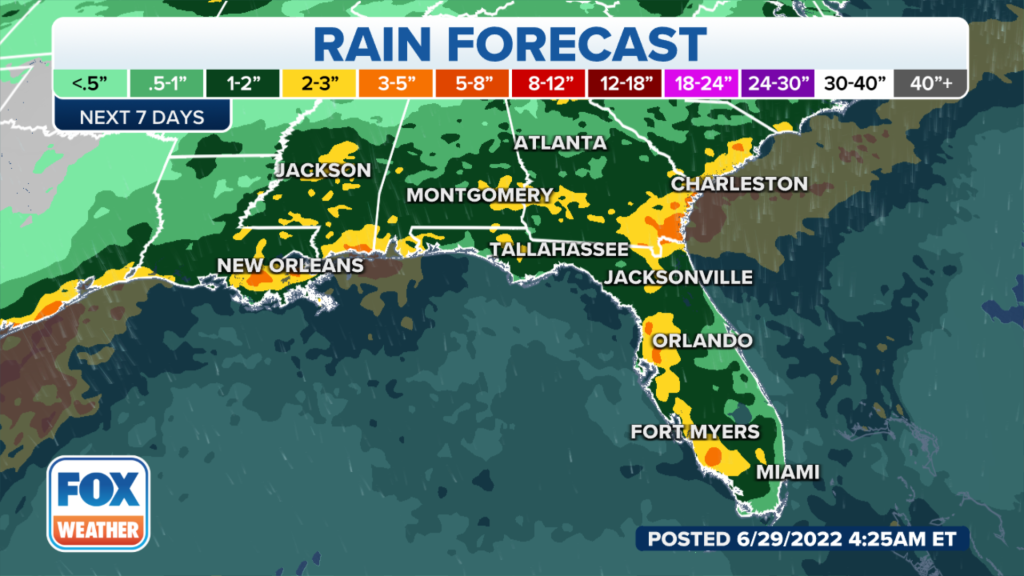 With a lot of moisture, warm temperatures, and at least one cold front, there could be a lot of rain and storms every day from Friday to Monday.

There could be rain on the Fourth of July in the Tennessee Valley, the mid-Atlantic, and the Gulf Coast, but it is too early to say which cities will get the most rain.

When it rains, the water has a cooling effect and helps relieve some of the summer heat.

If you want to go to the Southeast, download the FOX Weather app so you can watch storms on our 3D mobile radar.
Midwest forecast
It could come down to where you are in the Midwest, with a chance of rain in the eastern parts of the region and heat in the southwestern parts.

Temperatures will be in the 80s in most places on Friday, like Fargo, North Dakota and Chicago. The temperature in Kansas City, Missouri, will be close to 90 degrees, and it will be mostly cloudy.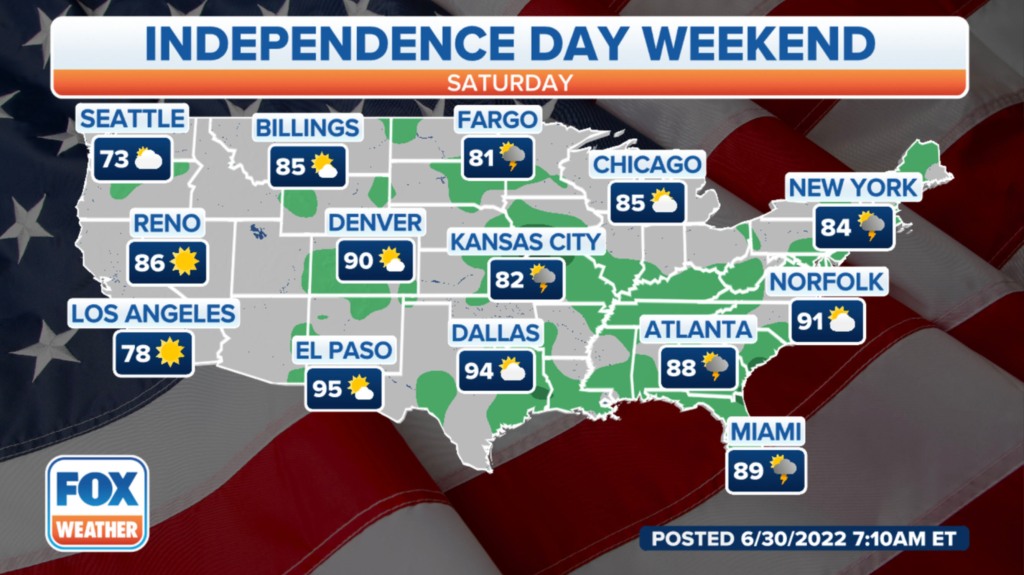 On Saturday, there will be rain and storms in Fargo, and the high temperature will be around 80 degrees. On Sunday, there will be the same chance of rain and storms, and on July 4, the temperature will drop to around 78 degrees.

The weekend will be warmer in Kansas City, and there is a chance of thunderstorms. On Saturday, it will be about 82 degrees in Kansas City. On Sunday, it will be about 90 degrees, and on July 4th, it will be about 95 degrees.

The rain and storms will be caused by a series of cold fronts moving through the Midwest.

On Independence Day, it might rain in big cities like Cincinnati, Chicago, and St. Louis.

There isn't enough information right now to say when the rain will stop, but people may want to bring a poncho or umbrella just in case it rains during a party.

Meteorologists say that the Plains are the most important place to worry about temperatures that will be well above average. Temperatures could be more than 10 degrees above average, which means they could reach the 90s or even the 100s.
West forecast
In the West, it looks like Friday is the best day of the weekend. The high temperature in Seattle will be around 76 degrees, and it will be mostly sunny. However, as a storm system moves closer, clouds will start to form.

There will be a high of about 90 degrees and a lot of sunshine in Reno, Nevada. About 80 degrees is expected in Los Angeles, which is to the south.

Because of a storm system in the Pacific Northwest, temperatures will be below average over the weekend and on July 4th for most of the area.

On Saturday, it will be 73 degrees in Seattle. On Sunday, it will be 67 degrees, and on July 4th, it will be 68 degrees.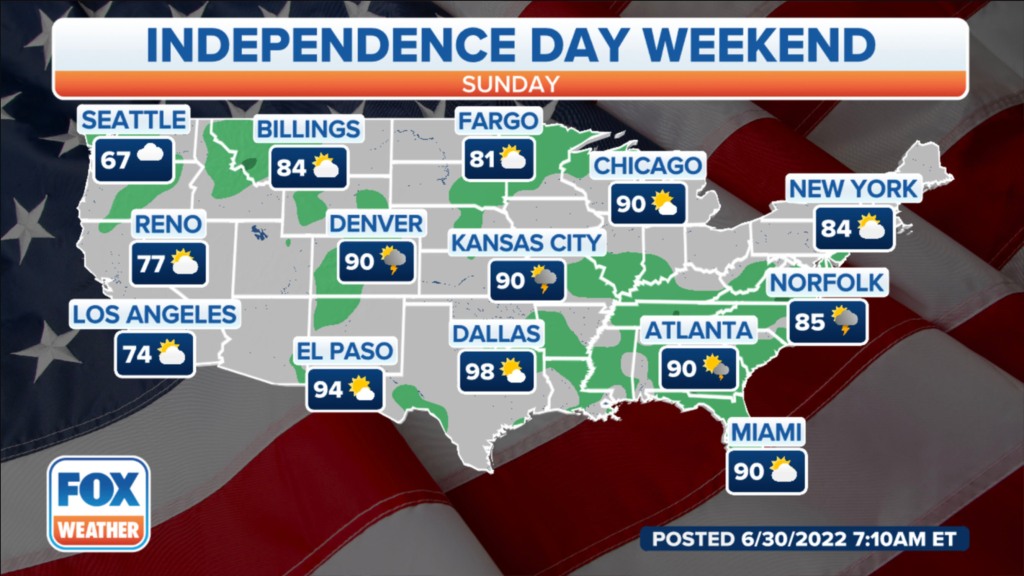 This weekend, it will also be in the 70s in Los Angeles. The high temperature on Saturday will be around 78 degrees. On Sunday, it will drop to 74 degrees, but on July 4, it will go up a bit to 75 degrees.

In most of Oregon, California, and Nevada, the Fourth of July will be a great time for parades and fireworks shows because the weather will be cooler than usual.

On July 4, the average high in Reno is 92 degrees and the average high in Los Angeles is 81 degrees, so most of the West will be between 5 and 15 degrees cooler than usual.

In the Pacific Northwest, the northern Rockies, and the Four Corners area, there is a chance of a few scattered showers.

It is monsoon season in the Southwest, which means that a lot of moisture could cause heavy rain and flash flooding.

Communities have banned fireworks in places where it hasn't rained in a while and there is a high risk of fire and are encouraging families to go to drone shows.
==========