Prices of daily consumer items climbed 6.2 percent in October, bringing inflation to its worst level in 31 years, and President Joe Biden's $1.2 trillion infrastructure plan is projected to exacerbate the problem.
The Consumer Price Index, which was released on Wednesday and documents the change in the price of goods ranging from gasoline and health care to groceries and rent, rose 6.2 percent in October 2021 from just one year prior.
It reveals that petrol costs grew by 59 percent year over year, while steak prices increased by 24 percent.

The CPI grew 0.9 percent on a monthly basis, compared to a Dow Jones projection of 0.6 percent.

The so-called core CPI, which excludes food and energy costs, increased by 0.6 percent, contrary to a forecast of 0.4 percent.

In addition, annual core inflation increased to 6.2 percent, compared to a Dow forecast of 4%, marking the highest level since November 1990.

It's also the fifth month in a row that inflation has surpassed 5%.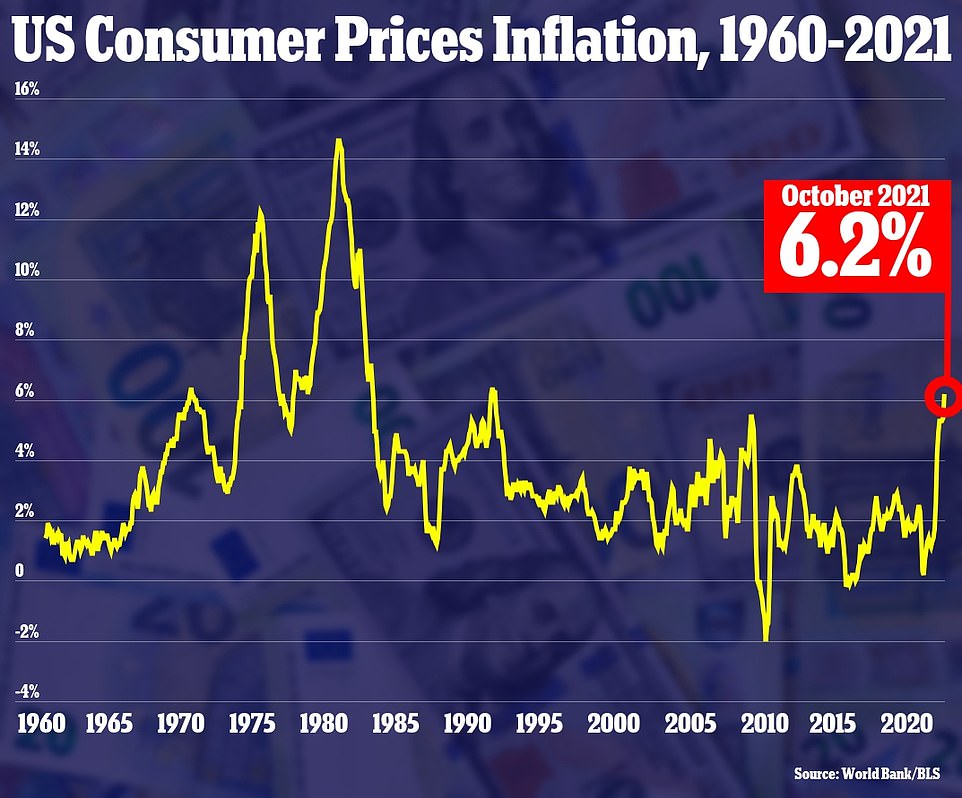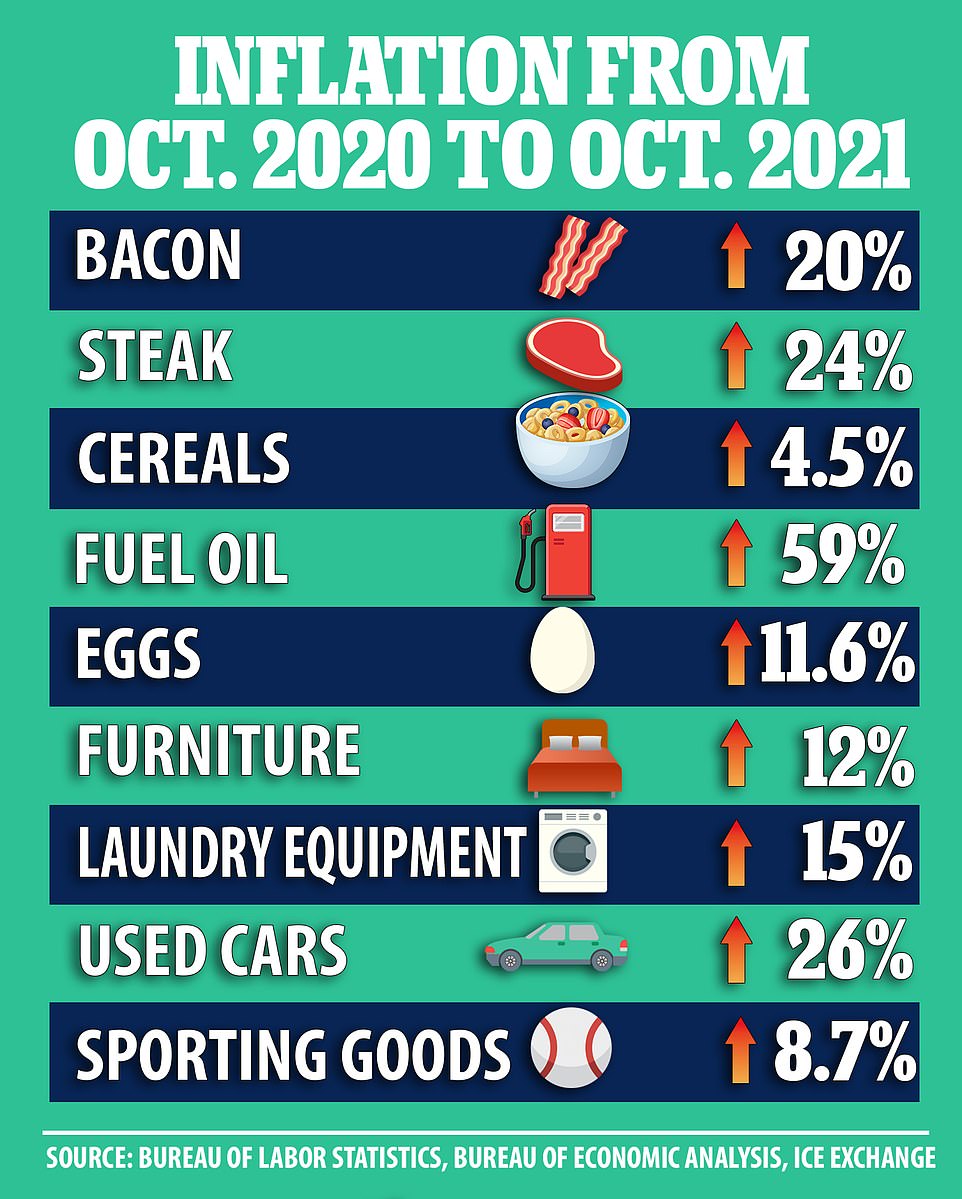 Consumers in the United States could feel the effects of rising inflation everywhere they went, from the gas station to the grocery.

Fuel prices rose 12.3% in September 2021, and have risen 59 percent in the last year.

Overall, energy costs increased by 4.8 percent in October 2021, and are up 30 percent over the previous year.

Even used automobiles and trucks had a 25% spike in only one month, and a 26.4 percent year-over-year gain.

Food costs were also up about 1% from September and 5.4 percent over the previous year, with cereals up 4.5 percent, bread up 24 percent, bacon up 20 percent, and steak up 24 percent.
Furniture costs increased by 12% year over year, while laundry appliances increased by 15%, and athletic items increased by 8.7%.

Last week, the number of Americans claiming for unemployment benefits fell to a new historic low of 267,000, according to the figure released on Wednesday.According to the Labor Department, unemployment claims declined by 4,000 last week, but the four-week average of claims, which smooths out the ups and downs, fell by nearly 7,300 to 278,000, a record low.

Since peaking at 900,000 in early January, unemployment aid applications have been progressively declining, approaching pre-pandemic levels of roughly 220,000 per week. For the sixth week in a row, claims, a proxy for layoffs, have fallen.

In the week ending October 30, 2.2 million Americans were receiving regular unemployment benefits.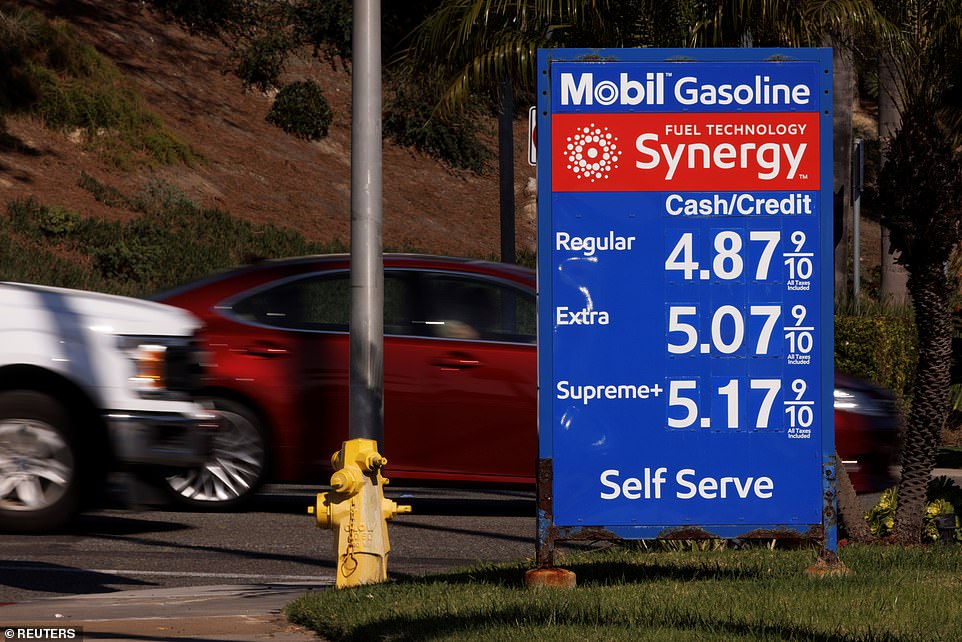 The economy's recovery from extensive coronavirus pandemic-related shutdowns is driving the price increase, at least in part.
Following the outbreak, many businesses have struggled to fulfill unexpectedly high demand, causing labor, raw materials, and commodities shortages, as well as traffic congestion at ports and freight yards. Higher costs have resulted as a result of the supply shortage, which is likely to endure until at least 2022.
Laura Rosner-Warburton, a senior economist at MarcoPolicy Perspectives, believes that the United States is about to enter a six-month period of extremely high inflation.
'I do think we're moving into a new phase where inflation is broader and where things are going to get more intense,' she told the Wall Street Journal.
'Part of that reflects that [supply-chain] bottlenecks are not resolved going into the holiday season, when a lot of purchases get made, and that economy is doing really well, so you have strong demand.'
Companies are also having difficulty obtaining supplies and delaying orders as a result of the increased demand for goods, as well as transportation bottlenecks and manufacturing interruptions caused by the epidemic and labor shortages, according to the Journal.

The most visible example is the lack of semi-conductors, which has resulted in an increase in the cost of both new and used automobiles.

Inflation is being influenced by a distinct scarcity of available labor, which is being passed on to consumers by businesses.

Companies are boosting the pricing of their goods to cover the expenses of maintaining their employees with greater compensation.
Still, Treasury Sec. Janet Yellen insisted that despite rising prices on everyday items, inflation will not reach the levels that evoked chaos throughout the 1970s.
She claimed last week that the difference between that era and now is that Americans trust the government to deal with the problem.
'In the 1970s, a series of supply shocks became a longer run problem ... that partly occurred because policy makers weren't trusted by the public to deal effectively with inflation,' Yellen told CNN.
'But I certainly see no evidence that that's the case now,' the Treasury Secretary added.
To combat growing inflation, then-President Richard Nixon implemented price controls, a 10% tax on imports, and withdrew the US from the gold standard in 1971, but the measures merely served to delay the inevitable.

Then, in 1973, the United States was hit with an oil embargo, which caused petrol prices to skyrocket. Inflation increased to 8.8 percent in that year. By 1980, it would have risen to 14%. Despite this, the United States saw double-digit unemployment.

Between 1971 and 1978, the Federal Reserve raised the federal funds rate to combat inflation, then lowered it to combat recession, confusing companies and families and eventually driving inflation higher.
It took a crackdown from Fed. chairman Paul Volcker who jacked up interest rates to over 20 percent to stabilize prices. The result was a stiff recession in the early 1980s where over 4 million lost their jobs, but by 1983, inflation was down to 3 percent.
Yellen, who chaired the Federal Reserve from 2014 to 2018, said that the Fed has learned its lessons from history.
She expects prices to normalize by mid to late 2022, and the Fed has previously signaled it intends to hold interest rates near zero until 2023 or late 2022 at the earliest.
In a statement on Wednesday, President Joe Biden: 'Inflation hurts Americans' pocketbooks, and reversing this trend is a top priority for me.'
He said he has directed the National Economic Council 'to pursue means to try to further reduce these costs, and have asked the Federal Trade Commission to strike back at any market manipulation or price gouging.
'Going forward, it is important that Congress pass my Build Back Better plan, which is fully paid for and does not add to the debt, and will get more Americans working by reducing the cost of child care and elder care, and help directly lower the costs for American families by providing more affordable health coverage and prescription drugs - alongside cutting taxes for 50 million Americans, including for most families with children,' the president added.
'We are making progress on our recovery,' Biden continued. 'Jobs are up, wages are up, home values are up, personal debt is down and unemployment is down.
'We have more work to do, but there is no question that the economy continues to recover and is in much better shape than it was a year ago.'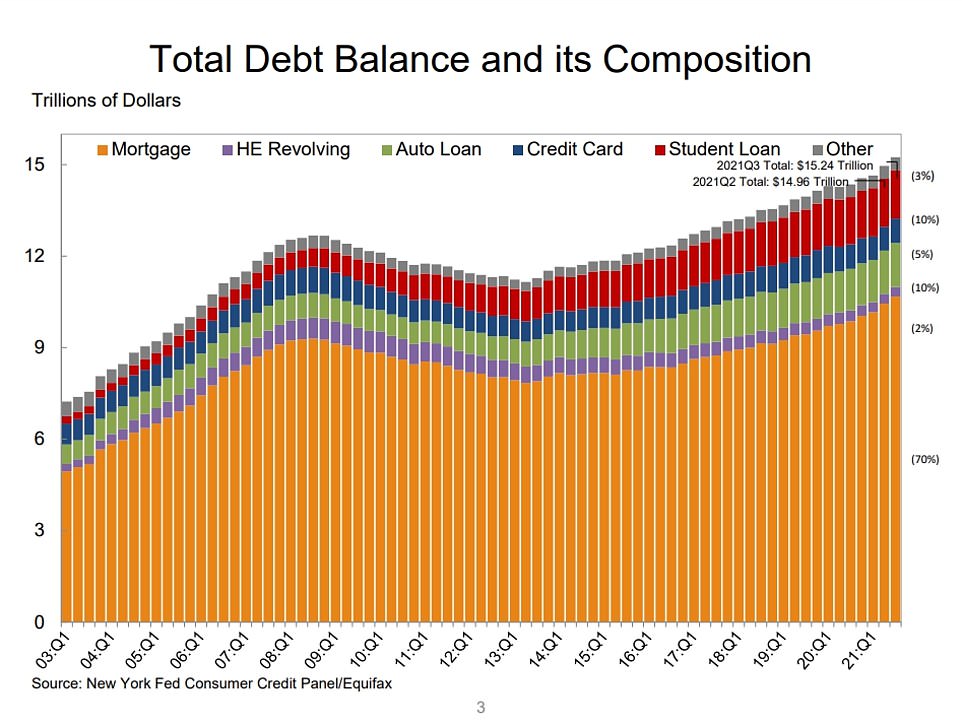 But Biden's $1.2 trillion infrastructure plan is actually expected to make the situation even worse.
It the Build Back Better agenda passes the Senate in its current form, the US would have the highest top income tax in the developed world.
The average top tax rate would be 57.4 percent, with top rates above 50% in each of the 50 states.
At the federal level, the top marginal tax rate would be 51.4 percent. The average income tax deduction in most states is 6.0 percent, bringing the highest rate to 57.4 percent.
The top marginal income tax rate in the United States is now 37 percent, with a hike to 39.6 percent slated for 2026. Only individuals earning more than half a million dollars per year are subject to the marginal rate.
The new top rate would surge the US to the front of the pack of the 38-member Organization for Economic Co-operation and Development - ahead of Japan at 55.9 percent, France at 55.4 percent, Austria at 55.0 percent and Greece at 54.0 percent, according to the Tax Foundation.
With a top income tax rate of 42.9 percent, the United States ranks 23rd out of 38 nations. With 15 percent, Hungary and the Czech Republic now have the lowest top rates.
Eight states, plus the District of Columbia, would have maximum rates of above 60% under the plan. California taxpayers would be hurt the worst, with a 64.7 percent cut, followed by New Yorkers with a 66.2 percent cut.
According to the research, the plan would impose a 5% fee on modified adjusted gross income (MAGI) above $10 million and a 3% levy on MAGI over $25 million on the wealthiest US families.
Meanwhile, household debt has hit a record high in the US.
In a report released Tuesday, the Federal Reserve said that total household debt increased by $286 billion to $15.24 trillion in the third quarter of 2021, after leveling off for much of the pandemic.
Mortgage balances, which are the largest component of household debt, rose by $230 billion and stood at $10.67 trillion at the end of September, reflecting fast-rising home prices.
Total non-housing balances increased by $61 billion, including a $28 billion jump in auto loan balances as supply chain issues spurred huge increases in the prices of both new and used vehicles.