It takes years for some NFL Draft picks to develop but only moments to grade a class.
It takes years for some NFL Draft picks to develop but only moments to grade a class.
Three days, seven rounds and 259 picks ended Saturday night. Here are The Post's grades for every team, with a curve instituted for the first-, second- and third-round picks, and an emphasis on quality and value.
1) Miami Dolphins

Grade: A+
Key Picks: Jaylen Waddle (WR, Alabama), Jaelan Phillips (OLB, Miami), Jevon Holland (S, Oregon), Liam Eichenberg (OT, Notre Dame)
Analysis: Waddle brings game-breaking speed to the offense – reunited with former Alabama QB Tua Tagovailoa – and special teams. When you have four top-42 picks you can swing for the fences with Phillips (three concussions but big pass-rush ability). Four players with first-round grades?
2) Baltimore Ravens
Grade: A+
Key Picks: Rashod Bateman (WR, Minnesota), Jayson Oweh (OLB, Penn State), Ben Cleveland (OG, Georgia), Brandon Stephens (CB, SMU), Tylan Wallace (WR, Oklahoma State), CB Shaun Wade (CB, Ohio State)
Analysis: First-and fourth-round receivers addressed the major need. Bateman has potential for a Justin Jefferson-like rookie impact. Oweh had no sacks last season, but does anyone doubt he will be a force in Baltimore? Wade was an All-American.
3) New York Giants

Grade: A
Key Picks: Kadarius Toney (WR, Florida), Azeez Ojulari (OLB, Georgia), Aaron Robinson (CB, UCF)
Analysis: Two trade downs netted the Giants three picks in the thought-to-be-loaded 2022 Draft. DeVonta Smith was stolen away by the Eagles, but the Giants got help for QB Daniel Jones and addressed huge pass-rush void. Toney is unlike anyone else in a deep WR corps. Offensive line needed help.
Giants complete 2021 NFL Draft Tracker
4) Jacksonville Jaguars

Grade: A

Key Picks: Trevor Lawrence (QB, Clemson), Travis Etienne (RB, Clemson), Tyson Campbell (CB, Georgia), Walker Little (OT, Stanford), Andre Cisco (S, Syracuse)

Analysis: Lawrence is the can't miss No. 1 pick and reunited with Etienne. Coach Urban Meyer's speed-kills offensive plan is seen in Etienne even though the Jaguars' best playmaker is second-year back James Robinson. He's building the defense from the back-end in.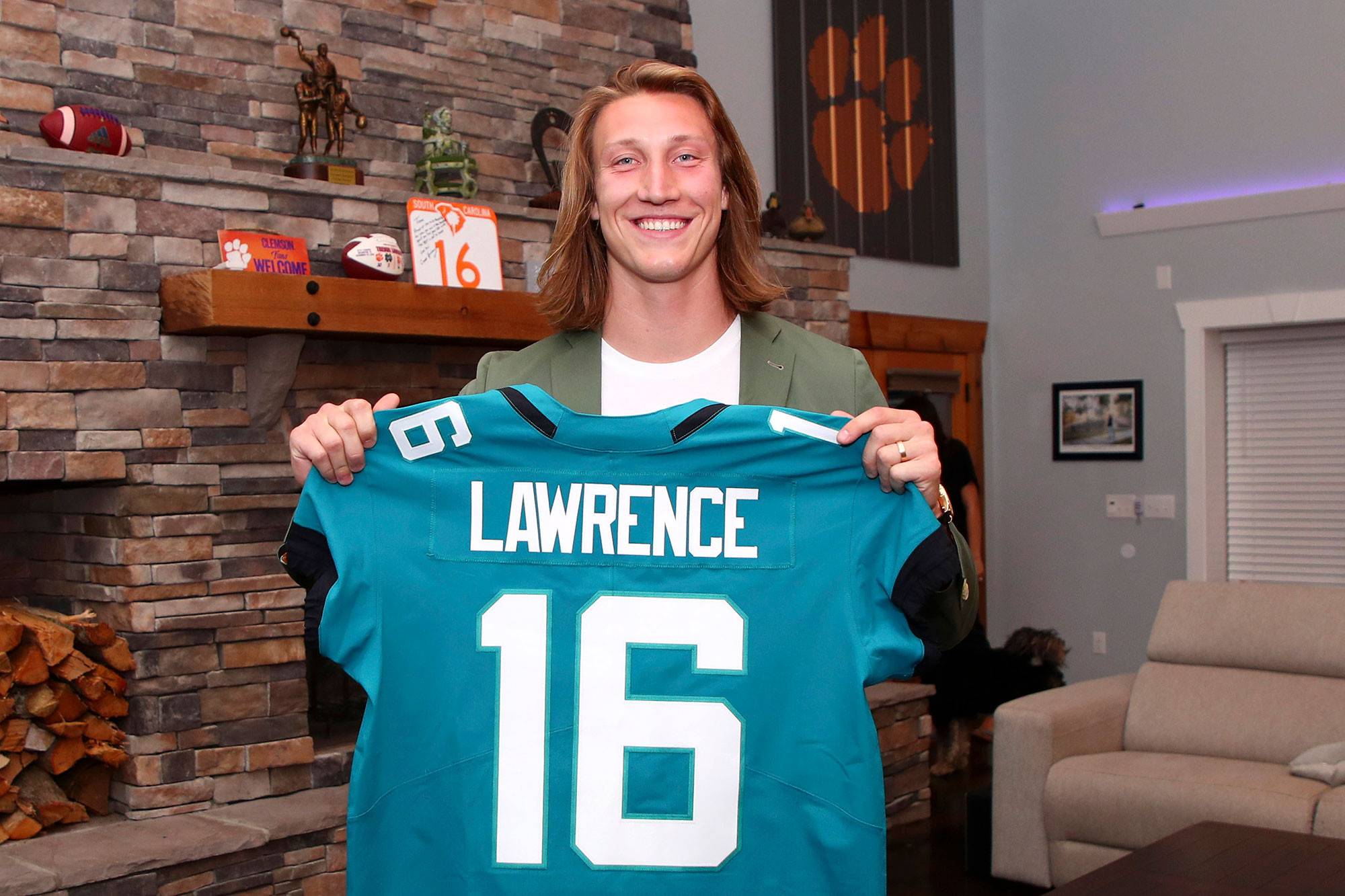 5) New York Jets

Grade: A
Key Picks: Zach Wilson (QB, BYU), Alijah Vera-Tucker (OG, USC), Elijah Moore (WR, Mississippi), Michael Carter (RB, North Carolina)
Analysis: Learning from past mistakes, the Jets picked Wilson and then used three picks to help him. Trading up from No. 23 to No. 14 landed the coveted Vera-Tucker (without giving up any first- or second-rounders). Four top-60-caliber players. Too bad they waited too long on cornerbacks.
Jets complete 2021 NFL Draft tracker
6) New England Patriots

Grade: A
Key Picks: Mac Jones (QB, Alabama), Christian Barmore (DT, Alabama), Ronnie Perkins (DE, Oklahoma), Rhamondre Stevenson (RB, Oklahoma)
Analysis: Not only did Bill Belichick land the QB he coveted – with some of the same strengths as a young Tom Brady — he didn't have to trade up to get Jones. Two pairs of college teammates. Stevenson might be the best pass-protecting back in the draft.

Grade: C+

Key Picks: Najee Harris (RB, Alabama), Pat Freirmuth (TE, Penn State), Kendrick Green (G, Illinois)

Analysis: Cue the outrage about selecting a running back in the first round. The Steelers started 11-0 before crumbling last season and then were cap-strapped in free agency. Freirmuth will help in the red zone. But the secondary needed help.
25) Tampa Bay Buccaneers

Grade: C

Key Picks: Joe Tryon (OLB, Washington), Kyle Trask (QB, Florida), Robert Hainsey (OT, Notre Dame)

Analysis: The defending champs are bringing back all 22 starters. That's a formula for choosing "Best Player Available." Tryon is a pass-rush specialist with loads of untapped potential. Trask fits the "no risk it, no biscuit" philosophy, but the Bucs are in a win-now window, so why not find a contributor?
26) Green Bay Packers

Grade: C

Key Picks: Eric Stokes (CB, Georgia), Josh Myers (C, Ohio State), Amari Rodgers (WR, Clemson)

Analysis: Nine of the Packers' last 10 first-round picks are defense. The other is a backup QB, making Aaron Rodgers angry. Stokes better be more than a track star. Myers fills a big need after free agency and the Packers are tempting fates with another mid-round WR.
27) San Francisco 49ers

Grade: C

Key Picks: Trey Lance (QB, North Dakota State), Aaron Banks (OG, Notre Dame), Trey Sermon (RB, Ohio State), Ambry Thomas (CB, Michigan)

Analysis: Almost impossible for Lance – who started 17 games at the FCS level – to live up to expectations after trading TWO future first-rounders. Paired him with a young lineman — a theme in the second round. Sermon could quickly become the lead back.
28) Las Vegas Raiders

Grade: C
Key Picks: Alex Leatherwood (OT, Alabama), Trevon Moehrig (S, TCU), Malcolm Koonce (OLB, Buffalo), Divine Deablo (S, Virginia Tech)
Analysis: Expect the unexpected. For the third straight year, the Raiders left everyone scratching their head with a huge reach in the first round. Then they mocked media draft experts when their GM is a former media draft expert. Moehrig was a steal — if healthy.
29) New Orleans Saints

Grade: C-
Key Picks: Payton Turner (DE, Houston), Pete Werner (LB, Ohio State), Paulson Adebo (CB, Stanford), Ian Book (QB, Notre Dame)
Analysis: After reportedly trying to trade up into the top 10 – for a cornerback? – the Saints reached for Turner, who only broke out in an injury-shortened 2020 season. No high picks for the offense, which will look different with Jameis Winston, Taysom Hill and … Book?
30) Seattle Seahawks

Grade: C-
Key Picks: D'Wayne Eskridge (WR, Western Michigan), Tre Brown (CB, Oklahoma)
Analysis: Seattle joked that All-Pro safety Jamal Adams (acquired from Jets) should count as its first-rounder. Not how this works, especially with Adams unsigned long-term. Eskridge gives Russell Wilson another weapon but he clearly wants better blocking.
31) Los Angeles Rams

Grade: D+

Key Picks: Tutu Atwell (WR Louisville), Ernest Jones (LB, South Carolina), Bobby Brown (DT, Texas A&M)

Analysis: Atwell's 4.32-second time in the 40-yard dash is tantalizing, but he weighs the same as some seventh-graders (149 pounders). The Rams haven't made a first-round pick since 2016 and don't have one until 2024. Jones is not the coverage linebacker they needed.
32) Houston Texans

Grade: D

Key Picks: Davis Mills (QB, Stanford), Nico Collins (WR, Michigan)

Analysis: Houston should've had the No. 3 pick but traded it years ago for OT Laremy Tunsil. Then they had to waste their first choice (third-rounder) on a backup QB because of Deshaun Watson's legal issues and trade demand. No help for a rebuilding defense. Ugh.
This story originally appeared on: NyPost - Author:Ryan Dunleavy