This gallery of classic dishes from memorable Friends Thanksgiving episodes includes recipes and photos — details
Could we be any more excited about Thanksgiving? Not only does the annual fall holiday give people a chance to spend time with loved ones, but it's also the perfect excuse to watch some of the very best episodes of Friends.
Over the course of the beloved NBC sitcom's 10-year run, there were a handful of Turkey Day-themed episodes that stood a cut above the rest, and many of them involved holiday food. In fact, Us Weekly is now sharing some recipes based on iconic Thanksgiving dishes from the show.
For example, in the perhaps the best known holiday installment — a.k.a. the Thanksgiving episode from season 6 — Monica Geller (played by Courteney Cox) makes good on a forgotten promise she made to pal Rachel Green (Jennifer Aniston) and reluctantly agrees to let her cooking-challenged roommate whip up a Thanksgiving dessert for the gang's big holiday meal.
Rachel's sweet treat, of course, was a traditional English trifle. However, since the pages in her cookbook had gotten stuck together, the fashion exec ended up making half an English trifle and half a shepherd's pie, resulting in a confection that contained both layers of lady fingers, jam and whipped cream, as well as beef sautéed with peas and onions. The sweet and savory creation, which everyone ate in an effort to spare Rachel's feelings, tasted "like feet," according to Ross (David Schwimmer).
While Us' trifle recipe is missing that meat and veggie layer (you can thank Us later), the dessert is otherwise very similar to the one Rachel attempted to cook.
In the Friends Thanksgiving episode from season 5, Ross goes berserk when he realizes a colleague at the museum mistakenly ate the "moist maker" sandwich Monica had prepared for him, using her delectable Turkey Day leftovers. Per Ross' description, the loaded meal contained, among other ingredients, turkey and an extra slice of gravy-soaked bread, which is how the food earned its "moist maker" moniker.
Us' version of the sandwich kicks the meal up a notch and is actually a turkey burger on a buttered brioche bun. Don't worry though, this feast still has layers of cranberry apple chutney, cornbread stuffing and more.
Scroll down to see more recipes inspired by iconic dishes from Friends' memorable Thanksgiving episodes!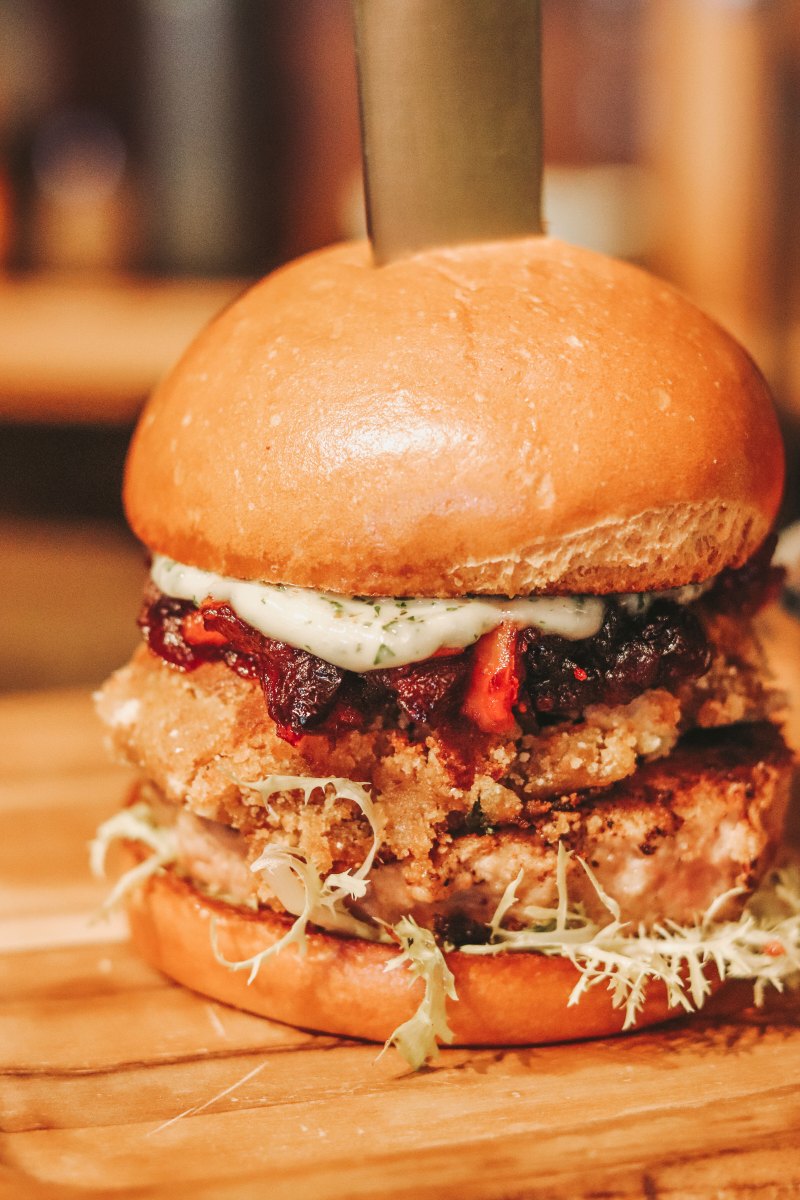 Credit: Honey Salt
The Ultimate Holiday Burger
The Ultimate Holiday Burger, courtesy of restaurateur Elizabeth Blau of Honey Salt in Las Vegas, gives you one more thing to be thankful for this year. Though there's no additional layer of gravy soaked bread here, the burger is contained using a buttered brioche bun, which will surely make your mouth water. What's more? This epic meal also contains a herb aioli, cranberry apple chutney and cornbread stuffing.
Makes 2 burgers (you will have leftovers!)
INGREDIENTS:
For the herb aioli:
• 2 egg yolks
• 1 tsp Dijon mustard
• 1 tbsp lemon juice
• 1.5 cups vegetable oil
• Kosher salt, to taste
• 1 tsp chopped parsley
• 1 tsp chopped tarragon
• 1 tsp chopped cilantro
For the cranberry apple chutney:
• 1/2 cup water
• 1/2 cup packed brown sugar
• 1 1/4 cup granulated sugar
• 1 yellow onion, small dice
• 2 apples, diced with no skin
• 4 oz fresh cranberries
• 1/2 cup golden raisins
• 1/4 cup cider vinegar
• 1/8 tsp ground allspice
• 1 tsp ground cinnamon
• Kosher salt, to taste
For the cornbread stuffing:
• 2 lbs cornbread
• 1 lb oven-dried bread
• 1 cup unsalted butter
• 1 cup celery, small dice
• 1 yellow onion, small dice
• 2 quarts chicken stock
• 1/2 lb cooked Italian sausage
• 1/2 tsp fresh sage
• 5 whole eggs, beaten
For the turkey burger:
• 1 lb 90/10 dark meat / light meat blend turkey, ground
• 2 Brioche buns, grilled with butter on each side
For the yellow frisée:
• 4 oz yellow frisée
• Kosher salt, to taste
• 1 tbsp extra virgin olive oil
• 1 tbsp fresh lemon juice
INSTRUCTIONS:
1. Start by making the herb aioli. Put egg yolks, lemon juice and mustard into a food processor.
2. Slowly drizzle vegetable oil while the food processor is on medium speed until the mixture is thick.
3. Finish with salt, parsley, tarragon and cilantro. Set aside.
4. Make the cranberry apple chutney: In saucepan, bring sugar and water to a boil and add onion.
5. Add remaining ingredients and simmer for 30 minutes.
6. Taste and adjust with kosher salt.
7. Let cool and set aside.
8. To make the stuffing, preheat the oven to 350 degrees.
9. Mix all ingredients in large bowl and pack tightly into greased baking tin.
10. Cook for 45 to 50 minutes.
11. Cool and slice. Set aside.
12. To make the burgers, portion the turkey meat into eight-ounce patties.
13. Sear each patty until crispy on both sides. Finish the patties in an oven set to 350 degrees and cook until the burgers reach an internal temperature of 165 degrees. Remove from oven and set aside.
14. To make the yellow frisée, toss the frisée lightly with kosher salt, extra virgin olive oil and fresh lemon juice. Set aside.
15. Assemble the burger. Take the bottom half of the brioche bun and add the yellow frisée and a turkey burger. Next, add the cornbread stuffing and the cranberry apple chutney, which should be spread generously on top of the stuffing. Spread the herb aioli generously on the top half of the bun, close the burger and serve.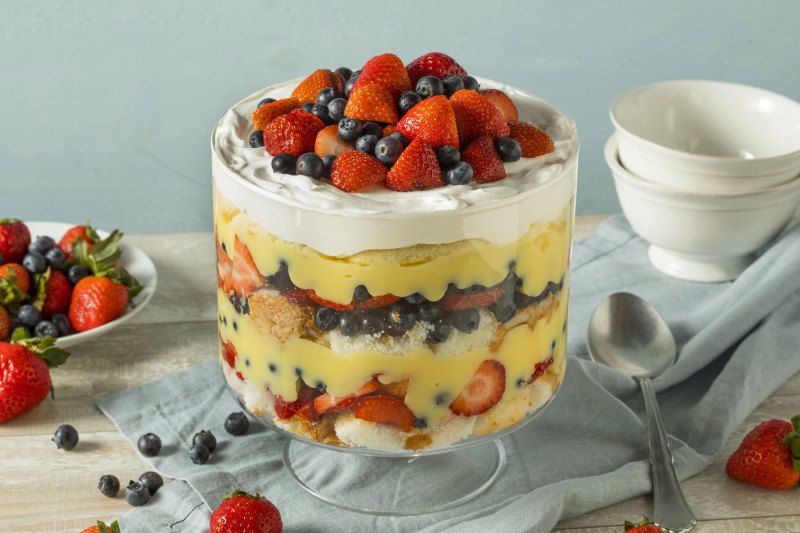 Credit: Andrea Correale
Traditional English Trifle
This recipe for the well-known British dessert was shared with Us by celebrity caterer Andrea Correale of Elegant Affairs. Her A-list clients have included Mariah Carey and Jimmy Fallon. This take on the dish doesn't actually boast a layer of peas sautéed with peas and onions, but hey, at least that means it won't taste like feet!
Makes 1 trifle
INGREDIENTS:
• 1 5 oz package of instant vanilla pudding (like Royal brand)
• 4 cups whole milk
• 1/2 cup heavy cream
• 8 egg yolks
• 1/3 cup granulated sugar
• 1 pinch vanilla extract
• 7 oz lady fingers
• 1/2 cup sherry wine
• 12 oz frozen berries
• 2 quarts fresh strawberries (thawed)
• 1/2 cup sliced almonds, toasted
INSTRUCTIONS:
1. Combine the instant pudding and whole milk. Whisk together until thickened.
2. Place mixture in the refrigerator to thicken it a bit more. Leave it in the fridge for about 10 minutes and then remove it and set it aside.3. Next, make the whipped cream by adding heavy cream, egg yolks, granulated sugar and vanilla extract to the pudding mixture and combine with a mixer.
4. Then, beat the mixture with a whisk attachment until thickened and stiff. Set aside.
5. Layer half of the ladyfingers on the bottom of a trifle dish. Slowly pour 1/4 cup of Sherry wine over the ladyfingers.
6. Scoop half of the thawed mixed berries over the ladyfingers. Try to get as little berry juice in the dish as possible.
7. Layer half of the prepared pudding mixture over the berries, completely covering them. Set aside.
8. Add half of the sliced strawberries to the pudding layer.
9. Layer the remaining half of the whipped cream over the strawberries, completely covering them.
10. Repeat layers. Top trifle with toasted almonds.
11. Let the trifle set in the refrigerator for two to six hours and enjoy!
Credit: Eatzi's Market & Bakery
Sweet Potato Chocolate Chess Pie
Though this dish isn't based on something as well known as, that trifle, it does combine two Friends Thanksgiving favorites — chocolate pie and carbs. In season 10 Phoebe Buffay (Lisa Kudrow) and Rachel forgot to pick up a chocolate pie and in season 8 the gang's old high school buddy Will (played by Brad Pitt) demanded some "complex carbohydrates" be loaded onto his plate.
Makes 1 pie
INGREDIENTS:
For the chocolate chess filling:
• 3/4 cup granulated sugar
• 1/8 tsp sea salt
• 1 tbsp cocoa powder
• 1 tbsp flour
• 1/4 cup evaporated milk
• 1 extra large egg; room temperature
• 1.5 oz butter; softened
• 1/2 tsp pure vanilla extract
For the sweet potato filling:
• 2-3 sweet potatoes; unpeeled
• 2 oz butter; softened
• 2 oz brown sugar
• 2 oz granulated sugar
• 1/4 cup heavy cream
• 1 tbsp pure vanilla extract
• 1/4 tsp ground cinnamon
• 1/4 tsp ground nutmeg
• 1/8 tsp sea salt
• 1 extra large egg
For the whipped cream:
• 1 pint heavy cream
• 4 tbsp granulated sugar
For the sweet potato chocolate chess pie:
• 9-inch deep pie shell
• Sweet potato filling (see recipe above)
• 1 oz brown sugar
• 1 oz pecan halves; crushed into small pieces
• Pinch of ground cinnamon
• Chocolate chess filling (see recipe above)
• 12 chocolate sandwich cookies, like Oreos
• 2 oz pecan halves
• Whipped cream (see recipe above)
• 2 oz shaved milk chocolate
INSTRUCTIONS:
1. Make the chocolate chess filling by combining the sugar, salt, cocoa powder and flour.
2. Blend in evaporated milk and then beat in the egg.
3. Add butter and vanilla; beat until smooth. Set aside.
4. Make the sweet potato filling: Roast potatoes in a 375 degree oven until soft (about 90 minutes.) Remove from oven and let cool.
5. Once the potatoes have cooled, remove the skin and weigh out 3/4 of a pound of potatoes.
6. In a mixing bowl, beat potatoes until creamy.
7. Add remaining ingredients and mix well. Set aside.
8. Make the whipped cream. In a very cold mixing bowl, combine the cream and sugar.
9. Beat until the cream forms stiff peaks. Set aside.
10. To assemble the pie, start by adding the sweet potato filling to the pie crust; level and smooth with a spatula.
11. Combine brown sugar, crushed pecans and cinnamon; sprinkle evenly over sweet potato filling.
12. Pour chocolate chess filling into the pie crust. Bake at 350 degrees for 70 minutes; chess filling should have a crust and be set.
13. Remove pie from oven and chill.
14. While the pie is baking, separate the sandwich cookies and scrape off the filling.
Place the cookies and the halved pecans in a food processor; chop into very small pieces. Set aside.
15. When the pie is cold; evenly cover the top of it with whipped cream.
16. Press the crushed cookies and nuts around the edge of the whipped cream.
17. Garnish the center of the whipped cream with shaved chocolate. Enjoy!
Author:Samantha Leffler - Source: US Magazine