In November, food prices went up by 0.5% while energy prices went down by 1.6%.
Inflation finally slowed down to almost a stop in November. This could mean that the prices crisis that has been affecting American households this year is coming to an end.

The Department of Labor said on Tuesday morning that prices went up by an average of 0.1% in November. The rate of inflation from one year to the next also went down. For the 12 months ending in November, it was 7.1%. That's the lowest annualized rate since December 2021, and it's a lot lower than the 7.8 percent annualized rate that was reported a month ago.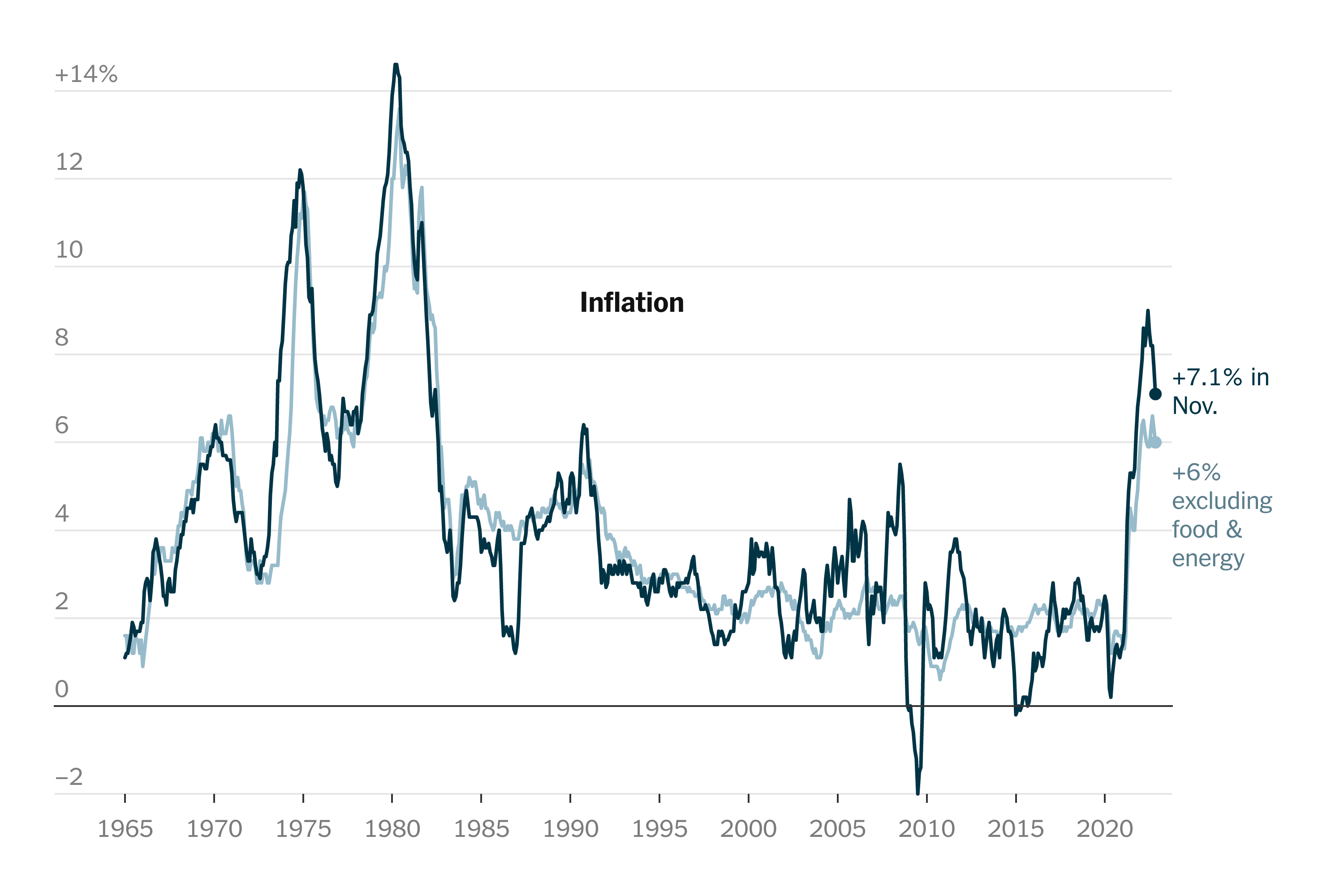 This is also the fifth month in a row that the annualized inflation rate has stayed the same or gone down. In July, it reached a record high of 9.0 percent.

This suggests that the Federal Reserve has finally found a way to stop prices from going up. When the board of the central bank meets on Wednesday, rates are likely to go up for the seventh time this year. This means that it will continue to cost more to get a mortgage or a car loan, and that the interest rates on credit cards will continue to go up. On the other hand, savings accounts and other investments that are based on interest are paying higher returns.
CNBC said that the average rate for a car loan is now over 6 percent, up from 3.8 percent at the beginning of the year. That means that over the course of a typical 72-month loan for a $40,000 car, consumers will have to pay about $5,700 more in interest.

In other words, lowering inflation means that higher prices are just moved from goods and services that are used right away to things that are used later.

Still, the inflation report for November is good news for people who have to heat their homes or drive cars. Prices for all types of energy fell by 1.6%, with gas prices falling by 2%. But grocery store prices are still going up: they went up 0.5% last month and 10.6% in the last 12 months.

"Core inflation," which takes out the more volatile categories of food and energy, went up 0.2% in November and has gone up by 6% over the past year. Rental rates, which went up another 0.6% last month, are still the main reason why prices in that category are going up (because America needs to build more housing).

Even though the headline inflation rate of 7.1% will be seen as good news by the media and, it seems, by the stock market, it's important to keep some things in mind. From an objective point of view, that's still way too much inflation. It's more than three and a half times the Fed's stated goal of 2%, which is still a long way off for now. It means that people are still paying a lot more for basic needs than they were a year ago, and the best-case scenario is that prices will continue to go up, but at a slower rate.

At the same time, this round of rising prices and higher interest rates will have effects that will make it harder to handle the growing national debt and put Social Security in an even worse position. Instead of dealing with these problems, however, lawmakers are using the last session of Congress this year to spend and borrow even more money.
It's also important to remember, as The New York Times pointed out this week, that many economists thought inflation would reach its highest point at this time last year. Boy, did they get it wrong. In December of 2018, economists surveyed by Bloomberg said that core inflation would drop to 2.5% by the end of 2022. Now, the same group predicts that inflation will drop to 3% by the end of next year.

That is a good way to remember that predictions don't mean much. Even though inflation is heading in the right direction for the first time in a long time, the economy is still in trouble.