The price of bitcoin, ethereum, and other cryptocurrencies has swung wildly in the last week due to fears of a "cataclysmic market shift" following Russia's invasion of Ukraine.
This week, the price of a bitcoin fell below $35,000 per coin before rebounding strongly. In the same way that "extreme fear" has gripped investors, Ethereum and other major cryptocurrencies have been equally volatile.
After Russia was kicked out of the world's most important international payments network, SWIFT, traders are bracing for severe gyrations on the Russian currency market.
Sergei Aleksashenko told Reuters, "It means there will be a catastrophe on the Russian currency market on Monday. "I believe they will halt trading and fix the exchange rate artificially, just like in Soviet times."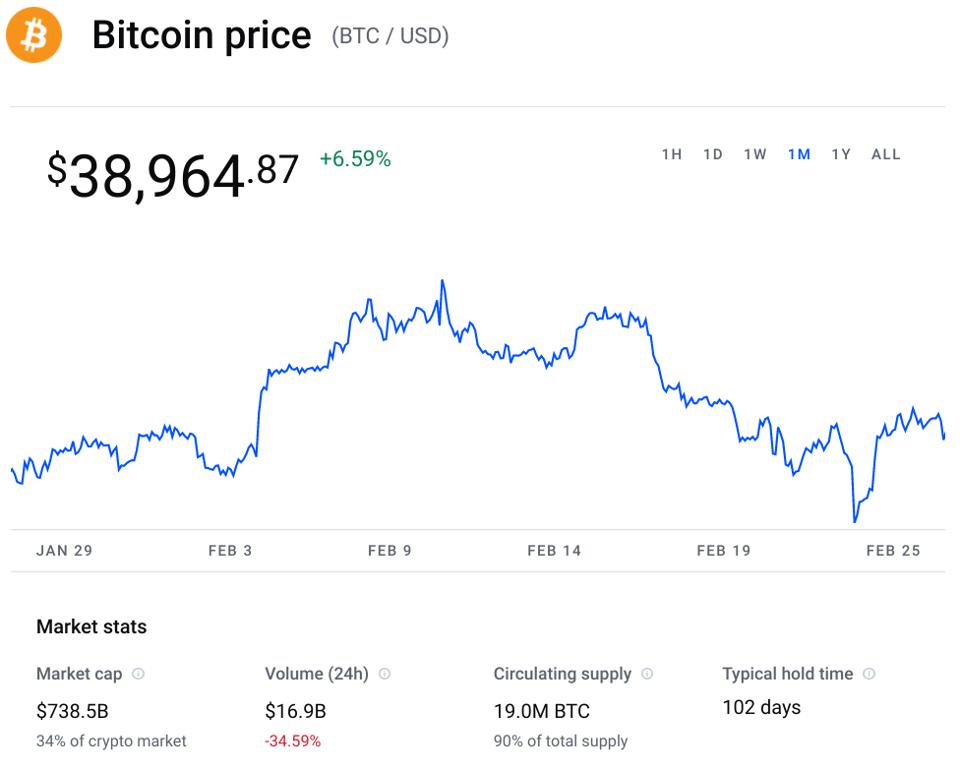 It was announced on Saturday that Russia's central bank would be penalized and some Russian banks would be excluded from the SWIFT messaging system used for trillions of dollars worth of transactions around the world, in an effort to "prevent the Russian Central Bank from deploying its international reserves in ways that undermine our sanctions," as stated in a joint statement by the United States, the European Union, the UK, France, Germany, Italy, and Canada.
According to a Credit Suisse report cited by Bloomberg, Russia is believed to have $300 billion in foreign currency held offshore, which would be enough to disrupt the money markets if Russia is frozen by sanctions or moves quickly to avoid them.
As traders came to terms with Russian sanctions, the price of bitcoin, ethereum, and other cryptocurrencies rose along with stock markets this week. Even so, it's possible that the latest measures could lead to fresh volatility because of rising commodity prices and inflation fears.
At a time when the gold price has risen, bitcoin's extreme price volatility has undermined the popular narrative that bitcoin has begun acting as digital gold, a so-called safe-haven asset that investors flee to in times of perceived risk—though some bitcoin and crypto investors remain confident.
ARK36 executive director Mikkel Morch wrote in an email that "in contrast to major stock indices, bitcoin hasn't actually recorded a lower low [this week]. "In terms of the talk about bitcoin as a safe haven asset, this small detail could be of great significance."
There are still concerns about a possible drop in the price of bitcoin despite the recent recovery in the price of ethereum and other cryptocurrencies.
However, the $40,000 level is still a significant barrier, Morch said. "Revisiting the range lows or even the $30,000 support is still very much on the table in the short term unless bitcoin meaningfully breaks this barrier."
A senior analyst at FxPro, Alex Kuptsikevich, said in an email that bitcoin could fall below $30,000 if the situation in Ukraine worsens, citing reports Russia could use cryptocurrency to avoid sanctions. As a result of increasing pressure from Western countries, the country may not be able to withstand sanctions.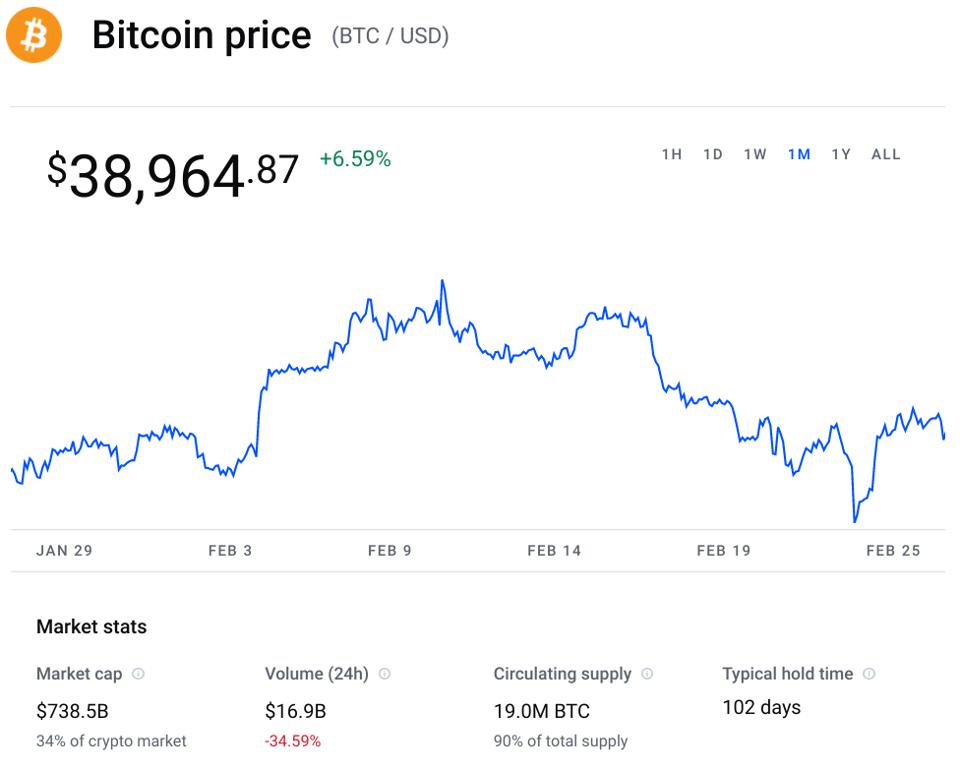 Other members of the Bitcoin and Cryptocurrency community, on the other hand, believe it is highly unlikely that Russia would use bitcoin to evade international sanctions.
There has been much media hype about Russia's potential use of bitcoin to circumvent sanctions, according to Cory Klippsten, CEO of bitcoin-buying app Swan Bitcoin.
"In theory, Russia could theoretically use bitcoin because of the currency's open and permissionless nature, but there are ways for authorities to track transactions using bitcoin. In order to understand bitcoin, you must understand that it is a technology that anyone can use, regardless of whether or not you agree with their actions."
According to Elliptic, a blockchain analysis company, nearly $14 million has been donated anonymously to the Ukrainian war effort.
On Saturday, the Ukrainian government's official Twitter account tweeted: "Show your support for the Ukrainian people. Coin donations are now accepted. USDT, ethereum, and bitcoin "—a currency whose value is fixed to the US dollar. Bitcoin and ethereum were deposited into two cryptocurrency wallets in just a few short hours.
This demand for a decentralized, censorship-resistant store of value is becoming increasingly apparent around the world, according to Klippsten.
** Information on these pages contains forward-looking statements that involve risks and uncertainties. Markets and instruments profiled on this page are for informational purposes only and should not in any way come across as a recommendation to buy or sell in these assets. You should do your own thorough research before making any investment decisions. All risks, losses and costs associated with investing, including total loss of principal, are your responsibility. The views and opinions expressed in this article are those of the authors and do not necessarily reflect the official policy or position of USA GAG nor its advertisers. The author will not be held responsible for information that is found at the end of links posted on this page.