Bored Ape Yacht Club NFT's celebrity notoriety, along with growing interest from private collectors, has seen it overtake CryptoPunks in all-time sales.
Bored Ape Yacht Club has outperformed competitors such as Mutant Ape Yacht Club (MAYC), Art Blocks, Otherdeed, NBA Top Shot, Azuki, CloneX, VeeFriends, and Moonbirds in terms of sales. More importantly, BAYC's $2.4 billion in sales volume has surpassed CryptoPunks, one of the most successful digital collectibles initiatives.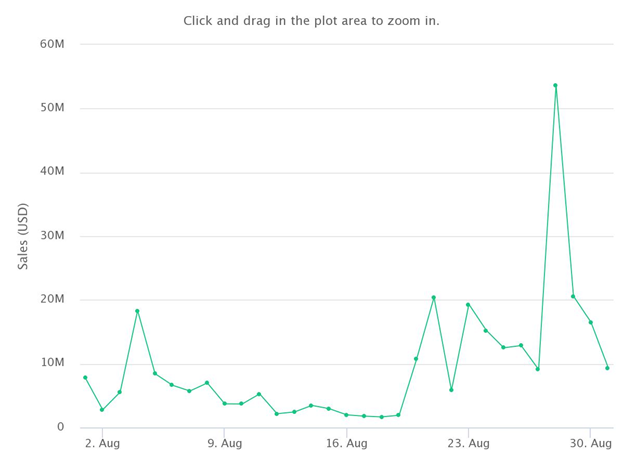 Bored Ape Yacht Club, which will be launched in April 2021, will have 10,000 distinct NFT digital collectable ape avatars. The initiative, like other NFTs, suffered in its first month, earning only $37,557 in revenue. There were 141 distinct purchasers and a total of 176 transactions. The average sale price was $213.39, which was significantly less than the cost of one ETH.
May 2021 was one of the finest months in Ether trading history, the innovative asset at the heart of the Ethereum ecosystem. The usage of ETH as the base currency for NFT transactions caused the coin to hit an all-time high of $4,362 during the month, according to CoinMarketCap statistics.
Bored Ape NFT sales benefited greatly from the tremendous liquidity poured into the market, and volume reached around $17 million, representing a 45,463.5% rise in 31 days. From April to May, the number of unique purchasers and total transactions increased by 2,417.73% and 5,158.52%, respectively.
BAYC sales hit a new high in August 2021, as the market recovered from a negative trend that began with the delisting of Bitcoin (BTC) as a payment mechanism for Tesla items and was followed by China's ongoing crackdown on the crypto finance industry in May.
BAYC generated around $299 million over the time. Despite the fact that there were 1,880 fewer unique purchasers and 3,506 total transactions, the average sale price increased to $85,288. The average sale price increased by 551% from $13,091 in July.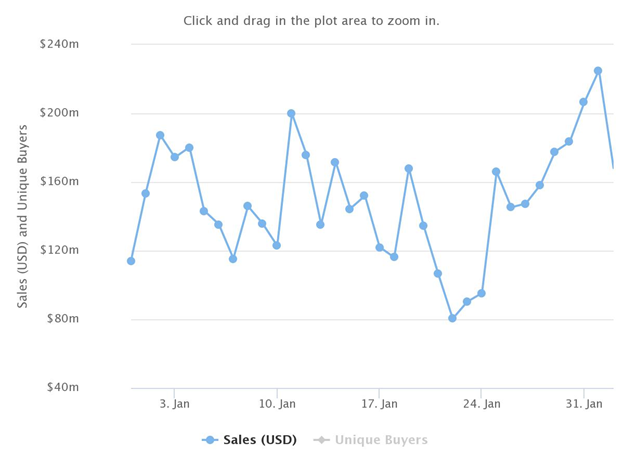 Other months that contributed significantly to BAYC's all-time sales included September and November of 2021.
In 2022, Bored Ape Yacht Club maintains acceptable monthly sales.
In 2022, Bored Apes was instrumental in the introduction of the project's native asset, APE, as well as the Otherside Metaverse.
Bears grabbed control of the market after Bitcoin (BTC), Ether (ETH), and many cryptocurrencies achieved fresh all-time highs in November 2021.
As a result, worldwide NFT sales fell from $2.82 billion in November to $2.74 billion in December. This had a significant impact on BAYC, with sales falling to a two-month low by the end of 2021.
In January 2022, the whole NFT market achieved an annual high of $4.6 billion in sales, with over one million unique buyers and over 800,000 transactions.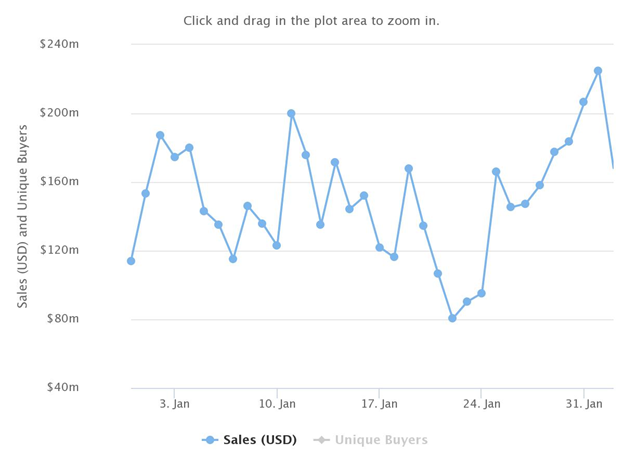 Bored Ape NFTs contributed 7% ($346 million) of this total.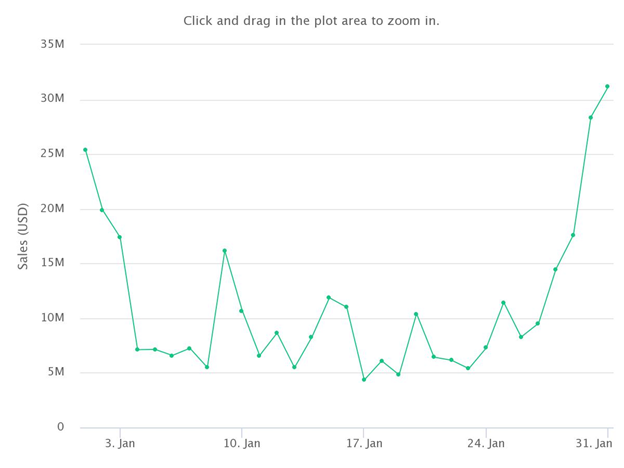 NFT sales have been declining since the end of January, and BAYC has not been immune.
Monthly sales have been consistently declining, resulting in volumes of less than $60 million in July. As of August 28, sales were about $52.7 million. With a significant drop in the number of unique purchasers and transactions, August sales are unlikely to exceed $60 million.
In terms of all-time NFT sales, CryptoPunks trails Bored Ape.
For a long time, CryptoPunks was second only to Axie Infinity in terms of sales. After reaching $2.4 billion in total purchases, Bored Ape Yacht Club has surpassed CryptoPunks' revenues of $2.36 billion to take second position.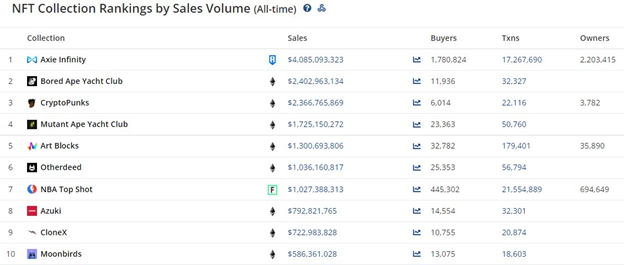 CryptoPunks, created by Larva Labs and launched in June 2017, consists of a fixed set of 10,000 characters and is one of the space's oldest NFT collections.
As a pioneer NFT, CryptoPunks did not see a minimum of $1 million in monthly sales until September 2020, when revenues totaled $2.96 million.
With just 292 unique purchasers and 2,079 total transactions in the first 39 months of its existence, the digital collectibles initiative ultimately saw 292 unique buyers and 2,079 total transactions. In September 2020, the average sale price surpassed $1,000 for the first time, finally settling at $1,424.
CryptoPunks sales increased dramatically in 2021, with a low volume of $6 million and a maximum volume that reflects its all-time monthly high of around $679 million. From September 2020 to September 2021, there was a 316% increase in unique purchasers, a 21% increase in total transactions, and an 18,741% increase in average sale value.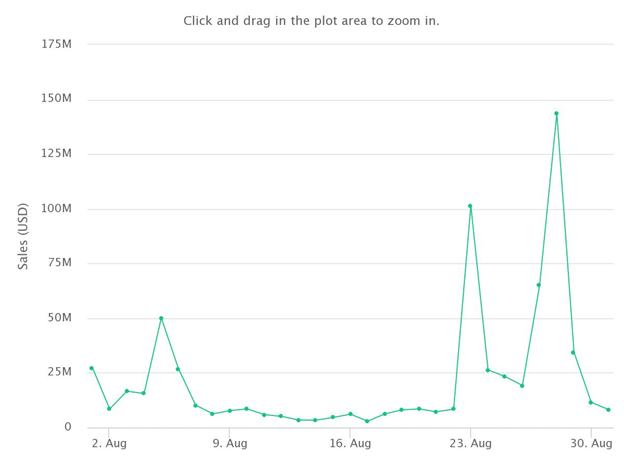 Other months that contributed significantly to sales in 2021 were July, September, October, and December.
CryptoPunks reached an annual high of $124 million in January, following the increasing sales of NFTs.
Monthly sales have been below $100 million since January 2022. CryptoPunks has had less than $50 million in volume over the previous four months (May to August).
A large fall in the number of unique purchasers has resulted in a further decrease in total transactions and average sale value.
While the number of unique purchasers each month has stayed below 300, total sales have not topped 600 since December of 2021.
The project's purchase by Yuga Labs in March was anticipated to benefit the collection because "acquisition" is a main driver of sales. Unfortunately, it has done little to improve the NFT's prospects.
Aside from that, market saturation (an increase in the number of NFT initiatives in the sector) might explain the dramatic drop in CryptoPunks monthly revenue.
While Bored Ape NFTs have prospered this year because to their popularity and use by celebrities over CryptoPunks, their selling was boosted by BAYC being a primary eligibility criterion for the airdrops of ApeCoin as well as property deeds (Otherdeeds) from inventor Yuga Labs' Otherside Metaverse.
Overall, they contributed significantly to BAYC's above-average monthly sales during the May market meltdown, which intensified in June and persisted into July and August.
** Information on these pages contains forward-looking statements that involve risks and uncertainties. Markets and instruments profiled on this page are for informational purposes only and should not in any way come across as a recommendation to buy or sell in these assets. You should do your own thorough research before making any investment decisions. All risks, losses and costs associated with investing, including total loss of principal, are your responsibility. The views and opinions expressed in this article are those of the authors and do not necessarily reflect the official policy or position of USA GAG nor its advertisers. The author will not be held responsible for information that is found at the end of links posted on this page.