According to a new investigation, the lone survivor of the 2020 Wisconsin shootings by juvenile Kyle Rittenhouse had a long criminal record that includes burglary, drunk driving, and a domestic altercation.
The Daily Mail reported Monday that Gaige Grosskreutz, 28, appeared in court just six days before Rittenhouse's murder trial — when he was a star witness — to have a recent drunk driving case dropped "on a technicality."

When Grosskreutz testified at Rittenhouse's murder trial that he attended rallies in Kenosha on Aug. 25, 2020, to serve as a paramedic, the jury was not given a record of his previous run-ins with the authorities.
Grosskreutz, however, has a criminal record extending back more than ten years, according to information obtained by the Mail.

He was detained by officers in West Allis for allegedly "prowling" when he was discovered videotaping police vehicles in a police station parking lot about 1 a.m. on Aug. 16, 2020, only days before the Rittenhouse shootings.

According to a police report seen by the Mail, "Gaige seemed to be video filming personal automobiles in the rear police parking area." "Gaige made his anti-law enforcement stance apparent. Gaige was apprehended, jailed, cited, and released for prowling."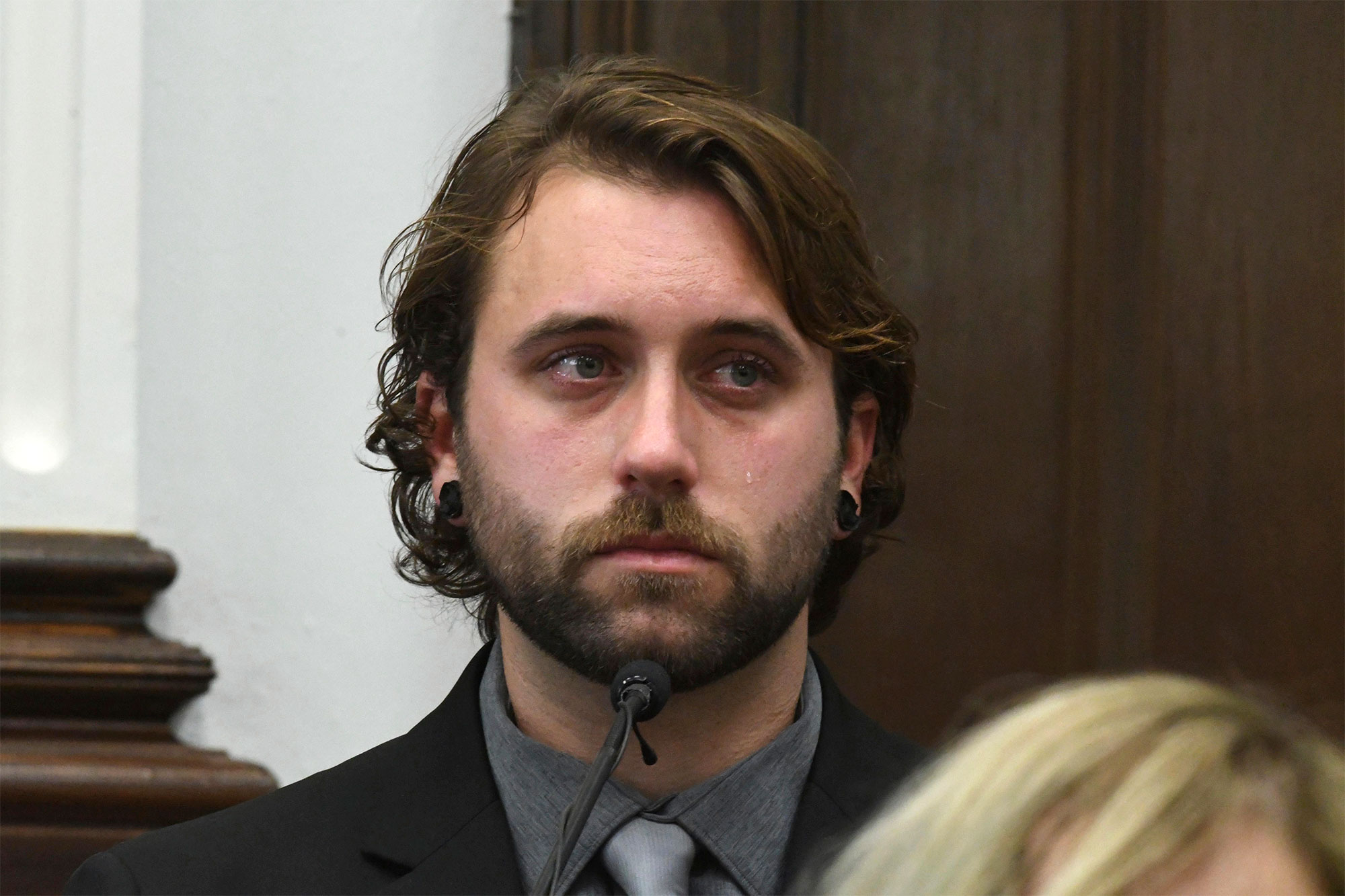 Grosskreutz was stopped by police in Greenfield, roughly 40 miles from Kenosha, on May 9, 2015, when authorities noticed his eyes were "bloodshot and glassy," and officers discovered a 9 mm Glock 19 pistol in his truck.

He was accused in 2013 for shattering the bedroom window of an ex-home girlfriend's at 4 a.m., allegedly because he was pestering her on the phone.

The publication stated that a year ago, was charged with felony burglary in New Berlin after officers said he was discovered trying to sell three stolen Playstation consoles.
And in 2010 Grosskreutz was arrested and charged with hitting his grandmother in the face during a dispute, during which he also threw a lamp and damaged a wall.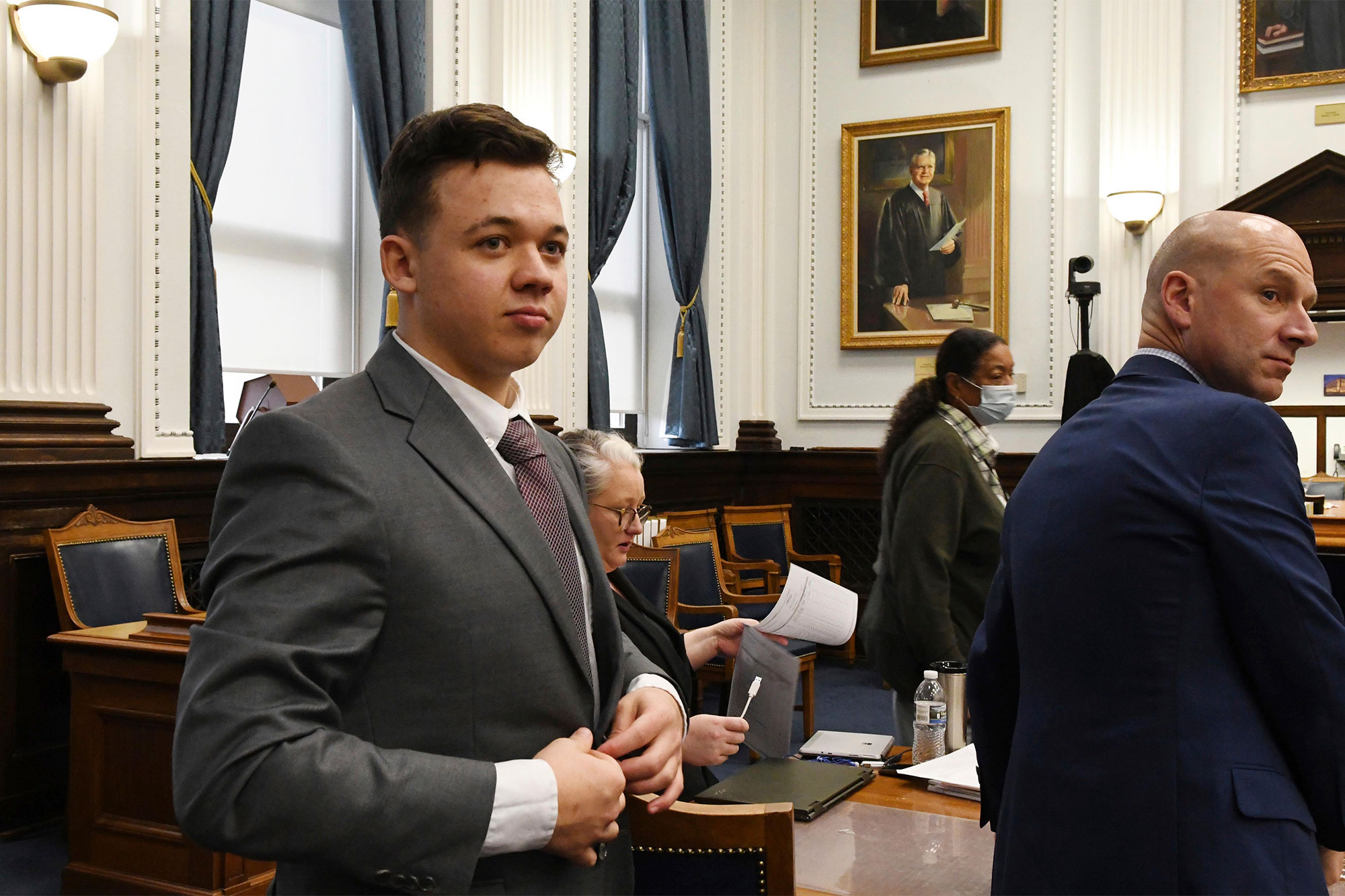 A report in that case stated that the then-17-year-old "swing a lamp into the living room wall, destroying the light and the wall, and smacked her across the face with an open palm."

He was charged with disorderly behaviour and criminal damage, according to police.

He also had past sealed minor charges, according to the Mail.

Rittenhouse, 18, is charged with murder and other offenses after injuring Grosskreutz and murdering two other demonstrators in Kenosha during violent protests after the police death of Jacob Blake.
The teen has claimed self-defense.
Closing arguments in the case took place Monday, with the jury expected to begin deliberating on Tuesday.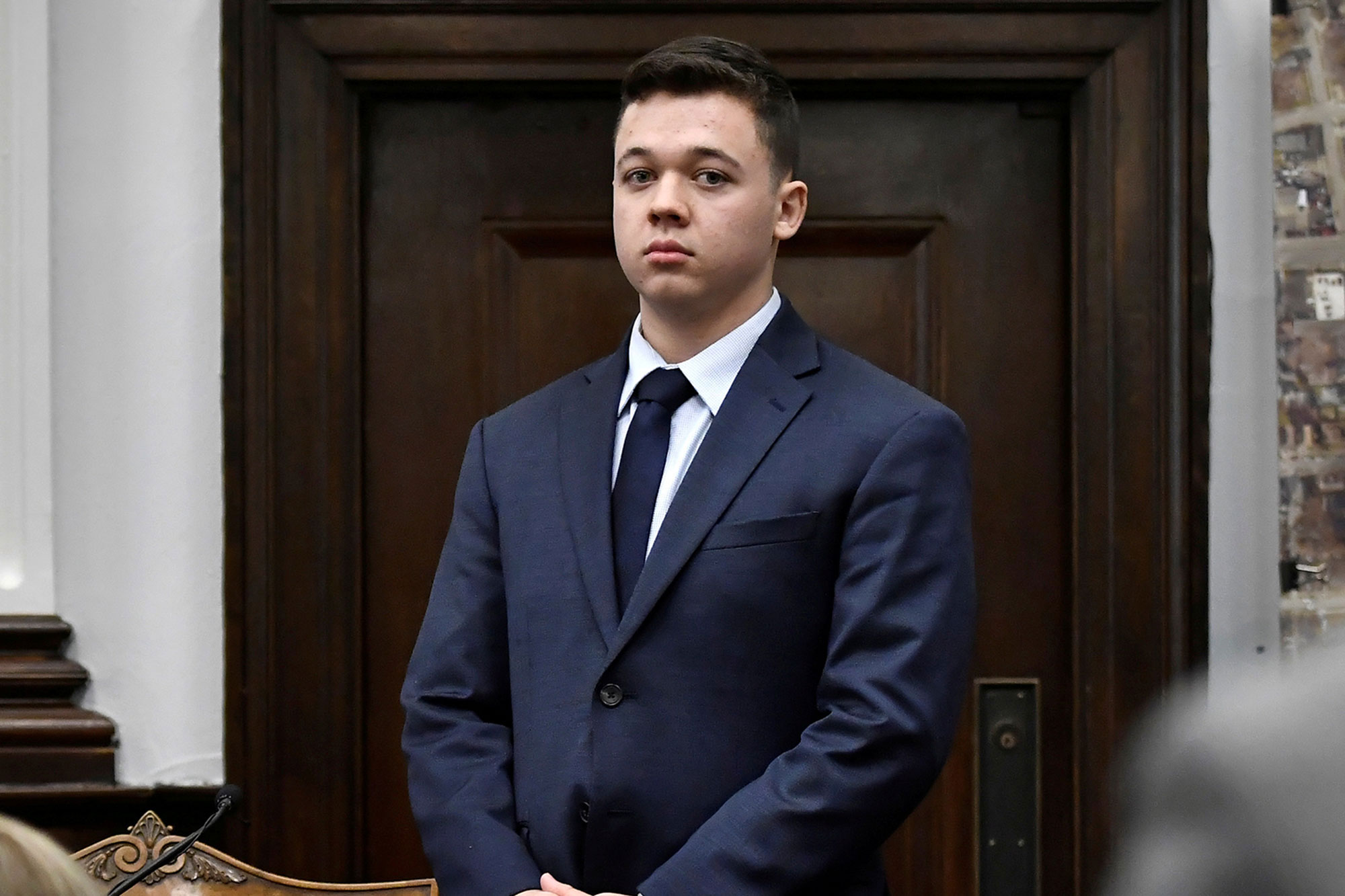 According to DailyMail.com, the prosecution's main witness in the Kyle Rittenhouse case had a felony charge dismissed only six days before the trial began, meaning the jury had no knowledge of his long criminal past or history of lying to cops.

When Assistant District Attorney Thomas Binger exhibited Gaige Grosskreutz, 28, the third man shot on the night of August 25, 2020, as a model of unselfish virtue, he was fully aware of this. According to the court, he was a paramedic who was just there that evening to give medical assistance, as he claimed to have done at several previous protests around the country.
He is, in reality, a violent career criminal with a laundry list of past charges and convictions dating back more than a decade, according to DailyMail.com.

Domestic violence, prowling, trespassing, two DUIs, felony burglary, and two counts of carrying a handgun while drunk, one of which occurred when he was prohibited from carrying a firearm as a felon.

He also has a history of lying to authorities and refusing to cooperate with them, demonstrating his contempt for the law.

But none of this was heard by the Rittenhouse jury.
Because just six days before he took the stand, Grosskreutz was before a judge himself at a hearing at which a pending DUI charge – a second offense that saw him three times over the legal limit – was dismissed on a technicality.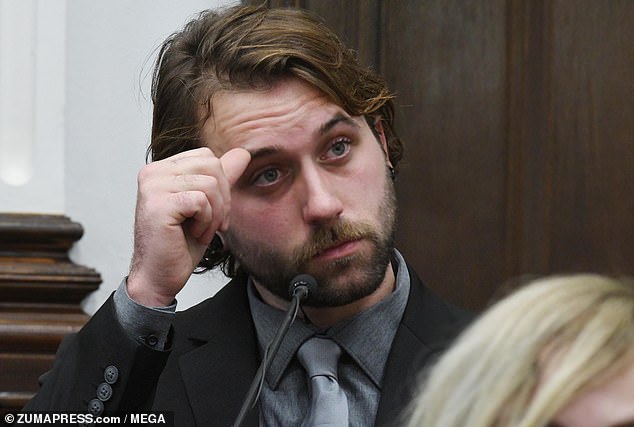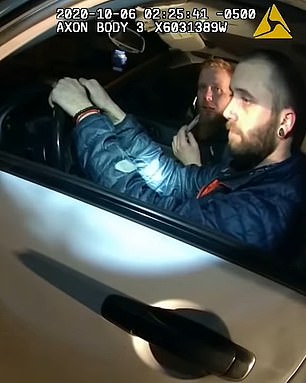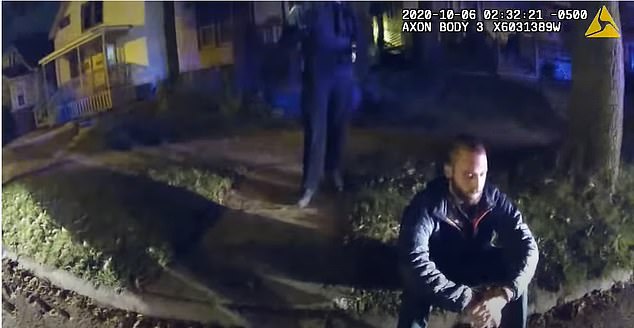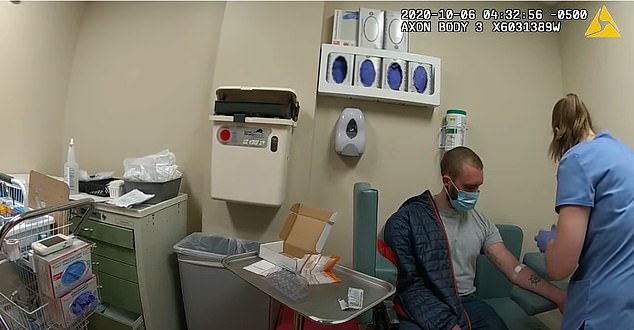 Grosskreutz's lawyer was successful in filing a Motion to Suppress Evidence, claiming that the traffic stop from which the evidence was collected was illegal.
Grosskreutz was pulled up by police on October 6, 2020, for failing to utilize a signal, although according to Wisconsin law, a signal is not required if there is no other vehicle present.
Grosskreutz's lawyer informed the judge that this was a "one-of-a-kind situation." She doesn't go into detail about what she's talking about.
In reality, nothing about her client's second DUI appears to be particularly 'special,' save for the fact that the accused was scheduled to testify as the state's star witness in the Kenosha District Attorney Office's most high-profile case to date.Rittenhouse's defense would have been able to confront Grosskreutz under oath about the fact that he was on bond and the severity of his conduct if his newest DUI case had not been dropped so quickly.
Grosskreutz's credibility would have been badly harmed as a result of the information, and the prosecution's wholesome picture of a law-abiding person would have been shattered.Bodycam footage acquired by DailyMail.com from the night of Grosskreutz's arrest reveals a totally different person from the doe-eyed guy who cried on the witness stand as he told jurors he feared for his life.
Grosskreutz is sullen, monosyllabic, and sneeringly dismissive of police attempts to 'deal with him.'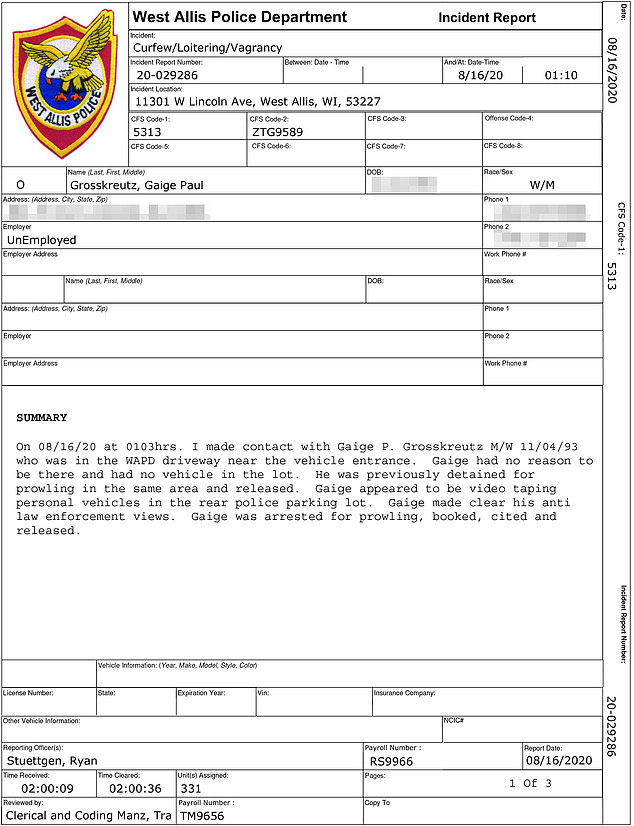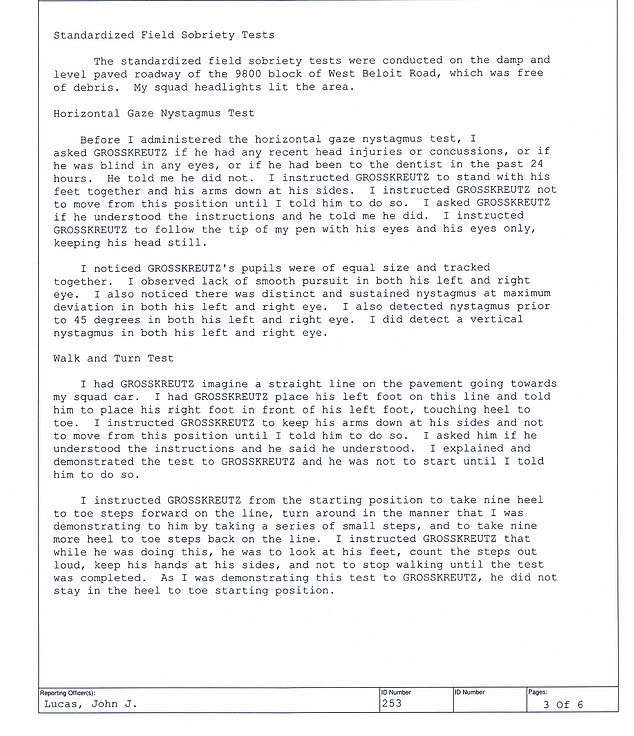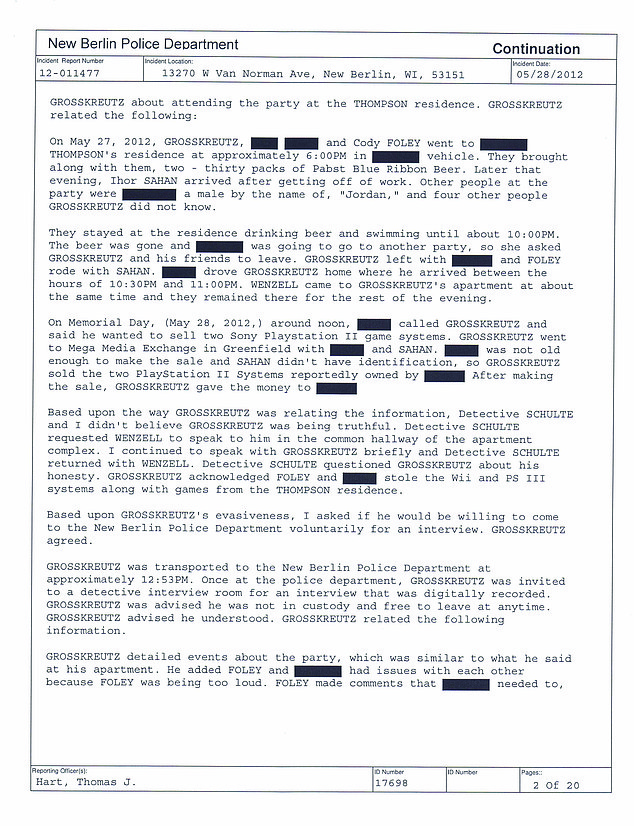 He had'red, watery eyes and slurred speech,' according to the police report, and he smelled of alcohol. He declined to disclose his identity or participate in field sobriety tests, instead requesting an attorney and stating that he "does not answer questions."
As a result of his refusal to cooperate, he was arrested, brought into custody, and a blood test was done under warrant.
DailyMail.com can also reveal that less than ten days before he was shot by Rittenhouse, on August 16, 2020, Grosskreutz was arrested by West Allis Police and charged with prowling when he was caught videotaping personal police officer vehicles in the police department parking lot at 1am.
Grosskreutz could not explain why he was there, according to the police report reviewed by DailyMail.com, and 'Gaige made apparent his anti-law enforcement beliefs.'
Grosskreutz declined to be re-interviewed by police about his shooting when approached by police in September 2020, according to the defense.
They also discovered that he lied to authorities in his first statement, neglecting to indicate that he was carrying a Glock 27 and aiming it at Rittenhouse at the time the kid shot him.
Grosskreutz has since gone on national television to backtrack on this testimony, given under oath.
In fact, Grosskreutz's refusal to co-operate is a common theme across the myriad police reports accumulated by him and reviewed by DailyMail.com. In some it is noted that he encourages others to do likewise.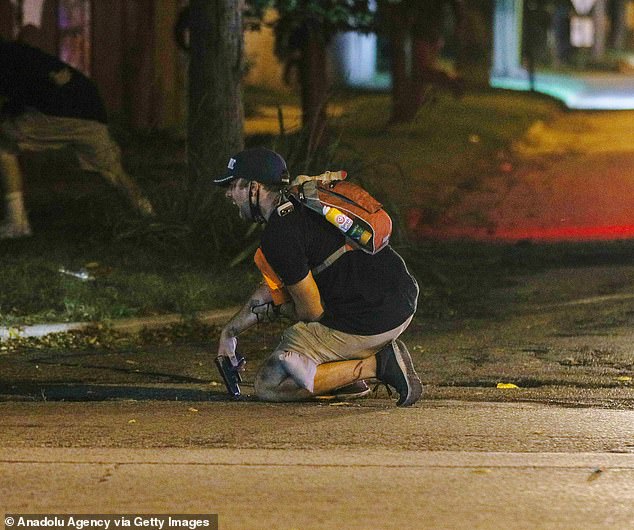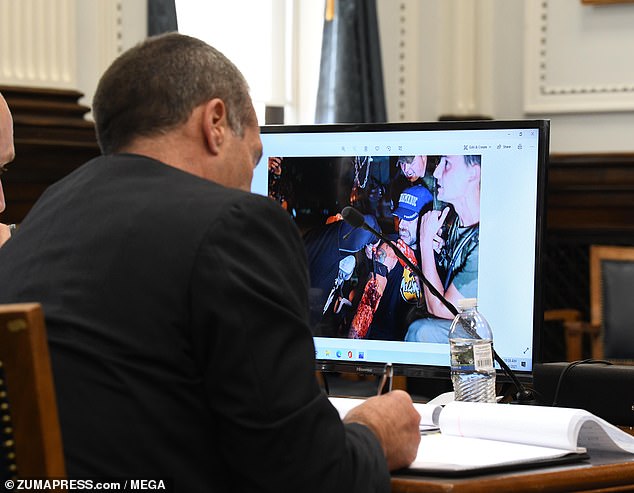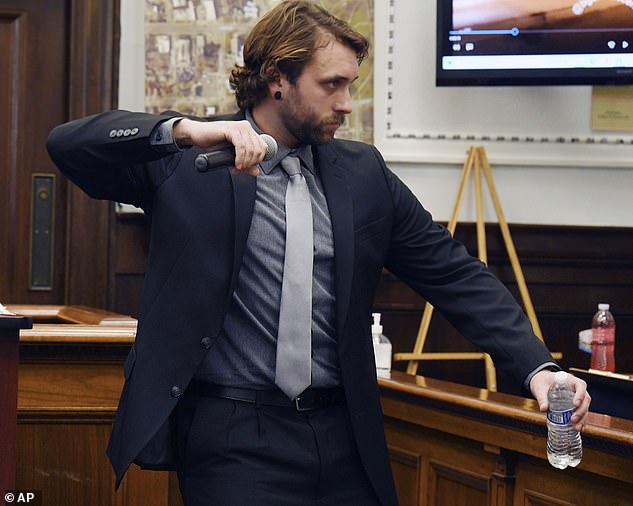 Grosskreutz was arrested for his first DUI and second citation for carrying a loaded handgun while drunk on May 9, 2015.
Grosskreutz was pulled over near Greenfield, some 40 miles from Kenosha, and the officer noted that his eyes were 'bloodshot and glassy,' and that he 'could detect an odor of intoxicants.'
'Grosskreutz was finally ordered to depart the vehicle, but before he did, he notified the officer that he had a handgun on his person and that it was openly carried,' according to the report. Grosskreutz stated that he was pursuing his CCW (Concealed Carry Weapon) licence.
Police 'recovered a 9mm Glock 19 semi-automatic handgun that was located near Grosskreutz's right hip in a black leather holster on his belt…There was a 9mm round in the chamber of the weapon.'
'It should also be mentioned that while putting this case folder together, I saw GROSSKREUTZ's criminal history shows he is a felony offender and has a disqualification for guns on it,' the police report reads. In addition, he should be charged with Felon in Possession of a Firearm.'
Grosskreutz's criminal accusation was later dropped.
He acknowledged to carrying a pistol in court last week, citing his lofty belief in the Second Amendment as justification.
He testified, 'I believe in the Second Amendment, I'm for people's right to carry and bear arms and that night was no different from any other day. It's keys, phone, wallet, gun.'
The jury heard nothing of his repeat firearms violations and the defense was not permitted to raise the fact that his Open Carry license had been suspended because of his criminal activity.
Nor did jurors hear that he has repeatedly been ordered by the courts to undergo compulsory programs for alcohol and substance abuse.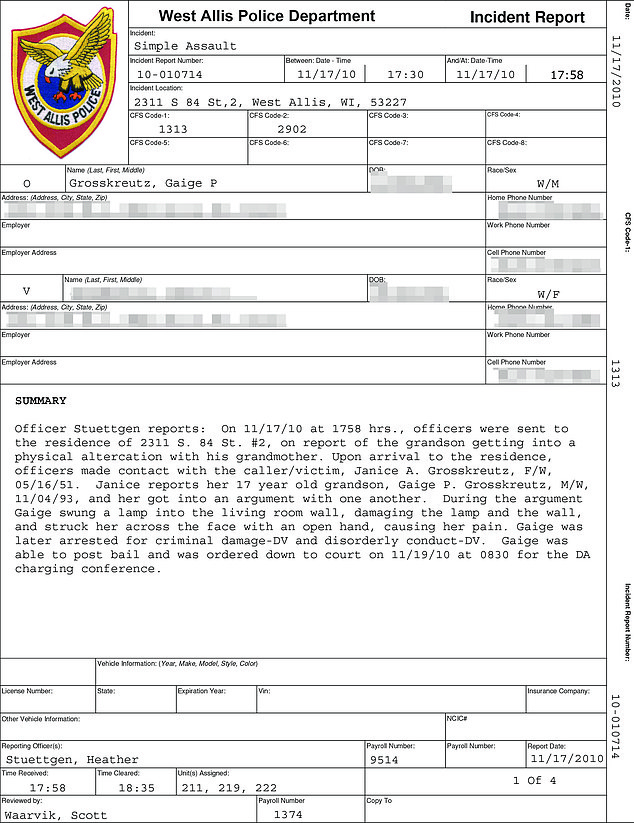 Grosskreutz was accused in 2013 with destroying an ex-bedroom girlfriend's window at 4 a.m. He had been pestering her via phone earlier in the evening, according to the police complaint.
'I'm about to come back and it's not going to be pretty so you better respond,' he wrote her after shattering the window.
Grosskreutz had been charged with felony burglary for breaking into a home in New Berlin, some 40 miles north of Kenosha, almost precisely a year before.Grosskreutz was apprehended attempting to sell three stolen Play Stations, and police constantly mention his lack of openness and lying in the long report.
He was eventually accused and found guilty.
Grosskreutz punched his own grandmother in the face and destroyed a light, harming the dry wall against which he tossed it, according to the earliest report reviewed by DailyMail.com, which dated from 2010.
He also has a juvenile record which is sealed.