After breaking through the major resistance price area of $3,600, Ethereum (ETH) surged 10% in a row. This was now the first significant level of support.
The second-largest cryptocurrency has consolidated just below the current resistance range of $3,900 over the weekend.
However, as with Bitcoin, before ETH attempts to break its current all-time high of $4,380, it may retest the key support level shown in the ETH/USD chart below. If the $3600 level is retested as support, ETH's price could reach $4,000 before the end of the month. A breakdown of the level, on the other hand, will render this invalid.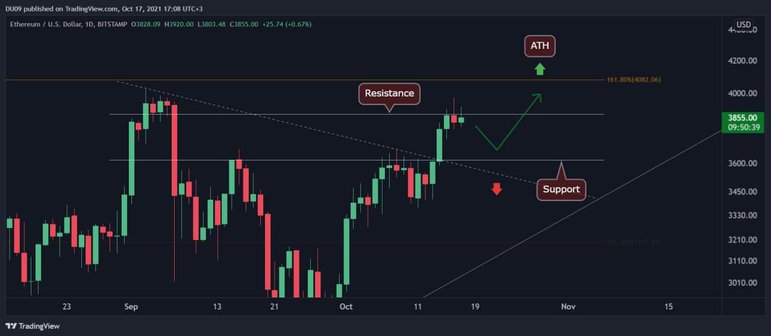 Indicators
Trading Volume: Due to the weekend, trading volume has decreased in the last two days; this is normal. However, keep an eye on the price action on Monday, particularly the expected volatility surrounding Bitcoin's ETF's possible start of trading, which will most likely affect the other cryptocurrencies.
RSI: The RSI remains bullish on a daily basis. However, on the 4-hour timeframe, the RSI is declining, which may support the idea of a short-term pullback to the previously mentioned support level.
MACD: MACD on the 4-hour timeframe has turned bearish, as has the RSI. This reinforces the belief that ETH will retest its support level before experiencing further price increases.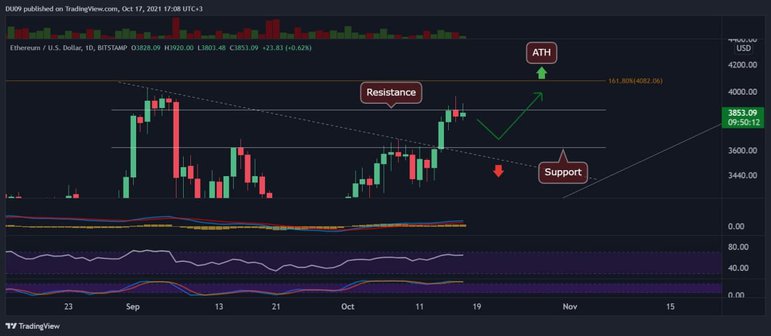 Bias
The long-term ETH bias remains very bullish. However, before attempting to break the all-time high price range, the price is likely to retest the critical support level at $3,600.
As a result, we may see a pullback or correction in the near term. As previously stated, how ETH performs on Monday will determine how it performs for the rest of the week.
ETH/USD Price Prediction in the Short Term
The current price consolidation in the $3,600 – $3,900 range is expected to continue before any serious attempt to break the all-time high. A clear retest of support may be required before bulls are confident enough to push the price of ETH above $4,000.