Kevin Durant was dominant. And Team USA was golden. Again. A host of United States favorites have failed to come through in these Tokyo Olympics, but the men's basketball team dismissed the...
Kevin Durant was dominant. And Team USA was golden.
Again.
A host of United States favorites have failed to come through in these Tokyo Olympics, but the men's basketball team dismissed the upset trend. Durant scored a game-high 29 points Saturday to lead the Americans to an 87-82 victory over France in Saitama, Japan, avenging an opening loss in these Games and giving the U.S. a fourth consecutive gold medal.
The Nets star celebrated with a huge American flag draped around his shoulders, the same shoulders that had carried Team USA.
It's the first time the U.S. men have won four straight gold medals since they reeled off seven in a row back in the 1950s and 1960s. With opposing rosters now littered with NBA players, the competition is better than it used to be. But not better than Durant and company.
Durant — who agreed to a four-year, $198 million contract extension with the Nets hours earlier — led the way. He is Team's USA's all-time Olympic scorer, and his third gold medal tied him with Carmelo Anthony for the most in program history.
"It's winning time," Durant said in a TV interview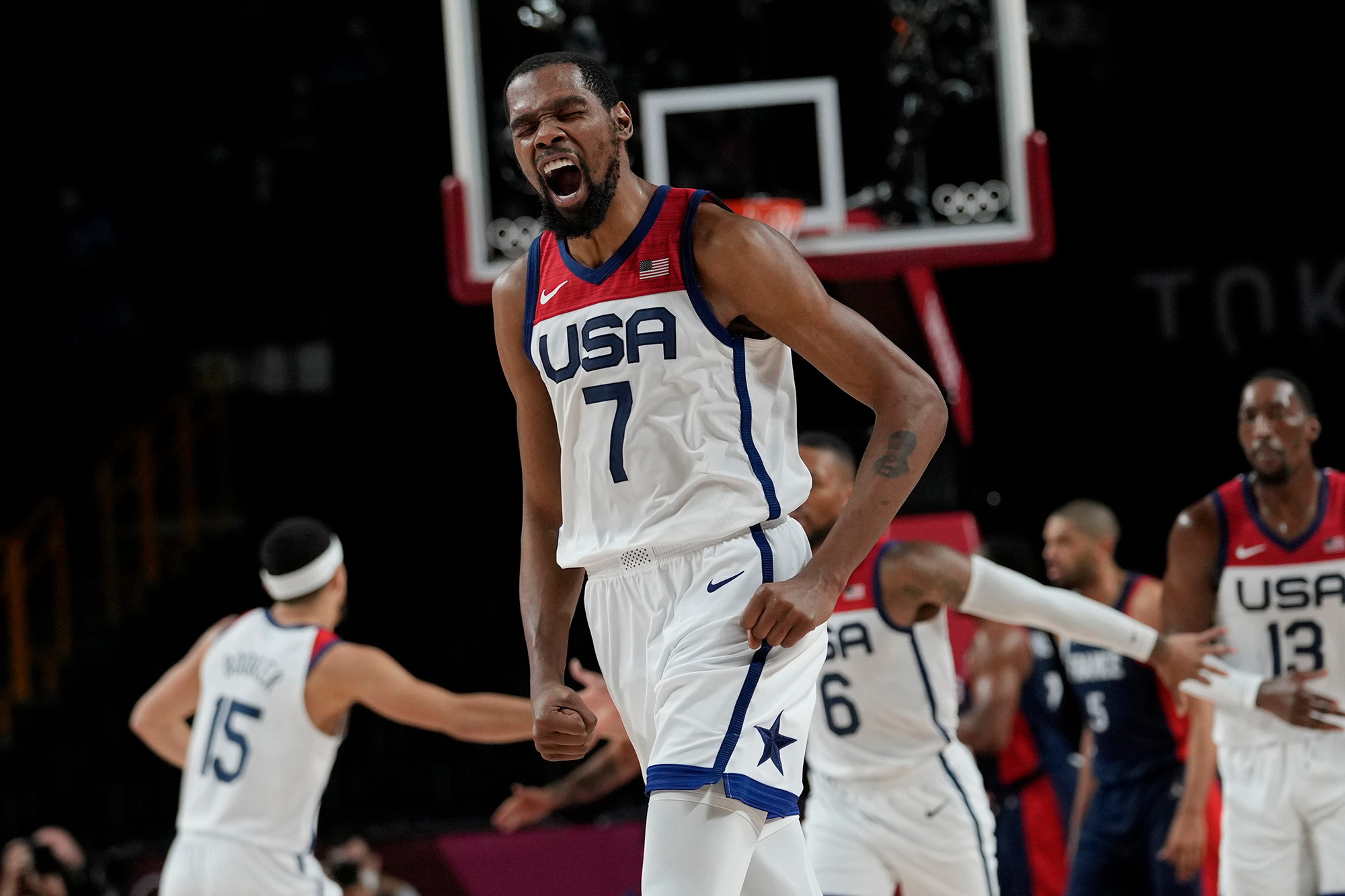 After pouring in 30 points apiece in the gold-medal games in London (2012) and Rio de Janeiro (2016), Durant was just as good against France. Getting into his pull-up game, he couldn't be guarded.
Celtics forward Jayson Tatum scored 19 points. And while no one else scored more than the 11 tallied by Damain Lillard and Jrue Holiday, it didn't matter. The perimeter defense served that role.
In the Group A opener against France on July 25, Team USA had led by seven points with just 3:41 left. But their defense collapsed and France stormed back, closing on a 16-2 run, to hand the U.S. a humbling 83-76 upset loss.
But unlike the women's soccer team, which was shockingly relegated to a bronze medal, or the men's 4×100 relay team, which couldn't even get out of the heats, coach Gregg Popovich's squad defended its way to the top of the medal stand.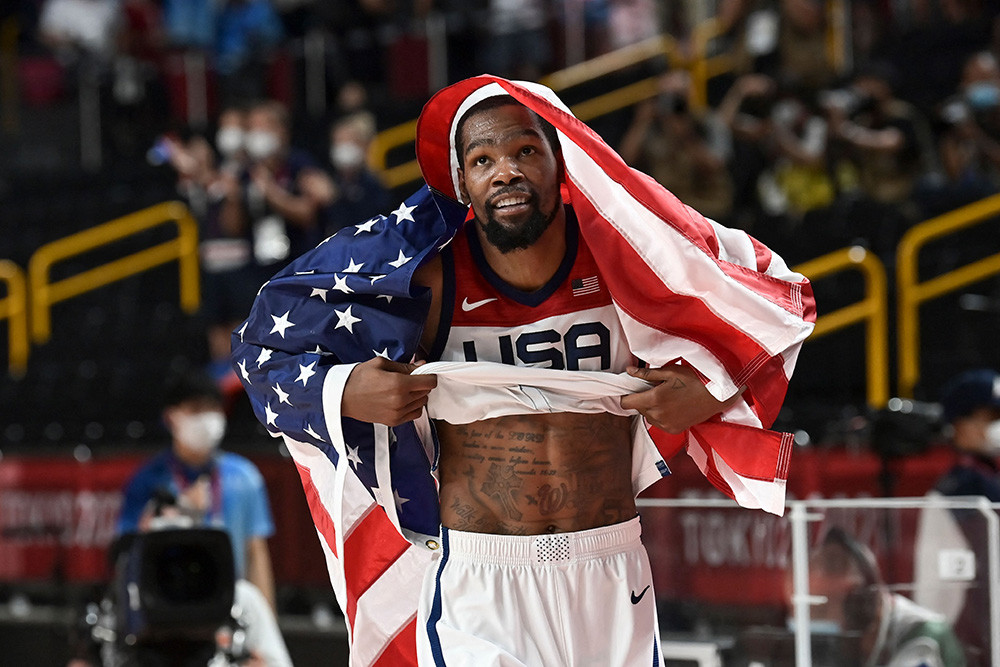 Lessons were clearly learned from that opening loss. Team USA ripped off five straight wins, drilling Iran by 54 points, Czech Republic by 35 points, powerful Spain by 14 points and tough Australia by 19 points.
In the final, Team USA had nine steals and forced 18 French turnovers.
France tried to play through the Jazz's star center, Rudy Gobert, who had 16 points and eight rebounds. Incoming Knicks signee Evan Fournier added 16 and Timothe Luwawu-Cabarrot — who played with Durant last season in Brooklyn — added 11.
But Fournier shot just 5-for-15, harassed by the U.S. backcourt.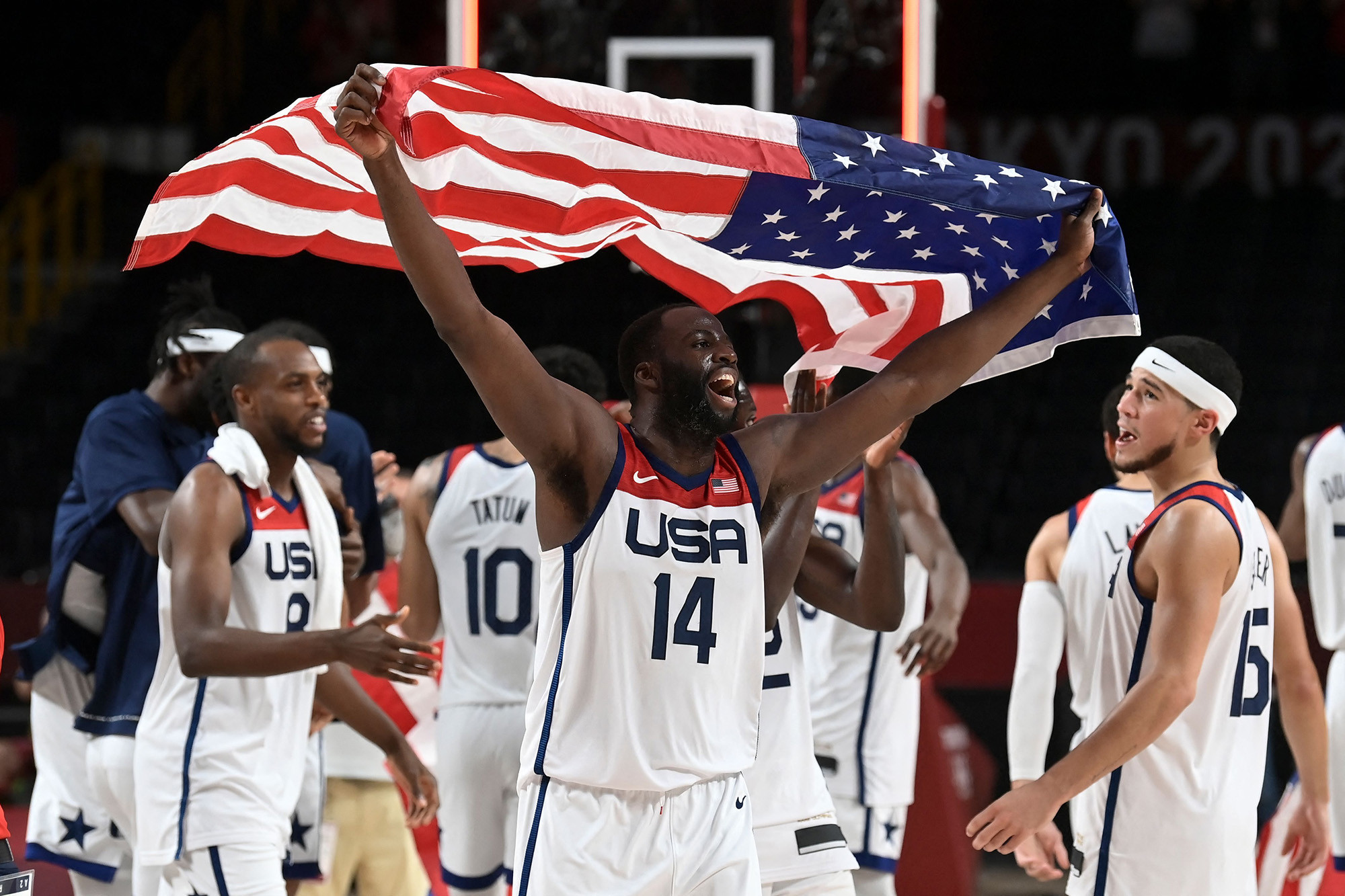 Team USA led by 13 points in the first half, and after a 16-5 French run that spanned intermission to see their lead cut to a deuce, settled in. Durant hit a pull-up off a great screen by Bam Adebayo to cap seven unanswered points and open the lead back up to 56-45 with 6:25 left in the third.
The cushion got up to a game-high 14 before France mounted one last rally. Knicks free agent Frank Ntilikina, scoreless in limited duty until the waning moments, got on the board with a 3-pointer that cut it to 73-70 with 5:44 left. But three straight Team USA buckets padded it to 79-70, on a Lillard shot from the corner, and the Americans were never in any danger the rest of the way.
It was 85-82 with 10.2 seconds remaining after a pair of Nando de Colo free throws.
But Popovich dispatched Draymond Green deep, and when two defenders went with him, it was fittingly Durant who doubled back to take the inbound pass and get fouled. An 88-percent free throw shooter, he calmly sank both with 8.8 seconds left to push the lead to five and essentially ice it.
This story originally appeared on: NyPost - Author:Brian Lewis