Team USA was fried by the French again in a stunning men's basketball opening loss at the Tokyo Olympics.
Team USA men's basketball was fried by the French in a stunning opening loss at the Tokyo Olympics.
The Americans led Team France by seven with under four minutes remaining, but the French scored the next 14 points for a shocking 83-76 victory Sunday at Saitama Super Arena.
Nets star Kevin Durant was in early foul trouble and had 10 points on 4-for-12 shooting in 21 minutes before fouling out in the closing seconds. Jrue Holiday net a team-high 18 and Bam Adebayo added 12 in a rocky start for the three-time defending gold medalists.
The loss marked Team USA's first in the Olympics since it fell short of the medal stand in 2004.
Team USA's next Pool A game is Wednesday against Iran, which lost its opener, 84-78, earlier Sunday to the Czech Republic.
Evan Fournier scored 28 points to lead Team France, which played without Knicks guard Frank Ntilikina, who sat out due to a leg injury.
---
Follow all the 2020 Olympics action
Daily updated medal counts, full schedule and results, athlete bios and more
Full Post coverage of the Games
---
"They had a good run, but we just stuck with our game plan," Fournier said. "Second, you have to be honest and look at their roster, they have guys who are pretty tired from playing in the NBA Finals. "We know they aren't at full strength yet, but it was a good win regardless for us. It's a hell of a win, and our country is going to be extremely proud"
France also had won the previous meeting between the two countries, in the quarterfinals of the FIBA World Cup in 2019.
After dropping two of four exhibition games leading into the tournament, U.S. coach Gregg Popovich started returning gold medalists Durant and Draymond Green up front alongside Adebayo, with Damian Lillard (11 points) and Zach LaVine (eight) in the backcourt.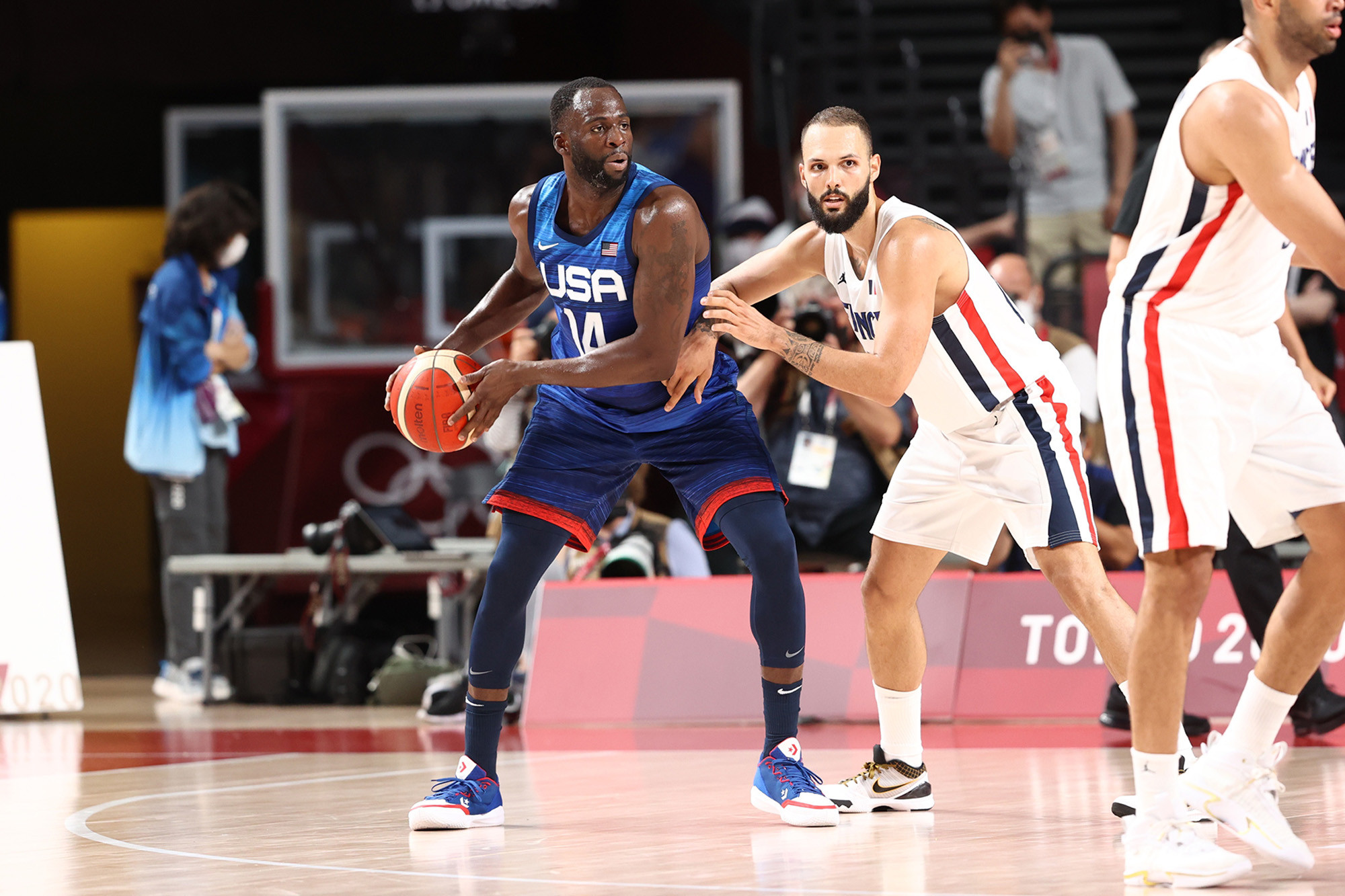 Milwaukee's Holiday and Khris Middleton and Phoenix's Devin Booker, who joined the team in recent days after participating in the NBA Finals, were among those coming off the bench. Pistons forward Jerami Grant, who dealt with COVID-19 issues leading up to The Games, was the lone player on the U.S. roster to not see any action.
The U.S. led 45-37 at the half, with Adebayo netting 10 and Lillard nine on three 3-pointers. But Vincent Poirier's 3-point play completed a 12-3 French run to tie the game, 52-52, with 3:54 left in the third.
Nando De Colo's 3-pointer a few possessions later gave France its first lead since the opening minutes, 55-54. Additional 3s by De Colo and Thomas Heurtel made it 62-56 after three, as the French outscored the U.S. 25-11 to close the quarter.
Holiday netted a dozen points in an 18-5 start to the fourth quarter, however, to give Team USA a seven-point advantage. But Fournier's 3-pointer with 59.7 seconds remaining gave France a 76-74 lead
Durant sat down with his third foul with 4:33 left in the first half, and he picked up his fourth in the opening minutes of the third quarter. Durant front-rimmed an open look from long range with a chance to put the U.S. back on top, and De Colo drained two free throws for a four-point cushion with 21 ticks left on the clock.
This story originally appeared on: NyPost - Author:Peter Botte