If this season really was championship or bust for the Nets, bust won out. After a season filled with injuries and absences, the Nets' postseason ended the same way Saturday night at Barclays...
If this season really was championship or bust for the Nets, bust won out.
After a season filled with injuries and absences, the Nets' postseason ended the same way Saturday night at Barclays Center. With Kyrie Irving watching from the bench in street clothes, the Nets suffered a late collapse against the Bucks and lost 115-111 in overtime in Game 7 of the Eastern Conference semifinals.
The Nets shot 1-for-12 in the overtime as their season died with the sound of a clank off the rim. The last miss was Kevin Durant's heave with 0.3 seconds left.
The super-team assembled to go to — and even win — the NBA Finals got knocked out in the second round. The Nets suffered their first and only home defeat of these playoffs despite yet another master class from Durant (48 points, nine rebounds, six assists), his third 40-point eruption of the playoffs.
Durant's 23-foot heave in the final seconds of regulation tied the game and forced overtime. But after Bruce Brown (14 points, six boards) scored seconds into overtime for a 111-109 advantage, the Nets didn't get another point. The Bucks scored six — a hook from Giannis Antetokounmpo with 1:12 remaining, a fadeaway from Khris Middleton with 40 seconds left and two meaningless free throws by Brook Lopez — to win it.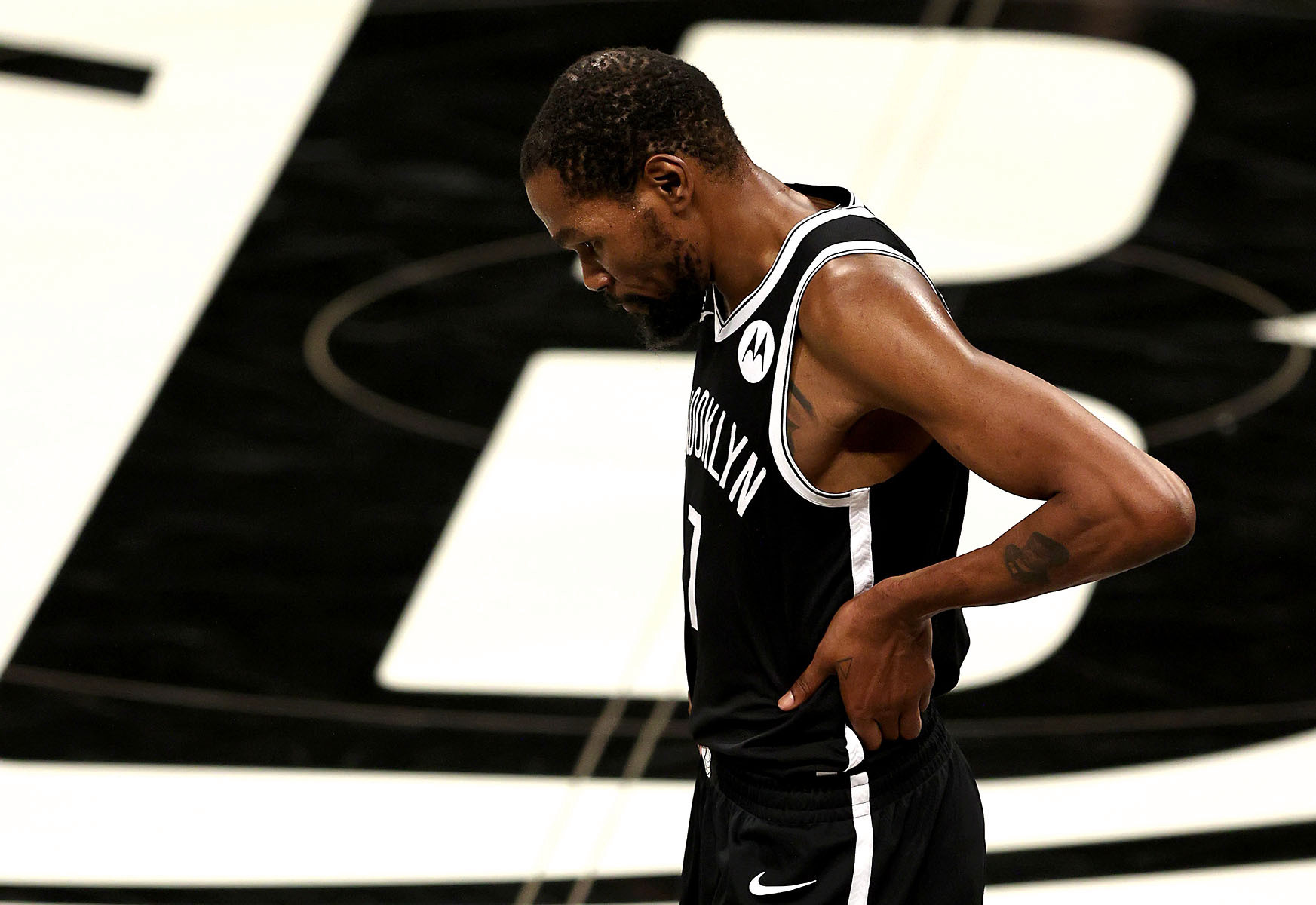 The sellout crowd of 16,287 — including the likes of Eli Manning, Mark Messier, Robert Saleh, H.E.R and a host of Yankees — left disappointed. The Bucks moved on to the Eastern Conference finals, beginning Wednesday, against either the Hawks or the 76ers. The Nets are on to the offseason, left to wonder how this went so wrong and how they wasted another superhuman outing from Durant.
"Well, it's great obviously to be with a guy who has been there before. He has all the ability in the world. But this isn't Kevin's game to win: It's ours as a team," Nets coach Steve Nash warned beforehand.
"We have to play a great team game at both ends of the floor. If Kevin has a special night, great. But if Kevin has a Kevin night, we've got to find a way for our team to put ourselves in a position to win."
Antetokounmpo finished with 40 points, 13 boards and the huge OT bucket.
James Harden had 22 points, nine boards and nine assists. Blake Griffin fouled out after a double-double of 17 points and 11 boards.
It was knotted at 86-all in the fourth quarter when Joe Harris untied it on a 3-pointer that bounced up and in.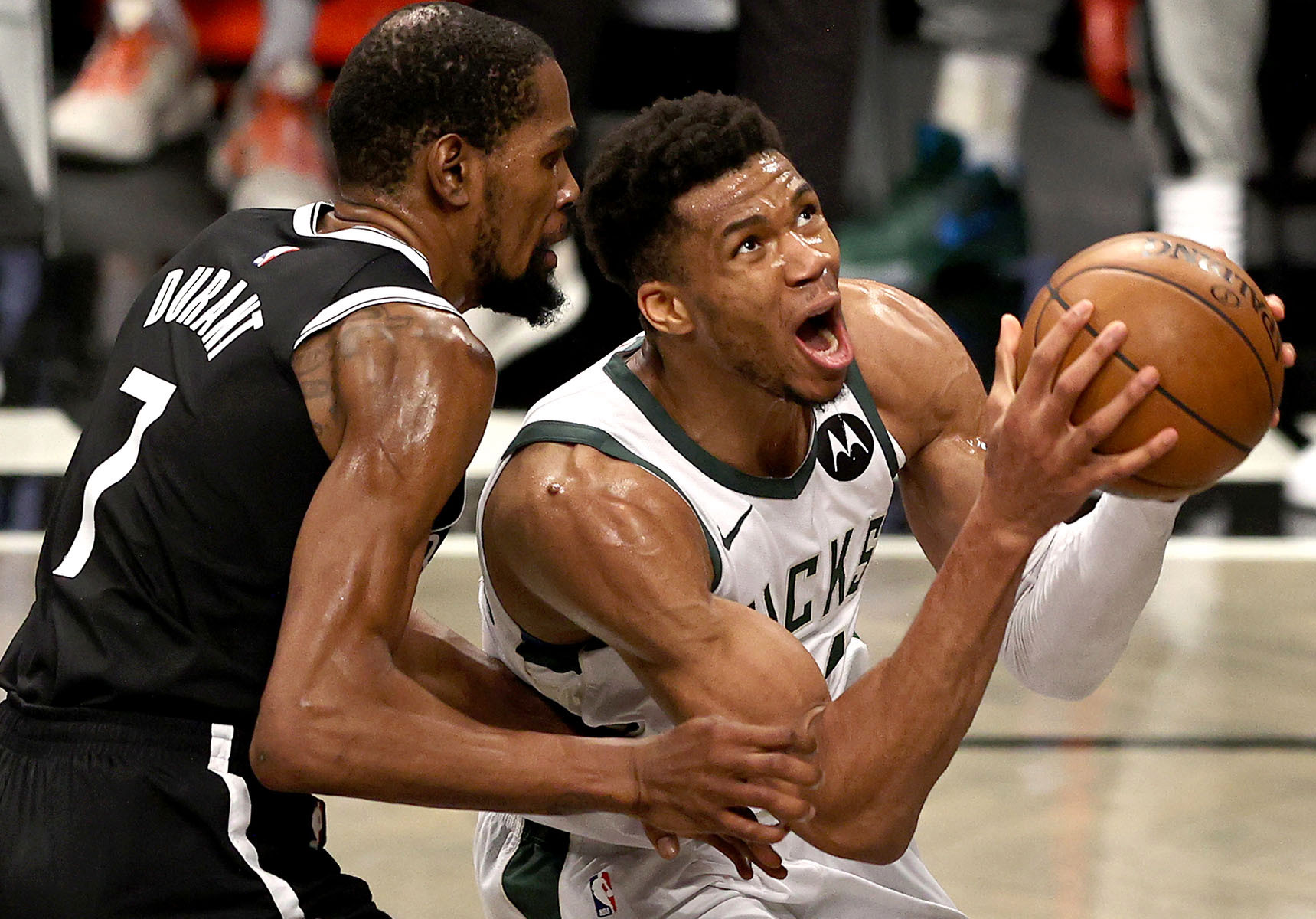 Clinging to a 91-90 edge, the Nets forced a Jrue Holiday miss — he was 2-for-17 to that point — before Harden hit Brown for a layup. And when Brown stole the ball from Middleton (23 points), he got it to Harden who found Durant upcourt for a dunk and-one.
The Nets led 101-96 with four minutes left after a Harden pull-up bank 3-pointer, but then coughed up an 8-0 run. A Holiday 3-pointer left the Nets in a 104-101 hole.
Down two with a chance to tie, Durant turned the ball over and Harden committed a foul. Middleton sank two at the line to leave the Nets trailing 109-105 with 1:05 to play.
But Durant hit a seven-foot pull-up to halve the lead with 42 seconds remaining. And when the Nets forced a shot-clock violation, they had one last chance with six seconds left in regulation. Durant's 23-foot turnaround heave with one second left and Tucker draped all over him knotted it and forced overtime.
Brown's offensive rebound and score opened the overtime period. After the Nets forced the Bucks into shooting 0-for-3 with two turnovers in the opening minutes of OT, Durant gave up his body to prevent a basket and tie up a driving Brook Lopez.
Antetokounmpo posted up Durant and knotted it on a hook, and after Harris missed a 3-point attempt, Middleton's turnaround fadeaway left the Nets down 113-111 with 40.1 seconds left in overtime.
Durant missed a fadeaway, but when Milwaukee missed too, he snatched the rebound. The Nets had one final shot in their season, and Durant took it — and missed it with 0.3 seconds left.
This story originally appeared on: NyPost - Author:Brian Lewis