The Bucks just reminded the Nets that it takes seven games to win a series.
MILWAUKEE — The Nets have shown they can dig themselves into deep holes and climb out. This time, however, they buried themselves too deep.
The Nets rallied from a 21-point deficit to briefly lead in the fourth quarter. But they couldn't hold that lead, losing 86-83 to the Bucks in Game 3 of the Eastern Conference semifinals before a sellout crowd of 16,310 at Fiserv Forum.
"We've talked to the players about it. We know that we're going to take their best shot," Nets coach Steve Nash said before the game. "They'll have their fans behind them.
"We have to relish the opportunity to play under adversity and play in a great environment. It's really up to the players to come with a great approach and to enjoy and relish the opportunity to play playoff basketball on the road against a team that's desperate to beat us."
The Bucks looked more desperate, and behind a combined 68 points from Giannis Antetokounmpo and Khris Middleton, they cut the Nets' series lead to 2-1. Game 4 will be here Sunday.
Kevin Durant, who had 30 points, 11 rebounds and five assists, hit a huge tiebreaking 3-pointer with 1:23 to play, giving the Nets an 83-80 edge. But Blake Griffin was called for goaltending on a Middleton attempt just six seconds later, and after Joe Harris and Bruce Brown missed jumpers, Jrue Holiday got free for a drive to put Milwaukee back ahead with 11.4 seconds left in regulation.
There would be no overtime as Durant's final 3-point attempt bounced off the back rim.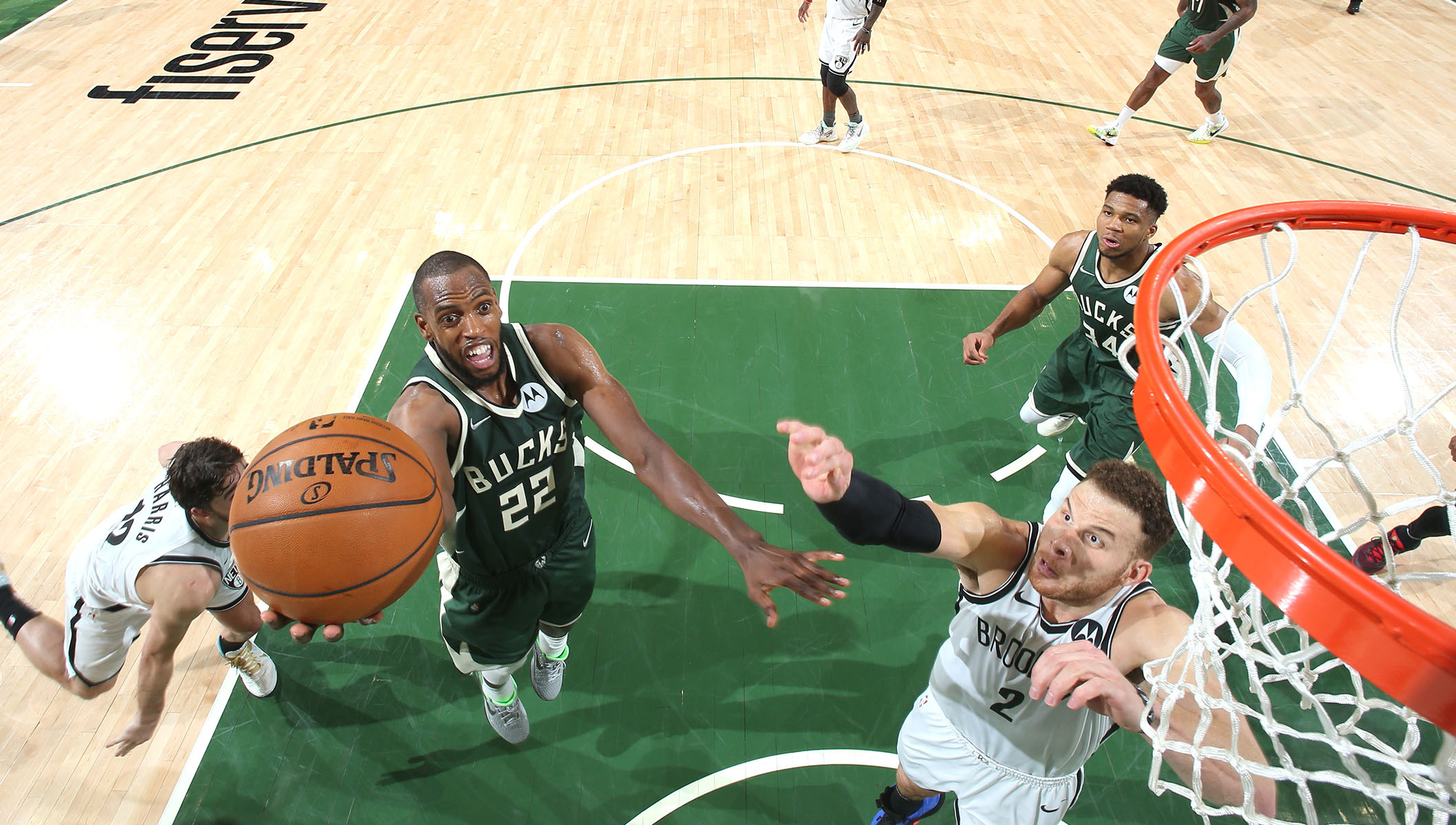 After the Nets briefly lost possession following Holiday's bucket, they got the ball back, but Brown missed a desperate driving attempt with 4.3 seconds to play. Brown was forced to intentionally foul, and Middleton iced it from the line.
Middleton finished with a game-high 35 points, including 15 in the first quarter when the Bucks built a 21-point cushion. Antetokounmpo added 33, also scoring 15 in the first quarter. His layup with 1:30 left in the first gave Milwaukee a 30-9 lead the Nets spent the rest of the game trying to overcome.
"I think it's important for us to look to hit first," Nash had said. "They're desperate. So you'd expect them to hit and throw everything they have at us; that doesn't mean that we have to sit back and take it."
Even though the Nets had rallied from a pair of 20-point holes in the regular season, they couldn't pull it off again Thursday.
The Nets missed their first seven shots, with an Antetokounmpo dunk putting them in a 9-0 hole less than four minutes in. The Bucks, with their pride likely stung, played the way they should have in the first two games. They attacked downhill and bulldozed their way to the rim — and were rewarded by the referees for it.
Griffin picked up his second foul with the Nets down 11-4 with 6:58 left in the first. After a Durant turnover in the open court, Middleton hit consecutive 3s to leave the Nets trailing 28-9.
An absurdly acrobatic driving layup by Antetokounmpo earned a second foul from Nic Claxton and made it 30-9 with 1:30 left in the first quarter (Antetokounmpo missed the free throw).
But that's when the Nets finally settled in, with a 9-0 run that spanned the end of the first and start of the second quarters.
With Bucks center Brook Lopez dropping deep, Brown hit four straight floaters — two of them as part of a two-man game with backup point guard Mike James. A 15-2 Nets run pulled them within 32-26.
Antetokounmpo — who drew a third foul on Griffin with a strong drive to the rim — actually got hit with a 10-second call at the free-throw line. And when Brown started digging down immediately to help on the Greek Freak's spin moves, it helped force several key stops that got the Nets out in transition.
After trailing by as many as 21, the Nets had clawed within 45-42 by intermission.
The game got even more physical and chippy coming out of the break. After offensive rebounds by Harris and Brown kept a possession alive, Durant knotted it at 57-all with a 3-pointer. Seconds later, he got his arm hooked by PJ Tucker for a foul. The rugged Bucks forward disagreed with the call and went nose-to-nose with Durant.
Tucker had to be restrained by team security, and chants of "F–k KD! F–k KD!" rained down from the stands.
It was tooth-and-nail the rest of the way, knotted at 76-all on a Durant pull-up with 6:09 left in the game. Nobody scored for what seemed an eternity, the Nets missing three straight shots with a pair of turnovers and Milwaukee bricking seven in a row.
Middleton finally broke the drought with 2:40 to play, but Durant knotted it with a baseline jumper. Middleton scored again, and Durant responded again.
And again. It was Durant's huge 3-pointer with 1:23 that gave the Nets an 83-80 lead.
Kevin Durant who scored 30 points after a rough first half, missed a chance for a game-tying 3-pointer at the buzzer.
This story originally appeared on: NyPost - Author:Brian Lewis