Nets star James Harden injured his right hamstring on his first drive of the game against the Bucks, and at the end of the first quarter, was ruled out for the rest of the night.
Injuries were always the biggest threat to the Nets' Big 3. And another one surfaced Saturday, when James Harden lasted less than a minute into Game 1 of the Eastern Conference semifinal before hobbling off the court.
At the end of the first quarter, Harden was ruled out for the rest of the game.
Harden injured his right hamstring on his first drive of the game against the Bucks. After kicking the ball out to Joe Harris in the corner, Harden immediately clutched at his right leg in clear discomfort.
Harden didn't even run to the locker room, but walked slowly as the air came out of the Barclays Center crowd.
Nets coach Steve Nash quickly called timeout just 43 seconds into the contest and summoned guard Bruce Brown off the bench. Then little-used Mike James made an appearance seven minutes in, while Harden was nowhere to be found.
Injuries and health have been an issue for the Nets all season — and could derail a championship run.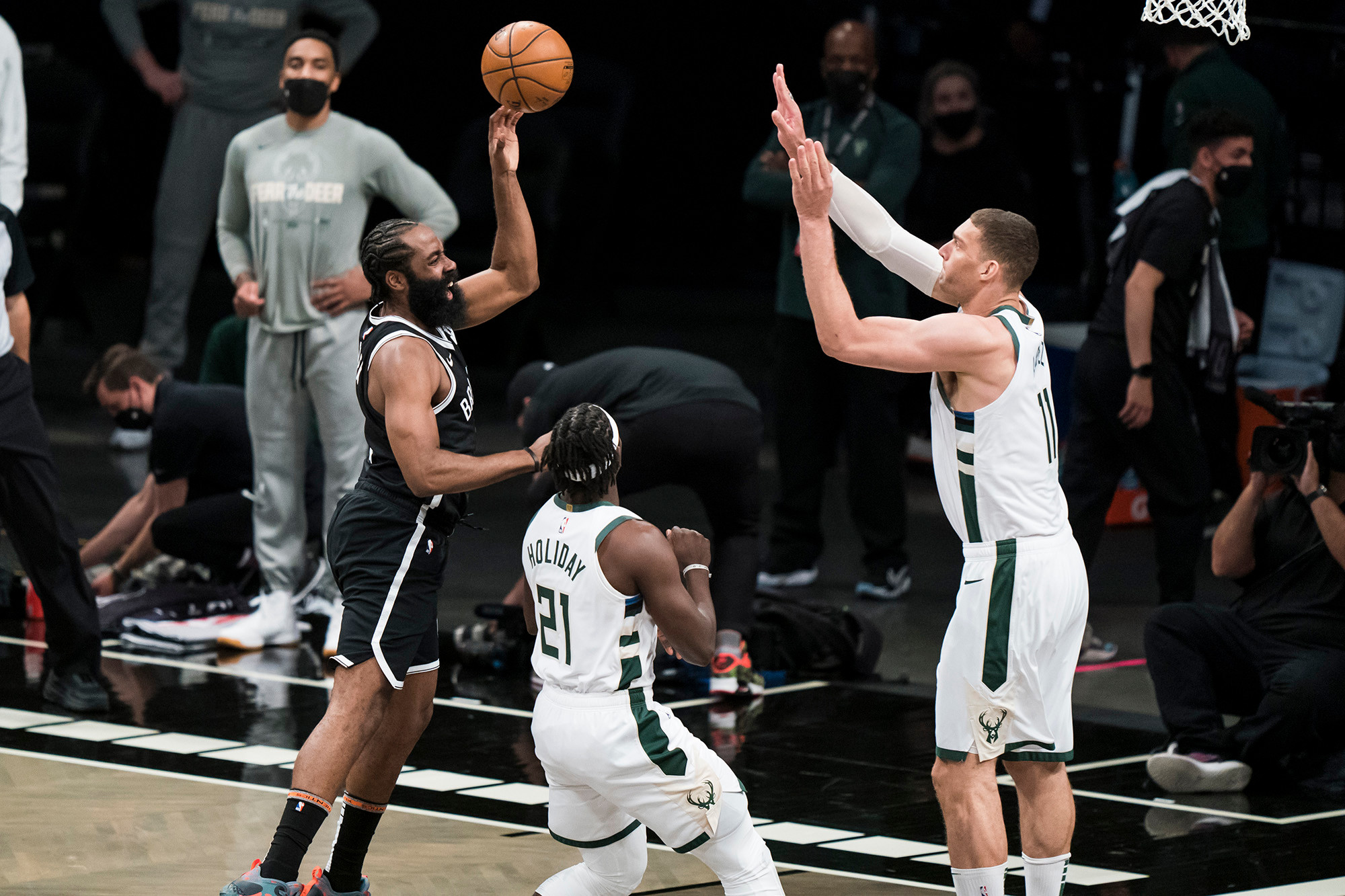 "Every year your plan is to win a championship. I think that's every basketball players' dream and mindset every single year. Obviously, in reality, it is only a handful of teams that have an opportunity and we're one of those teams this year," Harden said before the game against the Bucks, a clash many viewed as befitting an NBA Final.
"As you look at our roster we're elite too. It's gonna be a showdown. I'm more than confident going into this postseason just because obviously the roster and then our schemes and the things that we can control and the versatility that we have."
Harden's right hamstring caused him trouble during the regular season. He missed games on April 1 and 4 with tightness in the hamstring, before returning on April 5 against the rival Knicks. But he lasted just 4:22 in that Nets victory before he subbed himself out because of the hamstring. He subsequently missed a career-high 18 consecutive games before finally returning on May 12 against the Spurs, the third-to-last game of the regular season.
Injuries, absences and COVID-19 quarantines conspired to hold the Nets' Big 3 to just 202 minutes together this entire regular season. The time was spread over eight games, seven of them starts. Granted, the Nets were 6-1 in those games, which tantalized fans with what Harden, Kevin Durant and Kyrie Irving could do now that they were all healthy for the playoffs.
It didn't last long.
This story originally appeared on: NyPost - Author:Brian Lewis