The Big Tech titans face another grilling over accusations of censorship during a Senate hearing Tuesday. Twitter CEO Jack Dorsey and Facebook honcho Mark Zuckerberg are testifying before the Senate
The Big Tech titans face another grilling over accusations of censorship during a Senate hearing Tuesday.
Twitter CEO Jack Dorsey and Facebook honcho Mark Zuckerberg are testifying before the Senate Judiciary Committee after their companies came under a firestorm of criticism for blocking The Post's exposé on Hunter Biden's business dealings in Ukraine and China.
The hearing, titled "Breaking the News: Censorship, Suppression, and the 2020 Election," comes as former Vice President Joe Biden was declared the winner of the presidential election but President Trump has refused to concede and his campaign has filed numerous lawsuits to contest the results.
One member of the committee, Sen. Josh Hawley (R-Mo.), tweeted ahead of the meeting, "I've heard from @Facebook whistleblower who revealed @Facebook and @Google and @Twitter coordinate to censor. Facebook has an internal platform to manage it. I'll be asking Mark Zuckerberg and @jack about this at tomorrow's hearing."
Dorsey got out ahead of the line of questioning by addressing in his opening statement Twitter's decision to lock out The Post for two weeks over its series on Hunter Biden's overseas business dealings.
"We made a quick interpretation, using no other evidence, that the materials in the article were obtained through hacking and, according to our policy, we blocked them from being spread," said Dorsey.
Twitter used its hacked materials policy to justify the move, even though The Post's reporting clearly spelled out that the material was sourced from an abandoned laptop that formerly belonged to Hunter Biden.
"Upon further consideration, we admitted this action was wrong and corrected it within 24 hours," Dorsey said.
But Twitter refused to reinstate The Post's account unless the original tweets on the first Hunter Biden story were deleted, before finally relenting after a two-week stalemate.
"We did not have a practice around retroactively overturning private enforcements … so we created one we believe is fair and appropriate," he said. "I hope this illustrates the rationale behind our actions and demonstrates our ability to take feedback, admit mistakes and make changes, all transparently to the public.
"We acknowledge there's still concerns around how we moderate content."
Last month during a Commerce Committee hearing, Sen. Ted Cruz (R-Texas) slammed Dorsey for blocking The Post's Hunter Biden coverage.
"Mr. Dorsey, who the hell elected you and put you in charge of what the media are allowed to report and what the American people are allowed to hear?" Cruz told the social media mogul. "Why do you persist in behaving as a Democratic super PAC, silencing views to the contrary of your political beliefs?"
A central issue in the hearing is whether a federal law — Section 230 of the Communications Decency Act, which shields internet companies from liability for content on their platforms — should be changed or eliminated. Trump asked for a repeal of Section 230 entirely or the part of that lets companies "curate" or alter content. In an executive order, he asked the FCC to review the law.
Conservatives and liberals both have concerns about how social media platforms operate, for opposite reasons.
The political left has called for more aggressive policing to curb the spread of "misinformation," while those on the right have accused the platforms of censorship.
Dorsey, in prepared testimony, warned lawmakers against imposing reactionary rules that could lead to more censorship
"Such actions could have the opposite effect, likely resulting in increased removal of speech, the proliferation of frivolous lawsuits, and severe limitations on our collective ability to address harmful content and protect people online," Dorsey said.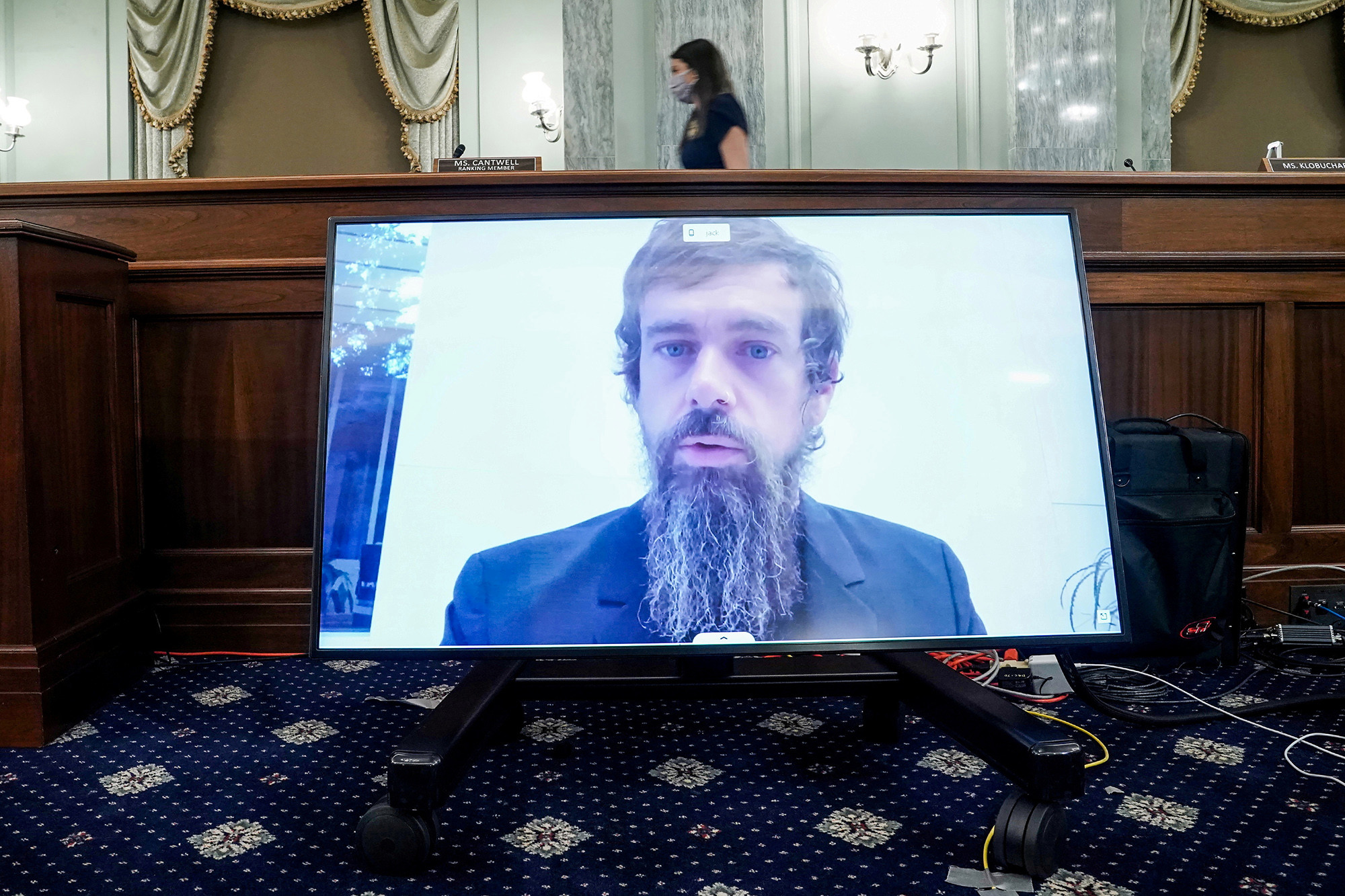 In his opening remarks, Zuckerberg said he believed "we are well overdue" for an overhaul of the internet's rules of the road.
"For any system to work, I believe there needs to be a transparent process that people feel they can trust," he said. "This will be difficult, especially since our country is so divided, but I believe it's the only way to address these issues for the long term.
"The challenges that we face are deeper than any one platform," he continued. "They're about how we want to balance basic social equities that we all care about, like free expression, public safety and privacy. This is why I believe we would benefit from clearer guidance from elected officials."