Meta CEO Mark Zuckerberg announced the launch of Meta Verified for Instagram and Facebook users in the US.
This subscription service, which was first released in Australia and New Zealand last month, enables users to add the highly coveted blue check mark to their Instagram and Facebook accounts for a monthly fee. The cost of Meta Verified is $11.99 per month for web users and $14.99 per month for mobile users.
Zuckerberg stated in the Meta Channel on Instagram on Friday, "Meta Verified is now rolling out in the US. By subscribing, you will receive a badge, proactive impersonation protection, and direct customer support."
Starting today, interested users can join the waitlist to sign up for the subscription service online. However, in addition to the monthly fee, users must be at least 18 years old and complete the verification process, which includes providing a government-issued photo ID to verify their identity. Two-factor authentication is also required. Meta Verified subscribers are not allowed to alter their profile name, photo, username, or date of birth unless they undergo the verification process again.
In addition to the coveted blue check mark, Meta Verified subscribers will receive exclusive stickers on Facebook and Instagram Stories and Facebook Reels, as well as 100 Stars per month on Facebook to show support for other creators.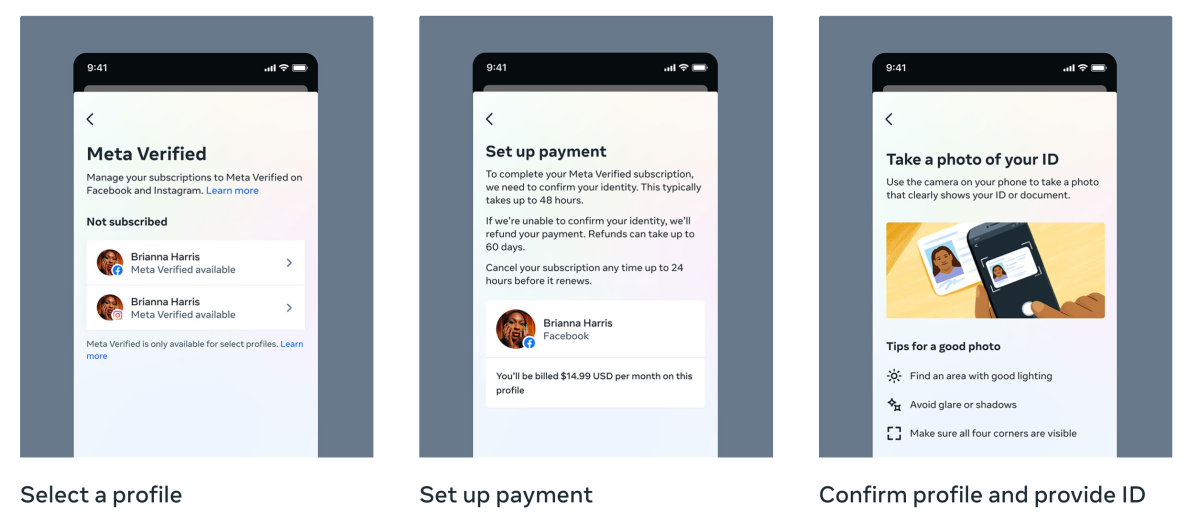 According to an email sent to TechCrunch, Meta has received positive results from its initial test of Meta Verified in Australia and New Zealand. However, the company is taking into account the early feedback it has received from subscribers. In Australia and New Zealand, a Meta Verified subscription provides users with increased visibility and reach in search, comments, and recommendations. Meta has acknowledged user feedback that this offering was confusing and intends to further explore it before considering expanding it beyond Australia and New Zealand.
Mark Zuckerberg is taking a page from Elon Musk's playbook with the Meta Verified offering. Following his acquisition of Twitter last year, Musk launched paid verification for $8 per month as part of the platform's revamped Blue subscription service. However, unlike Twitter's approach, users who are already verified on Instagram and Facebook will not have to pay for their verification. While Musk has pledged to remove legacy verification badges, he has yet to do so.
The coveted blue checkmark on social media platforms was previously only available to public figures, such as politicians, actors, musicians, athletes, and journalists, making it a symbol of status. However, Elon Musk has criticized this idea, arguing that blue checkmarks should be accessible to all.
While Meta has historically not charged its users for most of its services, it is evident that the company is shifting towards a more subscription-based model. It's worth noting that Meta and Twitter are not the only companies to introduce subscription services, as Snap launched its own subscription service last year, successfully converting 2.5 million users into paid customers.
To start using Meta Verified, users must navigate to their Instagram or Facebook settings and select "Accounts Center." If the subscription service is available, users will see "Meta Verified available" under their name and profile picture. Users must then select their preferred payment method for the monthly plan and complete the verification process.
Source Techcrunch