At some point, the moral victories become morale killers. At some point, there has to be a breakthrough, a reckoning that ends with the right numbers on the scoreboard. It isn't enough to accept a
At some point, the moral victories become morale killers.
At some point, there has to be a breakthrough, a reckoning that ends with the right numbers on the scoreboard. It isn't enough to accept a parade of postgame backslaps, of midweek attaboys. A few of those are OK. A few of those, in the course of building something real, something lasting, something permanent, can be useful.
"We're not asking for moral victories," Giants coach Joe Judge said. "We know New York deserves better than that."
You could argue that these Giants do, too. They played another nice game Monday night — again. They took a deeper, more talented, more accomplished team into the fourth quarter — again. They showed flashes, so many tantalizing flashes, enough to pique your interest — again — including a heroic, honest-to-goodness two-minute drill by Daniel Jones that wound up falling just shy of something truly special — again.
And they lost.
Again.
This time it was 25-23, and this time it was old friend Tom Brady wearing the new vestments of the Tampa Bay Buccaneers. This time the Giants led 14-3, and they led 17-15, and they might have led at the final gun except the franchise quarterback wasn't able to do enough franchise-quarterback things — and did, in fact, throw two of the worst, costliest interceptions you will ever see, offsetting his last-second valor.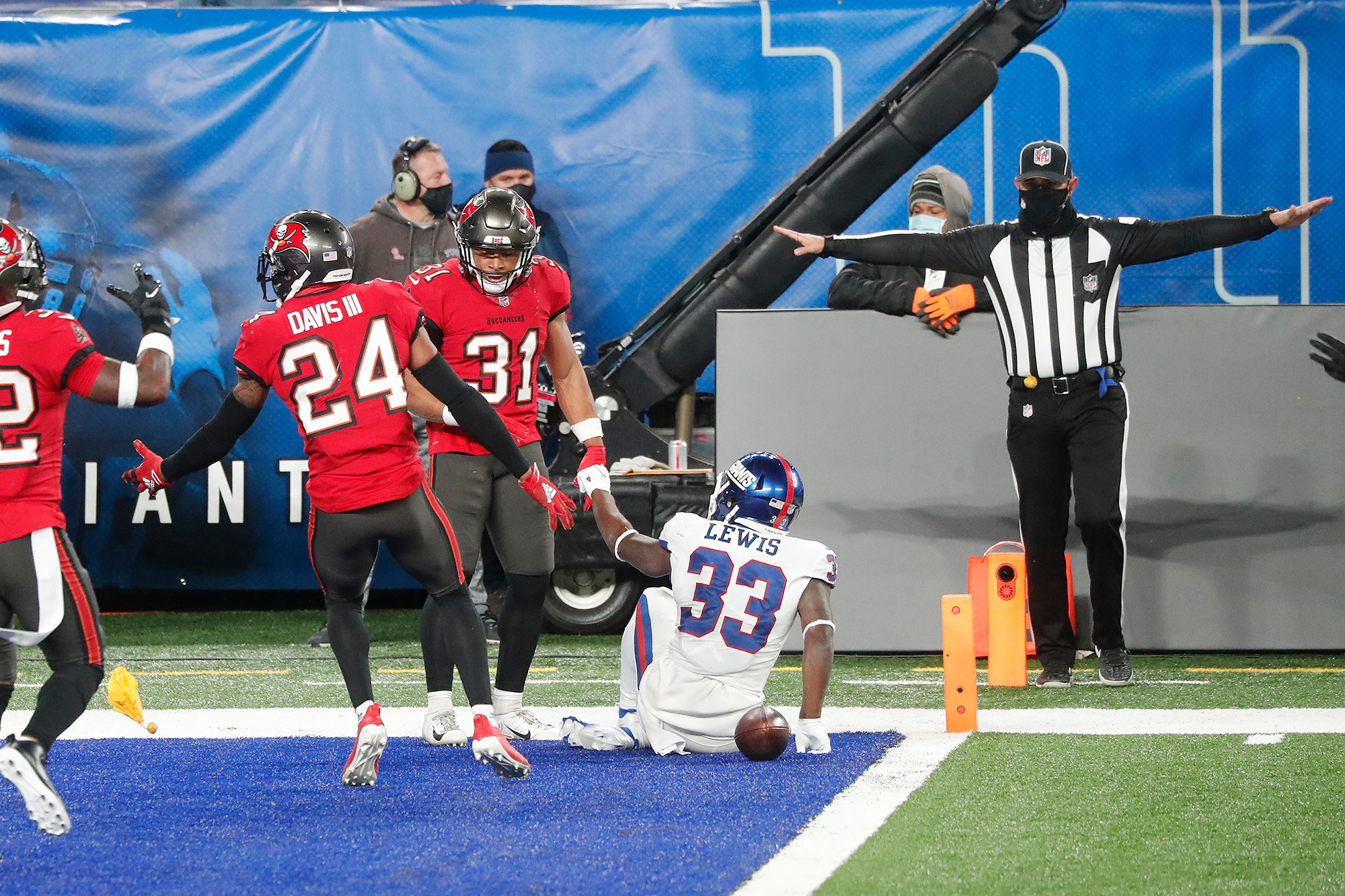 This time, they walked off the field 1-7.
"Ultimately, this game, we missed too many opportunities," safety Jabrill Peppers said. "We're playing some good football, man. We come in with the right attitude. We work hard. Pretty soon the results will follow."
Still, it is becoming a tired weekly ritual nobody much enjoys, talking about the couple of bounces here, couple of bounces there that could make those numbers on either side of the hyphen look so much different. Nobody much enjoys talking about Chicago or LA, Dallas or Philly (especially because, using the same logic, they could also be 0-8 right now).
"I don't care about the record," Peppers said, with a defiance that is at once laudable and lamentable. Nobody questions these Giants' heart, and nobody will ever question their effort. They do play hard each week. The last three games they've lost — at Dallas, at Philly, Monday night — they had 11-point leads.
That is something. But so is this:
They lost to the Cowboys by 3.
They lost to the Eagles by 1.
They lost to the Bucs by 2.
"You never apologize for winning," Tampa coach Bruce Arians said, knowing that his team dodged calamity at MetLife Stadium, knowing it was mostly outplayed and outcoached and didn't get a chance to exhale until a penalty flag was mysteriously picked up and tucked back into a referee's pocket on the two-point conversion that could have tied the game late.
Judge may apologize each week for losing, because he knows how weary Giants fans are of it, how deflating and debilitating it can be. The near-misses probably feel and seem worse because the Giants play in a division, the NFC East, in which it has been proven to be all but mathematically impossible to play yourself out of the picture. Eight weeks into the 17-week season, first-place Philly still has a losing record.
And last place — the Giants, 1-7 — still only has two fewer wins.
"I see a lot of fight, a lot of urgency," Judge said. "Guys know we're building this in the right direction."
It is impossible not to see that, and it is impossible not to believe Judge is doing something very right here. The Giants scare the hell out of better teams week after week, and there is always a serious talent disparity on the other side of the ball. That is a good thing. It is something around which to rally.
But at some point, they have to fix the ending.
Every week the fourth quarter is a new adventure, a fresh set of fresh heartbreak and heartache. This time there was the added bonus of a wonderful last-second drive, two fourth-down conversions, Jones honing in on a marvelous tale of redemption capped by a perfect throw to Golden Tate in the back of the end zone. It was almost enough to overcome those two earlier, awful picks. Almost.
"I need to improve," Jones said. "I have to learn, and improve those mistakes."
The whole team does. None of this is easy, not when they line up each week with a decided personnel disadvantage. The coach is coaching them up. The players are playing above their heads. At some point, by rights, that should mean something. At some point.