Thursday, President Biden accidentally showed the gaffe-prone leader of the free world a funny cheat sheet made by his staff that told him to 'take YOUR seat' and limit his speech to '2 minutes.'
A picture was taken of the document when Biden held it up backwards at a meeting with executives from the wind industry. He had skipped his administration's morning meeting with oil companies to talk about how to deal with record gas prices, so he went to this meeting instead.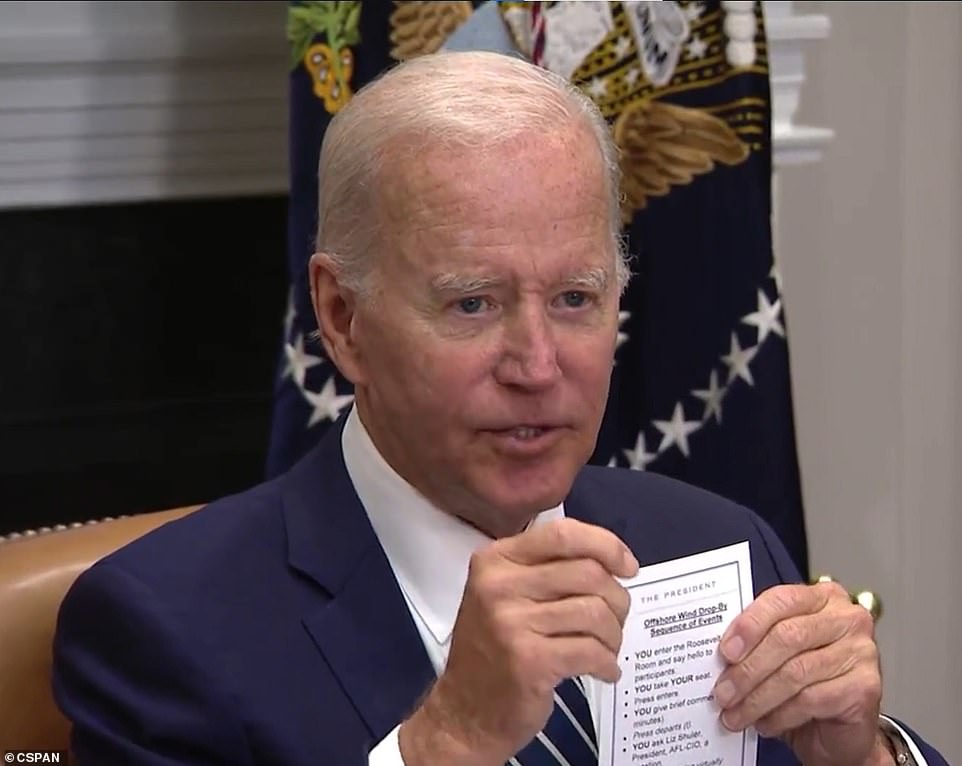 The written instructions for Biden, titled "Offshore Wind Drop-By Sequence of Events," tell him to "enter the Roosevelt Room and say hello to participants."

The paper then says, "YOU sit down."

After the reporters arrive, the typed note says, "YOU give brief comments for two minutes."

When the reporters leave, "YOU ask Liz Shuler, President of the AFL-CIO, a question," then "YOU thank the participants," and "YOU depart"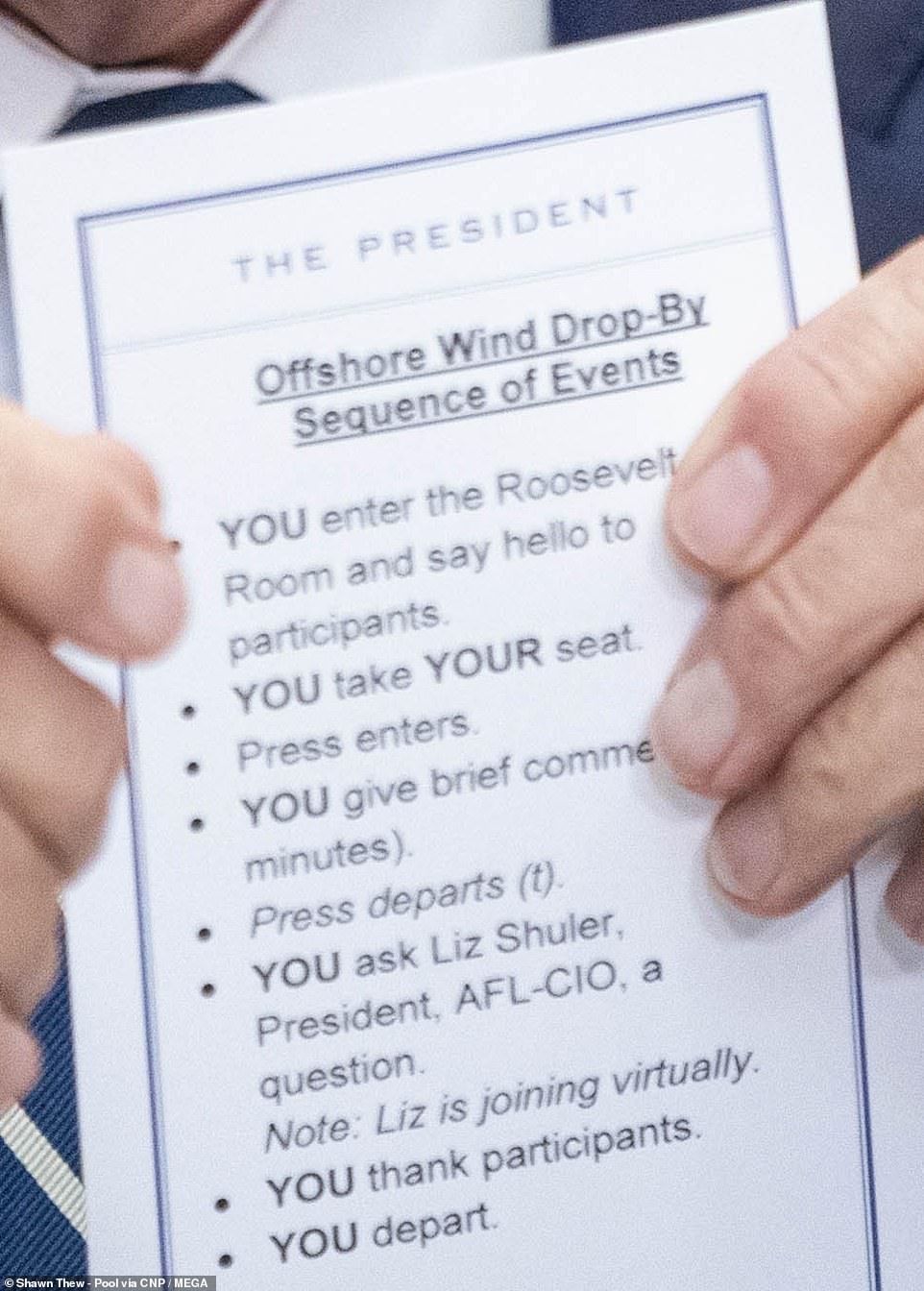 When Biden used staff notes at events in the past, it was embarrassing, like when an aide scrawled, "Sir, there is something on your chin" last July. Biden also held that note so that it was facing the cameras and reporters.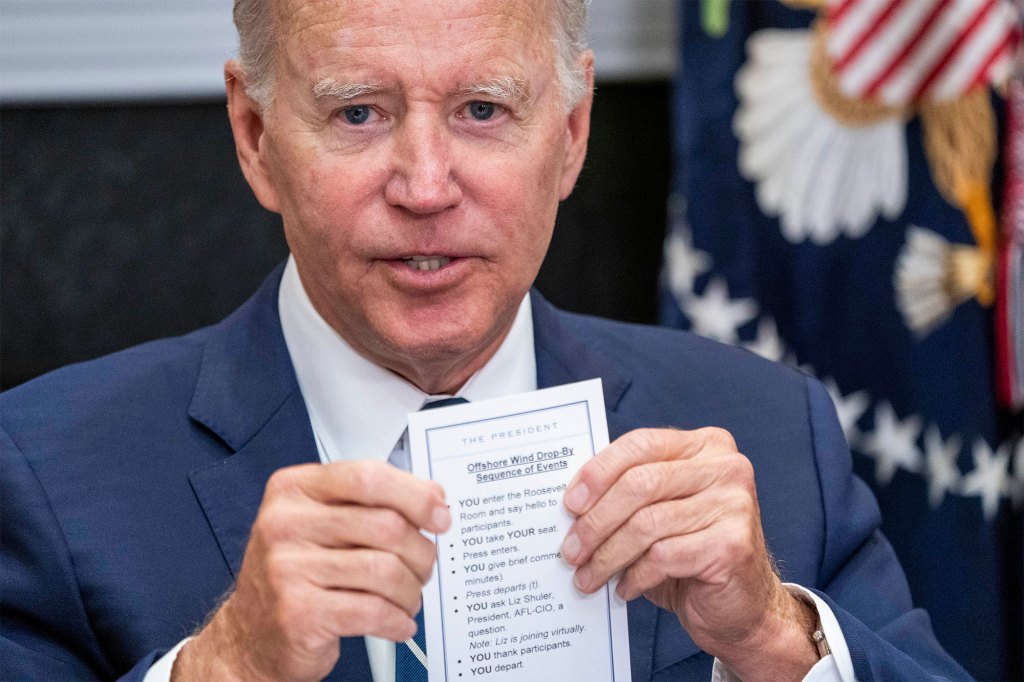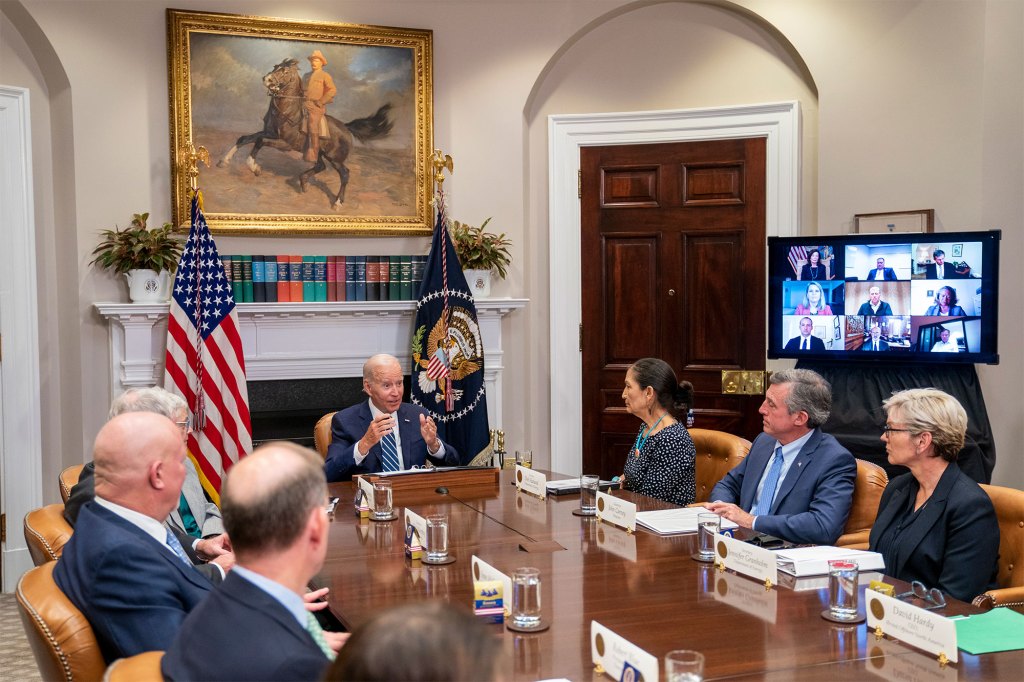 Biden is said to have gotten angry when his staff tried to control his message so much that they contradicted his unplanned public comments without asking him.

Biden reportedly reminded his staff that he is president after they said he didn't mean what he said in March when he called for Russian President Vladimir Putin to be removed from power because Russia invaded Ukraine.

"He has told his advisors that the so-called "clean-up campaign" hurts him and stifles the authenticity that helped him rise to power. Worse, it supports a Republican talking point that he doesn't have full control," NBC News said last month.

A day after Biden's comment about Putin, White House Chief of Staff Ron Klain retweeted a message from CNN White House correspondent John Harwood that said Biden's comment showed a "significant lapse in discipline."

Republicans often say that the president, who is 79 years old, is losing his mind. Before the 2020 election, former President Donald Trump said that Joe Biden's mind was "shot."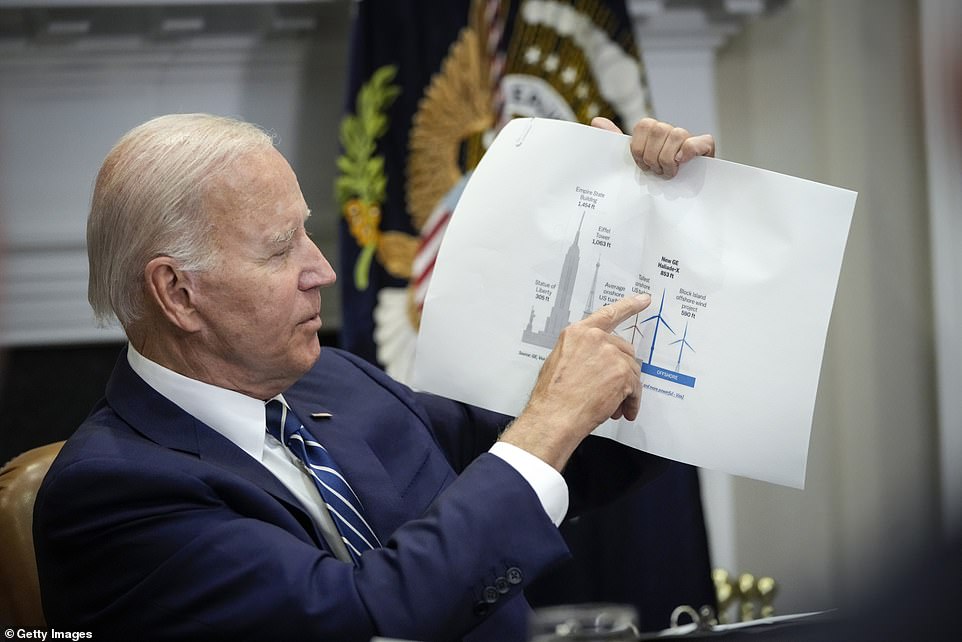 In July of last year, a staff member gave him a note that said, "Sir, there is something on your chin." It let the president know that something had been on his face for about 10 minutes of his virtual meeting.

He was talking even though there was a yellow dot below his mouth. Then someone gave him a note that said to wipe his chin and look at his hand.

Again, Biden held the note up so that all reporters and photographers could read it. The note was only seen because Biden took notes during the meeting on the same piece of paper.

Biden was made fun of earlier this year when he met with the media to talk about the Ukraine war and used a printed "cheat sheet" with answers to questions he was likely to be asked.

The notes said, "What did you mean if you weren't calling for a change in the government? Can you clarify?' Another way to say this is: "Does this now threaten to break up the unity of your NATO allies?"

Biden's answer was already written on the card: "No." NATO has never been stronger than it is now. He uses cue cards all the time, and he was often photographed with them while he was running for office.

He would often take the daily totals of Covid cases, which he used often, out of his pocket. He also used them to answer a question about taxes during a Town Hall meeting before the election.

Biden said, "I carry this card with me." He meant the card. During his first press conference as president, he used several cheat sheets. One of them had the names and pictures of the reporters he planned to talk to.

Biden also used notes at a meeting with Putin in 2021, when he saw the damage caused by Hurricane Ida in Louisiana, and when he talked to reporters at the G20 summit in Rome.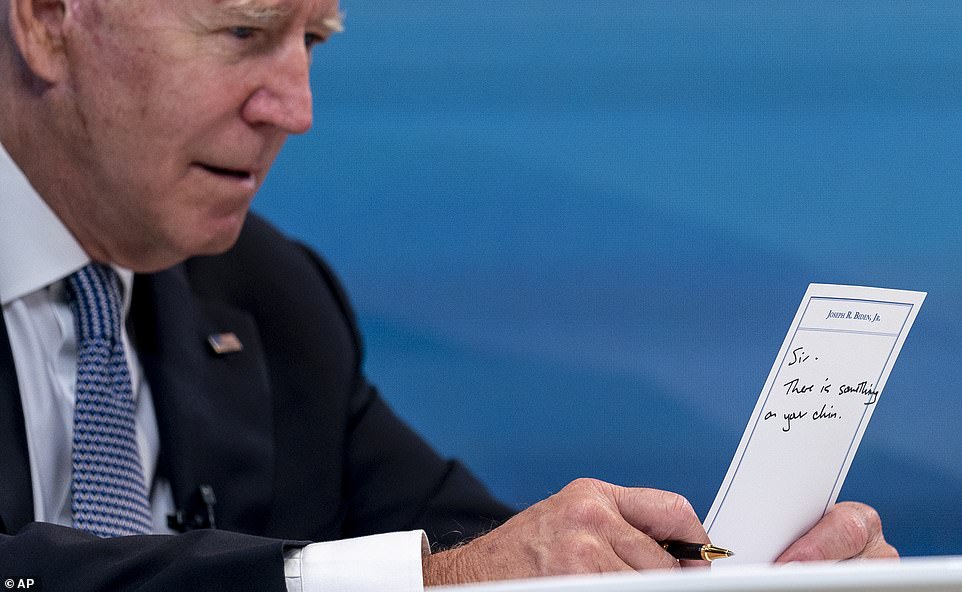 President Biden was prompted to wipe a yellow mark from his face during a Zoom meeting with state governors on Friday after a staffer handed him a note saying: 'Sir, there is something on your chin'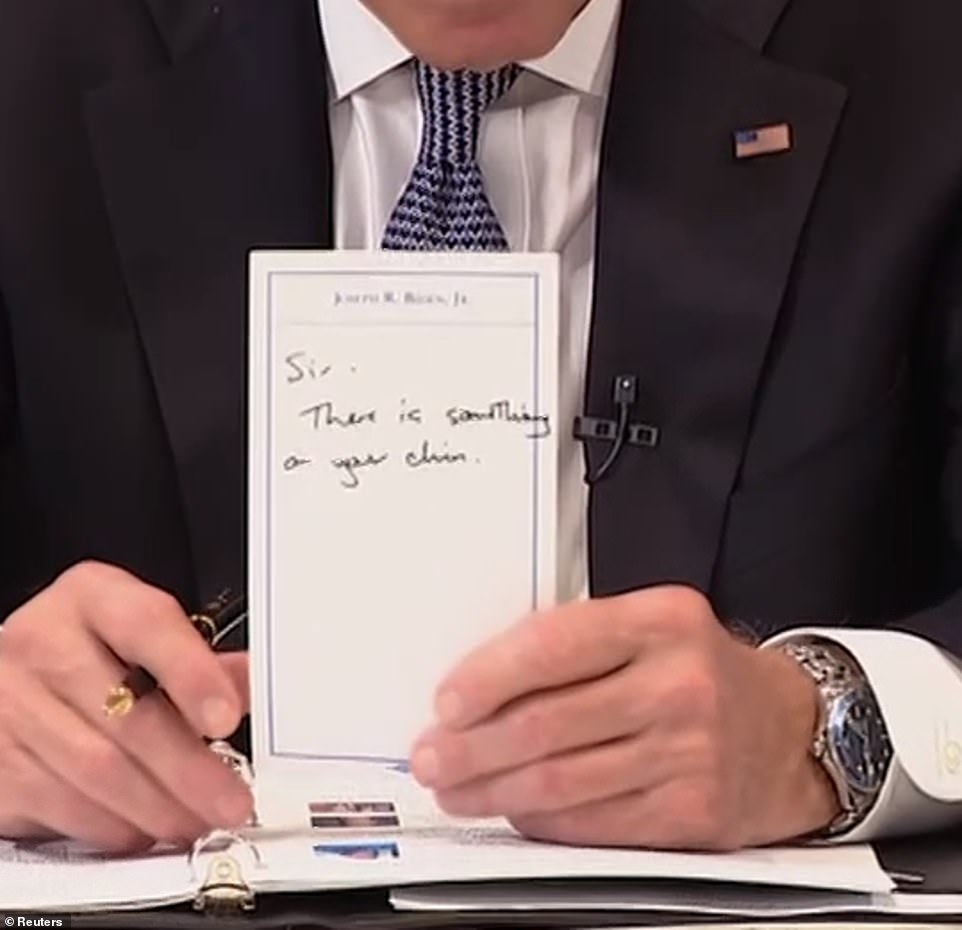 He showed up the note to the camera during the Zoom conference last July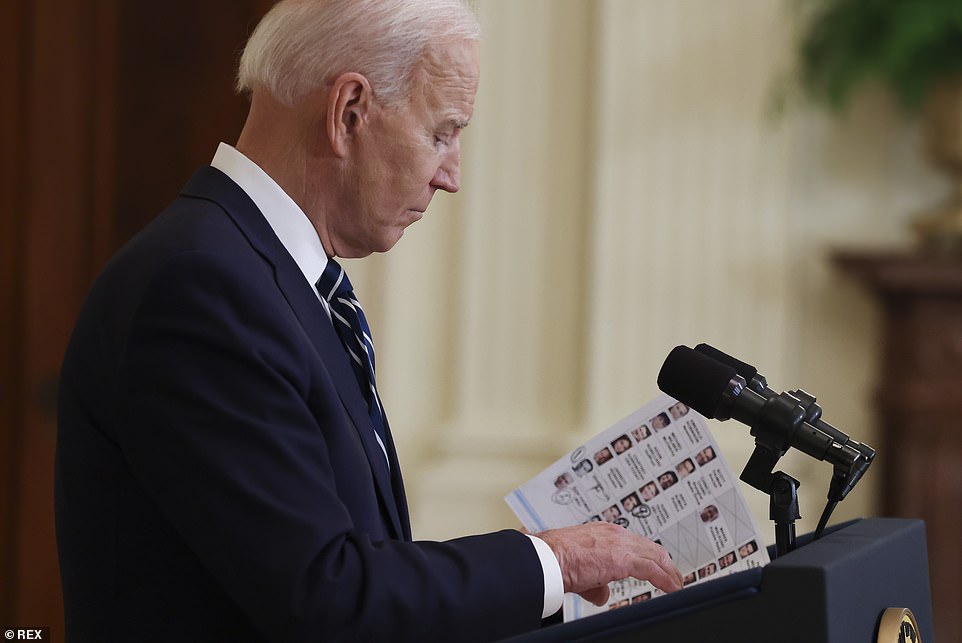 Images taken during President Joe Biden's first press conference in March 2021 showed him using cheat sheets including one that showed the headshots (pictured) of journalists he planned to call on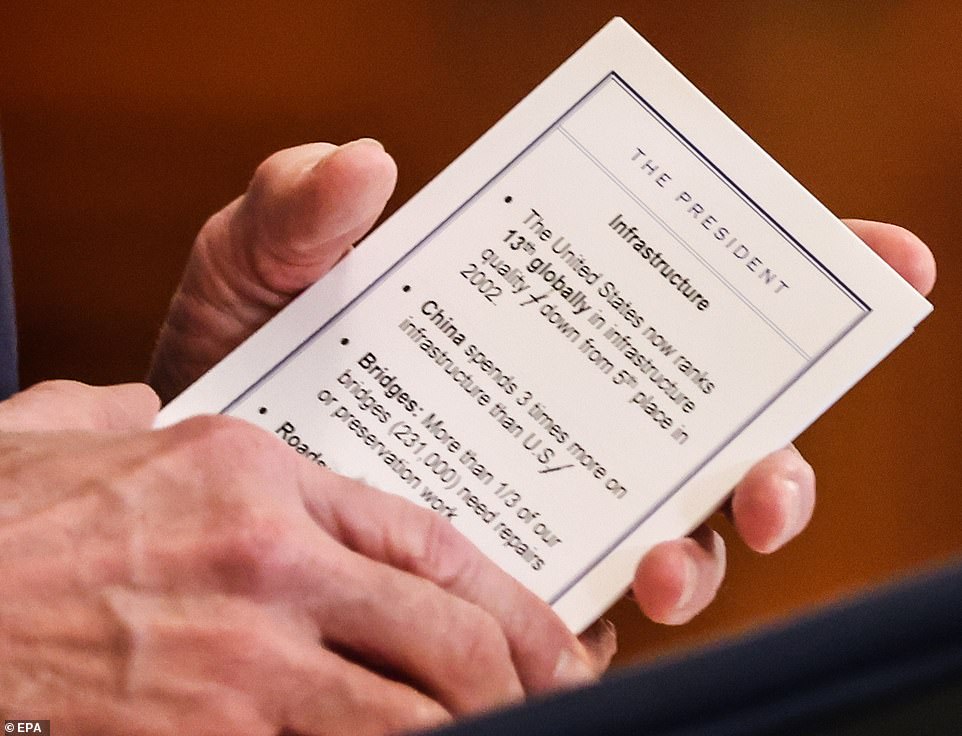 Meanwhile earlier this month his welfare was again called into question when he went tumbling off a bicycle in Rehoboth Beach in Delaware.
He told press 'I'm good' after falling over and taking his bike with him. Biden told reporters that he had trouble removing his shoes from the bikes' pedals, causing the fall.
He had come over to say hello to a crowd that had gathered near the Gordon's Pond State Park bike trail, with people yelling 'Happy Father's Day' to the president.
Upon trying to dismount the bike, his shoes caught and he fell over sideways, causing a mad scramble of Secret Service and press trying to help him up.
He has repeatedly been on the end of other numerous gaffes such as tripping up the steps to Air Force One as well as losing his trail of thought during speeches.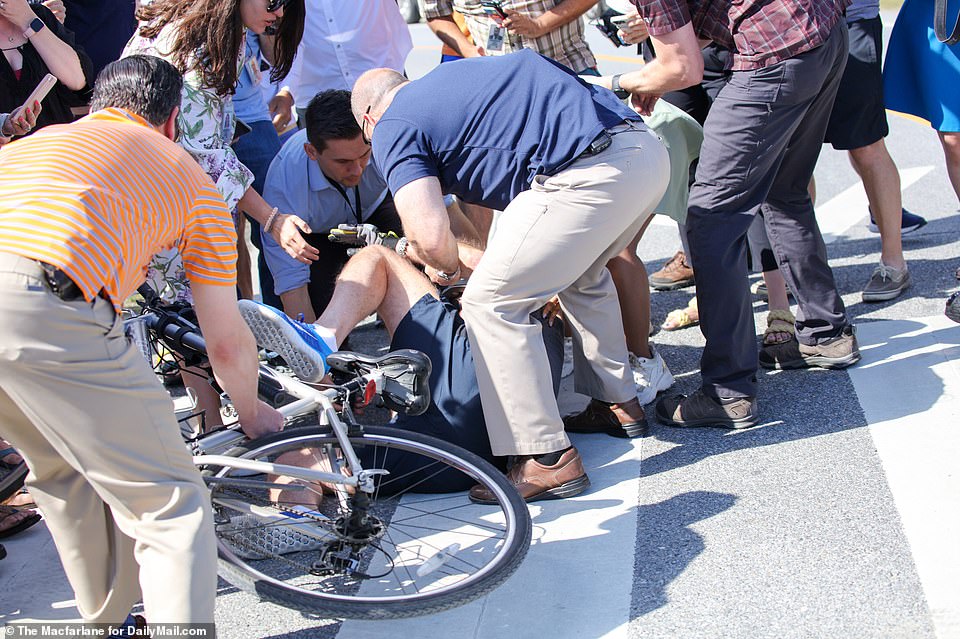 Meanwhile earlier this month his welfare was again called into question when he went tumbling off a bicycle in Rehoboth Beach in Delaware