Her current design profession can be attributed to missing luggage. Queen Tina Knowles-Lawson, well known as the mother of Beyoncé and Solange Knowles, will also claim Destiny's Child member Kelly Rowland as part of her brood on 'Renaissance Man.'
Miss Tina was the female group's regular hairstylist, but when the group went to Jamaica for an MTV event, the costumes and bags were nowhere to be discovered.

"I had to drive to a roadside stop and get all these camouflage shirts," she explained, "and I chopped them down and fashioned costumes for the girls." "They were in the company of Wyclef Jean, who asked, 'Wow, who styled you guys today?' 'My mother did,' Beyoncé said. 'You should style them all the time,' he said. And that's how I came to be the stylist for them."

Her new role, she added, was completely unexpected. Not that she didn't know how to use a sewing machine and a bolt of fabric. Mama Tina was raised in a large family with few resources in Galveston, Texas. Her grandma and mother were both seamstresses. Her nephew worked as a fashion designer.

"As a result, I was surrounded by fashion and people who could transform nothing into something." My mother was a strong figure in my life as I grew up. [She] created garments for others and reupholstered furniture to make curtains. As a result, it was simply in my blood. And I've always wanted to work in the fashion industry... I was constantly doing everyone's hair and cosmetics. All of my friends' prom outfits were sewn by me."
And get this: She was in a girl group, called the Veltones.
"We were really good, but we were kind of known more for our costumes than we were for our entertainment," she said. "And me and my mom made all the costumes."
In addition to sewing, her mother taught her to be charitable and selfless. Recently, Miss Tina and I were in an HIV-awareness campaign called Me in You, You in Me.
"My mom was such a humanitarian … Whatever we had, she shared with everybody," Mama Tina said of her own mother. "And she did what she could do with hardly nothing. It was a great lesson. She always taught us that if you do things for someone, you do it from the heart, you don't do it for the recognition, because then you've already got your blessing."
Mama Tina has carved out a large niche for herself in fashion and design, and even dipped her toe into the acting world with Lifetime's "Wrath: A Seven Deadly Sins Story," which premiered in April. Funny enough, she played mother to Destiny's Child member Michelle Williams.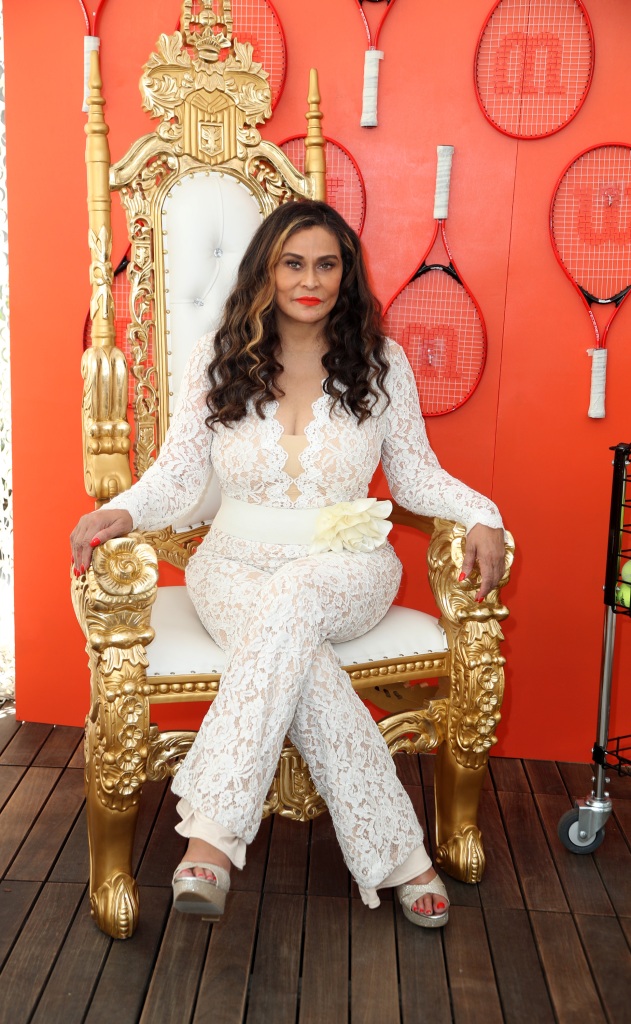 Throughout it all, she has maintained that being a grandma is her favorite job. She did, however, produce two superstars, one of whom is widely regarded as the greatest entertainer of all time. Did she notice their special abilities while they were children? Tina declined. They simply enjoyed performing.

"I mean, no one wanted to come to our house because [Beyoncé and Solange] would sell them tickets and force them to watch them put on concerts," she explained. [The females] had a thing for [performing]. They didn't want to go outdoors and play. All they wanted to accomplish was that."

Mama Tina enrolled them both in dance classes, ostensibly in order to help Beyoncé break out of her shell. "She was quite shy, and I assumed she would be able to make friends." Her dance instructor turned out to be the stage mother. 'This young child is really talented,' she exclaimed. 'Yeah, everyone believes their kid is talented,' I say. It took me a long time to truly believe because... I never wanted to be that mom." Mathew Knowles, her ex-husband, had their girls study the greats like Diana Ross and the Supremes, Martha and the Vandellas, and Smokey Robinson, she said. The Knowles sisters made a concerted effort to imitate them.

"They were surrounded by such wonderful role models." They had seen [footage] before and were familiar with the performers and the Motown era. The girls were completely committed to their work."

Tina has not only accomplished a great deal on her own, but she has also established herself as a beloved pop culture mother. Her maternal charm is felt by all of us. She even started a Facebook show called "Talks With Mama Tina" in December. And, while we all know that mothers aren't meant to have preferences, I was curious about her faves from each of her daughters.

Mama Tina didn't hesitate to speak "Cranes in the Sky" to Solange.

What about Beyoncé?

"I have so many with her, but I think it's 'Survivor.'" Destiny's Child is the name of the band. That song means a lot to me because I've seen it inspire individuals to take risks."
======