After the Secret Service declined to release information regarding Hunter Biden's visits to Kazakhstan, Russia, and China, two Republican senators are seeking answers.
While his father was vice president from 2009 to 2017, Biden, now 51, was given Secret Service protection, which he sought to end in July 2014.

Senators Ron Johnson of Wisconsin and Chuck Grassley of Iowa are probing Biden for 'his use of government-sponsored travel while conducting private business.' Biden was a globe-trotting businessman at the time.
Senators have asked the Secret Service for documentation related to Biden's travel and have gotten 259 pages so far. They did, however, express their worries about the production in a letter to director James Murray.

They protest that the pages are substantially blacked, which they believe is unnecessary for members of Congress, and that full years - 2010, 2011, and 2013 - are absent.

In addition, one email reveals members of Biden's Secret Service detail requesting information about his plans to travel from Paris to Kazakhstan in May-June 2014 and asking if they may accompany him.

Biden may or may not have visited Kazakhstan. The senators claim that the trip is not included in the travel records.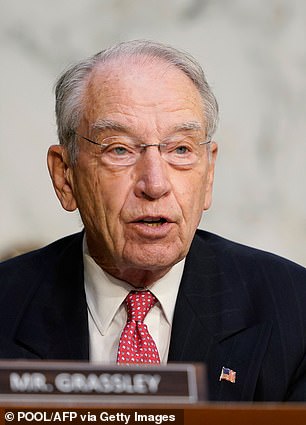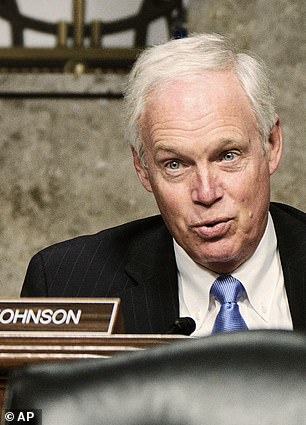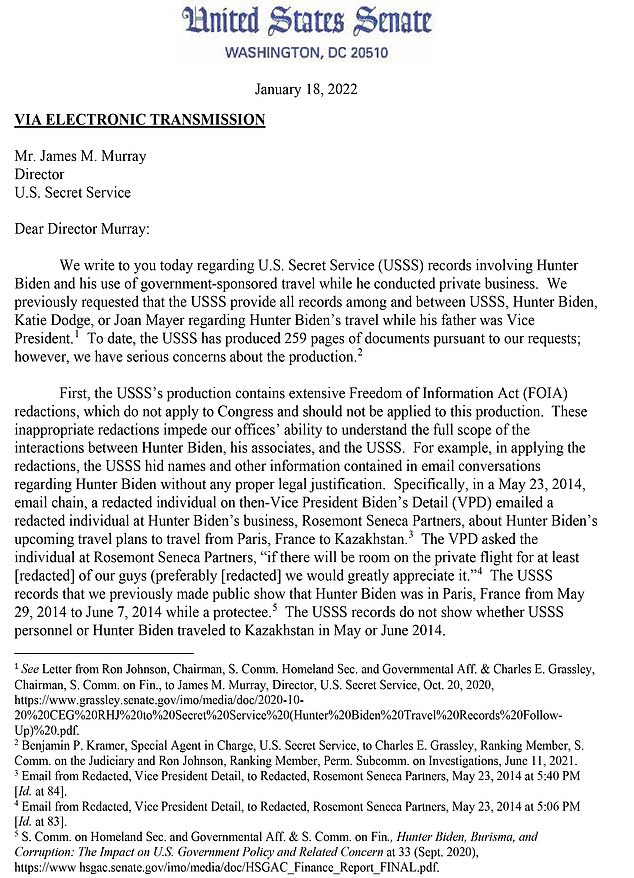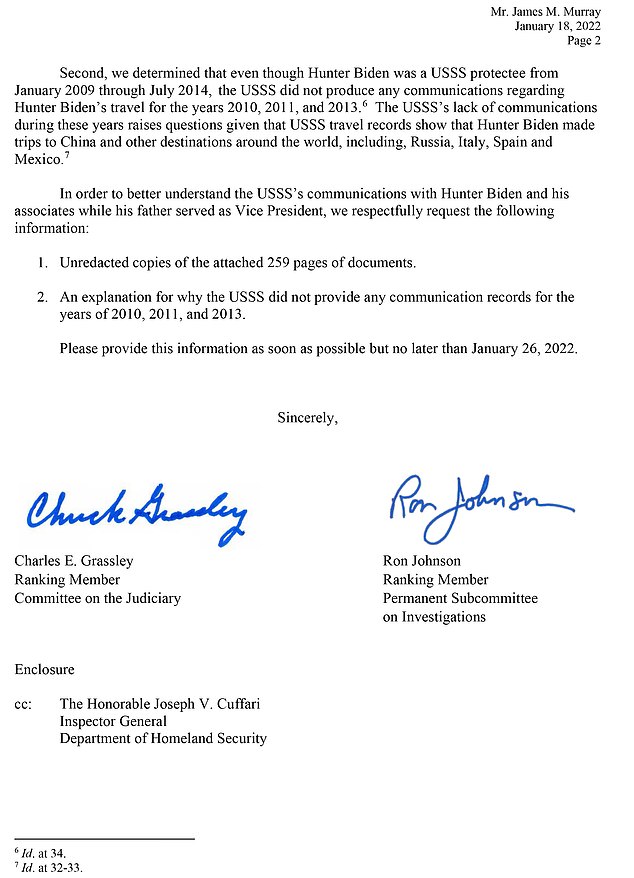 Last year, it was revealed that Biden left his Secret Service escorts before going to Kazakhstan to negotiate a transaction on behalf of Burisma, a Ukrainian energy firm on whose board he sat and was paid $50,000 per month.

Biden was expected to meet with former Kazakhstan Prime Minister Karim Massimov, who was jailed on treason charges Saturday after being fired as the head of the country's counterintelligence and anti-terror agency.

Hunter and his father were seen with Massimov and his kid in a Washington, DC restaurant in an undated photo published by the Kazakhstani Initiative on Asset Recovery in 2019.

Senators also point out that Biden was known to go to China, Russia, Mexico, Spain, and Italy during the'missing' years.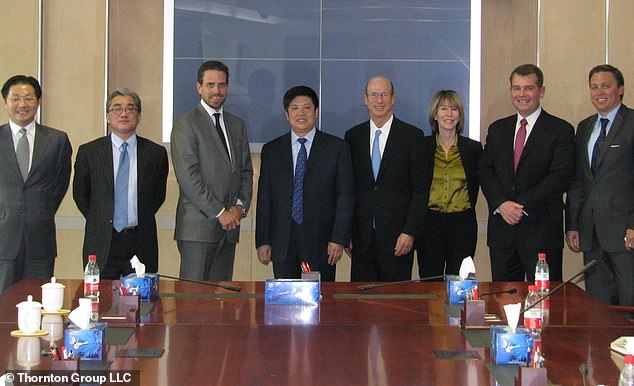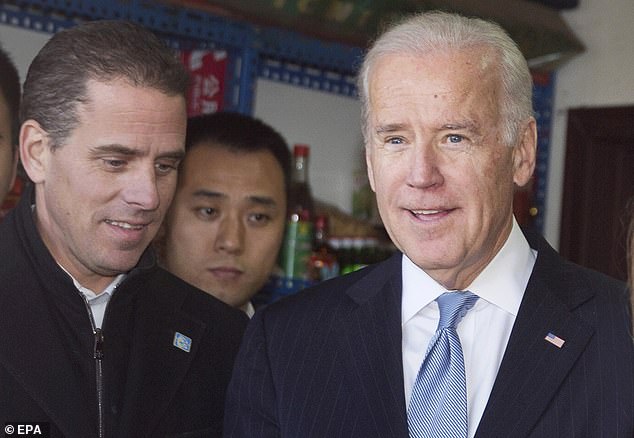 Biden was pictured touring Chinese factories and offices in 2013, one of the missing years, pushing business for his financial enterprises and interests.

Biden ceased to be protected by the Secret Service in July 2014, shortly after Time magazine published a piece detailing his financial links to Burisma Holdings, a Ukrainian natural gas corporation.

Between June 2009 and July 2014, he took 411 domestic and international flights on which the federal government provided security, according to a Senate Homeland Security Committee study issued in September 2020.

Hunter Biden visited at least 29 foreign nations, according to Secret Service flight documents, including one trip to Russia and five visits to China.
Biden and his South African-born wife Melissa, as well as their son, currently reside in Los Angeles.

Unless informed otherwise, the agency is mandated by law to provide round-the-clock security for the president's immediate family.

Few people have turned down Secret Service protection, however it might be difficult for an adult living on their own.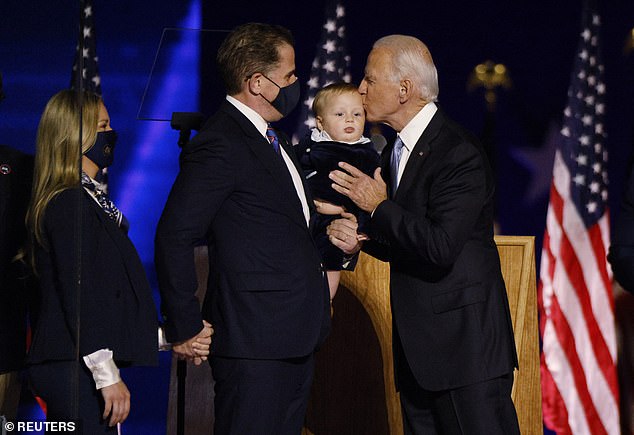 All of Donald Trump's children have agreed to Secret Service protection, with the exception of Donald Trump Jr., 42, who initially refused.

Trump Jr, an ardent camper and hunter, was said to have indicated in September 2017 that he no longer desired their security because he wanted more privacy than he could get with a cadre of agents following him about.

He removed it again less than a month later for unknown reasons, with the Secret Service unwilling to reveal any information.

Jenna and Barbara Bush, George W. Bush's daughters, were both protected by the Secret Service during his presidency, but they were in their mid-20s when he departed in January 2009.
When George H.W. Bush was in the White House, his five adult children were not protected.

Hunter Biden enjoyed protection from his father when he was in the White House, including when he tested positive for cocaine.

Agents aren't obliged to stop their clients from doing wrong, but obtaining narcotics with agents on present is often difficult.

In his father's second administration, Ronald Reagan Jr. was the most high-profile first son to decline protection.

The president, vice president, president-elect, and vice president-elect, as well as their immediate families, are all protected by the Secret Service.
Former presidents and their wives are protected, with the exception of remarriage.

The Secret Service was empowered by Congress in 1965 to protect a former president and his or her spouse for the rest of their lives unless they renounce protection.

Former presidents' children are safeguarded until they reach the age of 16.