Overnight pumps that send coins to the moon are nothing new in the crypto-verse. Over the last week, Metaverse tokens have seen somewhat hyped rallies and a lot of social media attention, as social media giant Facebook announced its 'Meta' rebranding.
As Meta mania took hold, MANA led the charge in terms of gains, followed by SAND, ENJ, and, finally, the gaming behemoth Axie Infinity (AXS).
As the Meta hype gained traction, traders and investors, like any other hyped phenomenon, sought to jump on board. However, with the majority of the aforementioned alts already trading at their all-time highs, what is the best strategy for the future, and how are Metaverse tokens performing?
High ROIs and higher retail FOMO
Aside from the newly discovered social attention, Decentraland's native token MANA had another thing in common with Enjin Coin (ENJ) and Sandbox (SAND): massive gains.

While Facebook's Meta rebranding announcement fueled the coins' rise, as other companies such as Nike and Microsoft rushed into Metaverse hype, the coins found themselves in a sweet spot.
Following the announcement on October 28, the native tokens of Decentraland and Sandbox saw tremendous gains. While MANA gave its HODLers a 302 percent weekly return, SAND gave them a 174 percent weekly return. Furthermore, Enjin coin had a weekly ROI of close to 50%, while Axie was last in the ROI race with a return of 10%.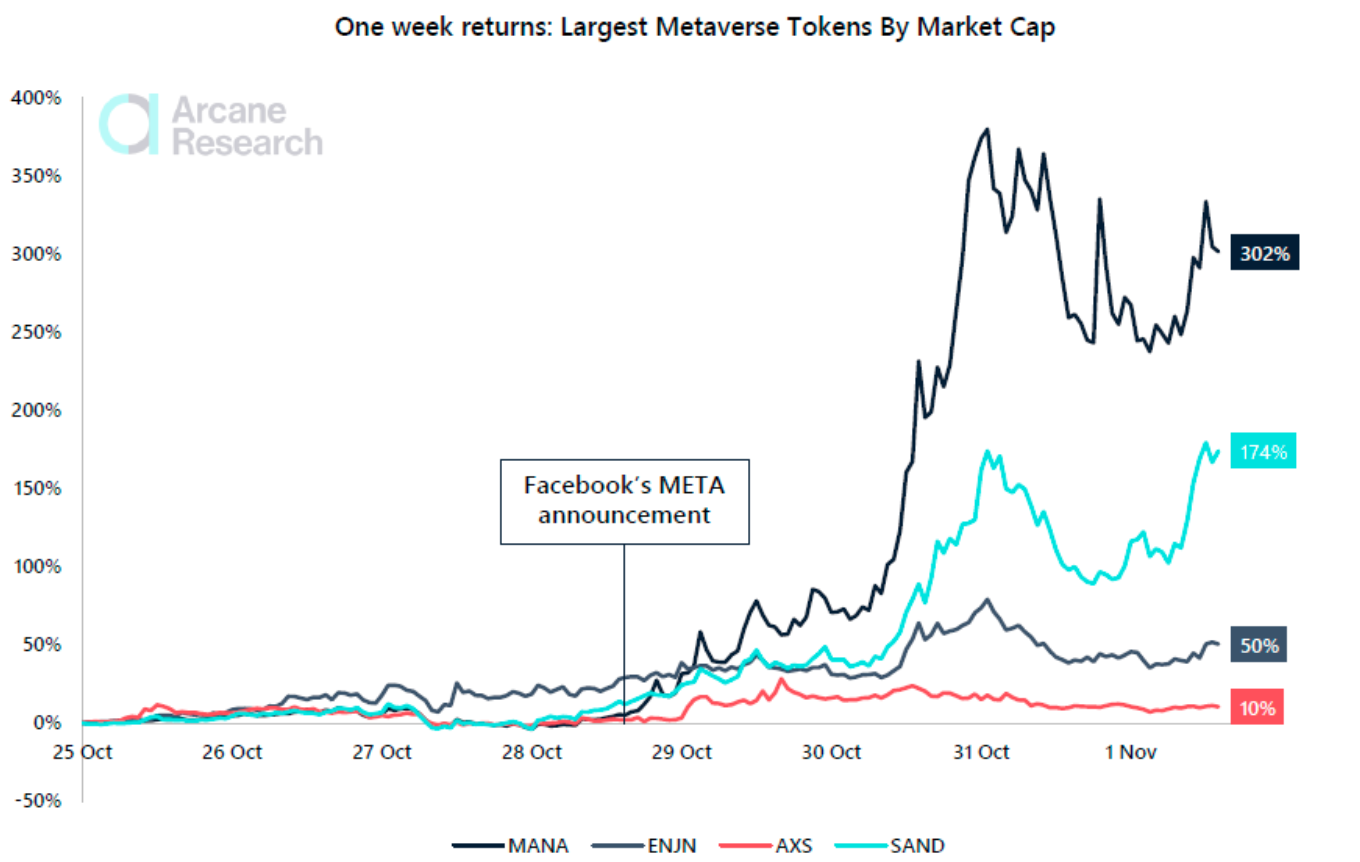 These coins' rallies were also aided by massive retail FOMO, as evidenced by their high trade volumes. MANA, SAND, and ENJ trade volumes increased significantly, indicating that participants were flocking to the hype. So it appeared that institutional interest, combined with retail FOMO, sailed these alts' boats.
So, what comes next?
While the coins rose to prominence, at the time of writing, MANA, ENJ, and SAND were all trading sideways. AXS, on the other hand, has been in a state of consolidation since early October, peaking once after the announcement but failing to make any significant moves.
So, now that the hype has subsided and the coins have begun to consolidate, could these coins still be a good addition to your portfolio? The answer is, of course, yes.
Notably, most of these coins experienced significant exchange outflows, which could indicate that HODLers strengthened and stored the assets in cold wallets outside of exchanges. This could now act as a price cushion. Furthermore, despite a drop in active addresses, they maintained above-average levels.

As seen above, MANA and SAND saw significant drops in active addresses, whereas Enjin Coin's active addresses remained higher. AXS's active addresses, on the other hand, were still scoring below-average.
This, however, was not the end of the Metaverse craze. In fact, this appeared to be similar to the NFT boom, in which alts pumped alongside the NFT mania. As a result, it's possible that the Metaverse's narrative will continue to fuel these alts. However, it is best to 'do your own research' before jumping on the bandwagon.