President Biden said he would 'absolutely' consider deploying the National Guard to assist with the supply chain crisis, even if it meant driving trucks.
'The answer is yes,' the president said during the CNN town hall after being asked whether he would send in the guard to alleviate supply chain issues that are leading to product shortages and rampant inflation.
'Absolutely, positively,' he added.
Asked if he would consider sending in the guard to drive trucks, the president said: 'Yes, if we can't increase the number of truckers.'
Biden said his first goal was 'to get the ports up and running,' before he would call up the guard.
Haulage companies are offering six-figure salaries and $15,000 sign-on bonuses while struggling to attract 80,000 new drivers who are needed to relieve the nation's supply crisis.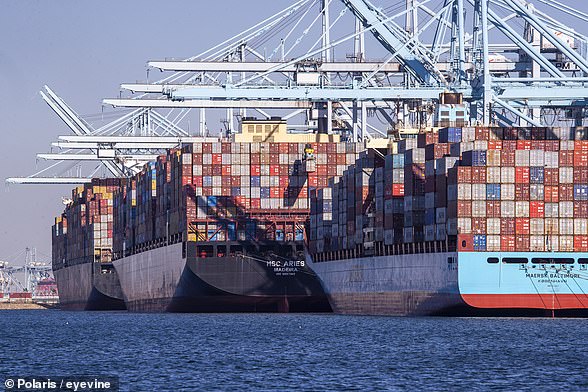 Thousands of containers are unloaded from a ship at the Ports of Los Angeles and Long Beach, while dozens of large container ships wait to be unloaded offshore Wednesday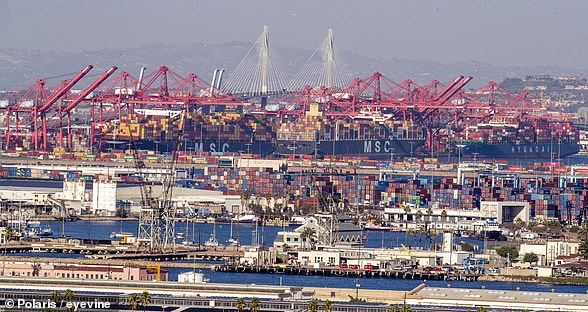 However, industry experts say that adding more drivers won't help clear the backlog at the Ports of Los Angeles and Long Beach, where an empty shipping container mess is stopping trucks from delivering goods to customers.
Faced with a 600,000-trucker retirement by 2028, the transportation industry is scrambling to hire more workers, estimating that 80,000 new jobs will be required this year to balance attrition and clear a clogged supply chain.
US Foods, seeking a Northern Californian with a commercial driver's license (CDL), is offering a $15,000 sign-up bonus and a $1,000 quarterly bonus to candidates willing to work for $38.50 an hour.
And last June, JK Moving Services said it would guarantee its qualified drivers a salary of at least $100,000 as 'market demands grow and the pool of qualified candidates shrinks.'
It's all happening as shipping delays wreak havoc on the supply chain, leaving Christmas toys and holiday treats trapped in the Pacific as freightliners wait weeks to unload goods.

In a letter to President Joe Biden, a coalition of 160 Republican congressmen emphasized the necessity of resolving the supply chain crisis while criticizing his doomed spending ideas.

Representative Sam Graves led and signed the letter, which was addressed to Biden on Wednesday in an attempt to emphasize the problem' severity.