Jacob deGrom played catch Saturday at Citi Field after an MRI exam came back "clean," in what was an encouraging sign for the Mets ace.
Jacob deGrom played catch Saturday at Citi Field after an MRI exam came back "clean," in what was an encouraging sign for the Mets' ace.
The two-time Cy Young winner hasn't been ruled out of making his next start Wednesday against the Cubs, manager Luis Rojas said.
"He came in and said that he was fine, and he wanted to go outside and play catch. He played catch, and I just learned that he was fine," Rojas said before Saturday's game against the Padres. "And just so you know, we did an MRI this morning just out of precaution and it came back as we expected, clean.
"It just came out clean, nothing. So it's the same diagnosis that we got [Friday night] when he came out. It's something that we want to take day by day."
The 32-year-old deGrom was removed from Friday's game, a 3-2 Mets victory, after six shutout innings with what the team called right flexor tendinitis. He allowed only one hit and struck out 10, while adding a two-run single to give him more RBIs (five) than earned runs allowed (four) in 10 starts this season.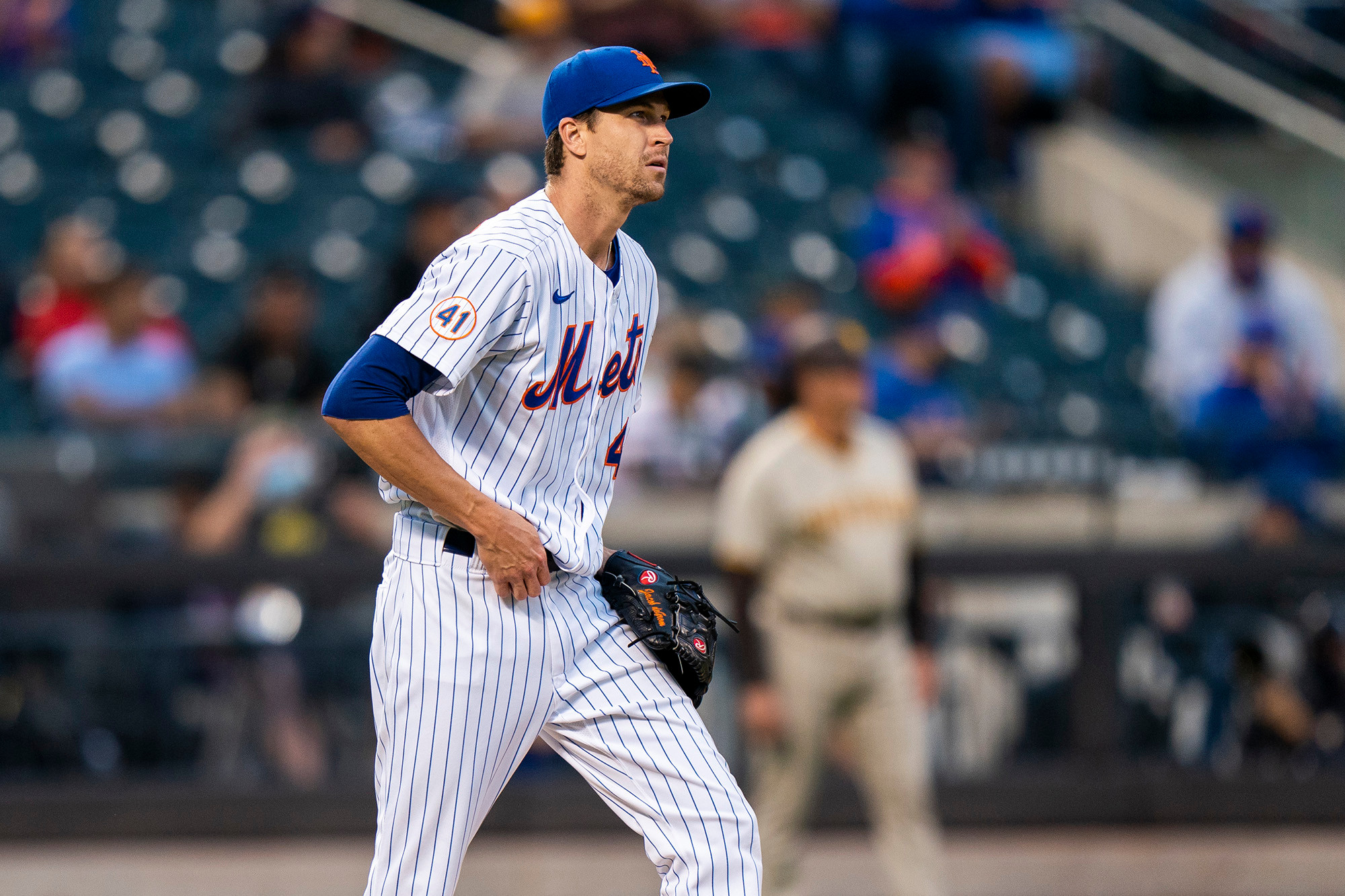 "We'll see the progression in between starts, and see if he can do everything, throw his side and make his next start," Rojas said. "That's the expectation right now, but we still want to pay close attention to it and see [Sunday] again when he comes in and the next day and the next day and all that.
"But as of now, what we got from the MRI was clean and he's playing catch today and is fine, so that's two good things for the next day from coming out of the game."
DeGrom, who is 6-2 with an MLB-leading 0.56 ERA, also didn't seem overly concerned about the injury after Friday's game.
"I've had a couple elbow issues before, and I know what that feeling is like, so my level of concern is not too high," deGrom said Friday night. "I'm pretty optimistic about it and pretty sure it's going to be something that we can treat and hopefully not miss any time."
The three-time All-Star has spent a two-week stint on the injured list already this season with a strained right side, and the Mets would like to avoid a return trip. Rojas said pitching coach Jeremy Hefner and their training staff and performance team regularly monitor the stress deGrom is putting on his arm and his body because his fastball regularly exceeds 100 mph.
"Our pitching coach has a good eye for it, and we also have a performance department that has a lot of knowledge in this. They help, and that's why they work real close for decisions like this, in-game or in-between starts," Rojas said. "We think of all the force that Jake creates when he throws the ball, not only his fastball, but the other pitches too, there's a force there that gets the ball to move at that velocity.
"We're just going to keep monitoring. We've done that every single one of his outings. That's why he sometimes comes out with a low pitch count. Just because of precaution. We want to have Jake the entire season, right? We already lost him for a stint and we don't want to have that again. We want to be as smart as we can be around a guy like Jake, so we can have him for the long run."
This story originally appeared on: NyPost - Author:Peter Botte