PHILADELPHIA — A spirited first inning was nearly forgotten by the time the Mets came to bat in the ninth Saturday night, but Michael Conforto brought it all together. There was the four-run...
PHILADELPHIA — A spirited first inning was nearly forgotten by the time the Mets came to bat in the ninth Saturday night, but Michael Conforto brought it all together.
There was the four-run rally in the first, Conforto's go-ahead homer in the ninth and a needed Mets victory, 5-4 over the Phillies at Citizens Bank Park. The Mets snapped a three-game losing streak, finally showing a semblance of offense.
But the Mets suffered casualties. Brandon Nimmo departed the game during an at-bat with a left index finger contusion (X-rays were negative) and J.D. Davis was removed with a left hand sprain. Both players will be evaluated on a daily basis.
Conforto led off the ninth against Hector Neris and cleared the right-field fence. To that point, Phillies pitchers had retired 14 straight batters.
"I think that was the most consistently that I have squared the ball up," said Conforto, who finished 2-for-4 with three RBIs. "Definitely I'm in a good spot. I don't know if we're all the way there yet, but we're going to continue to grind and work until I'm feeling like the hitter I should be."
Conforto and Pete Alonso, tongue in cheek, referred several times to a new mental skills coach "Donnie" who helped set the team's mindset. When pressed for Donnie's last name, Alonso eventually blurted out the name "Stevenson." It had all the makings of Conforto and Alonso trying to inject levity into the clubhouse.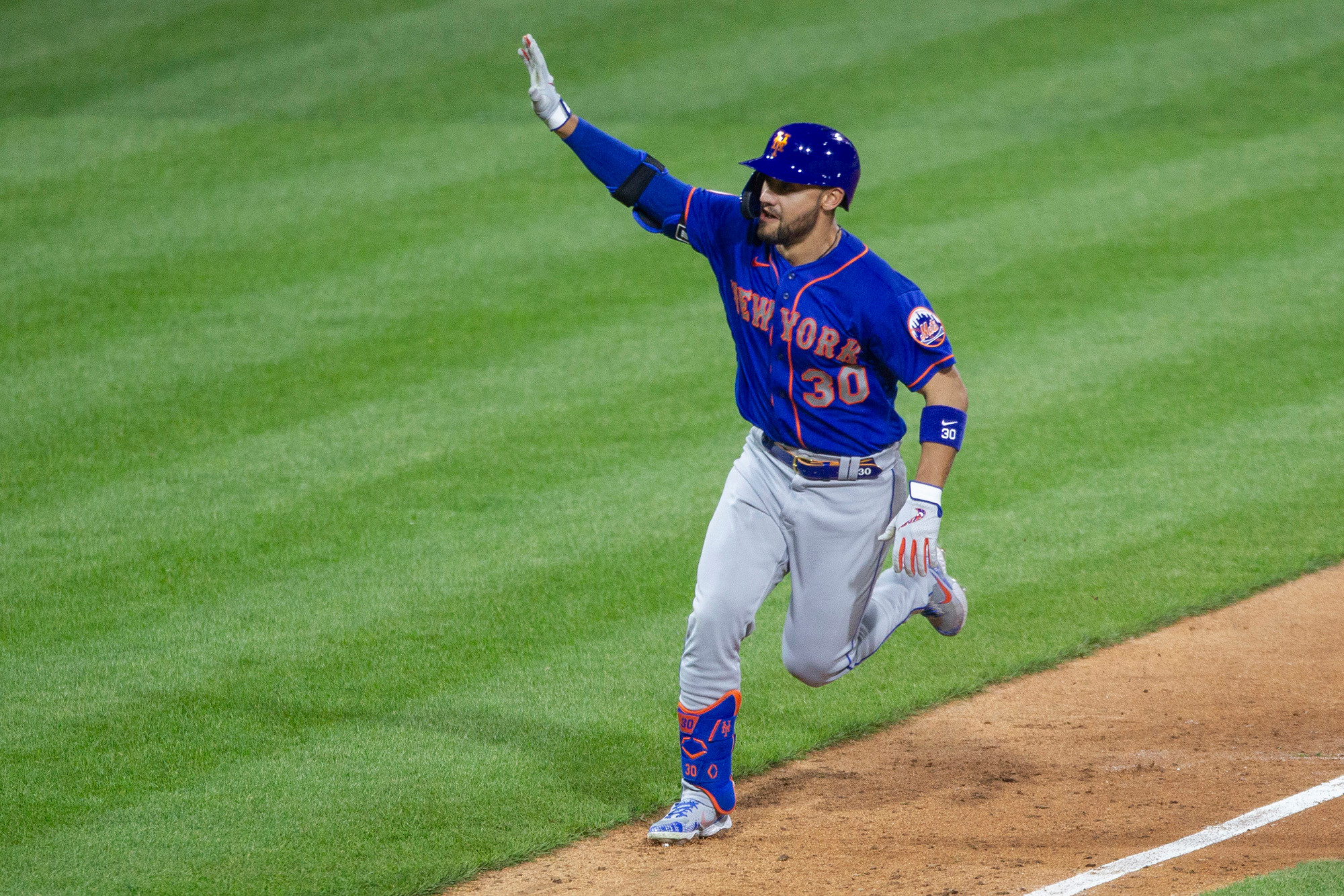 "Donnie has been great helping the team," Alonso said. "I feel like we had a really cool collective team approach today and Donnie helped us out for sure."
Added Conforto: "Donnie's a new guy. He made an appearance today at our hitters' meeting and he's all about the approach. … He's a guy that just gets the boys fired up and ready to go."
Taijuan Walker glided into the sixth, allowing a leadoff single to Rhys Hoskins before Alec Bohm hit a shot into the right-field seats that tied it 4-4. Suddenly, the four-run cushion the Mets gifted Walker had completely disappeared, as his lineup in the early innings employed the familiar tactic of leaving runners on base. Entering play, the Mets were last in the major leagues with a .176 batting average with runners in scoring position.
"The only thing we needed to come around was the hitting and we saw it today, scoring five runs," manager Luis Rojas said. "I think that's enough support as far as what the guys have been doing with pitching and defense."
Aaron Loup, Trevor May and Edwin Diaz combined for three shutout innings in relief. Diaz earned his third save with a perfect ninth that included two strikeouts.
The Mets received a gift call in the seventh, when it was ruled Andrew McCutchen left the baseline trying to avoid Francisco Lindor's tag running to second base. Lindor threw to first base, completing the double play with Matt Joyce running.
Over six innings Walker allowed four earned runs on seven hits with four strikeouts and one walk. In his previous start, Walker fired seven scoreless innings against the Nationals last Sunday.
The Mets broke out big in the first inning, sending eight batters to the plate against Zack Wheeler and scoring four runs. This after scoring just twice in their previous 30 innings combined.
Alonso smashed an RBI double to deep center to start the parade, after Lindor was hit by a pitch and Jeff McNeil walked. Conforto followed Alonso with a sinking line drive to left that eluded McCutchen for a two-run double that extended the Mets' lead to 3-0. Davis' RBI single brought in the inning's fourth run. Dominic Smith singled for the Mets' fourth hit in the inning, but James McCann hit into a double play before the Mets could extend their lead further.
"After you see a game like this, I know it was only one inning, those types of samples, we can build off that," Rojas said. "I think we can use that and be more consistent in believing what we can do."
The Phillies regained two of those runs in the second. After Andrew Knapp's RBI groundout brought in a run, Wheeler stroked a single to right that sliced the Mets' lead to 4-2.
Smith heard boos each time he was introduced, a night after his jawing with reliever Jose Alvarado led to both benches emptying, without punches thrown.
Smith finished 2-for-4 at the plate for his first multiple-hit game since the Mets' last road trip, which included three games at Wrigley Field.
This story originally appeared on: NyPost - Author:Mike Puma