A recognizable design, unique pieces, timeless gems… Presented during Paris fashion week, these latest creations stick to the desiderata of the times.
Exceptional. Unveiled in the gardens of the Colonna Palace in Rome, Bulgari's "Barocko" fine jewelry collection brings together in nearly a hundred pieces all that the Italian can do best. Or a coherent inspiration - the Eternal City -, opulent shapes, such as these volute breastplates, these dog collars of baroque power which are doubled by an avalanche of colorful stones in which an unconditional love for emeralds pierces. and weight sapphires. Like this white gold choker adorned with spectacular Colombian emeralds. A collector's item.
Chaumet, for its part, presented, in Place Vendôme, "Ondulations", the last part of its "Perspectives" high jewelry collection. Seven pieces emerge, crafted in a more solar style, notably with the development of a flexible mesh in yellow gold. The flagship model is a unique collar-collar where 950 mini-gold bars are mounted on a shape-memory titanium structure that follows the contours of the neckline. In addition, 20 carats of yellow sapphires and a 30 carat blue-green indigolite tourmaline illuminate this particular jewel. In the same vein, a duo of fluid cuffs, one of which incorporates, incognito, a tiny watch face.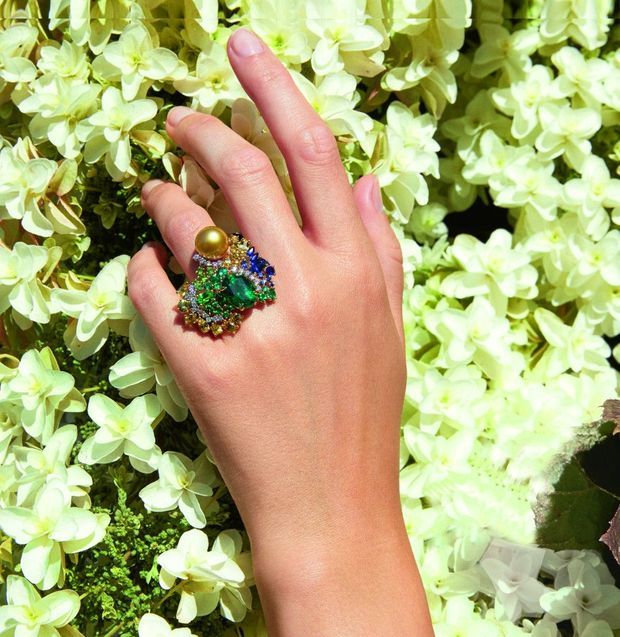 Of style. Victoire de Castellane, artistic director of Dior Joaillerie, has been inventing, for twenty years now, a unique style of writing where the fantasy of shapes is linked to a pairing of gems that is specific to it. Her clients, often connoisseurs, are looking for a good feeling here, a cheerfulness that points in the jewelry she creates. Thus, in the "Tye & Dior" high jewelry collection, she mixes ultra-colored stones and pearls without complex. This marriage works wonderfully, especially on rings. Such as this double model where an apricot pink Padparadscha sapphire is surrounded by a mosaic of Malabar and mandarin stones surrounded by two off-center pink and orange pearls. By off-center the pearl balls, Dior injects them with a refreshing incongruity.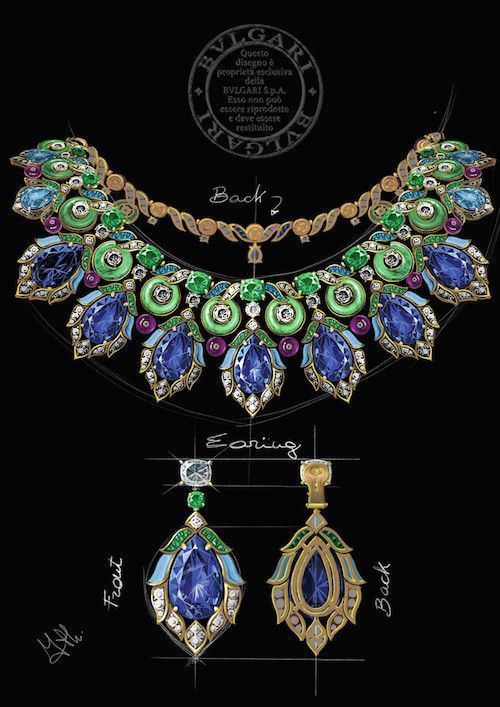 In another style, Pierre Hardy, who designs Hermès jewelry, has imprinted his signature on the saddler's high jewelry sets. His latest opus, "Sensitive Lines", is characterized by a line that traces kinds of diamond-coated gold integrated circuits on the skin. Here is a breastplate where these "sensitive lines" hold gems with murky waters, yellow-green prehnites, pinkish-brown tourmalines, blue-gray sapphires. A certain rigor emanates from this long necklace with an officer collar, the weft of which is made of rhodium-plated pink gold in black set with a gradient of white-brown diamonds, embellished with moonstones and orange topazes. More sensual, this diamond mesh ruffle wraps the face with enchanting fires.
Diamonds. One is an actress, the other a jeweler. Marion Cotillard and Caroline Scheufele, artistic director of Chopard, wanted to develop an "Ice Cube" capsule, a mini-set in ethical gold and diamonds from RJC certified suppliers. "Marion Cotillard is very creative. She interpreted our "Ice Cube" collection through this versatile set that allows diamonds to be worn in a relaxed and contemporary way, "observes Caroline Scheufele. Composed of a yellow gold ring adorned with a princess cut diamond of almost 6 carats and nine ear jewels (rings, chip and pendant), this capsule offers the possibility of composing your own, asymmetrical, light or more loaded in a truly racy jewelery style.

Piaget enriches its collections with models dominated by diamonds

As for Valérie Messika, she has acquired the love of model Kate Moss for jewelry and with her has designed a high jewelry collection of more than a hundred pieces. "Kate Moss is a true collector, she adores Art Deco pieces. She also likes bohemian jewelry, Indian bracelets that are far from the Messika style, more refined. We crossed our worlds, "says the founder of the brand. The fruits of this collaboration are hybrid. Such as these long necklaces set with rose-cut diamonds ending in yellow gold pom poms. Or these necklaces accumulating rows of brilliants and baguette-cut diamonds expertly entangled. Or how to be chic "effortlessly" ...

Ultimately, Piaget enriched its collections with models in which diamonds predominate. In "Sunlight", the brand adds a chapter: a series of long, asymmetrical drop earrings that are flattering and easy to wear. But it is undoubtedly the fine neck chains, in pink or white gold, adorned with small diamonds set in tassel, that we remember. Half second skin jewel, half precious charms, these "Sunlights" catch the eye of the time.