Pop star Lizzo and RuPaul's Drag Race alumni put on a show in Tennessee to protest the state's new anti-grooming law, which will make it illegal for drag shows to happen on public land or in front of children.
Fans told Lizzo to cancel her Tennessee show because of the state's anti-grooming law, but she went there anyway and brought drag performers on stage, including RuPaul's Drag Race alumni, according to a report by Pink News.
THANK YOU TO THESE BEAUTIFUL DRAG QUEENS FOR SHOWING THEIR PRIDE IN TENNESSEE ♥️💛💚💙💜 pic.twitter.com/wRe7cOpBvO

— FOLLOW @YITTY (@lizzo) April 22, 2023
The singer also posted a photo with the men dressed as women to her Instagram account.
View this post on Instagram
The singer also shared a video of her on stage during her performance, where she stated, "In light of recent and tragic events and current events, I was told by people on the Internet, 'Cancel your shows in Tennessee, don't go to Tennessee.'"
"And their reason was valid, but why would I not come to the people who need to hear this message the most?" Lizzo continued.
"Why would I not create a safe space in Tennessee where we can celebrate drag entertainers, and celebrate our differences, and celebrate fat, black women?!" the pop star exclaimed.
Watch Below:
You have my heart Knoxville

Thank you for sharing a safe space with me 💖 pic.twitter.com/t4sCiJIThz

— FOLLOW @YITTY (@lizzo) April 22, 2023
"What people are doing in Tennessee is giving hope, so thank you so much for standing up for your rights, protecting each other, and holding the people accountable who should be protecting us," Lizzo added.
The law in Tennessee that limits drag shows was meant to go into effect on April 1, but it was temporarily blocked. This means that the law won't be enforced until late May.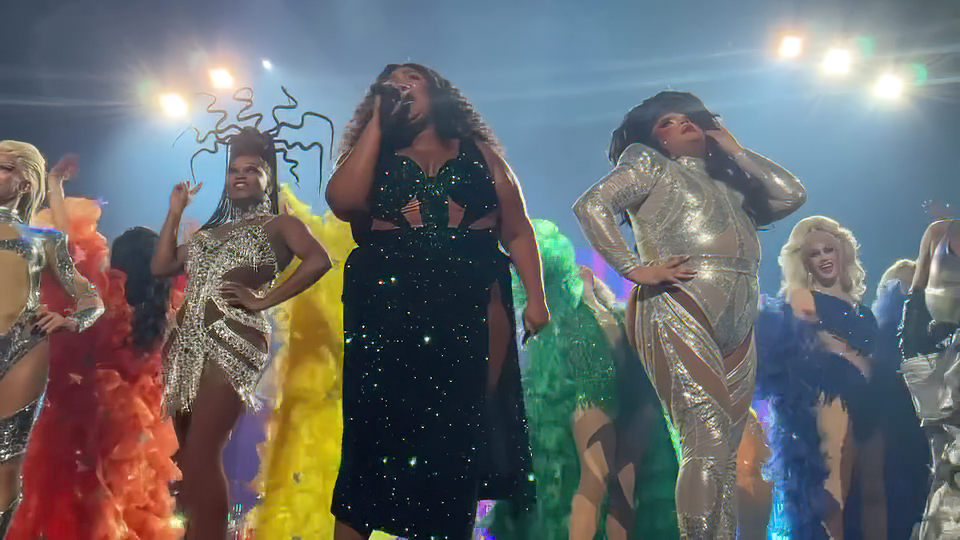 Last month, Republican Gov. Bill Lee signed a bill that makes it illegal to put on a drag show in public or where children can see it. State Rep. Chris Todd, R-Madison County, put forward the bill. He called it a "common sense child safety bill." As Breitbart News has said before, the bill defines "male and female impersonators" as adult cabaret acts.