Prof. Haim Eshed is not some crazed conspiracy theorist; rather, he is one of Israel's most illustrious and renowned scientists. Haim Eshed is an Aeronautics and Astronautics Professor, a seasoned pilot, and a Flight Instructor.
He is a member of the American Institute of Aeronautics and Astronautics and a cofounder of the Israel Space Agency and Space Research Institute, all of which are part of the TECHNION-Israel Institute of Technology. In the Israeli army, he has the rank of Brigadier General.
Despite his remarkable and perfect professional record and qualifications, he feels free to share the truth about what is possibly the greatest secret in human history: the truth about aliens, only after he has quit his official duties. In an interview to Israel's leading newspaper he stated that aliens from all over the universe, which all belong to a "galactic federation" are not just visiting Earth, but that they are already walking among us. ′′ The UFOs asked not to advertise that they are here, humanity is not ready yet. They don't want us to have mass hysteria. They want to make us sane and understanding first. They waited until today, for humanity to evolve and reach a stage where we will understand what space and space travel are."
He claims that US government is not just aware of this but that it has a secret agreements with the aliens and that there's a base on mars with representatives from both the "galactic federation" and US government. "There is an agreement between the US government and the aliens. They signed a contract with us to do experiments here. They are also researching and trying to understand the whole fabric of the universe, and they want us as helpers. There is an underground base in the depths of Mars. There they have their representatives coordinating along with American astronauts. "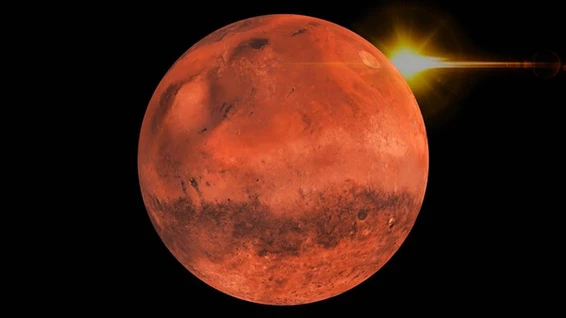 On why he never said anything about this before to anyone else Prof. Haim Eshed says he tried but no one would listen. "If I had come up with what I say today five years ago, I would have been hospitalized. Everywhere and everyone to this day that I have approached in academia with this knowledge, they said: The guy has gone mad. Today we are already talking differently. I have nothing to lose. I have received my degrees and awards, I am respected in universities abroad, where the attitude towards aliens and this whole subject is also shifting. " I
t is important to note that earlier this year for the first time ever the Pentagon confirmed that videos that were released which were shot by the US navy were indeed UFOs.
This does not mean they claimed these were aliens just that they had no way to explain where these flying objects came from and how they performed flying maneuvers which defy anything known to man.
Mainstream political figures, like former democratic senator Harry Reid have also demanded that the US government release all the information it has and which its withholding from the public regarding Aliens.
I'm glad the Pentagon is finally releasing this footage, but it only scratches the surface of research and materials available. The U.S. needs to take a serious, scientific look at this and any potential national security implications. The American people deserve to be informed. https://t.co/1XNduvmP0u

— Senator Harry Reid (@SenatorReid) April 27, 2020