This week was fruitful for the majority of the crypto market, with many altcoins breaking records, including MATIC, the Polygon network's token. Along with rising prices, investors' optimism rose, and MATIC appeared to be reaping the benefits.
However, this move by certain investors may actually cause MATIC to slow its growth.
MATIC flipped a lot of altcoins.
The altcoin's 41.83 percent gain this week resulted in it displacing some major tokens on the top 20 list of cryptocurrencies. Polygon, with a market capitalization of $13.37 billion, outperformed Bitcoin Cash, Litecoin, Algorand, and the Binance USD stable coin to rank 17th.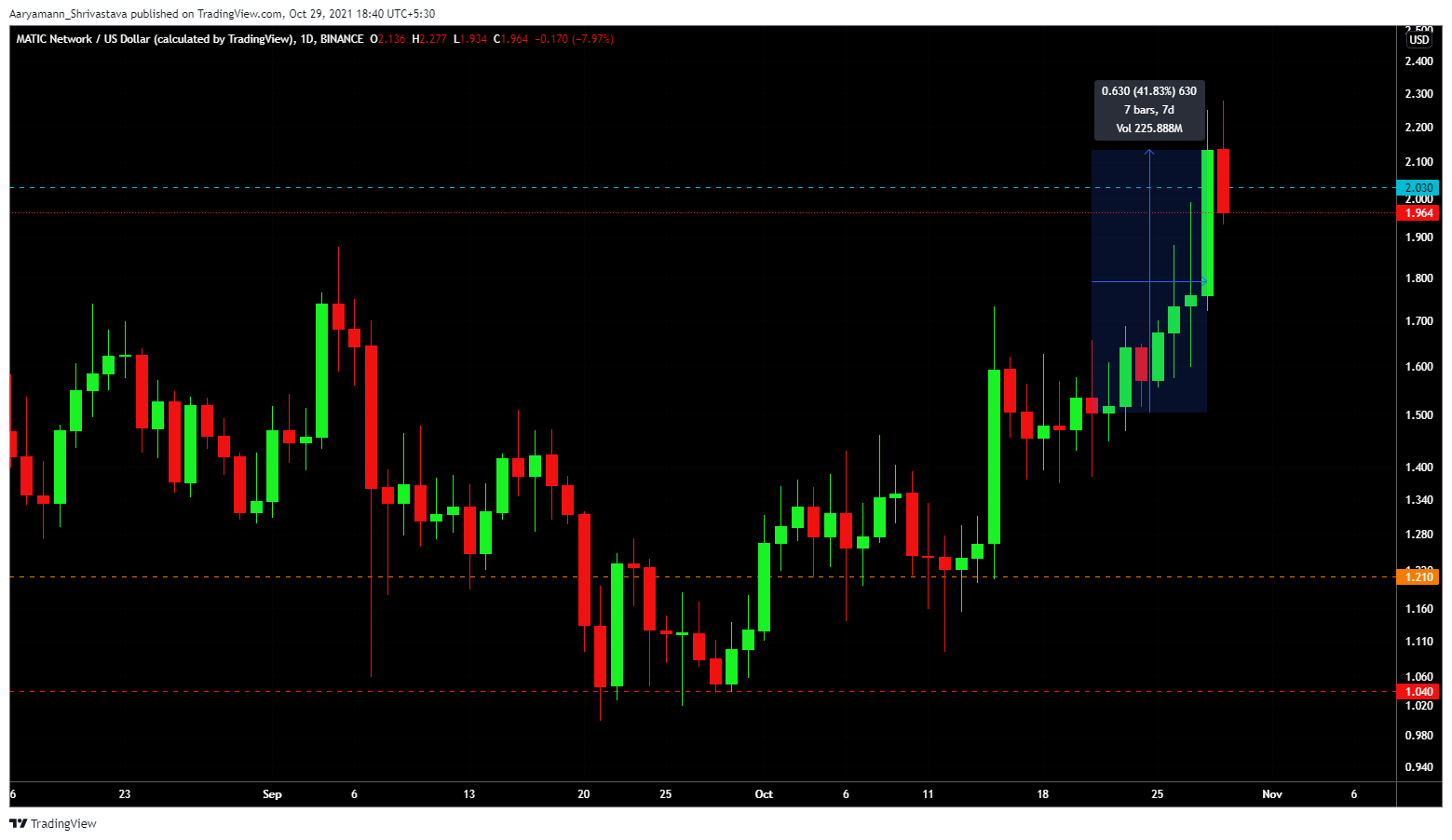 Polygon has been pushing the envelope on many fronts in order to make itself accessible to everyone through a variety of means. One such effort was the organization of India's first hackathon, BUILDIT. In fact, the company recently invested in Colexion, Asia's largest NFT marketplace, in an effort to expand its reach into the Asian market. So, in addition to development, investment has become a tool for their expansion.

But first, let's talk about an investor move that could slow Polygon's rise.
What action did Polygon's investors take?
Because of the rally, most investors took advantage of the opportunity to profit, and we could see the results on-chain as well. As the market began to rise, investors began to sell, and in less than 10 days, over 100 million MATIC worth nearly $200 million was sold.

A large portion of these sellers were also long-term holders (LTHs) who moved their holdings and consumed 26.9 billion days in three days.

When the market is not strong or when a potential reversal is visible, cashing out is a good idea. However, cashing out when the asset is expected to rise further can have a negative impact.
As a result of this selling, MATIC is down nearly 8% today. This may now be the cause of losses for investors, despite the fact that MATIC holders have profited throughout the month of October. In fact, as a result of the strong performance, profit margins for investors increased from 44.16 percent to 93.24 percent at the time of this report.