Dogecoin holders are looking forward to a significant upgrade (1.14.4) in the memecoin. This upgrade will aid in the network's reduction of transaction fees. Nonetheless, analysts predict that the price of DOGE is about to skyrocket.
Billy Markus, the creator of Dogecoin, has stated that once DOGE nodes upgrade to 1.14.4, transaction fees on the Dogecoin network will be reduced. Fee reductions, according to supporters, will increase DOGE utility and spark a rally.
Justin Bennet, cryptocurrency analyst and founder of Cryptocademy HQ, expressed optimism about DOGE. DOGE's price is expected to rise by 500-1000 percent, according to the analyst.
In a tweet thread, the analyst in question expressed his bullish sentiment toward DOGE. If Dogecoin can reclaim the $0.24 level, it could start a multi-month surge of 500-1000 percent.
"DOGE just needs to take out that area above 0.24. Do that, and a multi-month rally begins, IMO. Probably 500 – 1,000% of upside if it confirms."
His technical analysis chart resembled this.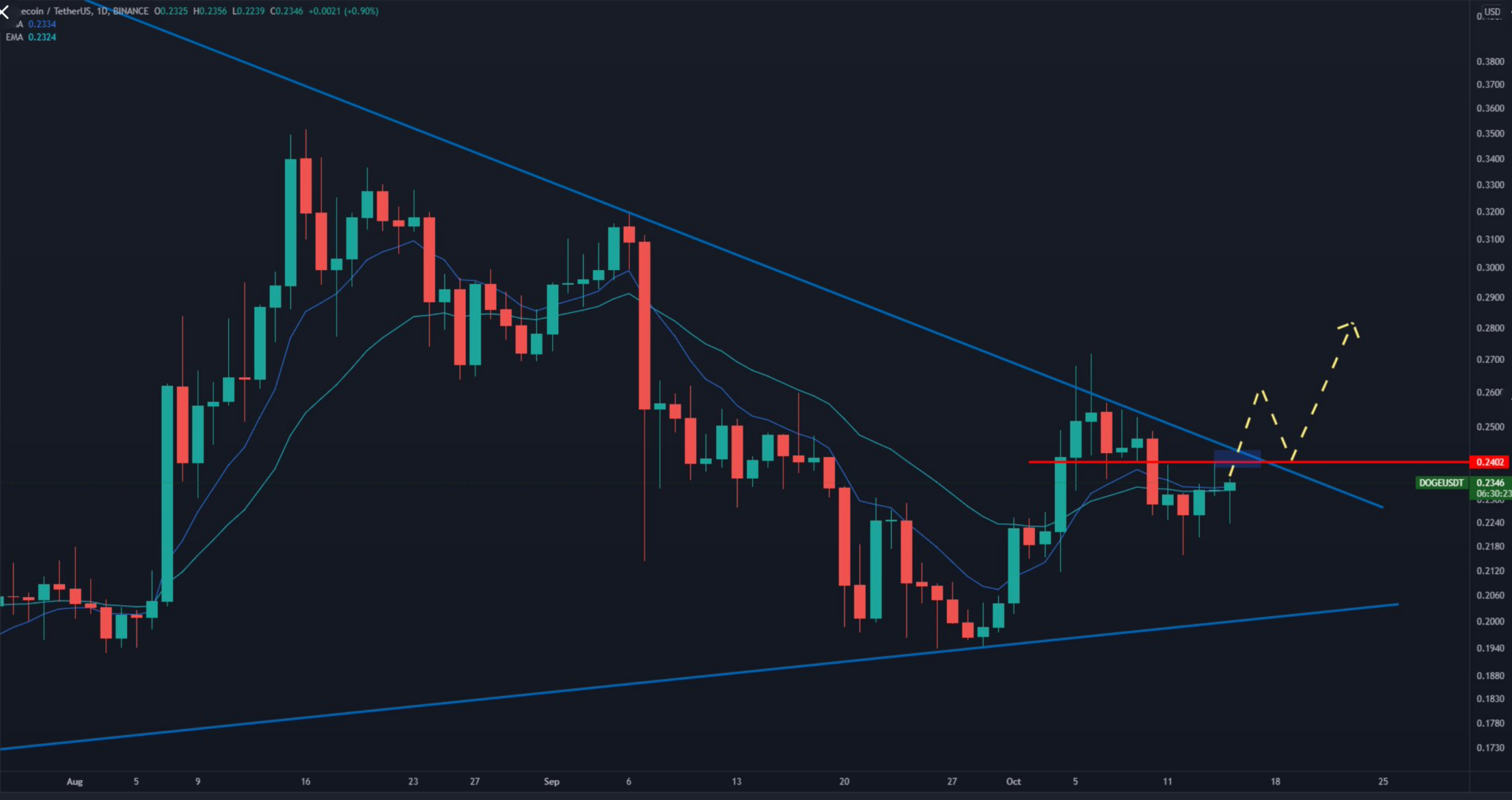 If DOGE achieves the aforementioned milestone, he anticipates a brief surge to a previous high of $0.26 before retesting $0.24 and moving higher. DOGE was trading just under $0.24 at the time of publication, with a less than 1% correction. After all, it's not such a far-fetched dream. Bennet expressed similar optimism.
10x for doge? I dunno what to think Justine this is crazy nuts

— PacNW (@ChrisPacNW1) October 15, 2021
This chart elaborates on the bullish narrative.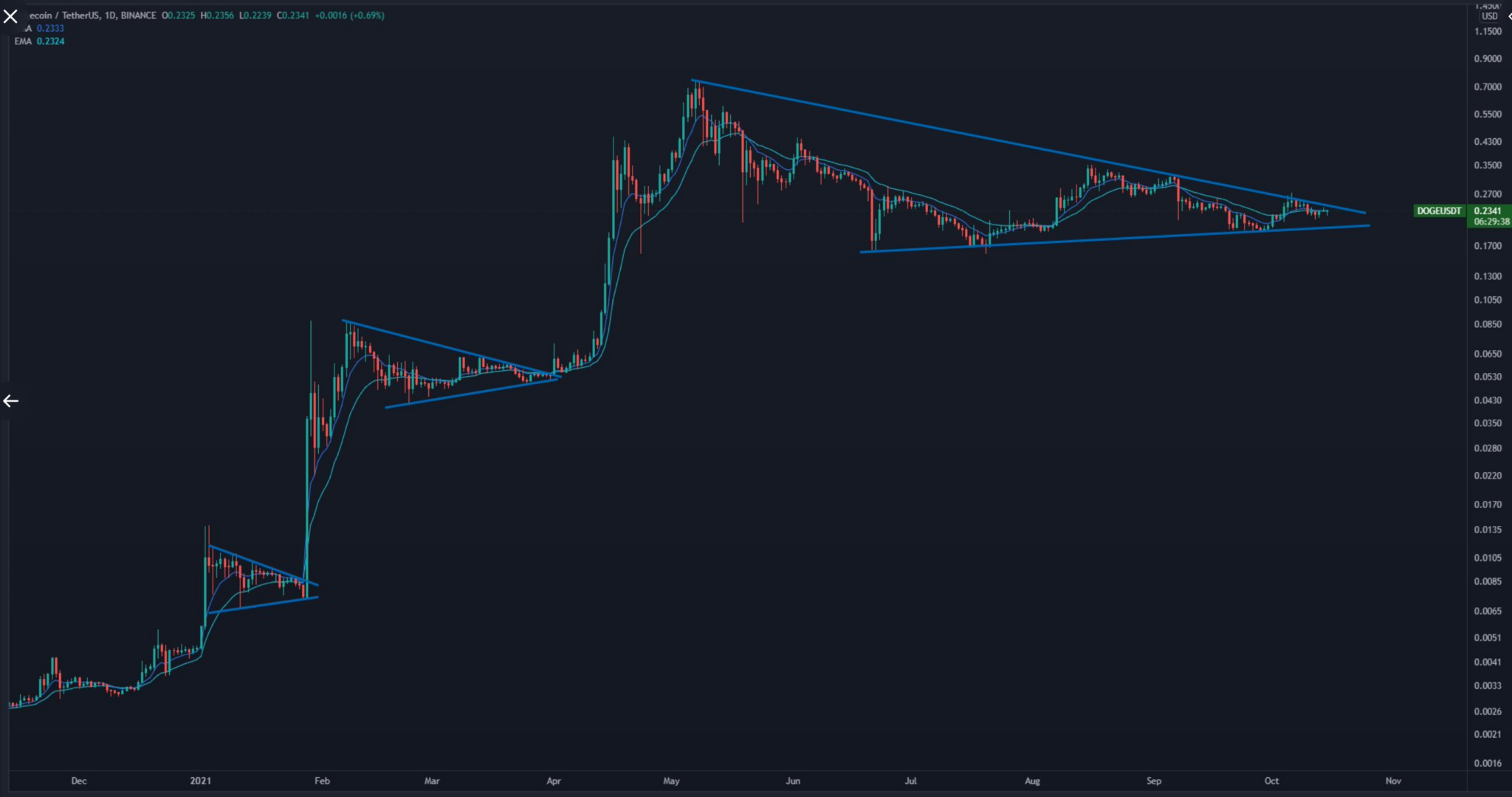 The meme-token formed a large triangle pattern, as highlighted in his pro-DOGE narrative. Once an asset clears its diagonal resistance, the uptrend suggests a bullish continuation. DOGE clearly formed the same pattern twice a year.
Furthermore, DOGE portrayed a positive scenario against BTC (DOGE/BTC). It's only a matter of time before it starts recording higher prices.
It isn't just $DOGE against the USD, either.

This falling wedge on DOGEBTC is ridiculous.

Only a matter of time before it rockets higher, IMO. https://t.co/DClY86i8T9 pic.twitter.com/CGTCtWtesG

— Justin Bennett (@JustinBennettFX) October 13, 2021
A falling wedge formation is a technical analysis pattern that indicates an upward movement once the breakout is confirmed.
The analyst in question expanded on his thoughts in a recent issue of the Cryptocademy newsletter.
Elon Musk (with a net worth equal to 861 billion #Dogecoin) is now richer than Bill Gates and Warren Buffett COMBINED! 🤯

— Matt Wallace (@MattWallace888) October 16, 2021
Other prominent supporters have also backed DOGE to pump in the future. Elon Musk, the billionaire, is among them. Tesla's CEO emphasized the importance of lowering DOGE fees and has been working on it with the Dogecoin team.
Despite the fact that FUD/noise still exists. There is no denying it. Furthermore, it was up against stiff competition from other alternative tokens. Nonetheless, Dogecoin has outperformed Bitcoin, Ripple, Ethereum, and Cardano in terms of year-to-date returns, with gains of over 4500 percent since the beginning of 2021.