SpaceX launched two four-ton Intelsat communications satellites from Cape Canaveral at dusk on Saturday. This was two days later than planned because of two cancellations, and it was the third mission of a Falcon 9 rocket this week.
At 7:05 p.m. Saturday, 2305 GMT, the nine kerosene-fueled Merlin 1D engines on the Falcon 9 rocket were fired up at the Cape Canaveral Space Force Station, and the rocket thundered away. Off pad 40, thrust vector controllers turned nine main engines to point the 229-foot-tall (70-meter) rocket straight east. In less than a minute, the Falcon 9 went faster than the speed of sound.

Intelsat's Galaxy 33 and 34 rich communication satellites were sent into space on Saturday. This was the third Falcon 9 mission in less than four days, and it came after two back-to-back launches on Wednesday.

NASA Space Flight said that on Wednesday, a SpaceX flight from Florida took four people to the International Space Station. Seven minutes later, another Falcon 9 launched in California with a set of Starlink internet satellites. This was the shortest time between two Falcon 9 operations to date.
Intelsat Communication Mission
The Intelsat operation was supposed to take off on Thursday, but a small leak of helium caused automatic systems to delay the launch one more time. SpaceX stopped another attempt to launch on Friday, and they didn't try again until Saturday.

According to a report from Satellite Today, Intelsat's vice president of space systems engineering and operations, Jean-Luc Froeliger, said that it could take the satellites about two weeks to reach their final geosynchronous orbit by using their onboard power. The satellites were made by Northrop Grumman. Once again, they will allow Intelsat to move its broadcasting clients into a narrower part of its C-band bandwidth, freeing up more frequencies for 5G providers all over the United States.

Intelsat wants to get about $5 billion from the Federal Communications Commission if it can give up the bottom 300 MHz of the C-band by December 5, 2023, which is the deadline set by the agency. SES, a rival satellite company, recently lost a court case asking for an equal share. If it can clean up its C-band bandwidth on time, it will get about $4 billion.

Aviation Week & Space Technology, a trade publication, said in June that SpaceX licensed its recoverable Falcon 9 boosters for at least 15 flights. This is more than the 10-mission goal that was set when the company unveiled the Block 5 booster, the latest version of the Falcon 9, in May 2018.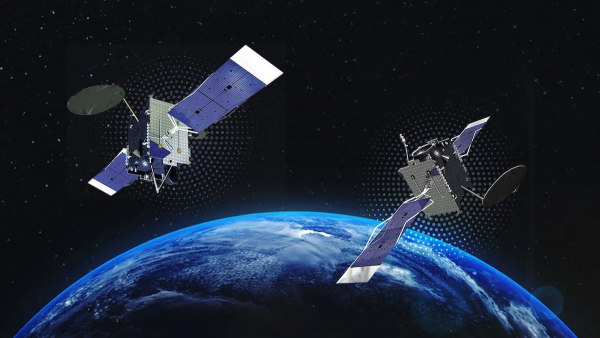 Galaxy 34 and Galaxy 35 The Initial Stage
After SpaceX developed commercial rocket reuse and recovery, Froeliger called the Falcon 9 rocket the "workhorse of the business." According to a report from Space Flight Now, the company has flown 46 times this year, which is a lot more than any of its competitors in the release sector.

Satellite communications companies, on the other hand, have put processors and other technologies on ground antennas to make the change to longer C-band wavelengths easier. Intelsat has five more C-band satellites to launch in addition to Galaxy 33 and 34. Galaxy 31 and 32, the next two C-band satellites, are set to leave Cape Canaveral on November 5 on a SpaceX Falcon 9 rocket.

Galaxy 35 and 36, two more sets of C-band satellite communications, are set to be launched in December from French Guiana on a European Ariane 5 rocket. As the Space Flight report said, the last member of the group, called Galaxy 37, will be the only person on a SpaceX Falcon 9 rocket next year.