Celsius may be bankrupt and under attack; there's a $20 million reward for information on a GameStop-style short squeeze. With Alex Mashinsky providing little information, the rumor mill is churning.
Over the last week, there has been a lot of talk about Celsius and its founder, Alex Mashinsky. Some believe the situation has been exaggerated, while others believe insolvency is unavoidable.
The lack of transparency surrounding the entire ordeal is extremely concerning for both retail and institutional investors.
A $20 million reward
A $20 million reward has reportedly been offered to anyone with information confirming a coordinated third-party attack on Celsius Network.
According to reports from major cryptocurrency content creators, they have received requests asking if they have been paid to spread FUD about Celsius. None of the creators we spoke with have been approached, but the reports coincide with Plan C's announcement of a bounty for anyone with information.
The bounty would be paid to anyone who could provide proof that Celsius was the target of a coordinated attack by prominent institutional players.
Any whistleblower willing to speak & provide definitive proof that there was a planned attack on #Celsius will never have to work another day in their life.

A verified reward put forward by a respected #Crypto group of over $20M. #Bitcoin

DM any information.

Please Retweet 🙏

— Plan©️ #CELShortSqueeze (@TheRealPlanC) June 19, 2022
USA GAG reached out to PlanC, who confirmed:
"I know the money is real because I know the group. I talked directly to them, and they have a good reputation in crypto."
The group allegedly wishes to remain anonymous, so we cannot report the organization's name at this time. However, anyone with information can contact USA GAG's investigative team via email or Twitter.
Short squeeze a la GameStop
Plan C also believes that there are "early signs of another GameStop situation" in the form of a $CEL short squeeze. On June 14, CryptoSlate reported that the $CEL token increased 500% in 30 minutes. However, as the FTX chart below shows, there was a 2722 percent price spike from the local low on June 13 to the top of the wick on June 14. This spike was almost certainly caused by a short squeeze on those who were short $CEL amid the uncertainty of its insolvency. Plan C, on the other hand, believes there is more to come.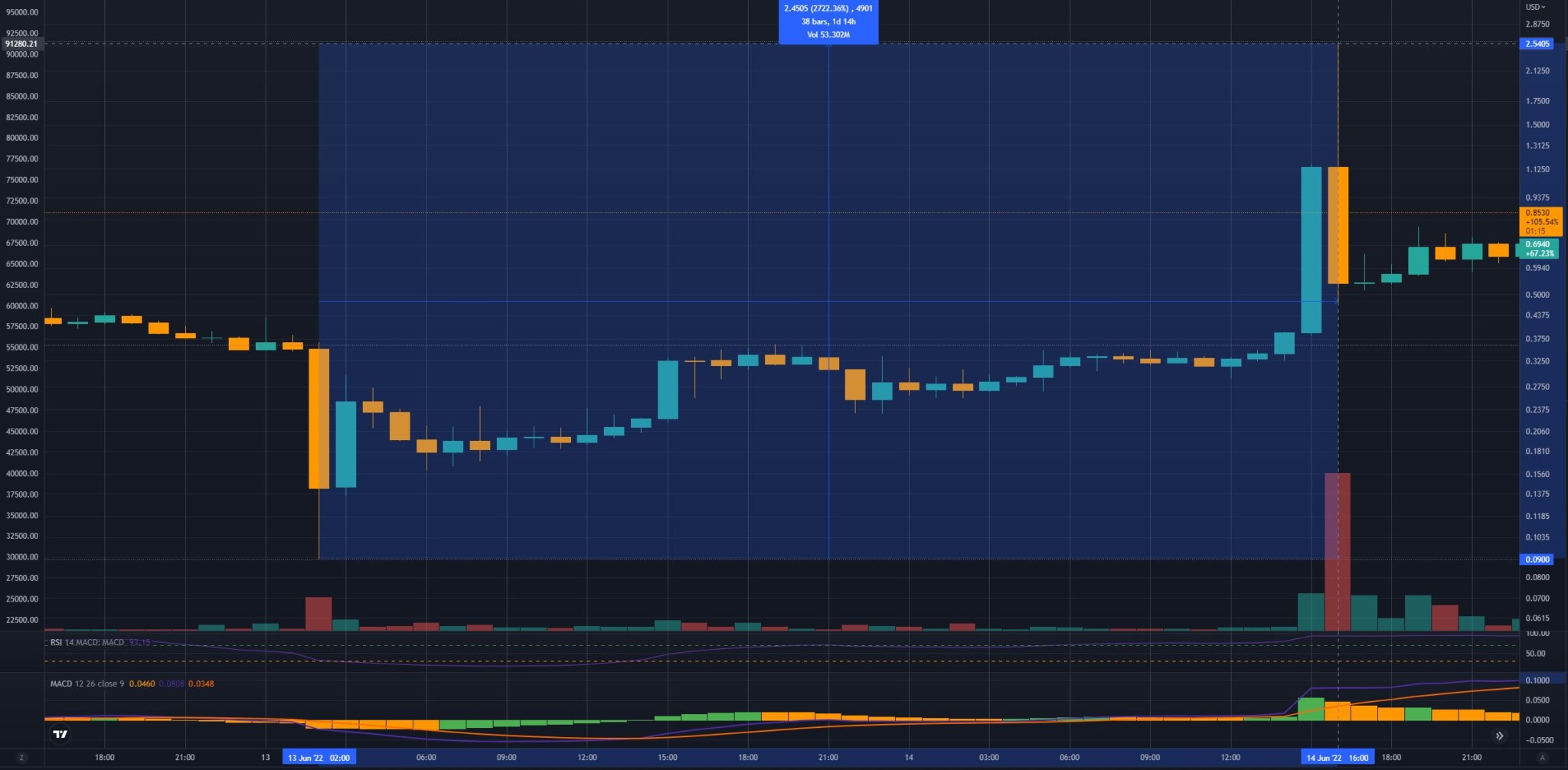 The current price of $CEL has increased by 86 percent in the last 24 hours, but it is still 89 percent below its all-time high in June 2021. Plan C claims that a coordinated attack on Celsius is to blame for the company's liquidity problems, and they are not alone. Simon Dixon, a Celsius investor, stated,
"I smell a rat in the leverage boom & deleverage crash. it ends with banks buying up crypto companies & stripping them of their assets before CBDC rollout. Don't get me wrong, the crypto sector fucked up doing all the things I teach investors to avoid, but I'm following the money."
Within the last 24 hours, the hashtag #CelShortSqueeze has generated over 7,440 tweets as investors flock to the belief that the moon is in sight. Allegations have been leveled against FTX CEO Sam Bankman-Fried, alleging that he is to blame for Celsius's demise. SBF responded directly to the allegations, saying, "this is definitely false, we want to help those we can in the ecosystem and have no interest in hurting them — that only hurts us and the entire ecosystem." The tweet received over 100 comments, with a mix of distrust and support for SBF and FTX.
Some crypto community influencers have come out in support of SBF, claiming that "FTX & Sam allegedly bailed out massive crypto companies to limit this crypto crash." SBF has yet to respond to our requests for additional information. One thing is certain: there are numerous unbalanced transactions involving $CEL and FTX. There are numerous small outflows of 10 to 100 $CEL, as well as a few large inflows of 10,000 or more $CEL. The inflows appear to be coming from other exchanges like MEXC, 1INCH, OKEX, Gate.io, and Huobi.
This is not unusual as traders transfer funds between accounts, but the fact that a few large wallets are depositing $CEL on FTX and almost nowhere else is unusual. Interestingly, despite the suspension of withdrawals, many of the known Celsius wallets are still active.
The disadvantage of Celsius
In an effort to increase transparency, a video has surfaced that includes alleged commentary from a former Celsius employee who claims the company made several "mistakes" in handling client funds. Coffeezilla, a YouTuber and investigator, released the video as part of a larger investigation.
Coffeezilla mentions how Mashinsky repeatedly stated throughout the year that Celsius was not a bank, yet it behaved exactly like one. Furthermore, the Celsius platform's terms and conditions refer to all crypto sent to it by users as "loans" rather than actual deposits. Celsius, according to the unnamed "insider," was also:
"engaging in some fairly risky practices, essentially taking borrowed assets and lending on them multiple times in order to maximise their yield."
They went on to say that referring to Celsius as a "hedge fund that was playing with retail money is probably a fairly charitable way of describing it." Celsius had invested ETH with Stakehound, according to the former employee. Stakehound was involved in an incident in June 2021 that resulted in the keys to 38,178 ETH being lost, trapping the staked ETH without recourse. According to the former employee, some of these funds were client funds from Celsius users.
According to Coffeezilla, Celsius grew "too fast," tried to "scale too fast," and ultimately "paid the price." He claims they recklessly invested client funds and experienced a liquidity crisis as a result of the crypto markets' natural downturn. Finally, Coffeezilla confirms that former Celsius employees referred to the company as "a tale of incompetence."
What is Celsius's next step?
The verdict on the Celsius debacle is still out. Behind the scenes, several influential players are claiming that there was a coordinated attack against Celsius. Many people are simply declaring that Celsius mismanaged funds and was a victim of its own arrogance. If you have any information about Celsius, please contact CryptoSlate via Twitter or me via email or Twitter.
** Information on these pages contains forward-looking statements that involve risks and uncertainties. Markets and instruments profiled on this page are for informational purposes only and should not in any way come across as a recommendation to buy or sell in these assets. You should do your own thorough research before making any investment decisions. All risks, losses and costs associated with investing, including total loss of principal, are your responsibility. The views and opinions expressed in this article are those of the authors and do not necessarily reflect the official policy or position of USA GAG nor its advertisers. The author will not be held responsible for information that is found at the end of links posted on this page.