In a 'growing danger' to the United States, Beijing signs a new contract to exchange nuclear technology, establish 5G networks, expand space programs, and push cheap loans into America's backyard.
China has signed a new agreement with Latin American and Caribbean leaders to strengthen relations across practically all aspects of life, in what one expert described as a scheme to 'take over' the region.

Beijing has agreed to supply the region with 'civilian' nuclear technology, to assist in the development of 'peaceful' space programs, to build 5G networks of the type that Washington fears will be used to spy on people, and to pump in cheap loans and financing for 'elaborate development plans,' as part of the agreement.

China has also promised to create schools and sponsor programs teaching Chinese language and 'culture,' despite the fact that such institutions have been criticized in the past for spreading official propaganda and restricting academic independence.
It follows decades of Chinese investment and development in Latin America and the Caribbean, with hundreds of billions of dollars poured into the region to build critical infrastructure like ports, roads, and power plants in what many see as an attempt to buy power and influence in America's backyard.

'There are definitely plans for China to become the dominating force in Latin America,' said Mateo Haydar, a Heritage Foundation scholar, in response to the new agreement.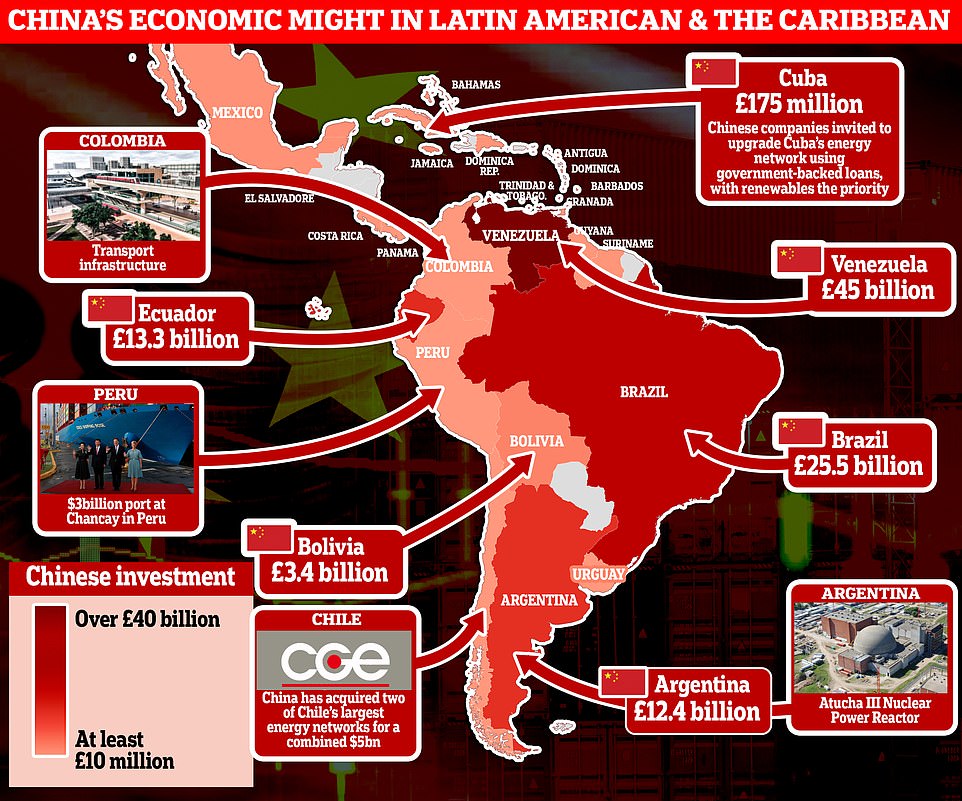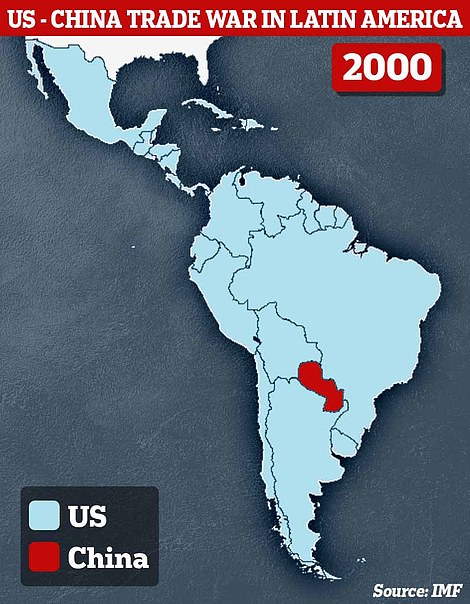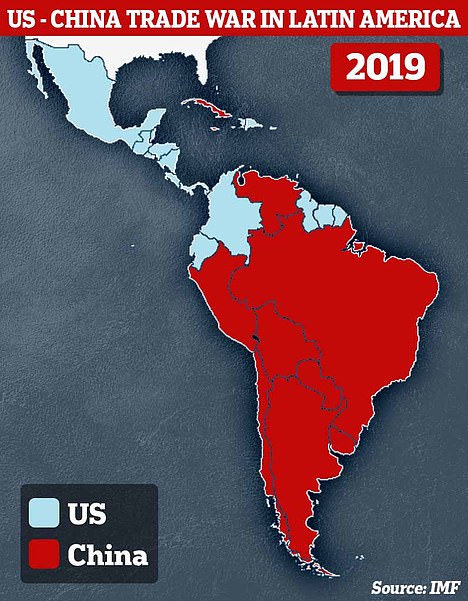 'The challenge is comprehensive, and there's absolutely a security and military interest there. ... That threat is growing, and it's a different kind of threat than what we saw with the Soviets,' he told the Washington Examiner.
'The Chinese don't say, "We want to take over Latin America," but they clearly set out a multidimensional engagement strategy, which, if successful, would significantly expand their leverage and produce enormous intelligence concerns for the United States,' said Professor Evan Ellis of the US Army War College.

The agreement, formally known as the 'Joint Action Plan for Cooperation in Key Areas,' was signed last month by China and CELAC, an alliance of Latin American and Caribbean states that includes almost all of the region's countries, including major players like Brazil, Argentina, Colombia, Venezuela, Uruguay, and Chile.
While lacking in specifics, it lays out a broad framework for China's relations with the area until 2024, pledging them to strengthening links between governments, banks, businesses, and educational institutions.

The majority of the promises look commonplace - vows to protect the environment, develop green technology, and promote equality and sustainability, for example - but a few will undoubtedly give Pentagon thinkers cause for thought.

The first is a pledge to share nuclear technology and encourage "important practical projects," such as nuclear scientist training, in order to "put into action the advantages given by nuclear technology and nuclear energy."
The agreement stipulates that this will be 'peaceful,' and elsewhere commits the parties to achieving 'nuclear disarmament,' yet the technology used to enrich nuclear fuel may be recycled to manufacture weapons-grade material for use in bombs, which will almost likely raise worry.

In recent months, Washington has issued more regular warnings about Chinese enterprises assisting the military, and it is likely to be concerned that any civilian nuclear firms that establish themselves in South America are being exploited for a dual purpose.
Similarly, China's commitment to assist in the development of space programs for the 'peaceful exploration of space' is certain to raise eyebrows.

Beijing has tried to pass off surveillance satellite launches as 'communication' craft in the past, and it recently refuted charges that it had tested a hypersonic orbital bomb by claiming that the vehicle was actually a civilian spacecraft aimed for 'peaceful exploration of space.'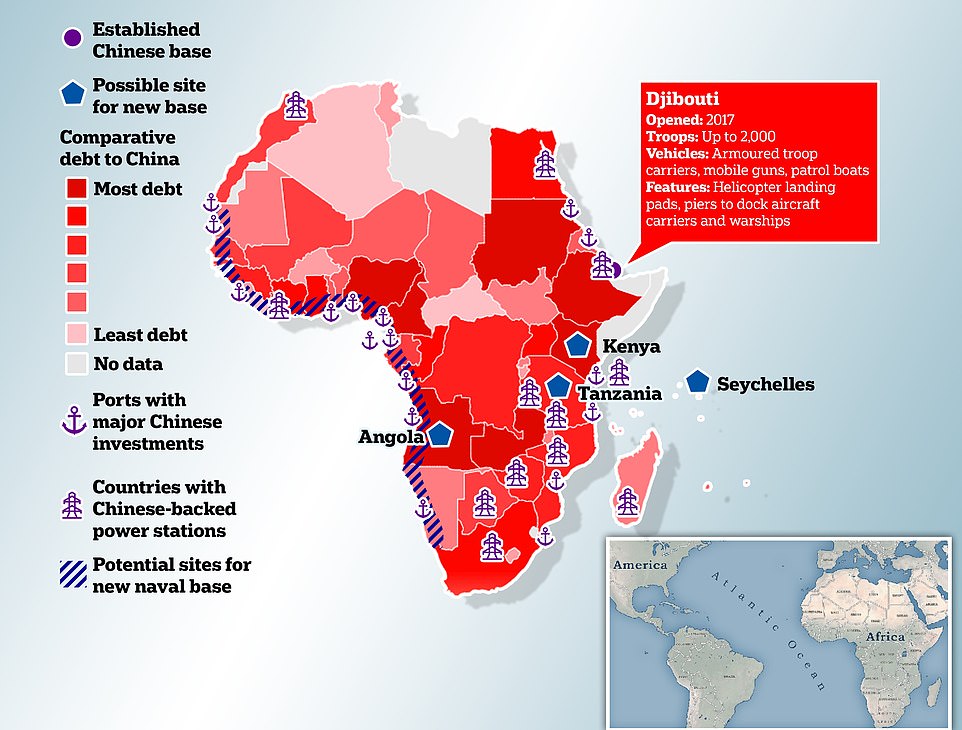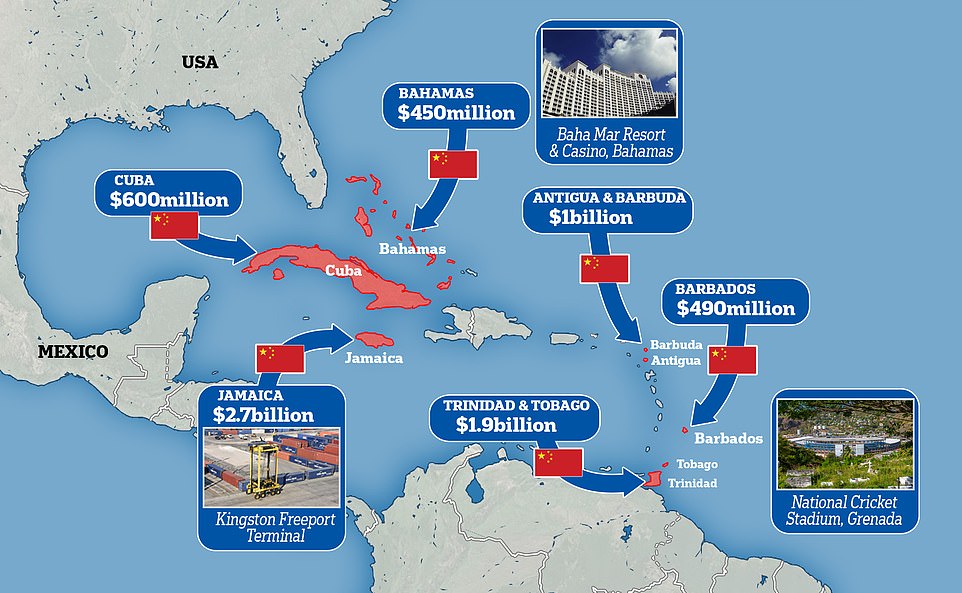 The two sides agree to cooperate in the 'building of ground infrastructure' to support space programs as part of the deal, increasing the prospect that such equipment may be launched, controlled, or monitored from America's doorstep in the near future.

That isn't the only place where Chinese and South American technology will converge. The agreement also promises more collaboration in the areas of "digital infrastructure, telecommunications equipment, [and] 5G."
The US has been locked in a proxy-war with China for years over the roll-out of 5G technology, ever since it emerged that Beijing was pulling ahead in the race to build the world's new information networks.
Former US Secretary of State Mike Pompeo lobbied hard in the last years of Trump's presidency to persuade western nations and US allies to abandon the technology, saying that it might be used to spy on users.

South American nations have been at the center of the conflict, attempting to placate both Beijing and Washington. Jair Bolsonaro, the president of Brazil and a strong supporter of Trump, first promised to ban Huawei, one of China's largest technological companies, from operating part of the country's network, only to flip his position once Trump left office.

According to the deal's language, the struggle is expected to drag on for a little longer.
China and Latin American countries have also agreed to establish direct military cooperation, reportedly to combat terrorism and dismantle organized criminal networks.

In dealing with the dangers, the two sides stated that they will'share information, policies, technology, and experiences,' implying some level of collaboration and intelligence sharing between their troops and police forces.

Other commitments appear to be a continuation of infrastructure projects already underway in the area, many of which are being developed as part of China's multibillion-dollar Belt and Road plan.
Deepening commercial and financial connections, including investment and financing for "elaborate development plans," and assisting with the "transition to green energy" by constructing new power plants are among them.

China has also offered assistance with oil, gas, and mining development, claiming that green initiatives will take precedence over fossil fuels.

China's commitment to create so-called "Confucius Institutes" and classrooms, which are schools and education programs geared at teaching Chinese language and culture, may be concerning.
But the institutions have been accused of spreading false information and Chinese state propaganda, including by one of China's own officials - senior CCP leader Li Changchun - who once described the schools as 'an important part of China's overseas propaganda set-up'.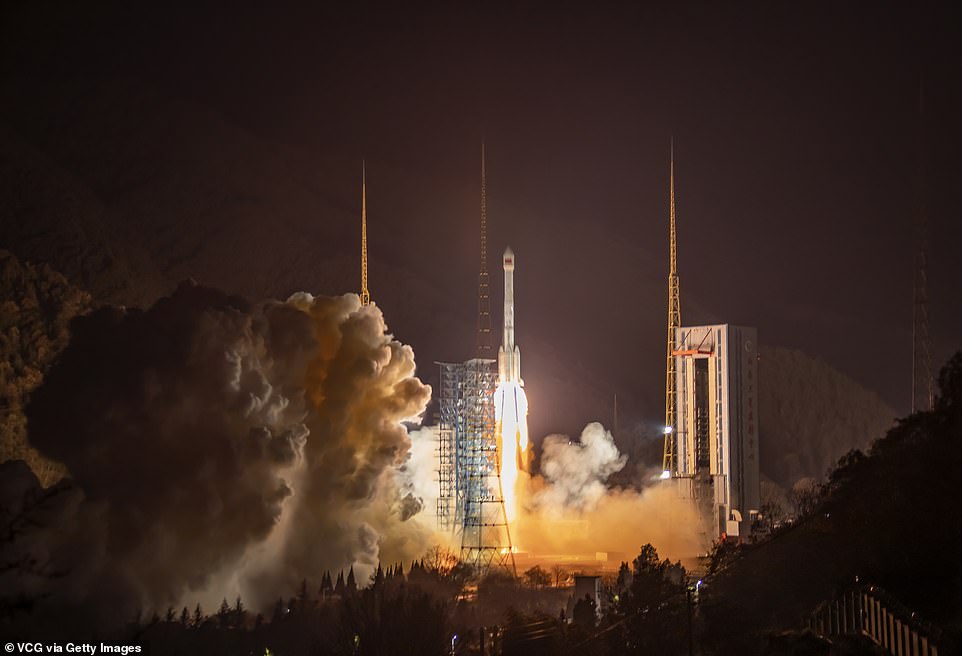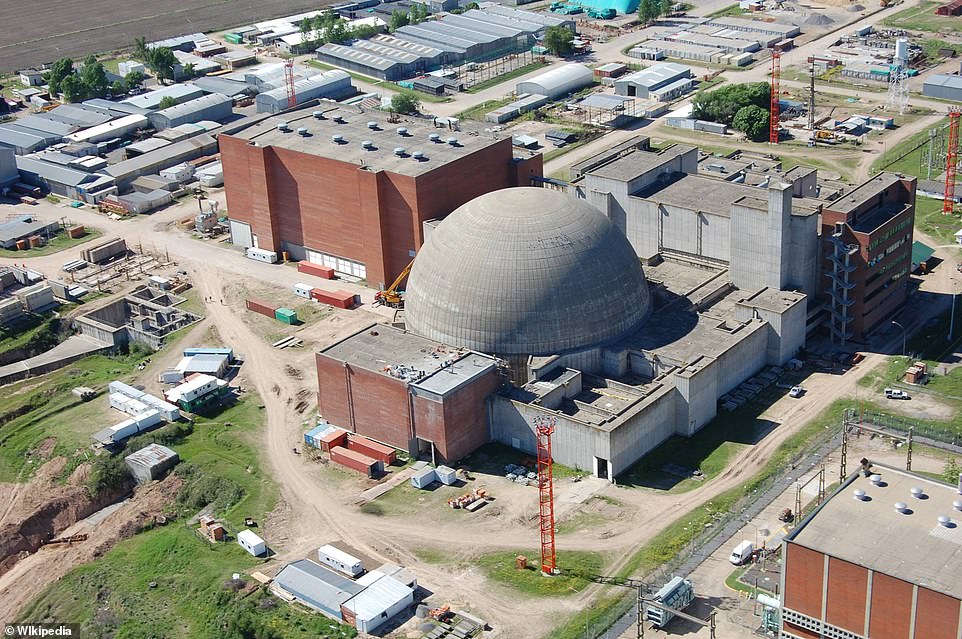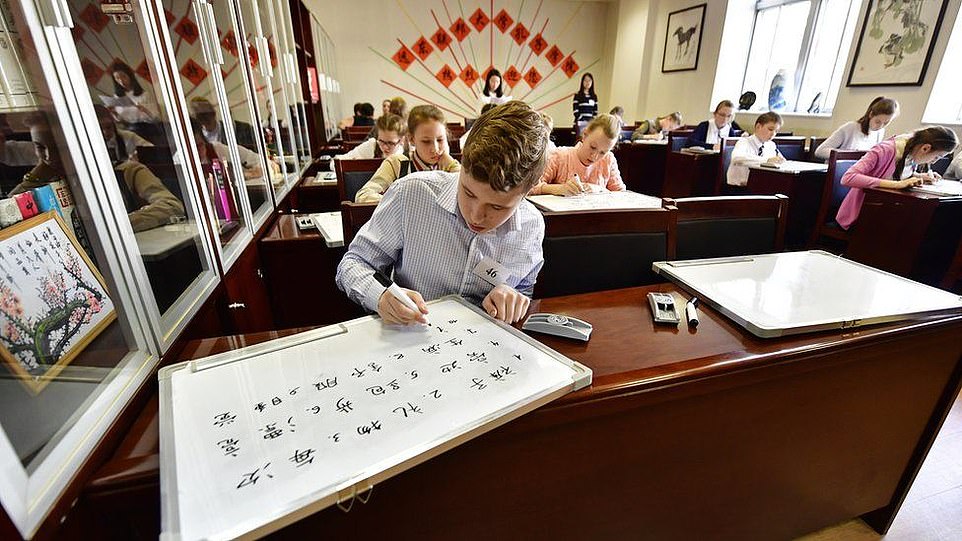 The Confucius Institutes' headquarters in the United States has been designated as a Chinese foreign mission, meaning it is owned or controlled by the Chinese government, according to US Secretary of State Mike Pompeo, who accuses the schools of "advancing Beijing's global propaganda and malign influence campaign."

The accord is the latest in a long string of loans, trade agreements, building projects, and other investments in Latin America and the Caribbean that have seen Beijing flex its economic might as America's strength waned.
Since 2005, China's three largest state investment banks have lent more than $140 billion to Latin American governments to fund projects ranging from nuclear power plants to dams, highways to trains, ports, and phone networks.

Billions more have been lent through contracts with commercial banks, private financing initiatives, and other opaque and difficult-to-track arrangements, yet studies have discovered that they occasionally outweigh those done on the books.
Meanwhile, Chinese trade with Latin America has increased by more than 25 times, from $12 billion in 2000 to $315 billion in 2020, as nearly half of the region's largest trading partners switched from the United States to China, including three of the region's four largest economies: Brazil, Argentina, and Colombia.

All of this provides China influence on the international arena, from gaining votes at the United Nations to isolating its adversaries - most notably Taiwan, where Beijing frequently demands that countries break diplomatic ties with the island before handing over money.
More nations have joined China's Belt and Road program, a $1 trillion global building project aimed at improving trade networks and infrastructure that will benefit China in the long term.

Venezuela, which has a substantial debt to China, Ecuador, and Panama, which possesses the extremely important Panama Canal, which was built with US financing, are all notable partners.

Another nation that has signed on to the Belt and Road Initiative is Cuba, which announced this week that it will accept Chinese assistance to improve its power grid with a concentration on renewables.
Following an energy conference for Belt and Road participants, Cuba's ambassador to Beijing, Carlos Miguel Pereira, made the announcement, asking Chinese firms and investors to participate.

However, the United States has begun to retaliate. Biden despatched diplomatic teams to South America in September with the goal of expanding his Build Back Better project, which originated as a plan to reconstruct the US after Covid, worldwide under the banner of Build Back Better World, or BW3.

The 'listening tours' were intended to find projects in which the United States might participate, therefore out-competing China with higher-quality products and a better track record of delivery.
China, for example, assisted Ecuador in the construction of two hydroelectric dams during the previous decade, but the Coca Codo Sinclair Dam has subsequently experienced serious issues, including oil spills and fissures.

'Extremely few [China's] projects make economic sense, and they frequently have very low labor and environmental standards,' according to a Biden administration official at the time.

More specifics, including project financing, will be disclosed at a BW3 event early next year, however no guarantees have been made regarding the amount of money that will be spent so far.