According to a tip obtained by National Review, Representative Alexandria Ocasio-Cortez was photographed dining in Miami Beach, Fla., on Thursday, the same day that her hometown of New York City recorded a record number of Covid-19 cases.
Ocasio-Cortez was photographed outside Doraku Sushi and Izakaya in Miami Beach on Thursday afternoon, lifting a drink in one hand and checking her phone with the other.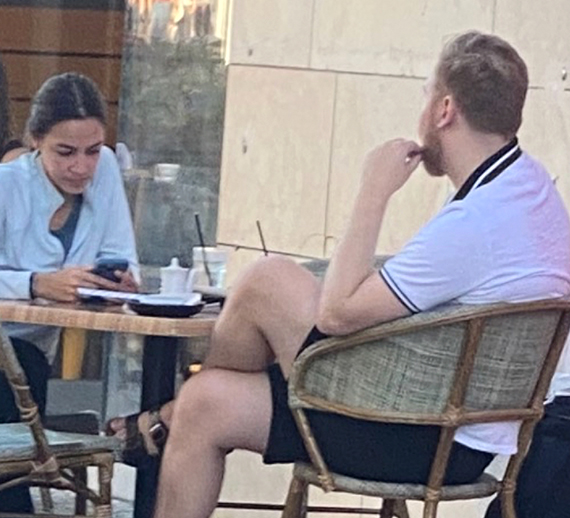 Ocasio-Cortez's office did not respond to a request for comment.
The Florida outing comes as New York City reported a record number of new, confirmed cases of Covid-19 (almost 44,000). Ocasio-Cortez represents New York's 14th congressional district, which covers parts of the Bronx and Queens.
Senator Ted Cruz (R., Texas) came under criticism in February for traveling to Cancun, Mexico, amid a winter disaster in Texas that left millions without power or water. Ocasio-Cortez piled on.
"If Sen. Cruz had resigned back in January after helping gin up a violent insurrection that killed several people, he could've taken his vacation in peace," she tweeted at the time. "Texans should continue to demand his resignation."
If Sen. Cruz had resigned back in January after helping gin up a violent insurrection that killed several people, he could've taken his vacation in peace. Texans should continue to demand his resignation.

But don't blame me for this, my points are on Amtrak! 🚊 https://t.co/CAWCgtxQ73

— Alexandria Ocasio-Cortez (@AOC) February 18, 2021
She responded after Cruz made digs at her at the Conservative Political Action Conference in Florida later that month, "I don't care what Cruz said at CPAC, but I do care that it appears Texas was just a layover stop for him between Cancun and Orlando to drop a pack of water into someone's trunk and abandon his constituents again as they get slammed with $16,000 electrical bills."
I don't care what Cruz said at CPAC, but I do care that it appears Texas was just a layover stop for him between Cancun and Orlando to drop a pack of water into someone's trunk and abandon his constituents again as they get slammed with $16,000 electrical bills.

— Alexandria Ocasio-Cortez (@AOC) February 28, 2021
The congresswoman was still harping on the trip two months later, tweeting during a feud with the senator in April: "Ted, this is pretty rich coming from someone who fled their own home (and responsibilities) during an environmental crisis to cross the border and seek refuge in Mexico."
Ted, this is pretty rich coming from someone who fled their own home (and responsibilities) during an environmental crisis to cross the border and seek refuge in Mexico.

Also you funded cages, expanded cages, and yet you're complaining about cages. You have no policy, just puff. https://t.co/0MI8oU0EtQ

— Alexandria Ocasio-Cortez (@AOC) April 1, 2021