According to reports, China is deploying machinegun-wielding robots to its western desert regions during a stalemate with India because personnel are suffering with the high altitude.
According to Indian media sources, dozens of autonomous vehicles capable of transporting both weapons and supplies are being dispatched to Tibet, with the bulk being deployed in border regions where Chinese troops are engaged in a standoff with Indian troops.

The Sharp Claw, which can be handled wirelessly and is armed with a light machinegun, and the Mule-200, which is meant as an autonomous delivery truck but can also be equipped with weaponry, are two examples of vehicles.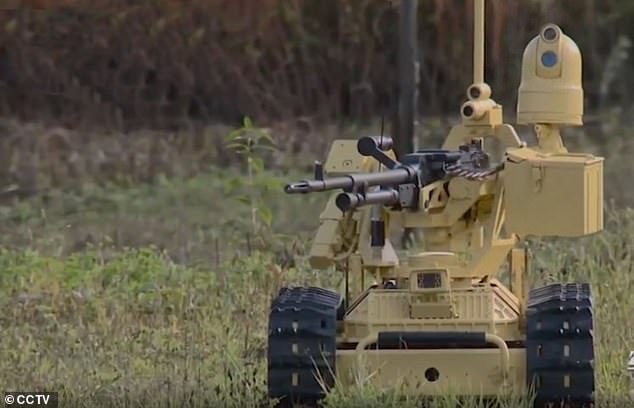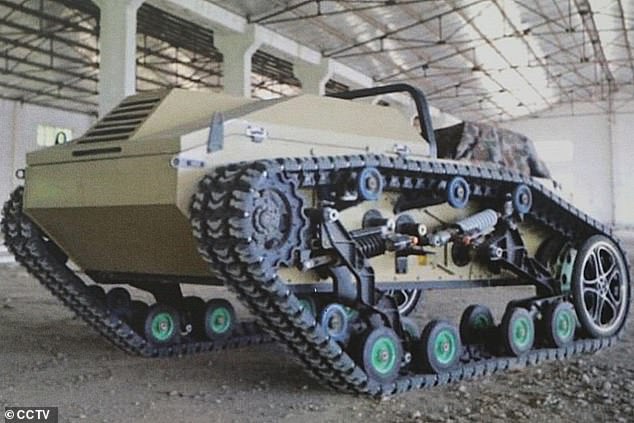 According to Times News Now, Beijing has dispatched 88 Sharp Claws to Tibet, which borders India high in the Himalayas, with 38 deployed to the border region.

According to News Now, a total of 120 Mule-200s have been dispatched to Tibet, with the bulk being stationed near the border.

In addition to the unmanned vehicles, China has added 70 VP-22 armoured personnel transporters to its army, 47 of which are stationed near the Chinese border.

A total of 150 Lynx all-terrain vehicles have been dispatched to the border.

The Lynx is a highly adaptable vehicle that can transport small groups of troops or be equipped with a variety of armament systems such as howitzers, heavy machine guns, mortars, and missile launchers.
After state media stated that soldiers had been supplied with exoskeleton suits to enable them deal with hauling supplies at high elevations, Beijing deployed the vehicles.

Soldiers were fitted with carbon-fibre exoskeletons to reduce pressure on their legs and ankles while transporting heavy equipment and supplies at 16,000 feet above sea level.

The troops were having difficulty since the lack of oxygen at that height makes things feel heavier and men tire more readily.
'This kind of suit is particularly helpful at high altitudes,' a military expert told the Global Times in December last year.
China and India have fought an on-off conflict in their border region for decades along what is known as the 'line of control'.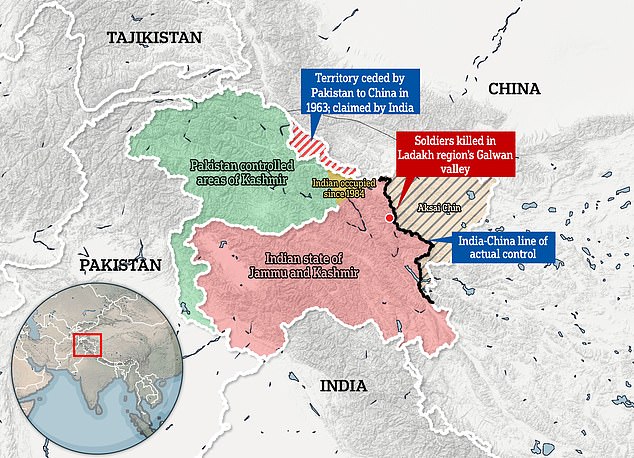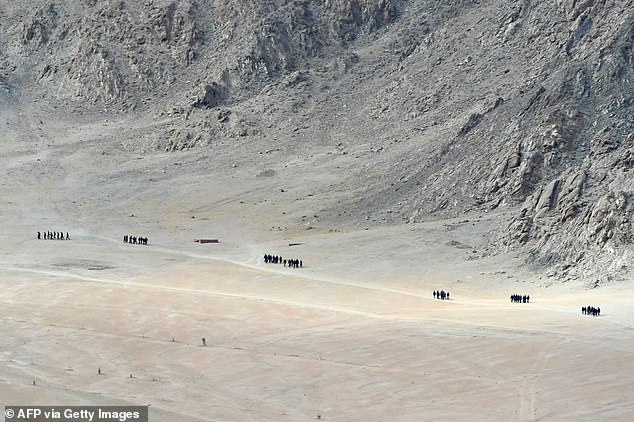 The region, which is exceedingly arid, isolated, and mainly inhospitable, has little practical use beyond a few commerce routes that crisscross its deserts, but it carries symbolic significance for both parties eager to demonstrate supremacy.

Tensions rose in 2020 when Chinese and Indian forces engaged in hand-to-hand combat, with many dead in clashes fought with melee weapons such as nail-studded clubs.

China accused India of provocation, while India accused Beijing of redrawing the boundary and intruding on its territory.

Satellite photographs appeared to support India's accusations, revealing additional Chinese structures in contested regions.

The fights caused a diplomatic spat between Beijing and New Delhi, with India severing certain commercial relations and banning Chinese phone applications as a result of the spat.
China began removing several infrastructure in disputed zones in June of last year, which helped to reduce tensions, while the region remains on high alert for possible incidents.

Beijing comes amid a broader military buildup by China, which has seen it take a more confrontational tone toward its neighbors, particularly Taiwan.

Fears that Xi Jinping could launch an invasion of Taiwan have spurred America, a strong friend of Taiwan's government, to form new alliances in the area, especially with India, to offset Beijing's expanding might.

Fearing that they will be drawn into a regional confrontation, Japan and Australia have strengthened their military relations with the United States.